Mini fridges became popular because they are convenient and useful. However, people are concerned about their safety. To the question "Are the mini fridges safe in the bedrooms?", let's find the answer.
Is mini fridge safe in the bedroom?
Before finding the answer, let's find out what mini fridges are. Mini fridges are the mini version of our refrigerator. A mini fridge is a compact and freestanding refrigerator that you can fit in a pretty tight space. It offers storage space for food on one or two drawers, as well as functional door storage for a small number of beverages. It is usually used to store homemade lunches, coffee, cream or milk, snacks, or drinks. And most mini fridges have a capacity of 1.7 to 4.5 cubic feet.
Cooluli 10L Mini Fridge for Bedroom
Because of the convenience, they became a trend. However, there was a concern that came along with them: "Is the mini fridge safe in the bedrooms?" Because there's no immediate danger to having a refrigerator inside of your bedroom. Therefore, yes, it is safe to keep a mini fridge in your bedroom.
Further reading: How to Choose the Best Mini Fridge for Bedroom?
Problems you will encounter when leaving a mini fridge in the bedroom
Even though mini fridges are kept in bedrooms because of their convenience and safety, we also need to consider the problems you will encounter when leaving a mini fridge in the bedroom.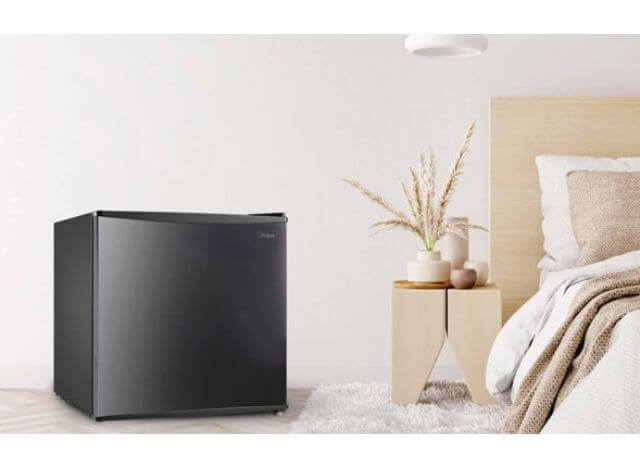 Noise
One of the biggest disadvantages of mini fridges is their noises. Buzzing noise in a mini fridge can be very annoying. The unwanted noise might come from the dirty compressor or the evaporator fan. Sometimes the compressor gets dirt and dust that makes a loud noise. Moreover, other reasons like an imbalanced on the floor can make a buzzing noise. To block out fridge noise, you can raise the fridge temperature setting to keep your fridge silent for long periods.
Further reading: Mini Fridge Making Popping Noise: Why? and How to Fix it?
Give off heat
Second, mini fridges make your room hotter. All type of mini fridge gives off heat. The way a fridge functions will make it produce some heat. A mini fridge takes the heat from the inside and exchanges it outside. Due to this continuous heat exchange, mini fridges produce heat and give it off. However, this heat is reasonable. For example, a normal mini fridge regularly makes temperature around 83 °F. To avert or deflect the heat outside, you can try out a few simple tricks of your room, such as: placing a fan behind your fridge to divert the heat; keeping the fridge away from the wall, and considering placing it near the window, etc.
Frigidaire EFMIS171-RED Retro Mini Portable Personal Fridge
Freon leak
Third, freon leak. One of the most common issues your mini fridge system can experience is a freon leak. And for several reasons, freon can begin to leak. There are some signs to tell that your mini fridge is leaking freon. First, your food is warmer than normal. Second, the motor is constantly running. Next, your electricity bills are unreasonably higher. And finally, the members in your house catch the unexplained illness. Freon leak is rare, but it is good to understand their dangers. Therefore, you should consider purchasing a leak detection kit to protect you and your family.
Fire incidents
The other concern about leaving a mini fridge in the bedroom is fire incidents. Everything that is powered by electricity poses a risk of catching fire. Few people believe, however, that their refrigerators have the potential to flare, ignite, or even explode. While it is not popular, it is not impossible. Fires are commonly caused by overloaded electrical outlets, an overheated compressor, or a light bulb that remains lit even after the door is closed. To help prevent explosions like these, newer refrigerator models have safety features like a thermal barrier. However, if you have an older refrigerator, especially one with highly flammable plastic components, you must take extra precautions to keep the coils clean and guarantee enough air circulation around the compressor.
Health effects
Finally, do mini fridges affect our health? Until now, there is no scientific evidence to suggest that keeping refrigerators in the bedroom is harmful to health. However, freon leak does. If it does leak, it's unlikely to be deadly because most cooling systems contain insufficient refrigerants to pose a threat – unless you have an allergic reaction to it, or the fridge is crammed into a tight space with no ventilation. Because of their harmful effects on the environment, old refrigerators that use refrigerants like CFCs are being phased out. Instead, modern refrigerators use a gas known as HFC, also known as tetrafluoroethane, which is less harmful than CFCs.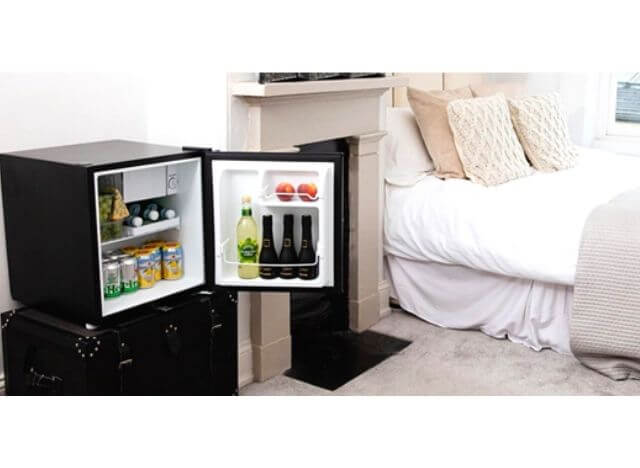 Further reading: Best Quiet Mini Fridges for AirBnB
Notes to keep mini fridges safe in bedrooms
To ensure safety, you should keep in mind the following points:
Place the refrigerator in a dry place, away from wet locations, or prone to splashes of water. This both keeps the refrigerator from rusting and minimizes the risk of electric shock. Do not put your mini fridge on a carpet as carpet obstructs air circulation. The heat may accumulate and prevent the condenser and compressor from cooling.
Your fridge must have its own outlet and correct local plug. It's best to use a separate power supply for the fridge, do not plug the refrigerator and too many other electrical devices into the same outlet. This not only helps the refrigerator operate more stably, but also limits the cases of short-circuiting and fire.
Place the on flat surfaces and keep a distance around it, so that the refrigerator does not overheat and works well. During operation, the needs to radiate heat, having a space between the wall and the surface will ensure air circulation. The ideal distance is about 10cm from the back wall, 2cm on each side. Also, make sure that the area is free from flammable materials
Do not place electronic devices on the top of the mini fridge. This is a dangerous habit that should be avoided. When you place kitchen appliances such as ovens, microwaves, juicers or electronics such as phones on the fridge, electronic devices placed next to each other may emit harmful radiation streams, causing harmful radiation and affect your health.
You should regularly clean the mini fridge, remove leftovers or expired food that can no longer be used to ensure that the refrigerator is always in a clean and orderly condition, ensuring the refrigerator operates smoothly and safely.
The top 5 mini fridges safe for bedrooms
1.  Cooluli Vibe Mini Fridge for Bedroom – 15L
Lightweight:        9 pounds
Dimensions:       10.5″ W x 12.75″ D x 14.75″ H
Capacity:           15-liter thermoelectric cooler/warmer
Perfectly portable, the Cooluli Vibe 15-liter blackboard mini fridge allows you quickly switch from cooling to warming with a touch of a button.
It's extremely versatile and functional for bedroom as you can use it to store food, drinks, breast milk, insulin, skin care products, medicines, and other necessary items.
Designed with a stylish yet practical magnetic board & blackboards, it is perfect for storing magnets and keeping notes and memos handy.
The dual voltage vibe (110-240V/12V) works anywhere. It features the EcoMax Technology which is 100% Eco-friendly, save energy and prevents frost.
2.  Commercial Cool CCR16B Fridge and Freezer, 1.6 Cu. Ft.
Weight:                   32.6 pounds
Dimensions:            17.5 x 18.6 x 19.6 inches
Capacity:                1.6 cubic feet
Installation type:      Built-in
This portable mini fridge is most suitable for bedroom. It's equipped with 1 slide-out wire shelf and door storage shelf, recessed door handle and cube tray.
You can easily put the fridge the way you like with adjustable leveling legs. It is compliant to DOE 2014 Standards and has R600a refrigerant.
3. Midea WHS-87LSS1 Refrigerator, 2.4 Cubic Feet
Weight:                   38 pounds
Dimensions:            20.08 x 17.52 x 24.8 inches
Capacity:                2.4 cubic feet
Noise:                     42 dB
Door Hinges:           Reversible
With the temperature ranges from -2′ to 2′ C (32′ to 35.6′ Fahrenheit), your food and drinks will be fresh and safe.
It has large storage space for chilling drinks and snacks. However, it cannot be used to store frozen food or make ice.It is convenient with features like adjustable legs and a reversible door that can be opened from left or right easily.
The Midea operates quietly and saves energy.
4.  Frigidaire EFR376-BLUE 3.2 Cu Ft
Capacity:                3.2 cubic feet
Freezer capacity:    0.93 cu ft.
Dimensions:            18.5 x 21.5 x 32.5 inches
The Retro Frigidaire refrigerator offers a unique look and vibrant color that enhances your decor and fits perfectly in your bedroom, apartment, kitchen or dorm.
Frigidaire owns an innovative bar form which is equipped with a temperature control knob that can be adjusted for better preservation of food and drinks. It also has a side-mounted bottle opener, which simply takes your chilled beverage of choice out of the fridge door compartment and simply opens it from the side.
This Retro Styled Refrigerator also has two sections, a freezer up top and a refrigerator on the bottom.
5.  RCA 3.2 Cu Ft
Capacity:                     3.2 cu.ft
Freezer capacity:          0.2 cu. Ft
Door Hinges:                Reversible
Dimensions:                 18.5 x 17.7 x 32.8 inches
Refrigerant type:          R134a, 1.77 Oz/50g
This is an ideal refrigerator for your bedroom, apartment, house, dorm or office. The RCA refrigerator is equipped with a freezer compartment while the total capacity is 3.2 cu. Ft.  allowing you to store a variety of foods such as drinks, vegetables, ice cream, etc. You can adjust the temperature as you need with a thermostat very easily.
Conclude
In general, mini fridges are safe to keep in the bedrooms and the above conversation just involves remarkable situations. Notwithstanding, users might prevent the unfavorable effect by going to reputable sellers, guaranteeing legitimate upkeep and ordinary examination, keeping away from water gathering inside the electrical framework, setting the fridge away from direct sources of hotness like direct daylight or radiators, and guaranteeing security from kids.
Likewise, buyers need to give as much consideration to within the mini fridge as they do to the outside. It is favored that you change your little fridge temperature dial on a case-by-case basis to keep an inward temperature of 40 degrees Fahrenheit or cooler, to acclimate it with the adjustment of season.
Reference
Mini fridge safety, electricalsafetyfirst.org.uk, Retrieved April 2, 2022