The necessity of a refrigerator is something no one can deny. In the bedroom, you can completely place a refrigerator to meet your needs for cold drinks or fruit. However, using a large capacity refrigerator is too wasteful. You should use a mini fridge in the bedroom.
In this article, we will give you how to choose the best mini fridge for the bedroom and recommend the 7 best ones to buy.
Location and size of the mini fridge in the bedroom
Mini refrigerators are small in size, so the price is cheaper than conventional refrigerators. There are many types of mini fridge sizes, make sure you buy a mini fridge that is the right size for your bedroom.
If your bedroom has limited space, you should choose a refrigerator that is between 17 and 20 inches in size. This is the smallest type available today. However, if the bedroom space is a bit larger, you should choose larger refrigerators. Considering the space of your room is very important.
Choosing the size should first think about where your refrigerator will be located. Under the desk, next to the bed or in the corner? Some people like to hide the mini fridge in the cupboard, others like to put the refrigerator in a prominent place.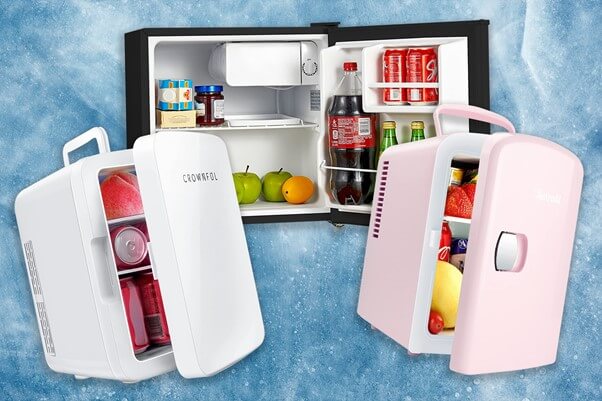 Storage capacity
Before deciding to buy a mini fridge, you must know what items you want to put in the refrigerator. Avoid buying without considering this. This consideration helps you choose the right refrigerator for your needs.
Most mini fridges have a good capacity, contain plenty of compartments for chilling, and some have freezer space. A mini fridge with a docking compartment with additional storage will bring more convenience than others.
Refrigerate and freeze
Freeze
Do you need the freezer in your mini fridge? If you only need a small freezer or don't even need the freezer on your bedroom mini fridge, choose one with a small freezer.
On the other hand, if you want a mini fridge to freeze, buy a mini fridge with a larger freezer compartment. Two-door mini fridge has more freezer space than other mini fridge models.
Cooling system
Mini refrigerators have one of the following three cooling systems:
Absorbent cooling system: Quiet but energy consuming
Compressor cooling system: Energy saving and temperature stable
Thermoelectric cooling system: Less durable
Based on the information above, choose the one that's right for you. What are your specific purposes and requirements with the bedroom mini fridge?
Noise level
The most important requirement with a mini fridge placed in the bedroom is to have a small noise. Therefore, you should pay attention to the noise level of the mini refrigerator. Read reviews from different sources, especially on Amazon to choose the right one. However, if you are not affected by noise, you can leave this part out.
Further reading: Best Quiet Mini Fridges for AirBnB
The 7 best mini fridges for bedroom
1. CROWNFUL Mini Fridge, Cooler and Warmer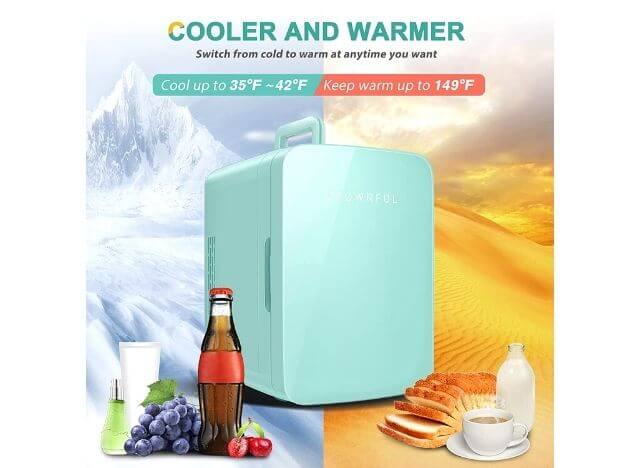 Product Dimensions:       11.4 x 9.65 x 13.4 inches
Weight:                             10 pounds
Capacity:                          10L
Key features:
Portable
Durable
Run quietly
Energy-efficient
ETL certified
Freon-free
The Crownful mini fridge 10L is multifunctional and perfect for bedroom, office, and dorm. You can store food, beverage, skincare, and snacks.
It is also a good choice for road trip, boating, camping and more.
2. Cooluli Mini Fridge, 10L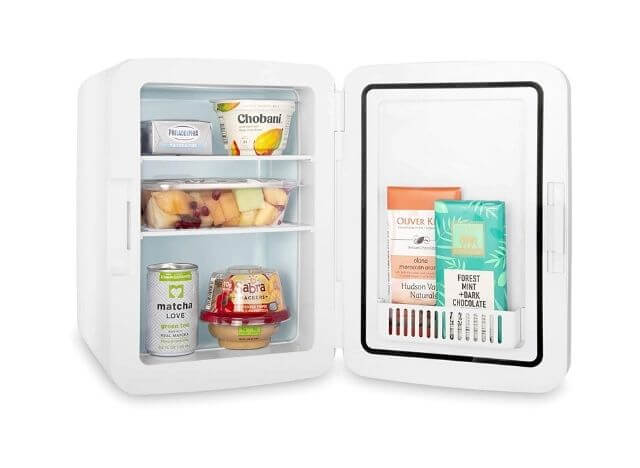 Dimensions:            9.4″ W x 11.4″ D x 13.4″ H
Weight:                   7.9 pounds
Capacity:                 10L
Key features:
Chic
Perfectly portable
Use less energy
Preventing frost
1-year warranty
12v cooler & warmer
Quick cooling and warming function
The Cooluli mini fridge 10L  is suitable for bedroom, car, office desk and college dorm room. It provides enough storage for food, drinks, skincare and medication or other items.
3. Midea WHS-65LB1 Compact Single Reversible Door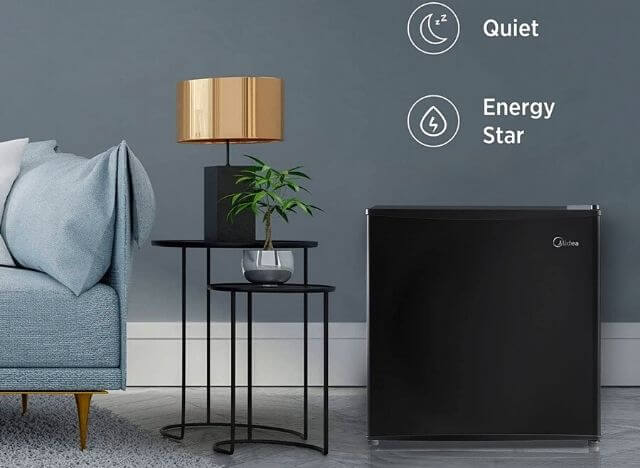 Dimensions:              17,7 x 18,6 x 19,4″
Weight:                      35 pounds
Capacity:                     1.6 cubic feet
This is the ideal refrigerator for small spaces. The Midea mini fridge has a sleek look that will fit any style or bedroom space.
Easily adjustable thermostat allows you to keep your chilled goods at the optimal temperature of -2 to 2 degrees Celsius.
It has two adjustable front legs to stabilize your fridge in different places.
This Midea mini fridge operates smoothly and saves electricity. Reversible doors can be installed to open left or right, allowing you to make the most of your space.
4. Cooluli 20L Mini Fridge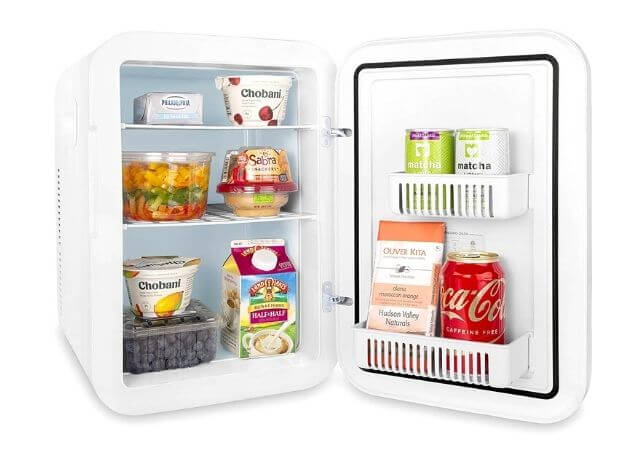 Dimensions:            11.25″ W x 13.75″ D x 16.25″ H
Weight:                   13 pounds
Capacity:                20L
Key features:
Potable
Eco-friendly
Ultra-quiet fridge
Energy-efficient
Light and convenient
The Cooluli mini refrigerator 20L is best for keeping beverage cool, and storing food, snacks, drinks, breast milk, beauty products, and medications.
It is best to put in bedroom, office and dorm room, and can be a good option for road trips, vacation, and tailgate parties.
5. NewAir Beverage Refrigerator Cooler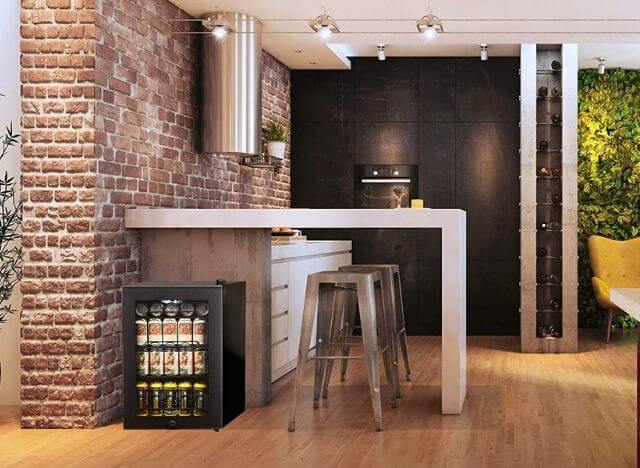 Dimensions (LxWxH):                     16.93 x 18.9 x 25.3 inches
Weight:                                               48 pounds
Capacity:                                             2.2 cubic feet
Key features:
Smart
Hold up to 90 cans
Space-saving design
With a capacity of 2.2 cubic feet, this mini fridge is a great fit for your bedroom. Powerful compressor cooling system is quieter than other mini-fridges.
The detachable bracket is easy to adjust. There are 7 custom thermostat settings. It has beautiful design, perfect shape, and solid black.
This NewAir beverage  is also equipped with family safety features such as handy lock and key system to prevent children from opening the refrigerator.
6. Midea 3.1 Cu. Ft. Compact Refrigerator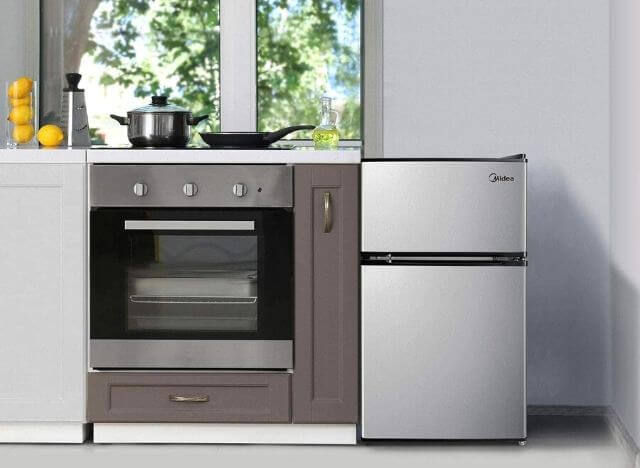 Dimensions:                18.5 x 19.37 x 32.95 inches
Weight:                       52 pounds
Capacity:                     3.1 cubic feet
The refrigerator has the perfect size, which is very convenient to put in the bedroom.
The thermostat is easily adjustable, allowing you to keep your chilled goods at the optimal temperature of 32 to 50 F degree for the refrigerator section; and  -11 to 5 F degree for the freezer section.
The door is reversible, easy to install, allowing you to make the most of your space, easily fitting into any position in your room. The two front legs can adjust to balance your refrigerator in different planes.
The Midea 3.1 cu.ft. refrigerator is equipped with an energy star rated advanced compressor, which means your refrigerator is quiet and efficient, while saving on electricity.
It uses low energy high power LEDs.
7. COSTWAY Compact Refrigerator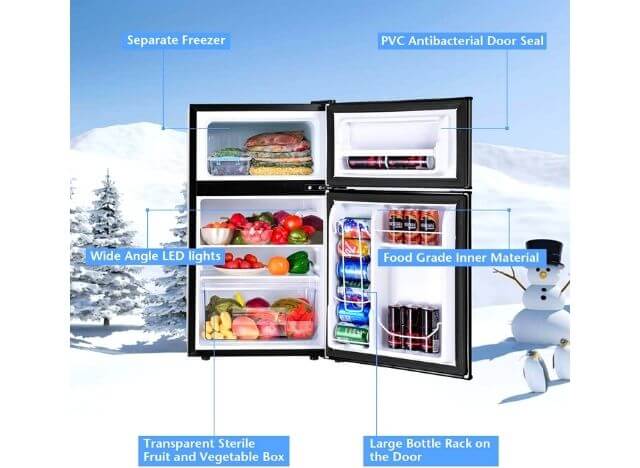 Dimensions:            19.5 x 19 x 34 inches
Weight:                    52 pounds
Capacity:                 3.2 cubic feet
Key features:
Compact design
Reversible door
Mechanical control
Recessed handle
Removable glass shelves
The Costway refrigerator has a large storage capacity of 2.2 cu. ft. for keeping fresh food and 1 cu. ft. freezer capacity to store frozen foods. It has two exterior doors that allow you to access the freezer or the refrigeration compartment easily.
This fridge is a perfect for those who love to get energy with food and drinks in the bedroom.
The bottom line
Hope the article can help you choose the best mini fridge for your bedroom and best suit your requirements and wishes.