Blueberries are known for being a flavorful, delicious, and healthy berry. The valuable properties of this fruit are essential for the body. In particular, blueberries make smoothies that are delicious for the gut. If you care about your health and try to protect your family from disease, you must love this fruit, and you should know how to freeze blueberries for smoothies.
Blueberries and health
Blueberries are a flowering plant that produces small, round berries that are green when young and turn from blue to purple. They are sweet, nutritious, popular, and convenient, are a favorite fruit worldwide. This fruit is healthy because it is low in calories but high in vitamins, antioxidants, and healthful plant compounds.
It contains 84% ​​water and 14% carbohydrates. Most carbohydrates are in simple sugars such as glucose and fructose, and about 16% are fiber. Blueberries have a relatively low glycemic index that are considered safe for diabetics.
In addition, they are also a good source of manganese, vitamins C and K1.
They are beneficial to health, especially in:
Maintaining strong bones
Lowering blood pressure
Reducing the risk of heart disease
Maintaining brain function and improve memory
Supporting healthy digestion, weight loss
Blueberry smoothie
Blueberry smoothie is an easy dish you can make every day without getting bored; it's very healthy and gives you healthy and beautiful skin. More specifically, support for the digestive tract is best in young children.
Also, blueberries are used as desserts.
​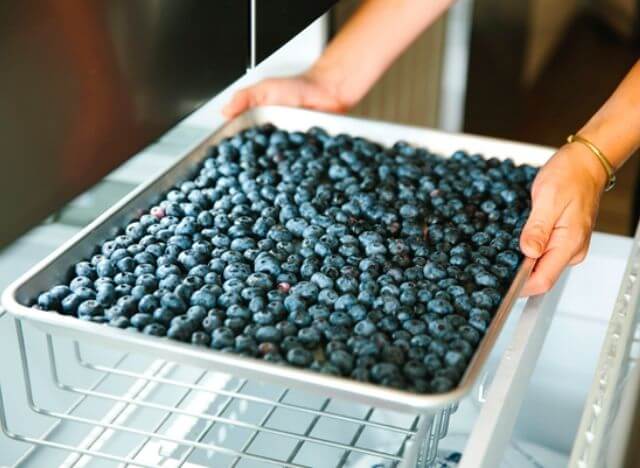 Why should you freeze blueberries?
Although it contains many nutrients, but blueberries are perishable because they are very sensitive to weather, water, the environment. If you do not know how to preserve properly, blueberries will very quickly spoil.
Besides, the blueberry season is from September to January, so you also need to have a way to preserve it so that when the season is over. You still have the opportunity to enjoy the delicious juicy blueberries in winter.
Further reading: Best Small Freezers for Garage
How to choose delicious blueberries to freeze
You should choose blueberries of similar size, glossy skin, not scratched and crushed. The shape of the blueberries should be round, regular, and has a white powdery layer on the outside.
Blueberries are often sold in supermarkets, and you just need to decide to buy new boxes with the farthest expiration date.
It's essential to prepare blueberries for freezing correctly. You need to:
Sort the fruit carefully
Remove leaves, debris, unripe or damaged fruit
Wash them off
You may also like: Should You Buy an Upright Freezer or a Chest Freezer?
How to freeze blueberries for smoothies
There are many ways to freeze blueberries for smoothies. The fruit can be preserved fresh, crushed, or pureed. You can also freeze blueberry juice. You can also use sugar marinade in the blueberries right from the freezing step if you like.
No sugar
This method of freezing is considered the easiest. Blueberries are prepared for freezing, filling sealed containers, covered with cellophane or cling film. Then they are quickly placed in the freezer and left in it for 2-3 hours.
After the pre-freezing was completed, the blueberries were transferred to a clean bag. Before putting them in the freezer, you need to release the air and fasten them in the bag. Then, place the bag of blueberries in the fridge until your preferred time.
With sugar
For this frozen style, you will need to prepare two ingredients – blueberries and granulated sugar in a ratio of 2:1.
Blueberries washed and dried are displayed in large boxes. Then sprinkle the sugar evenly over the blueberries. Then, cover the boxes tightly and place them in the freezer.
Sugared blueberries are delicious and easy to make smoothies.
Puree with sugar
Many homemakers use blueberry puree with sugar in smoothies, cakes, and various desserts. This is the way that requires more work.
Freezing blueberries in this way will lose their original shape, but without losing their taste and promising ingredients.
If your blueberries are naturally sour, mix blueberries and sugar in a 1:1 ratio.
In the case of sweet blueberries, mix blueberries and sugar with a percentage of 2:1. Blueberries and sugar are ground in a blender. Then fill the cans, cover them, and place them in the refrigerator's freezer.
Puree without sugar
The sugar-free blueberry puree is not only delicious but also safe for people on a sugar-free diet.
The first stage of this freezing process is to puree the blueberries in a blender. Then, place the resulting puree into the prepared containers (medium-sized containers, disposable cups), tightly covered with lids or cling film, and freeze in the refrigerator.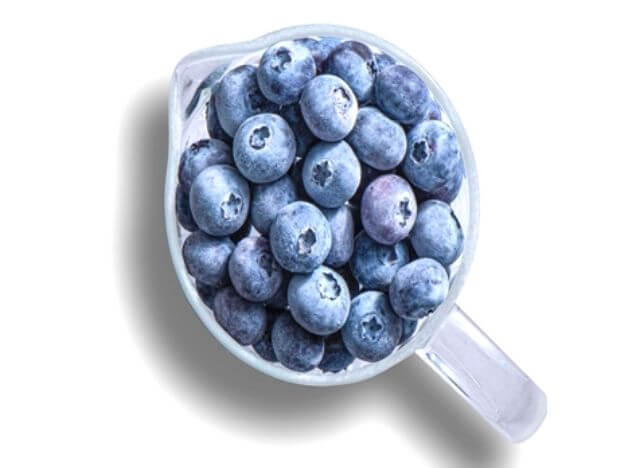 How to defrost blueberries to make smoothies properly
With frozen blueberries, you don't need to defrost them before using them to make smoothies. The frozen, sugary, unsweetened puree or sugared puree methods are delicious and work well with blueberry smoothies.
When you want to use frozen blueberries, make a smoothie; just take out the frozen blueberries in the appropriate amount and put them directly in the blender without defrosting. This will give your smoothie a natural cooling sensation without the need for ice.
However, if you freeze blueberries with sugar, you need to consider the smoothie's sweetness and do not put too much sugar when making the smoothie.
In addition, you can also mix blueberries with other foods to increase the deliciousness of the smoothie.
​​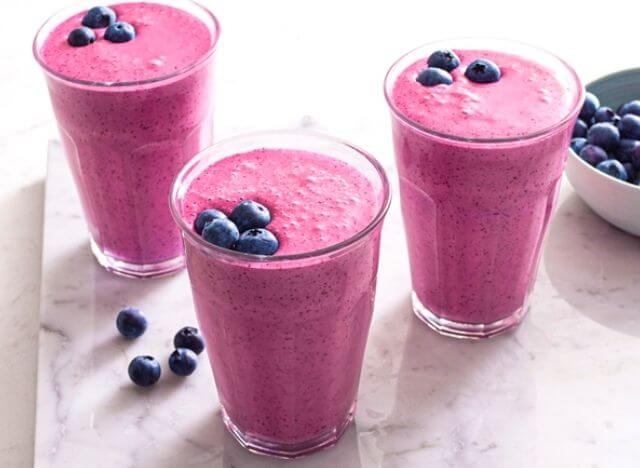 You may also like: Is Danby a Good Brand for Mini Fridges and Freezers?
How to use blueberries in your daily diet
Here are some quick tips in using blueberries in your meals:
For healthy meals: use blueberries as fresh toppings on oatmeal, waffles, pancakes, yogurt or cereal for extra flavor and nutrition in your breakfast.
Favorite smoothie: You can quick make a smoothie using a combination of blueberries with berries, low-fat milk, and yogurt.
Creating a nutritious salad: Using a mixture of fresh or dried blueberries into a spinach salad, you can add some more walnuts and feta cheese.
For perfect snacks: Just add a few blueberries to a muffin or sweet bread.
Conclude
Freezing blueberries help this super fruit maintain nutrition for a long time. Freezing makes it possible to enjoy delicious blueberries at any time of the year. It only takes a few minutes to get your blueberry smoothie anytime you want.
Reference
Are frozen blueberries good for you?, foundationeducation.edu.au, Retrieved on March 8, 2022