Fridge smell can be a sign that bacteria has penetrated your food and the atmosphere inside the fridge. This is very dangerous for us because the food is no longer fresh and safe. Let's find out how to get rid of fridge smell in the following article.
Why does fridge have smell?
Fridge smell is caused by food that is put in the refrigerator incorrectly. For example, if you put food that has strong smell, fishy smell, or bad smells without being wrapped or covered. This will lead to a mixed smell that linger inside the fridge to form an unpleasant odor.
The reasons that cause fridge smell can be listed as:
Not regularly fridge cleaning
If the refrigerator is not cleaned regularly or properly, it just takes a short time for bacteria to attack food. It makes food to spoil, ferment and create mold and cause unpleasant smell.
Your refrigerator should be cleaned regularly, once a week or every 2 weeks, to make sure the fridge is clean and works effectively. Check the food to see if it has been spoiled or expired. Throw the smelly food away to prevent bacteria and odors from accumulating in the cabinet, affecting other foods.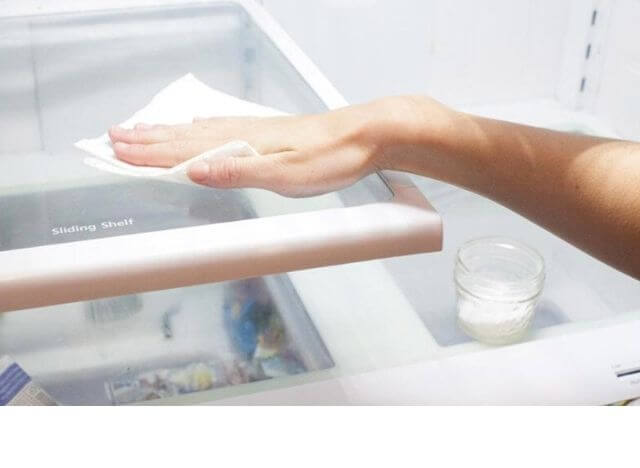 Improper food packaging
Properly food packaging is one of the ways to maintain the freshness of food and prevent smell from spreading inside fridge.
Food should be put in an airtight container with a lid before placing it in the refrigerator.
Especially leftovers, never leave them in the refrigerator without a lid. It is best to use glass storage containers for them.
Also, use bags such as zip bags to store vegetables or plastic containers to preserve food, this will help limit odors from entering the refrigerator.
Too much food in the refrigerator
Due to the large amount of food in the refrigerator, the cold air does not circulate well enough, some foods will spoil and produce odors.
Always store the right amount of food in the refrigerator, leave space between foods so that air can circulate throughout the fridge. Never let the food block the airflow from the fan.
The refrigerator is not cold enough
When the internal temperature does not meet the cooling requirements, some food will be defrosted, causing water to flow or the cooked food will go rancid, and the vegetables will wither. . . As a result, the smell begins to appear and become worse if you do not promptly fix the damage.
Make sure you set the right temperature for cooling compartment at 40 degrees F and freezer at 0 degree F. Or if your fridge has problem with the cooling system, fix it right away.
The fridge door is broken or not closed properly
If you close the fridge door not tightly, the cold air will escape, causing the temperature in the refrigerator to rise, the food will be spoiled and smelly.
You should limit opening and closing the fridge continuously, remember to close the door properly. Also, check the door seal, if it is not tight, fix it as soon as possible.
Liquid or food spilled inside the fridge
Liquids like beer, wine, milk or soup or other food that are spilled in the refrigerator also cause the cabinet to stink.
When storing liquids, be sure to tighten the lids tightly. All foods need to be sealed or put in plastic containers.
Further reading: Best Top-Freezer Refrigerator without Ice Maker
How to get rid of fridge smell
When odors appear in your fridge, you can remove the smells by using simple methods with common and cheap ingredients available in the kitchen.
Baking soda
Baking soda is a popular solution for cleaning and deodorizing. You can put the baking soda powder in a small bag or cup and put it in a corner or the lower compartment of the fridge for a few days. The powder will absorb odors, your fridge will no longer have a bad smell. If you want more scent, you can add dried lavender to keep the fridge smelling fresh.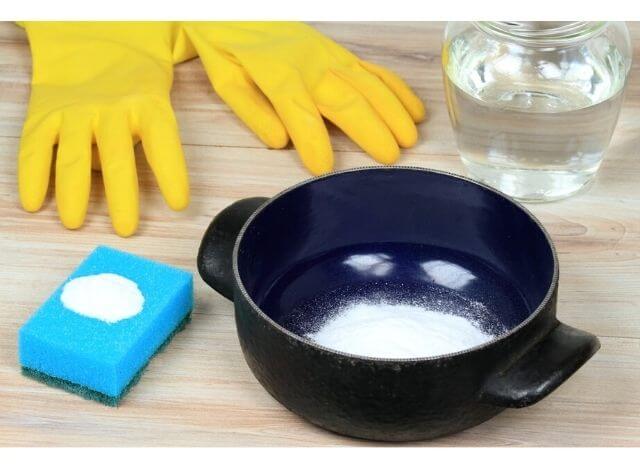 You may also like: Cleaning Ice Machine with Bleach: Is It Safe? and How to Do It?
Vinegar
Vinegar is considered an "expert" to treat refrigerator smell. Put the vinegar in a small, uncovered jar and put it in the fridge. You will have a very effective way to deodorize the refrigerator.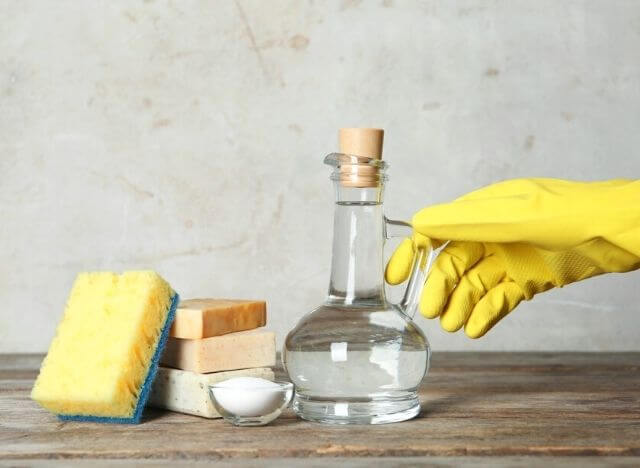 As vinegar has a very peculiar smell, you should use a small amount only. A medium sized fridge needs just half of a glass to obtain the expected result.
Lemon
You need to cut lemon into slices and put them in a bowl, place in the fridge.
Lemon has a high acid content, together with the essential oil in lemon peel, it is an effective way in killing bacteria and deodorizing. The lemon should be changed at least once a week for best result.
As lemon is always available in your kitchen, it is one of the simplest and fastest ways to eliminate fridge smell.
Potato
Using potato is also a good method to eliminate smell in fridge. Peel and cut potato in to slices and put them the fridge. The potato will gradually absorb odors, making the fridge fresh. You need to change it every 2-3 days until bad smell disappears.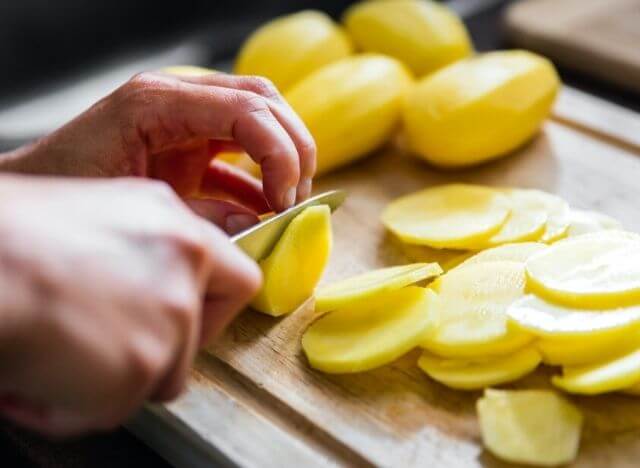 Coffee grounds
Using coffee grounds to get rid of smell in the refrigerator is an extremely useful and effective way.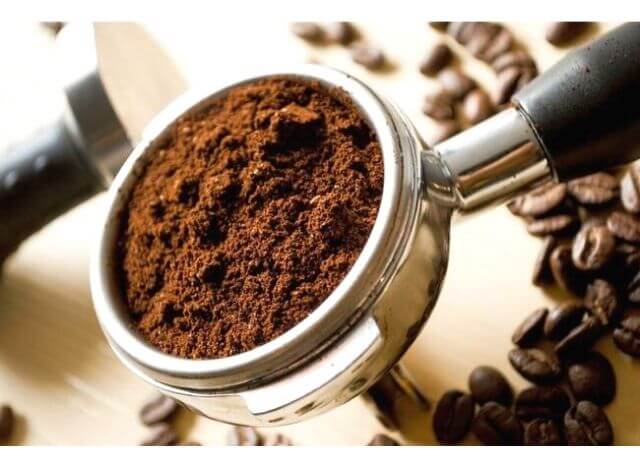 Coffee can overwhelm all odors in the refrigerator and make the air clean and more fragrant.
Charcoal or Active carbon

Coal is considered an expert in in "moisture" treatment. You can put a whole large or crushed coal in the refrigerator. For better effect, you can put coal on each shelf of your fridge. After 1 month, you should change the new charcoal for the refrigerator.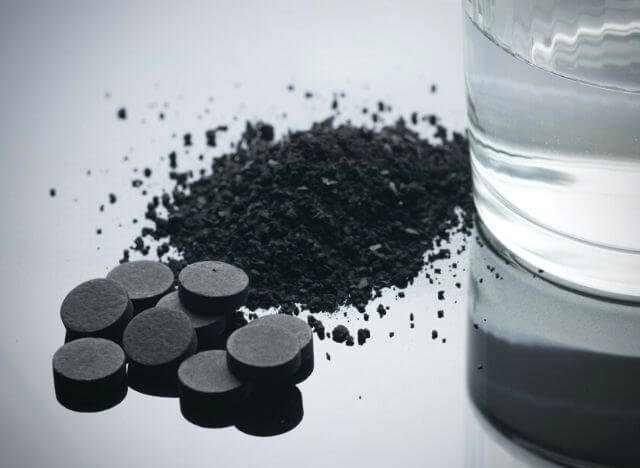 When deodorizing the fridge with charcoal, the quality and flavor of the food is preserved. This solution is safe for food, very effective, and very cheap. The above solutions are extremely effective to get rid of fridge smell.
However, if you have applied a few methods as above, but your fridge still has smell, it's better to spend your free weekend cleaning the refrigerator.
Clean the fridge regularly to prevent smell
Cleaning the refrigerator is an important job that needs to be done periodically to protect your food and help your fridge work more efficiently. Regular cleaning your fridge also helps to get rid off smell in fridge.
Simple steps for cleaning the fridge
Turn off the power and take all foods out
Unplug your refrigerator before the cleaning process.
Sort the foods inside the refrigerator. It's better to discard any moldy or expired food. With dairy products (milk, yogurt, whey, etc.), you should immediately put it in an insulated cooler or in an ice box.
Wash the inside of the refrigerator with water
After you've cleared everything inside the fridge, remove the movable parts of the fridge like shelves and drawers. Wash them with soap and water. You need to let them dry completely before you put them back in fridge.
Then, you should use a clean towel, soaked in cool water, to wipe the entire inside of the refrigerator. Hot water should not be used because a sudden change in temperature can damage your fridge.
Clean the inside of the fridge with vinegar
Vinegar can kill mold, bacteria and remove odors inside the refrigerator.
Take a bottle of pure vinegar, spray it, and clean the inside of the refrigerator. You need to clean the nooks, crannies and the fridge doors. Next, use a clean cloth to briefly wipe the entire cabinet.
Clean the outside

Don't forget to clean the outside of the refrigerator. Sometimes this is where the most stains exist. You can use warm soapy water to clean it, use a soft cloth to thoroughly clean the door and handle of the refrigerator.
Put everything back to the fridge
Wait until everything is dry, such as the body of the fridge, the inside of the fridge, the shelves, drawers, as well as all the containers of food.
First, put the shelves and drawer back. Then, plug your fridge in and wait for about 30 minutes. Finally, it's time to arrange the food back.
Notes for good cleaning habits
When to clean it: You should clean the refrigerator once a month. At the same time, you should also check your food weekly to remove unused food. Avoid leaving them out of date or moldy, causing odors and bacteria inside the refrigerator.
Do not use strong detergents: When cleaning the refrigerator at home, you should use specialized cleaners, do not use strong detergents. One of the safest ways is to use vinegar as mentioned above or fresh lemon juice instead.
Bring good smell to your fridge: Besides cleaning the fridge, you should know how to make your refrigerator have a pleasant scent.
You can use natural ingredients to remove smell and add a pleasant odor to the fridge by using vanilla branches, tea leaves, lavender flowers, or freshly ground coffee, etc., put them in a small bag and place inside the refrigerator.
Further reading: 10 Best Mini Fridges with Freezer
How to store strong-smell food without unpleasant odors
If you are just looking for the ways to deodorize the refrigerator, it's not effectively in solving the problem. You need to learn how to prevent smell in the refrigerator, especially with strong smell food.
To limit the unpleasant odors, the best thing is to store food carefully. Following are ways to preserve food, even strong-smell food.
Leftovers in the refrigerator
You need to carefully store leftovers in a separate storage container with a tight-fitting lid. Sealed containers prevent odors from spreading to other foods, also keep food from cross-contamination.
Meat and fish
Clean and wrap your meat and fish in at least 2 layers of bags before putting it in the refrigerator or freezer. As you need to defrost it later, so it's better if you store it separately in different boxes or bags to be safe until processing.
Fruits and vegetables
Fruits and food with strong odors should also be stored in separate containers with tight-fitting lids. Once these foods release the smells, they will spread on other foods, then you will take much more effort to get rid of the unpleasant smell. Some fruits have strong smell such as durian, jackfruit… you need to wrap them in several layers or put in a box with a lid before going into the fridge.
Make sure vegetables are dry before storing in the refrigerator. Otherwise, they are easily to be waterlogged or rotten and create unpleasant odors.
Organize the fridge properly to limit smell
Organizing your refrigerator properly brings more benefits than you think. It is a premise to ensure you a healthy food source, prevent smell from appearing inside the fridge.
The fridge door
This is the place with the highest temperature in the refrigerator, very suitable for dry foods, foods with preservatives such as chili sauce, mayonnaise, fruit juices, etc.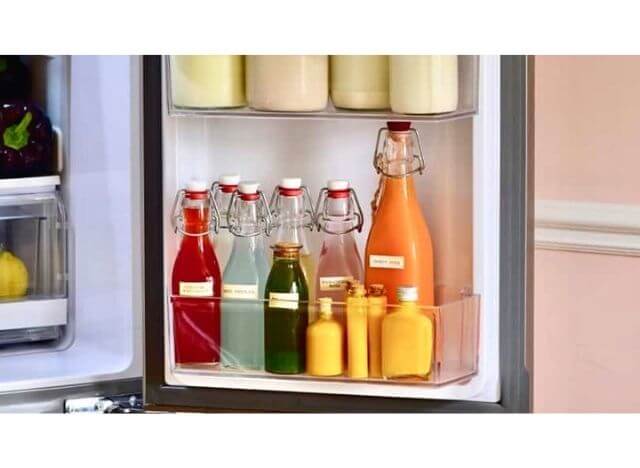 Avoid leaving dairy or egg-based products at the door because the door's temperature is not cold enough to preserve that food.
Top shelf
It has an appropriate temperature for foods like leftovers, drinks or ready-to-eat foods such as dessert fruits, refrigerated vegetables, etc.
Lower shelves
The lower the shelf, the colder it is. So, it's perfect place to store milk, eggs, meat, and seafood. However, you should put them in an airtight container or sealed bags to avoid causing odors in the refrigerator.
Drawers
They have lower humidity than other compartments, so they are suitable for storing fruits and vegetables. Because vegetables are very perishable, easily dehydrated and spoil when kept in high humidity, drawers are best to help veggies retain water and stay fresher.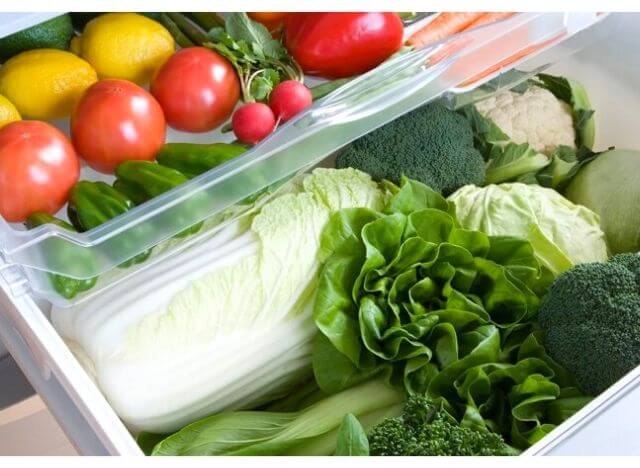 Freezer compartment
This is the coldest part of the refrigerator, suitable for frozen foods such as shrimp, fish, meat, sauces,.. You can keep ice cubes, ice cream and other frozen things.
You may also like: Which Refrigerator is the Best for a Family with 4-5 Members?
Other ways to get rid of smell in fridge
Once refrigerator has a bad smell, it means that there are harmful bacteria, mold, which will spread and contaminate your food. Refrigerators are now more like a bacterial colony than a food preservation device.
To save food and protect your health, you'd better remove smell as soon as possible. Besides the natural methods, you can also use the fridge deodorizers to get rid of smell in fridge. They are available at the stores and supermarkets.
Natural Bamboo Activated Charcoal Fridge Deodorizer
NonScents – Odor Eliminator
Innofresh- Odor Absorber and Air Freshener
OLIVIA & AIDEN Activated Bamboo Charcoal
Arm & Hammer – Baking Soda Odor Absorber
Conclusion
Refrigerator is where to store a large amount of food for the whole family to consume in a couple of weeks or up to a year. It can easily become a place for food flavors to mix that may lead to bad smell.
Hope this article has provided the useful information about how to get rid of smell in fridge and how to limit or prevent odors appear.
Reference
Brilliant hacks to remove odor from your fridge, recipes.timesofindia.com, Retrieved on March 5, 2022
How to Neutralize Odors In The Fridge, aftermath.com, Retrieved on March 3, 2022