The freezer comes in many forms such as chest freezer, upright freezer, portable freezer, or drawer freezer. Many people wonder between a horizontal freezer and a vertical freezer because of its practicality. Should you buy an upright freezer or a chest freezer for your family? Read this article to find out the exact answer.
First, let's learn the concept of two types.
Distinguish upright freezer and chest freezer
What is an upright freezer?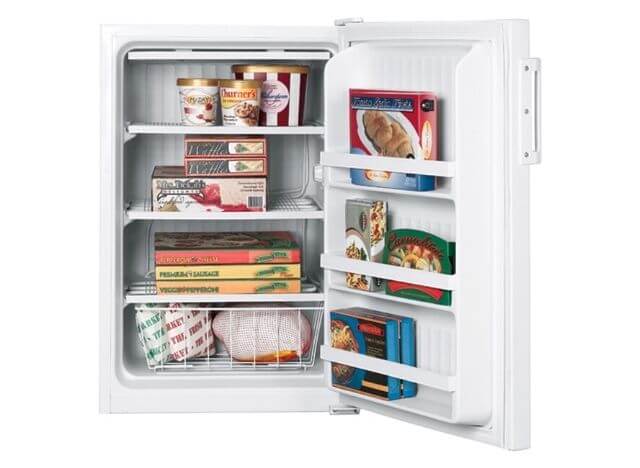 An upright freezer is a freezer designed with a rectangular shape, like a regular fridge with vertical doors. However, vertical freezers have a much higher cooling efficiency than refrigerators.
A freezer with a vertical door divides each compartment separately to help you easily organize, divide and take out food for use. In addition, the separate compartment helps the upright freezer score absolute points because it evenly distributes cold air.
With a space-saving design and high aesthetics, a vertical freezer is a perfect choice for families who love beauty.
However, the disadvantage of the vertical freezer is that the refrigeration capacity of the upright freezer takes longer than the chest freezer. Besides, it also consumes a lot of electrical energy.
Pros:
Convenient for keeping frozen foods
Easy to clean, organize foods
Has auto-defrost function
Life span is 10 to 15 years
Cons:
Not suitable for large food
The cost is expensive
Huge amount of power consumption
What is a chest freezer?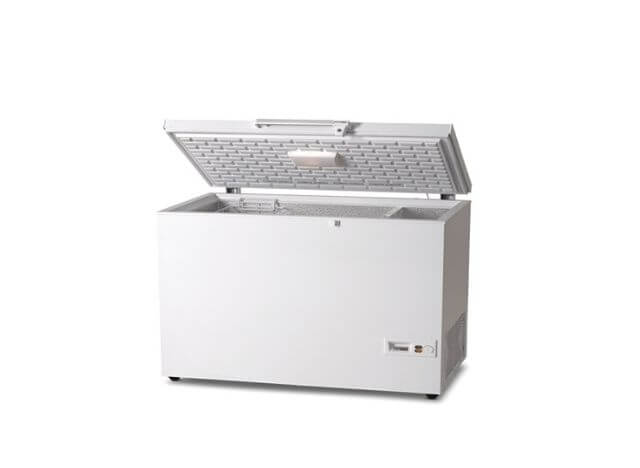 A chest freezer is a type of freezer with a rectangular design and an opening at the top. The horizontal freezer has 1 to 2 compartments with many removable hanging baskets for plenty of usable space. A chest freezer has always been considered an economical choice.
Pros:
Energy saving
Can arrange food of different sizes
Cheap
Less noise
Cons:
No high aesthetic
Difficult to get food to use
Life expectancy from 15 to 20 years
Should you buy an upright freezer or a chest freezer for your family?
You already know the features of these freezers, but how to know which product is right for your family is another matter.
Here are some criteria to judge which freezer your family should use.
Aesthetics
Aesthetically, an upright freezer is completely dominant over a chest freezer. A vertical freezer is taller than a horizontal freezer but shorter in length.
A freezer with a top lid is suitable for restaurants, shops, or families that do not have high aesthetic requirements.
Upright freezers easily win the favor of families who like products with high display and aesthetic effects.
Storage capacity
You may not believe it, but with the same volume, the chest freezer has 20% more space than the upright freezer. Upright freezers typically range in size from 5 cubic feet to 18 cubic feet.
The formula for calculating freezer volume is very simple. You multiply 2.5 cubic feet by the number of members in your family. If your family has 4 to 5 members, then you should choose a chest freezer or upright freezer with a capacity of 10 to 12 cubic feet.
According to research experts, about 35 pounds of frozen food will correspond to 1 cubic foot. Therefore, you should consider balancing the number of family members with the space of two freezer types.
Technical Features
Auto-defrost option
The chest freezer does not have an auto-defrost feature like an upright freezer. However, the freezer with a top lid keeps the temperature longer than the vertical freezer.
Due to the design of the top lid of the chest freezer, it is difficult for cold air to escape, but in the downward direction. Accordingly, despite a sudden power failure, the chest freezer is also capable of keeping foods cold for a few hours compared to an upright freezer.
Energy-efficiency
The ability to consume electrical energy of the chest freezer is much lower than the upright freezer. Therefore, if your family does not want to spend too much money on electricity, choosing a freezer with a top lid is a reasonable and economical choice.
Safety
These freezers both bring a sense of security to the user. However, if you want to easily organize your food and take it out, a vertical freezer is still better than a horizontal freezer.
Due to the horizontal rectangular design and top lid, the chest freezer makes it difficult for users to find and get food to use.
Installation
Both types of freezers are easy to install as well as extremely flexible in transportation, disassembly, and installation. You only need an electrical outlet and the right space to easily install two types of freezers.
Lifespan
A chest freezer has a much longer life than an upright freezer. The shelf life of the horizontal freezer ranges from 15 to more than 20 years. If you defrost it manually, it can increase the life of this appliance. While upright freezer has a lifespan of 10 to 15 years because its automatic heater turns off and on too often.
Price
The price of an upright freezer is more expensive than a chest freezer from $70 to over $100. If you buy a horizontal freezer, you can save about $100 instead of choosing a vertical freezer for your family.
However, upright freezers have a lot of modern designs and models that give you more choices than chest freezers.
You may also like: The Ultimate Guide to Choose a Freezer
Top brands
Today, freezer is more and more sought after, but not everyone knows that the freezer brand guarantees the prestige and reliable quality of the product.
You can also refer to the upright freezer or chest freezer from world-famous brands such as Danby, General Electric, Whynter, Midea, RCA, Frigidaire, Maytag, Thermador, etc.
If you prefer an upright freezer: a great recommendation for you is Whynter freezer. Whynter is famous for its compact freezer models with small legs and maximum energy saving. It is perfect for storing frozen food, ice cream, milk,…
If you need a chest freezer: Midea chest freezer is also a good choice with reasonable price.
Recommended options for your references
Whynter Black CUF-301BK – Upright freezer

Dimension:                              15.25 x 14.25 x 26.25 inches
Capacity:                                  3 Cubic Feet
Weight:                                     57 pounds
Energy Consumption:           240 Kilowatt Hours Per Year
Noise                                        42 dB
Midea MRC04M3AWW – Chest Freezer

Dimension:                               20.59 x 22.2 x 33.5 inches
Capacity:                                  3.5 Cubic Feet
Weight:                                     53.9 pounds
Door material:                         Stainless Steel
Bottom line
Hopefully, this article will provide you with useful information in choosing the right freezer for your family. Deciding whether to buy an upright or chest freezer should be a decision based on what you find best suit your needs, preferences and budget.
It is recommended that you consult the salesperson if you still feel unsure which freezer is the most suitable for your family.
Reference
Chest

  vs  

Upright Freezer, fixr.com, Retrieved on Sep. 2, 2021
Upright freezer or chest freezer: Buying guide  Alina Bradford, July 26, 2018