The countertop ice machine is a device with a beautiful and compact design. It can provide you with ice whenever you need to drink or chill something. However, users may wonder if countertop ice makers consume more electricity compared to other electrical appliances? This article will give the answer.
Benefits of countertop ice makers
Portable ice makers are worth it because it can bring convenience to you if you have a right machine to meet your needs. Everyone has different needs when buying an ice maker. Many people prefer a compact, light unit so that they can carry it around.
With a compact size and useful functions, an ice machine in your home or small store will bring many benefits such as:
Create a source of clean ice to serve the needs of daily life and business
Control the amount of ice produced
No cost to buy ice cubes outside
Further reading: The 10 Best Portable Ice Makers for Home Use
Electricity consumption of refrigeration equipment
Currently, most refrigeration and electrical appliances are publicly announced by the manufacturers of the device's operating capacity and technical parameters such as power consumption, serial number, and origin on the board product information. These parameters allow users to better understand their devices. From the capacity data of the refrigeration equipment, we can calculate the power consumption through the formula:
This is a common formula for calculating power consumption: A = P x t
What does it mean?
A: The amount of electricity consumed during the time t
P: Power consumption (unit kW)
t: Time (unit: h)
After applying the formula, essential refrigeration equipment will have the following power consumption:
Refrigerator: Approximately 2.88 KWh (0.12KW x 24h)
Air conditioner: About 0.85 to 1.5 KWh after 1 hour of use
Actual power consumption may be less depending on user requirements. In addition, there are now many types of refrigeration equipment that support energy-saving technology, and a typical example is the ice maker.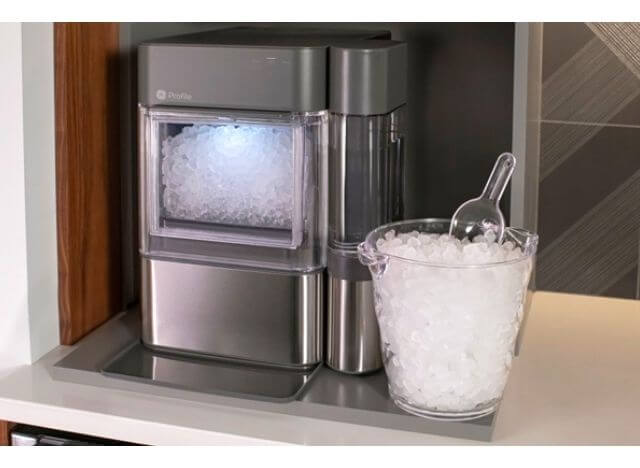 Do countertop ice makers consume a lot of electricity?
An ice maker, another name for is an ice machine, is a device that makes ice in much larger quantities than a refrigerator; a stand-alone device that continuously produces ice for the user.
A countertop ice maker is a compact ice maker that can be placed on the table, so it doesn't take up much space. Moreover, the desktop ice machine also has a beautiful and luxurious design. If you regularly use ice and don't want to make ice manually, countertop ice makers are perfect for you.
Currently, there are many types of countertop ice machines on the market with different models, brands, and functions, each with an extra level of power consumption. You can consider based on the voltage and power of the ice maker to decide which is right for you. Usually, they range from 115-120V and 1.5-3A. This is moderate consumption, which is slightly different from conventional large ice machines. Besides, the price of a countertop ice machine is also lower than other commercial ice machines. The power consumption is relatively high because it has to use more elements to complete the freezing process.
The average Amps the countertop ice machine consumes will be about 2.5A. In addition, several energy-efficient countertop ice machine models are great for shopping. Thus, the cost you have to spend to use a desktop ice machine is about $ 15-20 per month with 300kWh.
You may also like: How to Choose a Good Outdoor Commercial Ice Maker
How to save power consumption with countertop ice makers
To save your electricity bill every month, you can apply some of the following ways to save on countertop ice maker power consumption. These are pretty cool and practical tips and tricks that are worth using:
Put the ice maker in a dry, clean place, avoid direct sunlight
The impact of the sun will make the ice maker use more energy to operate because the sun's heat heats the device. This leads to production delays and causes ice to melt faster.
Therefore, you need to keep the ice machine in the shade or in a cool place if you must take it outdoors. When participating in camping and picnics, you can use a canopy or an umbrella to protect the ice maker.
Use cold water
This is an excellent idea to save electricity when using an ice maker. Ice machines work on cooling and freezing water by using a compressor.
The longer the ice maker works, the colder the water will be. Therefore, to reduce the time the ice machine works to save energy, you can use cold water to reduce the initial temperature of the receiving ice machine. This both saves electricity and helps the ice maker make ice faster.
Clean the ice maker regularly
When the ice machine is dirty, the ice-making process will take longer, and the ice produced will not be of good quality. Moreover, the cleaning time of the ice maker is rapid. Regular cleaning will prevent damage and reduce the maintenance cost of the ice maker.
Create conditions for air circulation
The countertop ice machine has vents on the back and side. These vents are responsible for allowing air to flow through the device. If there is no air circulation around, the ice maker will not work efficiently, resulting in high electricity levels. You should leave 2 inches between the ice maker and the wall or surrounding objects.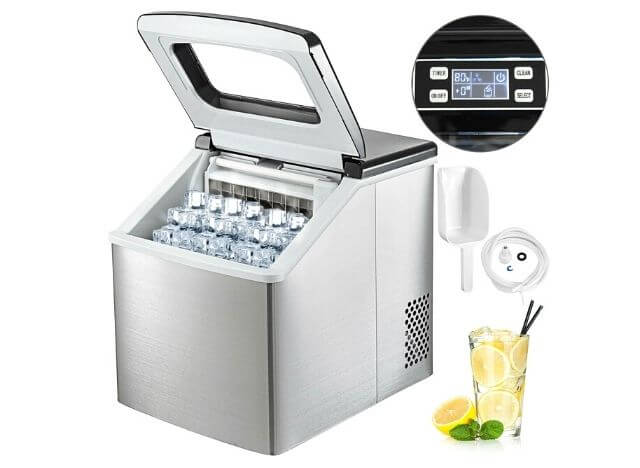 Recommended countertop ice makers
1. FRIGIDAIRE EFIC189-Silver Compact Ice Maker
The machine has a large transparent plastic window at the top, so you can see clearly how many cubes you have left without opening the top and letting hot air in.
This large capacity ice maker from Frigidaire is a top choice thanks to its thoughtful design, high output, and easy-to-use interface. It operates quietly with no more than 38 decibels of noise.
You can choose from two ice cube sizes to suit your taste and you'll have your first fresh ice cubes in less than six minutes.
However, it's a little bit larger than other machines with the same ice capacity.
2. AGLUCKY Countertop Ice Maker
AGLUCKY countertop ice maker is portable and compact design, so you can easily carry and operate it.
Equipped with a quick and quiet cooling system, it works with less noisy and saves energy.
This ice maker is compact but highly efficient. It can produce up to 26 pounds of ice per day and up to nine ice cubes in 6-8 minutes. Plus, it can make two sizes of ice for different uses.
3. Igloo Premium Self-Cleaning Countertop Ice Maker
Igloo machine has convenient handle, so you can take it with you whenever or wherever you need it. With a large window on the lid, it allows you easily view the ice cubes. It can make 9 small or large cylinder-shaped ice cubes in as little as 7 minutes. Designed with a removable drain plug, you can drain water and clean the machine with simple steps.
Igloo ice maker possesses a cute, portable design that will fit with any kitchen decor. It comes in five different colors, including a pretty aqua color. The machine has a reservoir with two-quart of water and it can produce up to 26 pounds of ice in 24 hours.
Related questions
1. Are the ice machines expensive?
The size and capacity are key factors that decide the price of an ice maker. Therefore, some built-in ice makers will be more expensive because they have good brand reputation or coming with some extra features, such as a water filter or the ability to make nugget ice. You can buy an ice maker with budget from $100.
2. Do the countertop ice makers use more electricity when starting?
Yes. When it first starts up, the portable countertop ice maker uses a higher amount of energy (capacity per minute). Most portable ice makers use an average of 100 watts when working continuously, meanwhile it uses about 200 watts or even more when it is started. When the ice maker starts making ice, it will use less energy. The countertop ice maker takes 7 to 15 minutes to make a batch of ice. So, it will use less energy within the next 15 to 30 minutes.
3. What voltage does the ice maker use?
Most portable ice makers use a 120v wall outlet. Depending on the machines and specific instructions, some may work with 220v. In most homes and offices, you will find 120v outlets. You can use the adapter to provide any ice maker with optimal energy flow and reduce energy consumption. If you are unsure, ask an electrician or a professional.
4. Does turning off the ice maker save energy?
Turning off the ice maker can help you save energy, but how much electricity you can save will depend on the model and the age of your machine.
If you are going to be away from home for a long time, like a week or more, it's best to turn off your ice maker. There is no need to keep making ice if you aren't going to use it. You should leave it off when not in use.
Conclusion
The countertop ice makers do not consume too much electricity. Besides, you have many other tips to save power consumption and ensure operational efficiency.
I hope the article provides valuable information for you.
Reference
How Much Electricity (Amount & Cost) Do Ice Makers Use, mybudgetrecipes.com, Retrieved on Apr. 14, 2022