Mini refrigerators can make slight noise that brings discomfort, but using the fridge is not dangerous. Although broken refrigerators still cause some harm, they are rare and can be quickly fixed. It's best to know the key electrical rules to make sure the mini fridges are always safe to use.
Why do you need a mini fridge?
Mini refrigerators (also known as small refrigerators) are compactly designed with a smaller usable capacity than conventional refrigerators. Mini refrigerators have a total of not more than 100 liters or 3.5 cubic feet.
Because of their small size, mini-refrigerators cannot have as many features as other refrigerators. But it still meets the primary storage needs for 1-2 people and is suitable for compact spaces.
Mini refrigerators have a compact design, easy to transport, and can be placed anywhere. Because the capacity is not too large, a mini refrigerator is a solution if you want more space to store food without spending too much money. What makes mini refrigerators attractive to buyers is their low price, does not require much space and consumes less electricity.
Further reading: Best Mini Fridge Under $200
Savvy refrigerator users are primarily students, single people living in motel rooms or small apartments. In addition, small refrigerators are also purchased to be placed in offices, bedrooms, hotels, motels.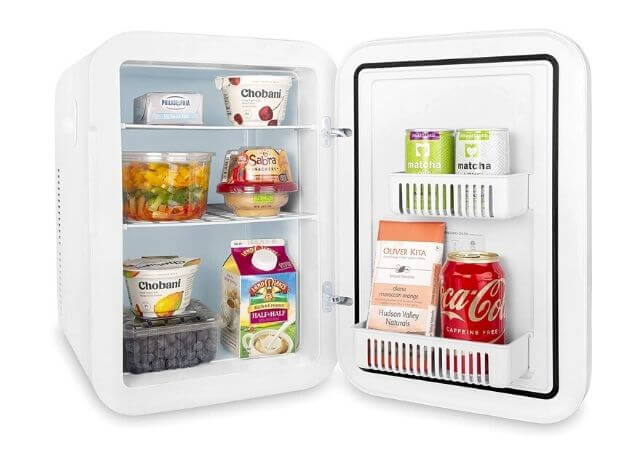 Are mini fridges safe?
Mini refrigerators are often placed in narrow spaces such as bedrooms, small apartments, or motel rooms. Many people wonder if mini refrigerators are safe or not? You can rest assured that the mini refrigerator does not pose any danger to the user. It's safe. However, you need to know some electrical safety notes when using a fridge.
With small size, a mini refrigerator can ensure the essential functions of a regular refrigerator. It is used to keep drinks, snacks, or other foods cold. However, mini fridges also have some things to be aware of, such as loud noises that can disturb your sleep. In particular, you need to pay attention to placing the mini refrigerator in the right place.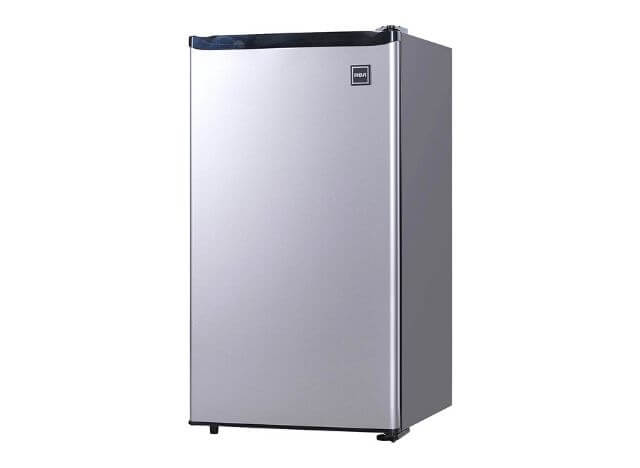 During the process of winding, the bottom of the mini fridge often heats up, cool down needs and need to be appropriately drained, so you should place the mini fridge on a hard surface, preferably without a cushion underneath and with enough space for air to escape easily.
Make sure to keep the surrounding area of ​​the mini fridge free of paper or other flammable materials. Do not block the interior or exterior ventilation holes of the mini fridge.
Place the mini fridge in places where the temperature is usually stable, avoiding the surrounding temperature being too high.
Do mini fridges give off radiation?
Most mini fridges emit only a tiny amount of radiation, which is rare. This means that the further away you are from the mini fridge, the less radiation you will be exposed to. Unless you keep your mini fridge right next to your bed or just a wall away from you, you should reposition your mini fridge.
Every day, we are exposed to natural radiation when we are under the sun for a long time, UV rays attack your skin. However, with low levels of radiation, it may cause sunburn only. For long run, radiation is not good for your heath. You'd better stay away from it.
You may also like: How to Use a Mini Fridge Safely and Efficiently?
Does gas leak from mini fridge dangerous?
People also worry about the Freon leak from the refrigerator. You need to be informed about Freon leaks and prevent them. Freon is a gas used to cool the inside of a refrigerator. If the mini fridge has a problem with one of the coils or a leak, Freon will be released.
When the refrigerator has a gas leak, it will have an unpleasant Ammonia smell. According to experts, about 0.44 kg of refrigerant gas/1m3 of air can suffocate a person due to the lack of oxygen. Most refrigerants are non-toxic except for Ammonia. Ammonia is very toxic, causing irritation of the mucous membranes, eyes, stomach, constriction of respiratory organs, skin-burns.
If you unfortunately inhale the gas or Freon from your fridge, the refrigerant poisoning can happen, breathing in high concentrations may potentially lead  to fatal. Therefore, when you notice something unusual or strange smell coming from your mini fridge, you should check it immediately.
Further reading: What Does Freon Smell Like in a Refrigerator? Is It Dangerous?
Can a mini fridge explode?
This is entirely possible in terms of the possibility of explosion in mini fridges. Therefore, it is recommended that you should not buy the old mini fridges or used ones. In addition to the fire hazard, they can also cause several other dangers as well as significantly increase your electricity bill.
Inside the mini fridge, there is always a flow of air moving through a coil of pipe in the compressor to cool the refrigerator. This process requires air circulation. If the gas cannot move according to its cycle, the coils will fail, eventually causing fire and explosion.
In addition, placing a mini fridge in a tight space is also easy to cause unwanted fire and explosion. The room you put the mini fridge in must ensure circulation around the coils and vents of the mini fridge to avoid overheating.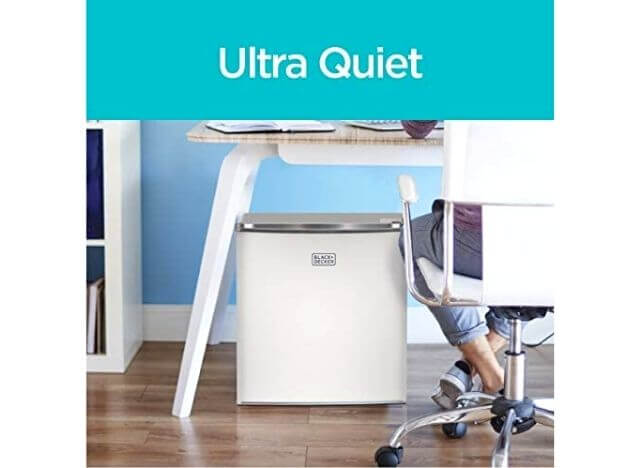 Placing a refrigerator in the bedroom can also pose a fire hazard. If it is placed in an enclosed space, it is imperative to ensure good air circulation around the coil and vents to prevent the fridge from overheating.
Abnormal signs that you need to know and fix as soon as possible, if not it might lead to the danger of explosion.
The compressor runs continuously without interrupting
Two sides of the cabinet and feel unusually hot to the touch
The filter is enlarged and there is a phenomenon of fogging
You smell the gas from the fridge
There is a strange noise coming from the compressor, or the compressor emits very hot steam
Notes when buying a mini fridge
As mini fridges come in many sizes like mini size, small, medium, and large size.
When buying a mini fridge, you should choose the mini fridge with a large capacity because it often has many features—more modern functions than mini refrigerators of small size. A mini fridge with two separate compartments (freezer and cooler) is also a good choice to preserve many different foods.
Because mini fridges have a small space, you should choose mini fridges with innovative shelf systems to quickly adjust to your needs if you want to optimize the storing space. Pay special attention to the material of the shelf; the shelves made of tempered glass are very suitable for keeping the inside of the fridge clean and not rusting.
In addition, if you place a mini fridge in your bedroom or office, you should choose low-noise fridges to avoid affecting your work or sleep. Smart refrigerators are integrated with many useful functions. Fridges that have durable performance and save electricity are a good choice. At the same time, you consider the ability to cool and preserve food in the mini refrigerator.
In particular, many people often choose cheap mini refrigerators without paying attention to other features. This is entirely wrong. The brand and warranty are also important to ensure the quality of your mini fridges.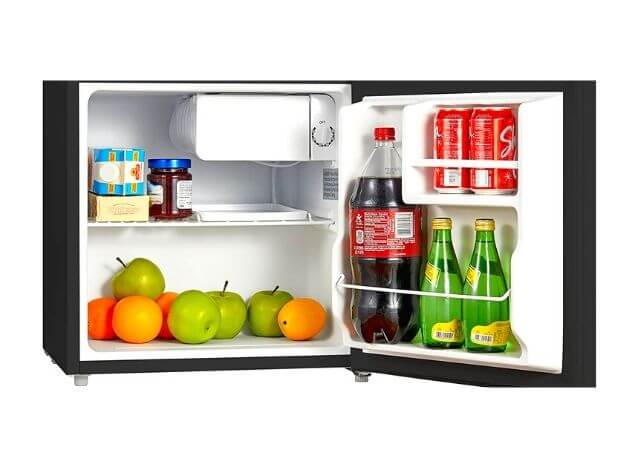 Electrical safety notes
Buying a new mini fridge, it's best to choose reputable dealers and follow the manufacturer's instructions. Registering a new mini refrigerator with the manufacturer is also an essential step for getting the complete warranty policy of the mini fridge. When there is a problem, you can quickly contact the manufacturer and make repairs or exchange and return according to regulations.
Usually, the chance of a new mini fridge being defective is not high. However, the risk is still there, so returning the defective product and requesting repair is relatively easy. If your mini fridge has problem on the electrical system, you should handle it correctly. Otherwise, it will cause many consequences, the most obvious one is a lot of excessive power consumption.
When you detect an electrical abnormality in your refrigerator, use the tool to see where your mini fridge is broken.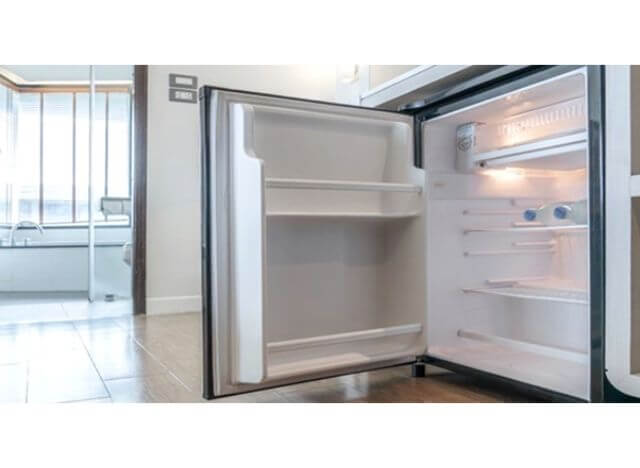 Another thing you need to consider is the fridge's plug. If the fridge uses a British plug and your house does not have such an outlet, you must use an adapter kit for it. Periodically check the plugs and sockets for burns or other problems.
We recommend that you use RCD (residual current device) for household power protection; it avoids electric shock and reduces the risk of an electrical fire.
How to avoid danger when using a mini refrigerator
Refrigerators and mini fridges are an indispensable appliance in homes. But if you don't use them correctly, they can be dangerous for you.
To avoid hazards, you should note the following important things:
Use the refrigerator for the time allowed by the manufacturer. Do not use refrigerators that are too old. Using an old fridge, you may need repair it very often and potential risks can easily happen.
Make sure the power is connected properly. When the power plug and cord are in good working condition, it prevents an accidental fire.
If the mini fridge unfortunately has a problem or need to change the refrigerant gas, you should not repair it yourself. Call a professional
Place the refrigerator away from high temperature areas, make sure to leave 10 to 15 cm from the wall and no direct sunlight.
Never put flammable substances into the fridge. Refrigerant gas can cause a fire hazard, making your fridge more vulnerable to fire and explosion.
Be careful when using extension cords: Check to see whether extension cords are loose. If yes, they can burn. You should use a dedicated socket for the power connection.
Buy refrigerators from reputable manufacturers and pay attention to warranty policy.
Regularly maintain and clean the refrigerator once a month.
You may also like: How to Defrost a Mini Fridge Faster?
Reference:
Mini Fridges Safety, electricalsafetyfirst.org.uk, Retrieved on March 10, 2022