The freezer is an essential electrical appliance in every home and helps you store food for a long time. In some cases, the refrigerator will not be able to meet this need. However, standing in the middle of so many freezer options, you will often feel confused. Choosing a perfect and suitable freezer for your needs is quite complicated. In this article, we give you the most detailed instructions to answer your wondering about how to select a small upright freezer.
What is a small upright freezer?
A small upright freezer is the smaller-sized version of an upright freezer. Currently, the small upright freezer is very popular because of its small, convenient size and does not take up too much space. The small upright freezer is a perfect choice if your family already has a large refrigerator but lacks a bit of freezing room. The small upright freezer is a perfect choice.
A small upright freezer is a standing freezer with a door on the side of the refrigerator. It can be easily moved through the door frames in the house because of its compact size. However, you do not need to worry about the small upright freezer not having much storage because it is designed with convenient compartments and shelves inside. If arranged properly, you can make the most of the space.
Benefits of the small upright freezers:
Compact size
Easy to move
Convenient rack and compartment design
Better food arrangement and easily access
Things to consider:
The price is usually high
It consumes more power than a chest freezer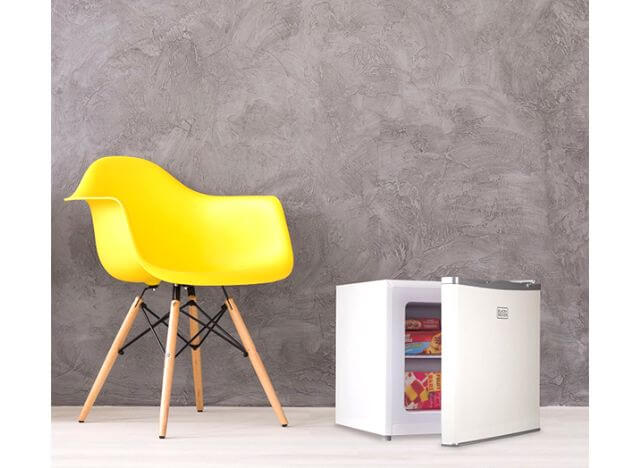 How to choose the best small upright freezer
Don't forget to consider the following factors when buying a small upright freezer. Choosing devices that are too large or too small for your needs will cause a lot of discomfort during use.
Demand
According to consumer behavior studies, we can figure out that each family member needs at least 1.5 cubic feet of freezer space. Therefore, you can base on the number of family members to choose the right small upright freezer. Don't forget the freezer space of a home refrigerator also provides a certain amount of storage for your family.
If your family likes to store a large amount of meat or fruit in the freezer, you should not choose the small upright freezer but the freezer with a larger capacity. On the other hand, the small upright freezer is also suitable for small spaces or if you want to move it through the door frame.
Price
With a budget of about $ 200 – 300, you can already buy a small, good quality freezer. With a larger freezer or better brand, the price will be slightly higher.
Depending on your budget and needs, choose the most suitable freezer for you.
Further reading: What Are the Best Cheap Freezers for Home?
Power-saving feature
Small upright freezers will typically consume more energy than top-door freezers because more frozen air escapes each time the door is opened. Therefore, the power of a small upright freezer must be used to maintain a reasonably constant temperature.
You should consider choosing ones with energy-saving features. In the long run, you will significantly benefit from your electricity bill.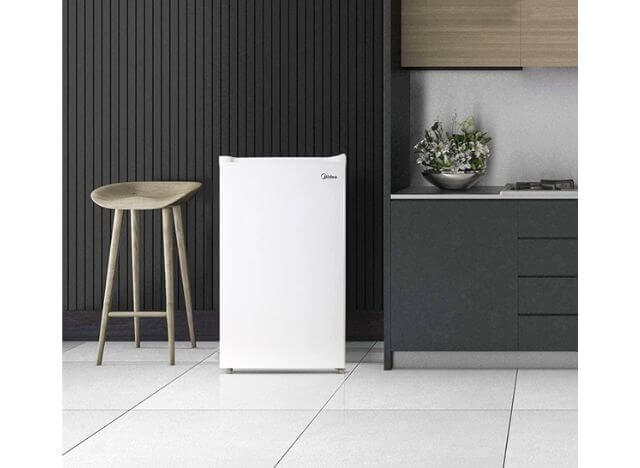 In addition, during use, please minimize the opening of the freezer to keep the air inside stable and save electricity.
Noise levels
Noise level is a factor many people often overlook when choosing a small upright freezer, and they regret it a lot. Freezers will make a certain amount of noise, but some operations are quieter than others. The noise from the freezer will be annoying to the user, especially when you place it in a frequently used space.
One tip we came up with is that the small upright freezer manually defrosts with less noise than the automatic defrost. Please consider the location of the freezer to choose a suitable one.
Further reading: How to choose the best freezer for a hot garage
How do upright freezers differ from chest freezers?
Upright freezer and chest freezer both have a similar job: keep food fresh and frozen. However, they take up different space. It's the fact that upright freezers take up less floor space, but they require more vertical space. Meanwhile, the horizontal or chest freezers require more floor space, but they take up less vertical space.
The organization can also influence your decision. Vertical or upright freezers have more upright shelves, bins and drawers, so it's easier to find what you're looking for. However, chest freezers are best for those who often buy and store in bulk.
The floor plan of your kitchen, storage room or garage can influence whether you consider a vertical freezer or a horizontal freezer.
Further reading: How to Properly Store a Freezer When Not in Use
Why do you need an upright freezer?
You need an upright freezer if you:
Have limited space: These vertical freezers require less floor space, so they're best for smaller areas like a small basement room or kitchen.
Prefer fridge-like access: Upright freezers allow you to keep certain items at eye level and within reach for easier access. You also won't need to bend over this type of freezer to get what you need or when cleaning it up.
Keep smaller items: Freezers often come with shelves, drawers, racks, or door compartments. If you're freezing small items like frozen dinners, packaged meats, or produce, these interior features can help you stay organized instead of piling up food and having to keep track of what's at the bottom.
Want to defrost automatically: Some brands have an automatic defrost feature. This helps prevent ice build-up and avoid the mess of manual defrosting.
Need flexible installation: Some upright freezers are reversible so you can open it from the right or left side.
Want LED lighting: Some stand freezers feature energy-efficient LED lighting throughout to help you find what you're looking for when you need it.
However, upright freezers may be more expensive than other types and they use more energy.
 You may also like: Can Freezers Be Kept Outside?
Is it easy to clean an upright freezer?
Cleaning an upright freezer is simple, apply the following steps:
Turn off and unplug it: You will need to make sure your freezer is turned off and disconnected from its power source. This will ensure that all the ice inside the cabinet inside melts. You need to transfer its contents to another freezer or cooler.
Clean the shelves: If your freezer have removable shelves, take them out. Then clean the shelves with warm, soapy water with a soft sponge and let them dry before placing them back inside the freezer. You can also use warm water to wipe the stains away faster. After washing, wipe dry and leave in a dry place to dry.
Clean the inside: Wash the inside of the freezer with warm soapy water. You can also mix one cup (240ml) of water, one teaspoon of white vinegar, and one teaspoon of soap in a spray bottle. Spray the solution on the walls and floor of the cabinet and then wipe it off with a damp cloth.
Re-arrange foods: You can dry the freezer with a clean dish cloth and return the food to the freezer once it's turned back on.
In short, an upright freezer is easy to clean, and you should clean it regularly with these above steps. Also, a deep clean may be necessary every 3 or 6 months.
Top best small upright freezers
Whynter CUF-110B
The Energy Star rated Whynter CUF 110B demonstrates the unit's power-saving features work very well. The low noise level of the Whynter CUF 110B is very suitable for placing in the bedroom or living room.
The compact freezer shelf design with reversing door brings a modern feel to the room. Whynter CUF 110B has a powerful compressor cooling system with manual defrosting that will give you a great experience when using.
Midea WHS-109FW1
Midea WHS-109FW1 allows users to adjust the temperature by mechanical buttons, the temperature adjustment range from -11. 2′ to 8.6′ F. This is an Energy-Star rated freezer that guarantees the operation of the energy-saving feature.
In addition, Midea WHS-109FW1 has a very luxurious design with elegant colors, just enough size for family use. The reversing door on this freezer is also one of the highlights. The space inside the freezer is smartly designed with two fixed shelves and a very convenient drawer to organize food storage.
BLACK+DECKER
BLACK+DECKER 1.2 Cu. Ft. Compact size with large capacity. The internal capacity of this small upright freezer can store a wide variety of foods. You can put it anywhere, such as the office, bedroom, basement, or car.
Internal design BLACK+DECKER 1.2 Cu. Ft, it's very convenient with wire shelves that allow you to adjust the position. Moreover, inside this freezer, a mechanical thermostat helps you personalize its operation.
Midea MRC04M3AWW
Midea freezers support a wide range of temperatures from -12 to -28 degree, so the quality of your favorite foods is preserved for longer.
With an easy-to-clean interior, the freezer door can from 45 to 75 Degree Angles, so you can easily access and store your foods. It has removable storage basket which is designed for easily access.
Midea offers a wide selection of high-quality refrigerators and freezers in a variety of styles and functions.
Frigidaire EFRF114-AMZ
With 1.1 cubic feet capacity, it is ideal for a garage, a basement, or a dormitory. You can control and monitor the temperature with the internal thermostat. Reversible front door and adjustable legs for stability and balance.
The manual defrost operation system helps you keep the freezer clean. You can change, organize, and store foods with 3 wire shelves and bright LED lights.
Futher reading: Is Danby a Good Brand for Mini Fridges and Freezers?
Koolatron
With a capacity of 1.2 cubic feet (34 liters), it fits easily on a countertop and is the ideal size for holding ice cubes, frozen meals or leftovers. Flat back design saves space and removable wire shelves allow you to organize your food.
The Koolatron freezer is ideal for a dorm room, home bar, small apartment or office lunchroom.
Commercial Cool
Commercial cool freezer is small but has a large capacity of 2.8 cu. ft. that is enough for storing meat spares and frozen meals. It features 3 removable, width-adjustable shelves and adjustable temperature controls.
This upright freezer can save your money because it has ETL energy and safety certification and environment friendly R600a refrigerant.
RCA RFRF300
It has a noise level lower than 42 decibels and an auto defrost function. This upright freezers with recessed door handles for quick access to your frozen items; level adjustment feet make storage much more convenient, and automatic defrost helps to keep the freezer compartment clean. The 7-level manual temperature knob allows you to adjust the temperature from -8°F to 7°F.
It is best for small places like kitchens, dining rooms, dormitories and offices.
Conclusion
Depending on the space in your home, your needs and preferences, hope you can choose a suitable upright freezer.
An upright freezer will consume more electricity than a chest freezer but it will be convenient in storing and finding foods.
The above freezers are worth your reference and choice.