An Airbnb is like a temporary home for people who travel a lot. When arriving at an Airbnb, guests expect to stay comfortably in the place, as well as do many activities in the Airbnb, one of them is storing foods and drinks. A fridge or a mini fridge could be a difference between a happy guest and a disappointed guest. So buying a good a fridge or a mini fridge is very important. But, what should you look for when buying a small fridge for this purpose? How to buy a suitable small fridge for Airbnb?
When equipping appliances for the Airbnb, a fridge or mini fridge is necessary for the basic food and drink storing needs. And if your Airbnb has a small fridge, it could help boost your booking a lot.
Besides keeping food and drinks, a fridge can be used to earn some extra money. The guests will be charged if they used the items stored in fridge.
What should you consider when buying a small fridge for Airbnb?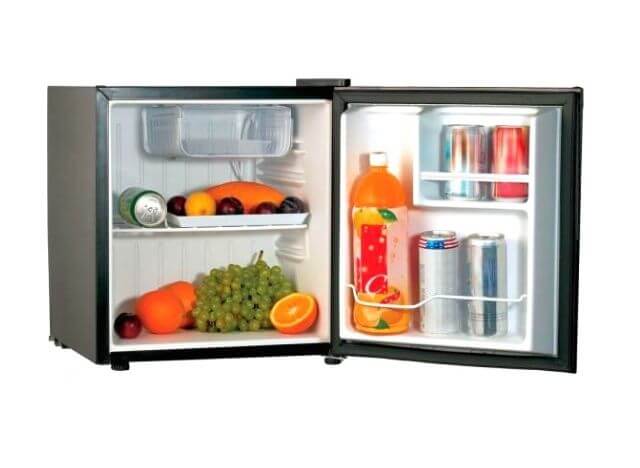 Size
The Airbnb place can vary depending on the space of the overall room as well as the furniture inside. It can also depend on how much you want to charge for the Airbnb place.
If you have a big Airbnb room, you can freely opt for a decent size fridge, or even a small fridge.
But if you have a small room, or your room has limited space, or a fridge is not the most important priority, you can opt for a smaller fridge, or even a narrow fridge if you have decent height space.
Power
Just like a normal fridge, you should check how much power the mini fridge consumes. Your guest consumes your electricity when using the fridge. And if you don't manage it properly, the power bill could disturb your money flow.
A mini fridge usually doesn't consume too much power. It is always better to get those with power-saving features.
Space
Your guests would be happy if they can comfortably store their food and drink inside the fridge without worrying about running out of space. So don't pick a mini fridge that is too small.
There should be a balance between the space of the fridge and the outside space to ensure the overall aesthetic of the room.
Reviews
If you can't physically try the fridge before buying, check thoroughly the online reviews first before considering getting the product.
While the accuracy of the reviews may vary, they will give you a rough idea of how well the fridge functions as well as some of the shortcomings that usually don't show up on a spec sheet.
Note: it is better to consider a 4-star mini fridge with lots of reviews (like more than 1000) than a 5-star mini fridge that only has a few reviews.
Warranty
If you don't know how to fix your fridge when it breaks down, then warranty get you covered. So opt for mini fridges with long period of warranty, at least 1 or 2 years.
Some fridge manufacturer can even have warranty on specific parts of the fridge longer than the fridge itself, such as the compressor.
Here are some aesthetic factors you would like to take a look.
Shape
The shape of the fridge can really enhance the overall look and aesthetics of the Airbnb space you aim to create, as well as the appealing to a guest trying to look for a nice space to stay.
So start by evaluating the room, the furniture, and determine where you would want to place your fridge to make the best looking space. At that moment, you have already think about the size and shape of the mini fridge.
Generally, a flat cube or cuboid-shaped fridge would fit very nicely next to the bed, the drawer, or near the edge of the wall.
Or, you can always get neutral-looking fridges, which in most cases, will fit in decently well with most room setup.
Color
Colors help set up the theme of the Airbnb space you want to set up that is attractive to guests. It also sets up the vibe of the room you want to achieve.
The color combination can be a guide on how you choose your mini fridge's color.
If the overall tone of the room is warm, then you can get mini fridges with the color red, yellow, or orange. And the same goes for cool tone. Overall, black, grey, or white would fit the most in almost any setup.
You may also like: 6 Best Mini Fridges for Dorm Rooms
Recommended small fridges for Airbnb
BLACK+DECKER BCRK25V Mini Fridge – Best storage space
Dimensions:                   18.5 x 17.52 x 26.61 inches
Capacity:                        2.5 Cubic Feet
Finish Type:                   Glossy
Inverter Type:                Yes
Door:                              Single
Pros:
Compact
Energy Star
with Freezer
Metal Finish
Midea WHS-87LB1 Refrigerator – Best value
Dimensions:         17.52 x 20.08 x 24.8 inches
Weight:                 35.3 pounds
Capacity:              2.4 Cubic Feet
Noise:                   42 dB
Defrost:                Manual Defrost
Pros:
Quiet
Reversible door hinges
Adjustable legs
Energy star
Large storage area
It has large storage space for keeping leftovers, drinks, fruit, snacks. Guests can be assured that their food and drink are fresh and cold.
With the neutral characteristics and modern-looking, the Midea fridge will suit the interior of your home with a hint of luxury.
HomeLabs Beverage Refrigerator – Best For Beverages
Dimensions:                   17.3 x 18.9 x 33.3 inches
Weight:                           68.3 pounds
Capacity:                        3.2 Cubic Feet
Installation Type:           Under-Counter
Pros:
Perfect for keeping beverages
Sharp look
Clean and clear glass to show off the drinks
Adjustable shelves
The transparent door makes the inside beverage visible and impressed the guests. Other features like auto defrost function, power cooling system, and large capacity that can conveniently holds up to 120 standard sized soda or beer cans, or several bottles of wine.
BLACK+DECKER BCRK17W – Best quiet
Dimensions:                   18.5 x 17.52 x 19.72 inches
Capacity:                        1.7 Cubic Feet
Lock:                               Electronic
Inverter:                          Yes
Finish Type:                   Glossy
Pros:
Space saving
Convenient features
Ultra quiet
with Freezer
BLACK+DECKER BCRK17W is suitable for small room. The modern design is available in black, white and stainless steel. Besides, the convenient features like reversible door, leveling legs, and adjustable temperature control, it also has a small freezer (8 inches wide x 2 inches tall). It run quietly that will not annoy your guests.
Commercial Cool CCR16B Mini Fridge – Best price
Dimensions:         17.5 x 18.6 x 19.6 inches
Weight:                 32.8 pounds
Capacity:              1.6 Cubic Feet
Defrost:                Manual Defrost
Pros:
Modern look
Reversible door hinge
Integrated door shelving
Energy Star
This small but mighty fridge best fits the countertops or desktops.  With compact size and smooth back design, it can stand anywhere in your room. It is easy to operate and environmentally friendly.
Midea WHS-65LB1 Compact Refrigerator – Budget friendly
Dimensions:         17.72 x 18.58 x 19.37 inches
Weight:                 35.3 pounds
Capacity:              1.6 Cubic Feet
Noise:                   42 dB
Features:
Temperature adjustment ranges from -2 to 2 degree C (or 32 to 35 degree F)
Reversible door and
Warranty 1 year
Cooluli 20 Liter Mini fridge – Best Countertop
Dimensions:                   10.2 x 7.7 x 10.5 inches
Weight:                           13.6 pounds
Capacity:                        20 Liters
Installation Type:           Countertop
Features:
Small storage space
Adjustable temperature with clear and simple interface
Very quiet and efficient, eco-friendly
This small fridge can fit a countertop or squeeze into a tight space. Guests can still satisfy and be happy when getting a huge value out of a smaller fridge. Cooluli model has enough space for some beverages, food and fruits. Besides, it is also a high-quality product which works quietly and efficiently.
You may also like: Best Quiet Mini Fridges for AirBnB
Conclusion
Overall, before making your choice, you should think of your guests first. Size, power consumption, warranty policy are the things you should consider when buying a mini fridge for your Airbnb. With those factors, you'll get a mini fridge that is functional, as well as appealing to guests.
Reference:
Fridge for Airbnb 2021 – Reviews & Buyer's Guide, airhostacademy.com, Retrieved on Oct. 2, 2021