A freezer is an essential appliance for your home, and it can preserve food for a long time in large quantities. However, the size of the freezer is quite large, and it will be challenging to put the freezer in the house and still keep the aesthetics and not get entangled. Therefore, many people choose to put freeze outside. So is this a problem? What are the situations you will encounter if you leave the freezers outside? Let's read this article for the answer.
Can the freezers be kept outside?
Freezers are great tools to store foods for a long time, especially since the large freezer can hold a whole turkey or ribs for large parties. However, the size of the freezer is quite large, and due to different usage needs, many people want to put the freezer in the yard for easy use. This is still possible. However, it has many risks and things to consider. If you want to store your freezer outdoors, don't leave it in direct sunlight, but keep it in a garage rack or under a covered porch.
We recommend that you, if possible, keep the freezer inside your home to avoid environmental and weather influences.
If you must leave the freezer outside, you should choose the right type of freezer. Consider where you put your freezer and arrange it; choose a freezer of the right size and design such as an upright freezer, a horizontal freezer, or a built-in freezer.
Several types of freezers are designed to cope with extreme temperatures outside, which is ideal if you have no other choice. Freezers outside will be affected by seasonal weather; that is obvious.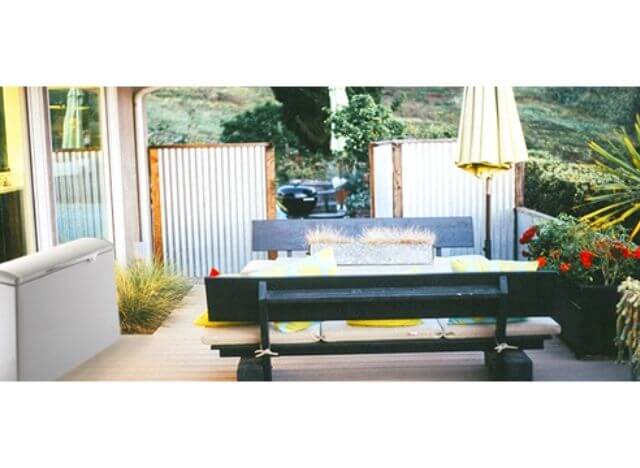 Further reading: Should You Buy an Upright Freezer or a Chest Freezer?
With cold environment
In a cold environment, things seem more manageable. However, the refrigerator will still have some problems that you will hardly notice.
Typically, freezers are designed with a specific temperature and refrigerant level in mind to keep the internal temperature at an optimal level. However, when the compressor of the freezer is exposed to cold temperatures, especially freezing, or is directly exposed to the temperature of the air around it, the compressor will not be able to operate correctly. Specifically, the compressor on the outside will be affected by the environment to reduce the oil's viscosity, resulting in parts that are not smooth enough to move.
The compressor is an integral part of the freezer, and this problem can lead to severe breakdowns and malfunctions. Compressor repair is expensive and requires professionals.
With hot environment
Freezers designed explicitly for outdoor use will be noticeably affected by hot climates. You need to know the problems to handle and protect your freezer when issues occur.
In a hot environment, the temperature and humidity increase outside, leading to the freezer and refrigeration system improving performance to maintain a stable freezing temperature inside. This leads to increased electricity consumption in the summer and wear and tear of components in the refrigeration system because of continuous high-intensity operation.
Besides, exposure to strong sunlight will lead to the risk of explosion and damage to the freezer. Therefore, you need to care when leaving the freezer outside in a hot environment. If possible, bring the freezer indoors temporarily when the temperature gets too high.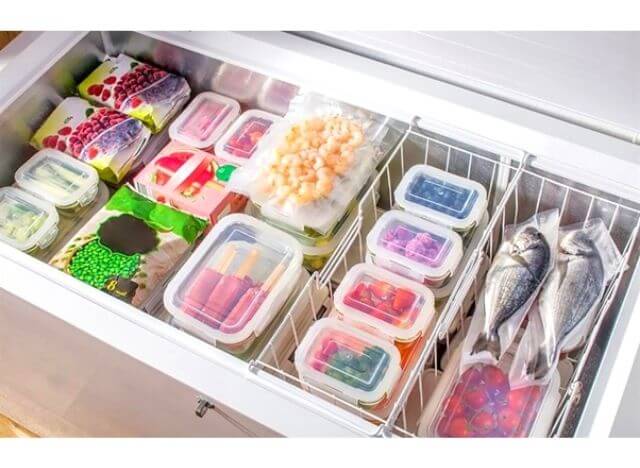 Further reading: How to choose the best freezer for a hot garage
Other issues that need attention
Keeping the freezer outside brings excellent benefits in space and convenience for family activities. However, you need to arrange the appropriate location and have enough room for the freezer to operate. In addition, it is also a clean and dry location, avoiding harmful agents from the environment.
In addition to temperature fluctuations, you need to be aware of the humidity of the air, sunlight, sand, dust, leaves, or even rain and snow that will affect your freezer. Besides, you should pay attention to the problem of fire when there are many leaves with high temperatures around the freezer.
If you keep your freezer under the roof and the temperature in your area is always moderate, your freezer can still work as well as it did inside.
However, if you are in these following cases, do not leave the freezer outdoors.
Cold area and easy to freeze
Areas where theft and burglary often occur
Areas with too high temperature and strong sunlight
The living area near the coast to avoid freezer corrosion from the salty air
Key factors to consider when looking for an outdoor freezer
The above reasons obviously demonstrate why an indoor freezer might be a bad idea when you want to put it outside. So, if you live in a hot and humid climate, you should consider an outdoor rated freezer for your outdoor kitchen.  Here are the 2 key points you need to consider:
Durability
Outdoor freezers must be different from the indoor ones. These freezers will be exposed to outside weather elements, so they need to be durable. They must be specifically designed to handle temperature fluctuations. Their construction should be able to move or shield their compressors to prevent overheating or ice build-up.
Cooling system
You also need to know if its cooling system can be effective in a garage or yard in cold winter or sweltering heat in summer.
There are two kinds of cooling systems: forced air and cold plate.
In a forced-air system, a hidden cooler (it's usually a compressor) which cools the air and then circulates it through the unit, resulting in a much more consistent temperature throughout the freezer.
Cold plate refrigeration, also known as static refrigeration, is a method of refrigeration that uses a dedicated refrigeration unit at the back of the refrigerator to pull heat away from the freezer. Foods near the back of the freezer may block the flow of cold air, which can result in inconsistent temperatures.
Best outdoor or garage freezers
1. SMETA – Outdoor Freezer with Flip-Up Lid
Users can open the door easily with recess handle. Besides, the drain will make it convenient for defrosting and cleaning. Compact design but large capacity of 3.5 cubic feet, it works quietly with low noise and high-efficient freezing function.
The SMETA freezer has hinged doors that automatically hold at angles from 45° to 90°, allowing you to easily access the freezer with hands-free.
SMETA deep freezer offers premium quality and innovative design for your freezing and refrigeration needs. It perfectly fits into many places such as kitchens, outdoor kitchens, home bars, restaurants, offices, apartment, garages, RVs or basements.
2. WATOOR 3.5 Cu.Ft – Mini Outdoor Chest Freezer
It brings great experience to users as every detail on the Watoor chest freezer is carefully designed such as the self-opening top lid from 45° to 90° that allows easy access to food, the 2 hanging removable organizers make small items easy to find.
With 7 temperature settings ranging from -4°F and 6.8°F, it allows freezing different foods. It's also energy saving and operate with low noise. The high efficiency, low energy compressor makes the freezer be cool quickly and only 0.45-kilowatt-hour power needed per day.
3. Midea Chest Freezer, 7.0 Cubic Feet
The Midea Chest Freezer is a kind of forced-air garage freezer. It weighs less than 75 pounds and features an adjustable thermostat, removable baskets for easy cleaning, and a top door that can be raised from 45 degrees to 75 degrees for easy access to food in large storage spaces.
It's sturdy enough to withstand changing temperature when being placed in a garage or even outdoors.
4. Danby 7.2 Cu.Ft. Garage Ready Freezer
This freezer is considered one of the most reliable Danby freezers. It is the perfect option to any type of home, even a small home. The freezer is equipped with efficient and smart foam insulation and round lids, so your electricity bill will be significantly reduced.
The easily accessible front-mounted mechanical thermostat allows you to set the freezer easily and quickly to the desired temperature. It also offers large storage space of 7.2 cubic feet (204 liters) without taking up too much space. This popular model comes with convenient manual defrosting and defrosting systems along with a sturdy Vinyl coated basket to separate and store your most common foods.
5. Maxx Cold 3.4 Cubic Feet
The Maxx Cold solid hinged freezer is a great choice for the safe storage of frozen food products for any family. When needed, stored food is easily accessible. The included internal storage baskets make it easy to organize your groceries, so you can quickly locate and get what you need.
Due to the large size of the refrigeration system, this unit can be safely used in the garage even when the temperature drops to 0°F or rises above 100°F. The hinged lid includes a lock and key to prevent unauthorized access to the inside.
The freezer design will provide many years of reliable operation if properly maintained and the white coated exterior is easy to clean and sanitize. It is perfect for convenience store, outdoor kitchen, ice cream shop, restaurant, bar or home.
Related questions
1. Can I keep a freezer in an unheated garage?
Yes, it is possible for you to keep a freezer in an unheated garage. The garage is also a common place that people often put refrigerators and freezers, an unheated garage may not be a problem. However, if the garage does not have heating and the temperature gets too low, then you should be cautious. The freezer will start to experience complications and may not operate well when the overall temperature of the garage drops below 50 degrees F (10 degrees C). When it goes below 0°F (-17°C), the freezer can be damaged.
2. Can a freezer get rained on?
A little rain may not damage your freezer. However, you need to wipe it properly to ensure it is dry so that it does not rust. On the other hand, if it rains heavily, it can cause an electric shock accident.
3. Can you put a deep freezer in a hot garage?
You can completely keep a deep freezer in a well-insulated garage as it won't be exposed to extreme heat. When temperature rises above 110°F (43°C) and goes below 0°F (-17°C), it can damage the freezer.
How about a hot garage, is safe to put a freezer in? A garage can be hot due to some reasons such as it has no insulation or it's near another warm room. In these cases, the freezer will open itself up to heat infiltration over time. This will increase the temperature inside the deep freezer as the temperature around it exceeds what it is designed for (above 110°F).
Besides, when the garage could be even warmer than what your freezer is designed for. This puts extra strain on the freezer's cooling system and components, which can cause damage over time. If you live in an area where outside temperatures are consistently above 110°F (43°C) degrees or below 0°F (-17°C), you should keep your freezer inside your home.
4. Where should I put my freezer?
The kitchen should be a perfect option. Besides, there are other locations where a freezer can be placed, including the basement, utility room, garage, and laundry room. When space is limited, you might consider placing the freezer in your living room or outdoor shed.
5. How to protect the outside freezers?
To enhance the performance and prolong the life of your outside freezer, you can apply these tips:
Provide shade and cover to protect your freezer from outdoor elements like rain and snow.
Ensure space for air to circulate around the device.
Regularly inspect the freezer for leaks or damage and remove debris such as litter, foliage, or leaves from the surrounding area, which could pose a fire hazard.
During periods of extreme cold, unplug the appliance. The weather will keep your items frozen without the risk of damaging the freezer.
It's better to find freezers that have an auto shutoff setting or install one on your own. With this function, you can power off the machine at a predetermined temperature.
Conclusion
If you must keep your freezer outside, you should choose a specifically designed freezer to cope with the changing temperature environment. In addition, when you leave the freezer outdoors, pay more attention to the freezer's operation and clean the area around it.
Don't worry too much if your electric bill increases more in the summer. I hope this article brings you helpful information.
Reference
Guide on Keeping a Deep Freezer Outside, captainpatio.com, Retrieved Apr. 20, 2022