Today, on the market, there are countless refrigerator brands that are integrated with advanced technology for users to choose from. So how to choose the best desk refrigerator?
Surely, when going to buy a desk refrigerator, you will be confused because you do not know which appliance to choose. Moreover, you do not have much experience, do not know what requirements to set out to choose the right refrigerator.
In order to help you easily choose a desk refrigerator, this article would like to give you some experience on how to choose the best desk fridge.
Location of refrigerator
When decide to choose a desk fridge, you must first determine the location you want to place, then you can consider other factors to buy the right one. Maybe it's a refrigerator to put on, next to, under or beside your desk.
Placement is the deciding factor in the right size of a desk refrigerator. Desk refrigerators placed next to the desk will usually be larger than refrigerators placed above or below the desk. Because if you put a refrigerator that is too big on the table, it will be very entangled. Therefore, if your needs are many, choose to put the desk refrigerator next to it.
Further reading: Where Should You Put a Mini Fridge in Your House?
Uses
If you buy a desk refrigerator to store frozen items, you need a large freezer compartment. Or you just want to store food, then choose products with features of uniform cooling, deodorizing, and keeping food fresh for a long time… However, the desk refrigerator has a compact size, you should consider this point.
If you want to experience new and unique technologies, try new, modern products. Those are the factors that help you to clearly define the purpose before making a buying decision.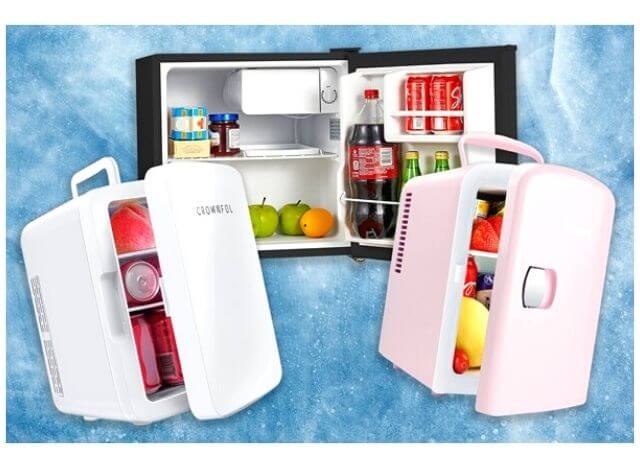 Ability to save electricity
Normally, the refrigerator will account for about 7 – 8% of the power consumption of all electrical appliances in the home, especially when you intend to use 2 refrigerators. The more fridges you have, the higher the electricity consumption. If you want to use a desk refrigerator and not have to pay too many electricity bills, choose a desk refrigerator with a good energy-saving mode.
Although the purchase price may be slightly higher than other refrigerators, it will bring long-term benefits.
To choose an energy-saving desk refrigerator, you need to pay attention to the following points: refrigerators operated by electromechanical compressors will consume less electricity or direct refrigeration technology saves more electricity than indirect ones. Same model, but if the device has a small capacity compressor, it will have more limited power consumption.
Brand and warranty
Choosing a reputable supplier will help yourself to buy a quality refrigerator with a full warranty. Note, you need to carefully read the specifications from the manufacturer: energy saving, bactericidal, deodorizing and green technology.
Currently, most refrigerators are warranted for 1-2 years for components. Therefore, you should choose reputable branch to get a quality refrigerator with a warranty policy to ensure your rights.
Further reading: 11 Best Mini Fridges for Dorm Rooms
Top 3 best desk fridge
1. RCA RFR322-B
Fridge dimensions:            17-1/2" W x 18.5/8" D x 31.5/8" H
Capacity:                          3.2 cubic feet
Weight:                             50.7 pounds
The reversible door and leveling feet make it easy to place on the floor, counter, table or virtually anywhere else. You can easily use the small refrigerator door to open left or right using the reversible door, depending on your needs and room layout.
Not only the door can be reversed, but the inside of the refrigerator also provides ample space to store a variety of food and drinks.
You can adjust the temperature very easily. And to defrost, simply press the defrost button in the middle of the temperature control knob, and the compact refrigerator will start defrosting.
There are two removable shelves. If you need to organize items higher, the small refrigerator shelf can be removed or adjusted. You can change it to meet your specific requirements while there is still room for improvement.
2. Cooluli Mini Fridge
Unit dimensions:     10.5″ W x 13″ D x 14.75″ H
Capacity:                15 L
Weighs:                  10.7 Pounds
You can take your Cooluli anywhere. The one-piece molded top handle makes it easy to transport, even when the inside of the fridge is full.
You can maximize the use of space. Easily removable inner shelves and baskets give you more space and storage options.
The large refrigerator capacity and convenient modes. AC, DC & USB power cords included for maximum portability and flexibility. You can use it anywhere.
This refrigerator is 100% energy efficient. Equipped with EcoMax technology, the Cooluli Mini Refrigerator is low cost and energy efficient.
3. HOmeLabs Beverage Refrigerator and Cooler
Refrigerator measures:      19.3" W x 33.2" H x 17.3" D
Capacity:                          3.2 Cubic Feet
Weight:                             68.3 Pounds
It features an easy-to-use temperature control system that can cool down to 36°F and an internal digital display for convenient and easy temperature control.
It serves as a refrigerator which can hold up to 120 standard sized soda or beer cans, or several bottles of wine. A great addition to any home bar providing constant access to the cold beverage of your choice. With 3 adjustable and removable compartments, you can refill soft drinks bottles and cans for his favorite thirst.
It also provides blue LED lights inside and clear glass doors for late workers.
Conclusion
Hopefully, the information shared about the experience of how to choose a desk fridge above can partly help you make a decision to own the best equipment, suitable for your family.