The end of the year is party time, Christmas and New Year or family gatherings are the most anticipated events. You may wonder how to enjoy the best party together, especially with large group of people. To save time, what Christmas foods can you prepare in advance and put in the freezer? Or even after the party, how to freeze Christmas dinner leftovers for later use? Keep reading to find the answers.
Tips to prepare Christmas party for large groups
Followings are some tips to keep in mind when hosting large groups at your home.
Create a warm and inviting scent: This is very important. The smell of a home is something that is easily overlooked but makes a big difference. While the fresh flowers and lit candles are picturesque, their scent can often be overwhelming. When it comes to dinner, you want your food to be the most fragrant in the room. You also need to consider your landscape. Before you put the finishing touches to your desk, try sitting down and checking the height of your centerpiece.
Play music: Music softens the atmosphere and makes people feel more comfortable. It provides a topic for conversation as well as filling the silence if needed. You can also personalize this for the people who come to your home.
Have munchies ready: Having several types of easy-to-get appetizers available will give everyone something to do and something to gather around.
Keep things simple. Choose foods that require little cooking. That way, you can save time to chat or do last-minute things. 
Don't think too much: True hospitality makes your guests feel welcome, loved and nurtured in your home. It's normal for people to see imperfections in your home, food, or family. About utensils, for example, if you don't have enough silverware for all your guests, don't worry. Create a signature look by mixing and matching what you have.
Prepare in advance: There's a lot you can do ahead of time and freeze until the big day. The cranberry sauce, stuffing and bread sauce are all dream-like – just get them out a day or two before Christmas. You should prepare some foods in advanced and store in freezer.
Which Christmas dinner foods can you make ahead and freeze?
It's a good idea to buy foods and prepare them in advance to save time. Here are the instructions on how to freeze them.
Turkey
Turkey is an indispensable dish for the Christmas party. You can freeze a whole turkey if you have enough space. When you're ready to eat, make sure it's completely defrosted before you cook it. You can defrost Turkey in the refrigerator at 4C degree (39 F degree).
Usually, it takes about 10 to 12 hours per kilogram. It's important to make sure it's fully defrosted so it cooks evenly.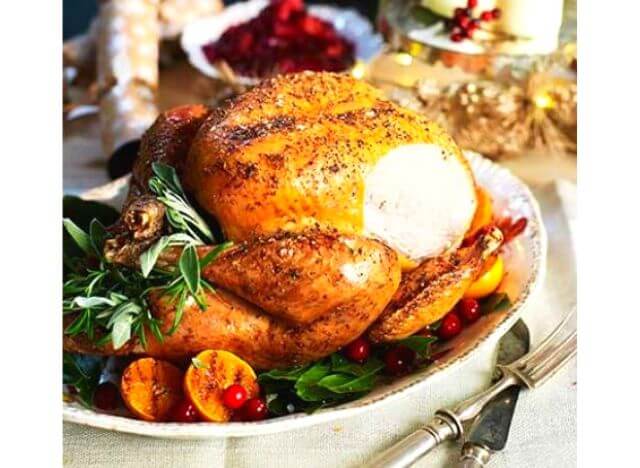 A whole turkey can keep for up to 12 months in the freezer, giving you plenty of time to prepare for Christmas.
You can also shred and freeze the turkey if you don't have room for the whole thing. Wrap the pieces tightly in a freezer bag or plastic wrap and keep in the freezer for up to six months.
Further reading: What Are the Best Cheap Freezers for Home?
Potatoes
Cooked potatoes usually freeze well. You can make them as planned and put them in the freezer, then cook them as needed.Spread them out on a tray, making sure they don't touch each other, and leave overnight to harden.
The next day, lift them out of the tray and put them in a freezer bag or airtight container for up to three months.
Vegetables

Carrots, parsnips, and Brussels sprouts are traditional vegetables on the Christmas dinner plate.
It's fine to freeze carrots and parsnips if they are cooked first. Blanching them in hot water for a few minutes is best to prevent them from losing nutrients and flavor, but you can also freeze roasted carrots and parsnips.
With both blanched and pre-roasted carrots and parsnips, you can store them for up to three months and cook straight from the freezer.
Brussels also freezes well. It's recommended to blanch them before freezing. It means you need to soak your Brussels sprouts in a pan of boiling water for about 5 minutes. Then, scoop them out and submerge them in a bowl of ice water. Place the Brussels sprouts on a baking sheet and flash freeze them in the freezer. After that, store them in an airtight bag or container before putting them in freezer for later use.
You may also like: How to Choose the Best Small Upright Freezer
Christmas pudding
You can wrap your pudding in two layers of plastic wrap or foil and freeze for up to a year.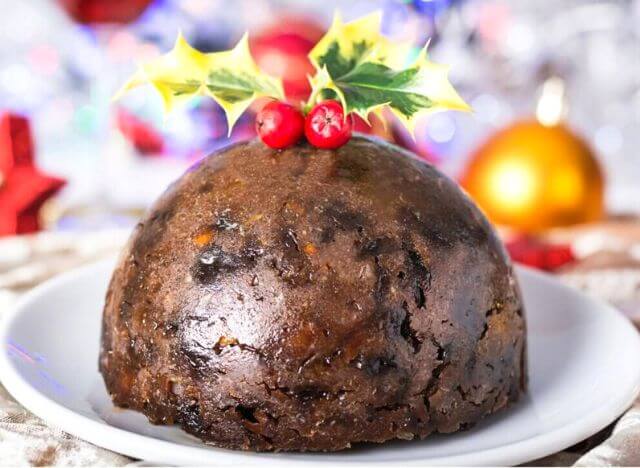 Pigs in blankets and stuffed with balls
These tiny things can easily be frozen and it's best to check the packaging for instructions. You can cook some of them from frozen and others will need to be defrosted first.
What is the best cooking timeline for make-ahead Christmas foods?
If you wonder how long ahead you can make and freeze Christmas dinner, here is the guideline.
A week before, you can make and keep the Cranberry sauce.
One month before, you can prepare and freeze:
Stuffing
Bread sauce
Mince pies
Roasted potatoes
Pigs in blankets
Brussels sprouts or red cabbage
Three months ahead, you can:
Make and freeze gravy
Make, keep, and feed the Christmas cakes or Christmas pudding
How to freeze Christmas dinner leftovers
Freezing leftover Turkey
You must wait until the meats cool down before placing them in the freezer.  This makes the refrigerator temperature does not rise and affect the safety of other foods. You should separate leftover turkey into individual serving containers. It will help cool the meat faster and easy to use later.
As long as the cooked turkey is fresh, leftovers from your Christmas meal can be frozen for later meals. When freezing cooked meats, it is essential that they are cooled to 21°C within two hours of cooking to prevent bacterial growth.
If you're saving the turkey for another roast dinner, cut the turkey into slices, then drizzle some gravy on top before closing the plastic container. Add the gravy to keep the turkey moist as you reheat.
When storing meat like turkey, be sure to use an airtight container or freezer bag labeled with the type of meat and the cooking date. Alternatively, you can use a vacuum sealer to remove air and oxygen from your food, preserving flavor and maximizing freezer space.
Further reading: Which is the Best Vacuum Sealer to Keep Food Fresh?
To ensure that turkey is frozen at the right temperature and at the right time, place chilled turkey in the refrigerator before freezing at -5°C for four hours.
After thawing in the refrigerator overnight, turkey should be cooked within 24 hours.
Freezing vegetables
Not all cooked vegetables freeze well, so you should follow the guidelines to ensure safe food hygiene practices. When freezing cooked vegetables, it all depends on the recipe in which you plan to use them.
In general, cooked carrots, swedes and turnips will freeze very well and you can reused them for a roast dinner. However, frozen sprouts and baked potatoes are better for stews and mashes, or for foaming and creaking. Frozen baked potatoes can also produce a delicious hash brown.
You may also like: Best Reusable Freezer Bags for Meat, Vegetables and Liquids
Freezing gravies
If you want to freeze gravy, you should use as little fat, milk or cream as possible when prepare it. These ingredients tend to separate as the gravy is thawed.
You can apply a good trick to reduce layer separation is to run the gravy quickly through a food processor before placing it in a freezer-safe container. The gravy thickened with flour can be frozen in an airtight container for up to four months without significant deterioration in quality.
When you want to use the gravy again, you can defrost the frozen gravy overnight in the refrigerator. Then, reheat it slowly in the pan over medium-low heat, at the same time stirring constantly to prevent lumps. If your sauce starts to separate, add more water or broth and stir vigorously.
Notes when freezing leftovers
Ice cube trays are perfect for storing convenience foods, fresh herbs, wine, milk and gravy. The ice cubes are ideal for adding flavor to recipes straight from the freezer, defrosting into hot sauces and soups.
You should try freezing any leftover herbs, wine, or gravy to drop into later meals.
Further reading: Freezer Safe Plastic Containers
The bottom line
When you are busy with year-end work, you can completely pre-purchase the main dishes of the Christmas party and freeze them.
After the party, you can freeze Christmas dinner leftovers for later use. With the right storage and freezing methods, or delicious recipes from leftovers, you can make your Christmas meals even better and reduce food waste.
Reference:
Classic Christmas recipes you can make ahead, bbcgoodfood.com, Retrieved on Dec. 2, 2022
A Guide to Freezing Christmas Dinner Leftovers, k-c-a.co.uk, Retrieved on Dec. 3, 2022