You can absolutely watch TV on a smart refrigerator. This is a relatively new concept to most ordinary users, although smart refrigerators that support this feature have been around for nearly 2 years. In short, smart refrigerators now can connect to the internet and with other smart devices to satisfy the users.
The Samsung Family Hub refrigerator can be said to be one of the iconic product lines for this technology, making many people excited.
The trend of using super smart refrigerators
Smart refrigerator is a type of refrigerator that has just been launched recently. They are considered the most intelligent devices in the kitchen space. Many people have commented that this is a kitchen appliance that definitely tops all of the smart devices and seems to be able to do all but cook your meals.
Smart refrigerators now have modern software, ensuring the perfection of quality and aesthetics. The simple, sophisticated and modern design will be the perfect addition to any kitchen. Owning many innovative features that users want the most, including: AI camera inside the refrigerator, the ability to suggest recipes and plan meals to suit individual preferences. Besides, your family smart fridge can share together on more types of content.
Moreover, the application of AI technology makes your refrigerator a virtual assistant that helps you to list and shop for groceries, check and share the weather forecast, manage your calendar, look up recipes and play music.
Therefore, the benefits of smart refrigerators cannot be denied. And it's also easy to understand why it's gradually becoming a trend in modern society.
Further reading: Which is the Cheapest Smart Refrigerator?
Can you watch TV on a smart fridge and Why?
Watching TV is usually only associated with smart devices or other presentation devices that have been on the market for a long time. Surely you will rarely think about watching TV right on the refrigerator in your kitchen. This may seem strange, but nowadays, nothing is impossible. New smart technology has brought to the center of your kitchen unexpected conveniences. Watching TV on a refrigerator can be more real than ever.
You can absolutely watch TV on a smart fridge. This is thanks to many manufacturers who have updated the SmartView feature, which displays content on new smart refrigerators. Therefore, you can enjoy videos vertically like on a smartphone, as well as your favorite social media content in full screen. The new smart refrigerator allows you to enjoy and relax all your favorite programs, making time in the kitchen so much better than before.
Further reading: Smart Refrigerator and Its Features – New Trend of the Times
Samsung Family Hub- the refrigerator gives you that great feature
Samsung is the first company to carry out a campaign to cover smart refrigerators with control screens around the world. With a series of modern technologies, artificial intelligence applications and smart connectivity, Samsung Family Hub refrigerators are expected to become an effective "housekeeper" for users. Like other high-end models, the cabinet has a fast cooling mode, automatic ice making, and a fast ice grinding mode.
In addition to the design of a traditional side by side refrigerator, the product has an additional 21.5-inch Family Board screen with Full HD resolution. Below is a large capacity speaker for listening to music and watching online videos. In the cabinet, the manufacturer equips an additional camera for observation, helping to monitor the food inside via smartphones. The refrigerator will connect to Samsung's SmartThings smart home system, which can directly control other devices through the screen.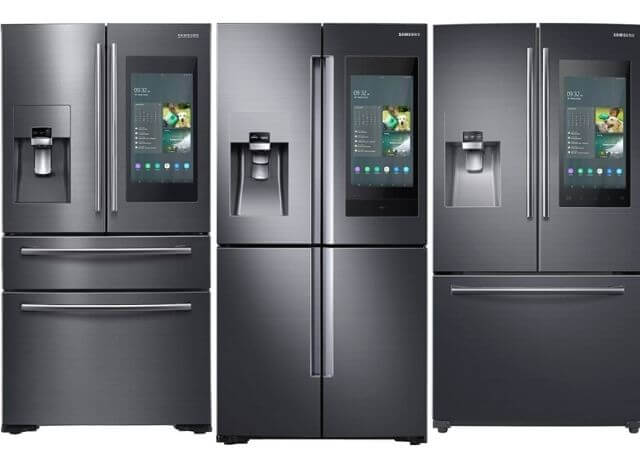 You can watch TV on the Samsung Family Hub
How to connect smart TV screen on the Samsung Family Hub
To watch TV on Samsung Family Hub smart refrigerator, you must first connect it to Samsung smart TV, smartphone or tablet. This connection is quite easy. Smart View will mirror the show you want to watch from the source device to the Samsung Family Hub refrigerator.
Depending on each product and manufacturer, it will have a different specific installation method. Model, error code or installation sequence will be slightly changed. However, the following steps are the most succinct steps for connecting a smart TV to the Samsung Family Hub.
Step 1: On Family Hub, access the quick panel, navigate and select Smart View
Step 2: Tap the TV you want to mirror the screen to
Please note that the service group identifier (SSID), the refrigerator, and the TV must use the same band group. For example 2.4ghz or 5ghz.
Step 3: Your TV screen will show up on Family Hub. The controls are available below the video
Related Questions
Can you listen to music on a smart fridge?
You can enjoy music on smart refrigerators. Currently, Samsung company has the Family Hub with different music apps, you can play and stream your favorite songs while you are busy cooking in the kitchen. Common music apps for your choice can be Spotify, Pandora, TuneIn, iHeartRADIO, or Amazon Music. Besides, LG company also produces smart fridge with built-in display for users to play music.
Can you play games on a smart refrigerator?
Yes. With the support from xCloud, you can play games like Doom on your smart fridge. The games still have proper aspect ratio, and the wireless controllers operate rather well. You can also play Roblox on your smart fridge.
Can you talk to a smart refrigerator?
You can now talk to a smart fridge as the manufacturers have added voice support feature, so you can communicate to the refrigerator. The Samsung Family Hub 2.0 with 21.5 inch LED touchscreen, which has launched recently own this function.
What are the special features of a smart fridge?
Besides watching TV, playing games and listening to music, you can also browse the internet with smart fridges.  Other great features can be listed as:
Use voice control
See what's inside the fridge without opening the door
Shopping online
Compile shopping list
Keep track of food's expiration date
Look up the recipes and read the steps for you to cook
Monitor and set the ideal temperatures
Turn on ice maker or air filter
Conclusion
Currently, smart refrigerators, such as Samsung Family Hub, have supported multimedia entertainment right on the refrigerator. With multiple options available, family members can watch TV on a smart fridge and seamlessly enjoy their favorite shows and apps with the refrigerator's crisp display and immersive speaker system. Smart fridges help every family fully enjoy the joy of cooking right in the cozy and modern kitchen.
Reference:
Screen Mirror a Samsung Smart TV On a Samsung Family Hub Fridge, samsung.com, Retrieved on Dec. 2, 2021