Cooluli skincare mini fridge is small, portable and has a cooling function which maintains a suitable temperature for cosmetics from 8 to 15 degrees Celsius. This is also the ideal temperature for face masks, lotions, etc. to help them retain their initial quality.
In addition, these fridges can also store many other things such as drugs, pharmaceuticals that require storage in a cold environment.
Skincare fridges use semiconductor cooling technology. So, the fridge does not consume a lot of electricity and does not make noise when operating.
Why do you need a mini skincare fridge?
The quality of cosmetics or skincare products must always be ensured so as not to cause any harmful effects. To keep them in good condition, preservation plays a very important role. Understanding this, the cosmetic mini fridge was born with the purpose of preserving beauty products. The refrigerator with a small, lovely mini version is the ideal choice for beauty believers who can take it away without taking up much space.
If you really like the feeling of a cool product on your clean skin, go for it – especially if you live in a very hot climate.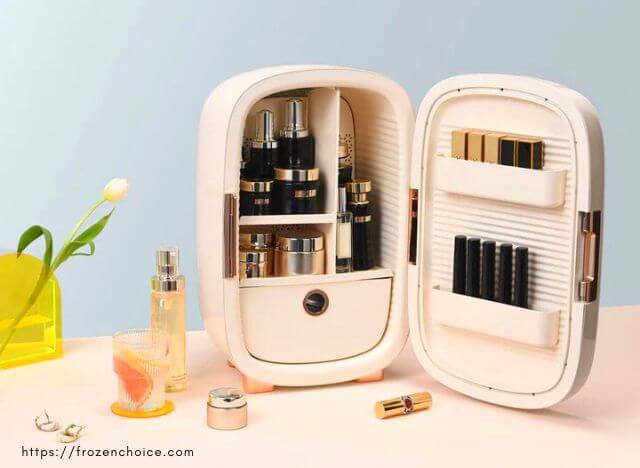 When you don't want to share your work fridge with messy co-workers or want to keep your beauty products in an organized way, this small appliance is what you're looking for.
Further reading: Which is a Cheap Skincare Fridge You Should Buy?
How to choose the right skincare fridge
Size
Size plays an important role, especially the depth and height to be able to determine which product will fit.
For items that are short in width such as jars of moisturizer, flat masks or eye care products, a refrigerator with more depth and multiple compartments will help you hold more products.
To store taller items like serums, cleansers, or beauty tools like jade rollers, you'll want a taller skincare fridge or a fridge with removable drawers for more space.
Price and Brand
You should not pick a cheap skincare mini fridge. Because at low price, the product can be poorly cooled, not durable, easy to damage your cosmetics.
Reputable brands will often have a long warranty period and good warranty policy. Of course, their products are also of high quality and the cost may not be low either. But it is worth buying a such skincare fridge.
Temperature
The most important consideration of a skincare fridge is temperature. A skincare mini refrigerator that can adjust the temperature function to maintain the effectiveness of your products is the first thing to consider. The controlled temperature makes it easier to use and absorb the product because it keeps the formula and preserves the texture of the product.
About Cooluli skincare fridge
Why is it a good choice?
The Cooluli is a thermoelectric model that comes in 4L, 10L, 15L and 20L models and several colors. It can reach temperatures up to 149ºF and down to 40ºF below ambient. This model comes with AC and DC cords as well as USB cords.
The Cooluli mini fridge is a desktop or tabletop cooling or heating appliance. It's large enough to hold your beauty products or food and drinks. It's exceptionally quiet and can easily run 24/7 on your vanity stand or desk. It works well for a thermoelectric model.
Is the Cooluli mini fridge safe?
Cooluli refrigerators are designed to be safe and environmentally friendly, powered by thermoelectric technology – with no Freon or any chemicals.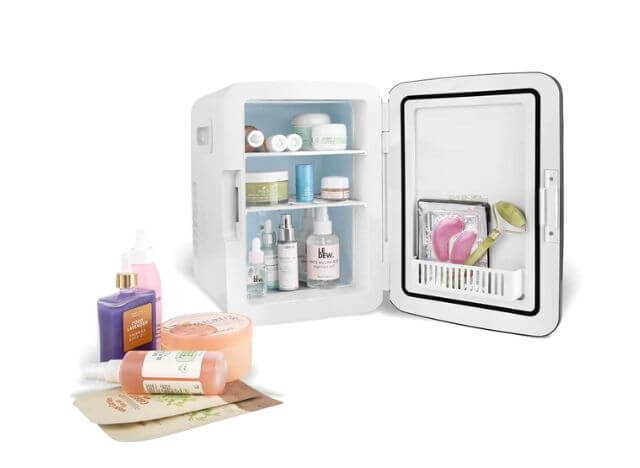 In addition, the Cooluli mini fridge does not come with any warnings about lead or reproductive problems. So you can safely use the Cooluli mini fridge without any worries.
How long does the Cooluli take to get cold?
Normally, a Cooluli mini fridge takes about 90-120 mins to reach maximum cooling. In term of temperature, a regular fridge runs between 33 and 38 degrees F, the Cooluli mini fridge keeps things in the 46 to 50 degree range.
How long does the Cooluli skincare fridge last?
Once the operating procedures are followed, the Cooluli mini fridge will last a long time, up to 8 to 10 years. In addition, Cooluli products are covered by a 1-year warranty from date of purchase. It also provides a 100% hassle-free warranty replacement policy.
Is the Cooluli refrigerator magnetic?
The Cooluli opens and acts like a miniature refrigerator. It has a magnetic closure so that you can easily open with one hand. However, it is not a very strong magnet, and it may come apart when you are carrying the cooler from one place to another without being careful.
Why is the Cooluli mini fridge flashing green?
The green light will come on to indicate the device is in cooling mode. If you want to reheat, set the power switch to HOT.
The red light will turn on to indicate that the fridge is in warming mode. For best performance, food and beverages should be cooled before being placed in this appliance.
Why is the Cooluli skincare fridge not cooling?
The cooling mechanism of the "skin care refrigerator" can fail due to the lack of ventilation space, causing freezing. The Cooluli thermoelectric cooler may stop cooling if ice builds up inside the refrigerator and freezes the coils.
For other mini fridges, in general, when they do not get cold or not run properly, you think of the reasons such as an issue in the sealed system, problems with evaporator fan motor or condenser fan motor. Also, the issues can come from evaporator coils, start relays, the control board or a restriction in the drier filter. You need to:
Ensure the door gaskets are properly sealed
Check whether the thermostat is working correctly
Make sure the fridge's compressor is running properly
You may also like: How to Choose a Suitable Mini Fridge for Skincare?
Do skincare mini refrigerators use a lot of electricity?
Most mini fridges are designed to be energy efficient and use very little electricity.
Using more or less electricity depends on the size of the refrigerator and the type of skin care products you store in it. If you only store a few items, the small refrigerator will not use much electricity. However, if you stock a large number of skincare products, a larger refrigerator will use more electricity.
A typical mini skincare refrigerator costs about $50 per year to operate. If you use an energy-efficient mini fridge, you will pay between $20 and $30 per year.
Best Cooluli skincare mini fridge on Amazon
1. Best storage space: Cooluli 20L
Sleek, compact
Weighs: 13 lbs.
Dimensions: 11.25″ W x 13.75″ D x 16.25″ H
Ultra-quiet and 100% eco-friendly
Digital thermostat on the easy-to-read display
Change temperature just by touching a button
Innovative semiconductor operation is energy-efficient
2. Best convenience: Cooluli Vibe 15L
Weighs: 9 lbs.
Perfectly portable, sleek, durable
Size: 10.5″ W x 12.75″ D x 14.75″ H
Quickly change from cooling to warming
With magnetic & dry-erase whiteboard front
Dual-voltage Vibe (110-240V/12V) works anywhere
100% eco-friendly EcoMax Technology: use minimum energy and prevents frost
3. Best value: Cooluli 10L
Weight: 7.9 lbs.
Size: 9.4″ W x 11.4″ D x 13.4″ H
Many colors for your choice
Use minimum energy and prevents frost
Thermoelectric cooler/warmer mini fridge
4. Best budget: Cooluli 4L
Weight: 4 lbs
Measures: 7.25″ W x 10.25″ D x 10.75″ H
Warming capacity: 122ºF-144ºF
Cooling Capacity: 40ºF-45ºF below ambient temperature
Energy-efficient, ultra-quiet and 100% environmentally friendly
Perfect for storing your skincare, personal care and beauty products, from moisturizers to masks… serums, creams…
5. Best for collectors: Cooluli Retro Coca-Cola 4L
Weight: 4 lbs.
Dimensions: 7.25″ W x 10.25″ D x 10.75″ H
Vintage Chic cooler/warmer mini fridge·
Semiconductor operation is energy-efficient
Ultra-quiet and 100% environmentally friendly
With the iconic signature logo, it's perfect for Coca Cola fans and collectors
What's in the box when buying a new Cooluli mini fridge?
Mini Fridge
AC Cord
DC Cord
User Manual
Alternatives to Cooluli skincare fridge
AstroAI Mini Fridge 6L
With the slogan "For All of Life's Adventures", the AstroAI manufacturer develops tools and products for adventure and ensure that everyone can enjoy the products.
This mini fridge cools up to 32-40°F (18-22°C) below ambient temperature. The lowest available temperature is 35°F (2°C). It cannot freeze the item. The noise level is 25dB which will not affect your sleep.
Chefman Mirrored Personal Fridge 4L
Chefman mini fridge with mirror will extend the life of your beauty products and they are perfectly temperature controlled. Besides, you can keep food cold with this compact design.
With this small 4L fridge, enjoy every day, from your morning skincare routine to your busy workday, on your way home and in the bedroom at night.
CURTIS MIS135DRP DR. Pepper
CURTIS Pepper Mini Portable fridge, Capacity 4 Liters, 6 Cans. It's perfect for storing Makeup, Skin Care. It does not contain Freon and is eco-friendly.
The ultimate all-in-one cooler, this mini fridge, cools up to 32°F below ambient temperature. Compact space-saving design and lightweight features make it easy to take anywhere and still fit your needs.
CROWNFUL Mini Fridge 4L
A great little device for storing cosmetics and skin care as well as food, drinks, snacks, breast milk. This also acts as a personal skincare fridge, making it an ideal gift for women.
It comes with an AC power cord and a car cigarette lighter plug so you can use it indoors or outdoors. It is ETL approved with advanced safety technology for long term durability.
FRIGIDAIRE EFMIS170
Compact space-saving design and lightweight features make it easy to take anywhere and still fit your needs; the capacity is 7 Liters.
Conveniently plugs into a standard home outlet and 12V car charger so you can take it with you wherever you go. 100% Freon-free and with advanced safety technology for long term durability.
Paris Hilton Mini Fridge
This Paris Hilton mini fridge is just what you need to keep your high-end cosmetics, skin care products, beauty supplies and even the stuff in your makeup bag great.
Paris Hilton's mini fridge is not just for beauty, you can store up to 6 cans of your favorite 12 oz beverage, or even small bottles of wine.
Conclusion
The preservation of cosmetics in the refrigerator is necessary and should be done to ensure that cosmetics are durable, retain their original quality and avoid environmental impacts. Cooluli skincare fridges are reviewed as a reliable, durable and worth buying.
Alternatively, other brands like Chefman, Frigidaire, AstroAI, Crownful, Curtis and Paris Hilton are also good options for you to consider.
Hope you can choose a suitable skincare fridge for your need of storing cosmetics.
Reference
Do You Need a Skin Care Fridge, health.clevelandclinic.org, Retrieved on Dec. 5, 2022