any people think they can store food in any container to freeze in the freezer. However, it's not right. You need to use specialized containers with freezers to maximize food preservation efficiency and avoid adverse effects during storage. This article will summarize and give you some tips when choosing to buy and use the safe plastic containers for freezer. Take a look and apply yourself.
Which plastics are safe for freezer?
In daily life, we use different types of plastic containers for storing food and water in freezer, but do not know exactly what type of plastic it is and whether it's safe or not. Some plastic containers are safe to store food and drink in freezer while others are harmful to our health and the environment.
Freshware Food Storage Containers
To name different types of plastics, numbers 1 to 7 are used.
The safe plastics that can be used for food storage containers are:
Plastic No. 1: PET or PETE – (Polyethylene Terephthalate) – clear, strong, lightweight and can be a good option for storing food even for the long term.
Plastic No. 2: HDPE (High-Density Polyethylene) – durable, impact-resistant and can work well as food containers.
Plastic No. 4: LDPE (Low-Density Polyethylene) – less toxic than other plastics and safe for use.
Plastic 5: PP – (Polypropylene) – cannot leach chemicals, tough, lightweight, and heat-resistance. It's safe.
Further reading: The Best Kitchen Gadgets for Healthy Eating
Here are the unsafe plastics that you should avoid storing food:
Plastic No. 3: PVC – (Polyvinyl Chloride) – contain lead and phthalates which are toxic chemicals.
Plastic No. 6: PS — (Polystyrene) – can leach styrene, a known neurotoxin along with other health side effects to health.
Plastic No. 7: This is the recycling code for plastics that can contain BPA. It's better not to use it for storing food.
Top 10 plastic containers safe for freezer
Hefty Slider Freezer Storage Bags
With Hefty Slider Freezer Bags, you can portion bulk foods to store in the freezer, or pack snacks and leftovers. It has a thicker plastic layer and extra strong sealing ring to help keep food fresh and free from freezer burn.
The stand-and-fill expandable bottom makes it easy to load food, craft supplies, or other household items into these storage bags.
The unique design makes it easy to use these BPA-free plastic freezer bags with one simple sliding action.
Stasher Silicone Reusable Bag
Stasher is a plastic-free, airtight, self-sealing, reusable bag. It is 100% pure platinum food grade silicone bags that are a healthy alternative to plastic.
Unlike traditional single-use plastic bags, Stasher bags are BPA-free, PVC-free, and latex-free. It keeps your food safe from contaminants and maintains food's nutrients, flavor as well as juices sealed at all times.
This Silicone Bag is safe to use in the freezer, microwave, dishwasher, boiling water, and oven up to 425 degrees F.
It is available in multiple sizes for users: Sandwich size 7.5" x 7.5" x 1" (15oz); Snack size 4.5" x 7.5" x 1" (9.9oz); Pocket size 3.5″ x 4.5″ x 1″ (4oz). They are safe plastic containers you should use to preserve foods in freezer.
Reynolds Wrap
This pack contains one roll of Reynolds Wrap heavy duty foil 130 feet x 12 inches (130 square feet total).
For over 70 years, chefs have taken advantage of the quality and durability of Reynolds aluminum foil for easy preparation, cooking, and cleanup. This is a great tool for cooking, grilling, and storing.
You can use this extra-strong kitchen foil to grill ribs, line a grill for easy cleanup, form a sturdy foil package to retain moisture and flavor, or store leftovers.
Reynolds Freezer Paper
This is an alternative to plastic wrap and more friendly to environment. The package contains a 500 square meter roll of plastic coated freezer paper. Reynolds paper is thick and keep food easily.
The plastic-coated side traps moisture, flavor and nutrition as well as protects the food from freezer burn. It also allows you to preserve food without sacrificing taste.
You can easily note the date and content on the durable exterior.
Rubbermaid – 52 pieces
This is an affordable plastic set which contains four 0.5 cups, four 3.2 cups, four 2.1 cups, four 2.9 cups, four 5. 2 cups, four 4 cups and two 8-cup containers, plus lids, for a total of 52 pieces.
These containers are more durable, have lids and come in bright ruby red color. They are great for preparing meals, lunches, snacks, leftovers, and more.
With Quik Clik Seal lids, you will hear a clear click, indicating they are securely closed. The lids have ledges for easy stacking, so they take up less space in your freezer.
In addition, they are BPA free, top rack dishwasher safe, and freezer safe, and comes with a base that's safe for microwave reheating.
Rubbermaid – 10 Pieces

Rubbermaid containers have leak-proof lids which ensure 100% safety and freshness of food. With a BPA-free Tritan base and top, users can be assured of health safety. It is transparent, allowing users to easily observe the condition of the food inside.
With a beautiful design, you can use it in different occasions, such as for snacks, lunches, or even for parties and gatherings of friends.
Rubbermaid box has an anti-yellowing agent that is easy to reproduce, resists odors, and keeps its condition as new. In addition, you can rest assured when using it with the microwave because it has safety vents. These plastic concontainers are safe for keeping your foods in the freezer
Snapware Set
Snapware Food Storage Containers with lids and latches help preserve food well and prevent freezer burn. The cover and lock on the Snapware are entirely separate and very easy to use.
The Snapware case makes it easy for users to clean in the dishwasher without worrying about yellow stain or odors. In addition, you can also use the box with the microwave safe feature.
Snapware is BPA-free, so it is safe when using it to store baby food.
Vremi Silicone Food Containers
This type of Vremi container is made of tasteless, odorless silicone, perfect for any kitchen. With BPA-free ingredients that are very safe for users, this type of Vremi box is non-toxic and non-stick, anti-odor, and anti-yellowing very well.
You can easily store Vremi silicon food storage containers in the freezer by stacking them to save space. The box has a leak-proof design and controls the gas exchange. You can use this Vremi box well with both freezer and microwave.
DuraHome
These boxes from DuraHome are safe to use in the microwave, freezer, or dishwasher. With a 100% sealed lid, you don't need to worry about spills or spills when using DuraHome's containers. Besides, these boxes are designed to be easily stacked to save maximum space.
Because it is designed for use in the freezer, you can easily see the food condition inside the DuraHome container while it is frozen. Another nifty thing is that you can swap their lids for each other whenever you like. This is an excellent option for your freezer.
Sistema for Large Food
The Sistema KLIP Rectangular Food Storage Container keeps your produce, leftovers and other foods fresh for longer. This extra-large storage box features a rectangular shape and modular stacking design ideal for keeping your kitchen organized.
This stackable storage box has a lid with easy locking clips and an expandable flexible seal that keeps food fresh. Made from 100% plastic, this BPA and phthalate-free food container is dishwasher safe when placed on the top shelf, microwave safe without a lid, and of course, it's safe to store in refrigerator and freezer.
What else for better food freezing? A vacuum sealer
Those who frequently freeze items or buy food in bulk may want to invest in a vacuum sealer to keep ingredients fresher for longer. The vacuum sealer gets as much air out of the bag as possible, helping to reduce freezer burn.
Nesco VSS-01 Vacuum sealer
You can prepare, weigh and store with the VSS-01's built-in digital scale. It is able to measure pounds, ounces, grams, and kilograms for foods up to 11 lbs. It has many functions such as the "Seal" function that creates an airtight, shatterproof seal in just one touch, while the "Vacuum & Seal" function makes preserving food simple and perfect every time.
The powerful and compact Nesco VSS-01 vacuum sealer provides shatterproof, air-tight seals in seconds. Moreover, with a built-in cord holder underneath the machine, you can store it easily.
Further reading: Which is the Best Vacuum Sealer to Keep Food Fresh?
How to choose freezer safe plastic containers
To buy suitable plastic freezer containers, you should know the factors to pay attention to.
Material
Material determines the quality of food when frozen and defrosted. Plastic comes in many different classifications, so you also have to choose from it.
The advantage of the plastic container is that it is light and durable, so it is widely used. But be aware when you want to use the oven to reheat it as the plastic container can only be microwaved for defrosting or reheating. During use, you should not expose the plastic container to high temperatures
You should choose plastic freezer containers that do not contain Bisphenol A to avoid harm to health. This type of chemical can leach into food, causing damage to the user's health, leading to diseases like blood pressure and heart disease.
Shape and size
You should consider the space inside your freezer to choose a convenient size and shape. With ample storage space and different layout preferences, the scientific arrangement of containers will save space and be suitable for users when taking the containers out of the freezer. The most commonly used size currently is 9 oz to 18 oz (250-500gr). You can choose a rectangle, a circle, or a square regarding the shape.
In general, the size and shape of plastic containers vary greatly. If you regularly use the microwave to defrost food, you should use a freezer container suitable for the size of the microwave.
People often use round containers to freeze noodles or soups and square and rectangular boxes to freeze fresh, raw foods.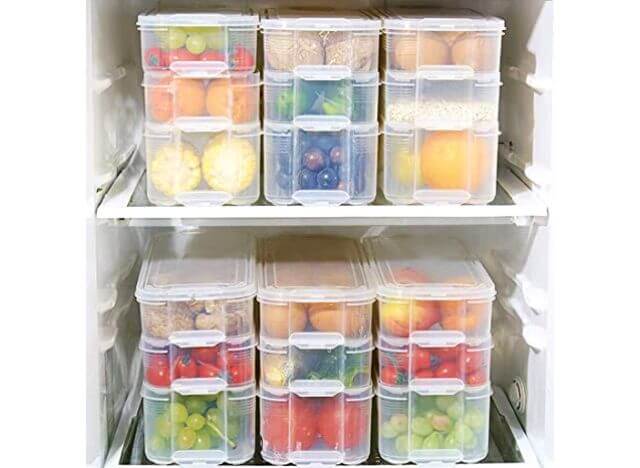 Leak-proof lid
It can be very inconvenient if your freezer container is leaking liquid from the inside due to the lack of a lid or if the cover is not tight. The surface will be an indispensable element when storing food inside the freezer. Moreover, the leak-proof will help the freezing process go better as well as avoid spills during transport.
Often manufacturers will use a buffer layer to prevent the environment inside the box from coming into contact with the outside. This is ideal as it avoids freezer burn for food, helping food retain its fresh flavor.
In particular, some lids are very convenient when there is a safe escape mechanism when reheating in the microwave. You can consider if you usually use this defrosting method.
Can be washed in the dishwasher
Plastic containers are all dishwasher safe. However, you should not let the container contact the dishwasher's heating element. Don't worry that the dishwasher will damage your plastic freezer container because it increases the temperature.
Can be used in microwave
Plastic food storage containers should be limited use in the microwave. Because some plastics are stated by the manufacturer to be used safely in the microwave. However, they will be very easily contaminated when used in high temperature conditions.
You should not cover the plastic lid when put the box in the microwave, it is easy to explode due to the pressure in the container, and it is easy to melt plastic and spread toxic substances into food.
Glass and ceramics are the two most durable materials, safest for health, resistant to high temperatures, so they are best suited for microwave ovens.
Tips for using plastic freezer containers
Don't forget the following tips when using your plastic freezer containers, as they will help you be safe and get the most out of your freezer:
Containers can be stacked to save space. Heavy containers should not be placed on top of light containers.
Only store enough food in the container; do not spill the can or touch the box's lid, especially with liquid food. Freezing and defrosting cause food to expand and contract, leading to an overflow of containers.
Close the lid tightly and lock the latch if applicable to avoid trouble when moving the box
When placing the frozen container in the microwave, open the vent cap on the container to avoid fire-related problems.
Avoid freezing hot food as it increases the risk of bacterial contamination. You should let food cool down to room temperature before placing it in the container and freezing it.
You may also like: What are the Best Food Storage Containers for Fridge?
How to pack food for the freezer
Freeze everything as quickly as possible. This is important to maintain food quality. The slower the freezing process, the more likely it is to develop larger ice crystals, making the food mushy or chewy when you reheat it.
Don't put too much food in your freezer at once. You should pack smaller portions which will also help speed up the freezing time.
Choosing the right containers. As the way you pack your foods will change how they freeze and thaw.
With cooked dishes, when frozen, let everything cool completely before you pack it up. Because warm food will cause condensation inside your packaging and reduce the quality of food when frozen.
If you're freezing a meal with several ingredients that will freeze and defrost at different speeds, such as chicken and broccoli, take the time to package them separately.
For food that you want to freeze in bulk but use sparingly, dry packaging is recommended. First, arrange the items in a layer on a large paper, so they don't touch each other, then place the paper in the freezer. Wait for them to solidify for about 1-2 hours. Pack them as soon as they are frozen. Once frozen, you can wrap the portions and put them in a container before storing them in the freezer.
To freeze small amounts of sauces, herbs, juices, minced garlic, cracked eggs or seasonings so they're easy to toss into dishes, use an ice cube tray, like the OXO Good Grips Ice Cube Tray.
Food expands when frozen, so leave space in the container to prevent it from cracking or tearing. Click here for detail of how much space to leave in containers.
How to defrost frozen food stored in plastic containers
The best way to defrost things in a freezer container is to move them to the refrigerator. You should not allow food to change temperature too quickly, making it easier for bacteria to grow. If you're worried about the freezer container overflowing, you can place it on a plate or bowl as a precaution.
If you don't have much time to use the defrost method in the refrigerator, you can place the frozen food container in a large basin of water. After about 30 minutes, the food was defrosted. For example, the Deep Cuisinart Stainless Steel Mixing Bowl which allows you to completely submerge large packages of meat or stews, or use any large bowl you have at home. The large Rubber Commercial Space Saving Food Storage Containers, which are often used for storing dry food, would also work well for this purpose.
If you want to go faster, the microwave is a good solution. Make sure your containers are microwave safe. However, with food defrosted in the microwave, you should use it immediately to avoid a bacterial attack.
Watch this video for your reference: