Many people think that a mini fridge is an item that is always present in hotel rooms, so they are always ready to try to use the mini fridge in the hotel. That leads to complex and stressful situations when they discover that the hotel room they rent is not equipped with a refrigerator. It is standard for customers to rent rooms without paying attention to this issue and discuss it with the hotel's reception. Assuming you fall into such a troublesome situation, what do you do? Of course, you can ask the hotel, but not all of your requests can be fulfilled. So read our following article to know how to handle such situations best.
Why should the hotel room have a mini fridge?
A great way to enjoy convenience and efficiency and enhance the travel experience is to refrigerate food in your hotel room. Moreover, preparing food and storing it well will help your trip save a lot of money. Therefore, the mini fridge in the hotel room will be a great solution to help you increase the comfort of each trip.
Besides, if compared with a regular refrigerator, a mini refrigerator is highly suitable for rooms with limited areas, such as hotel rooms. The size of the refrigerators poses a significant challenge when placing them inside the hotel. Moreover, people staying at hotels only have a little need to keep large quantities of food cold, so conventional refrigerators are too wasteful, especially in terms of energy.
Further reading: Best Quiet Mini Fridges for AirBnB
Mini refrigerators provide enough short-term use for hotel guests and do not take up too much room. You can place the mini fridge by the bed or inside the cabinet. This helps to make the space more spacious and increases the room's utility. A hotel room with a mini fridge will be much more preferred than one without.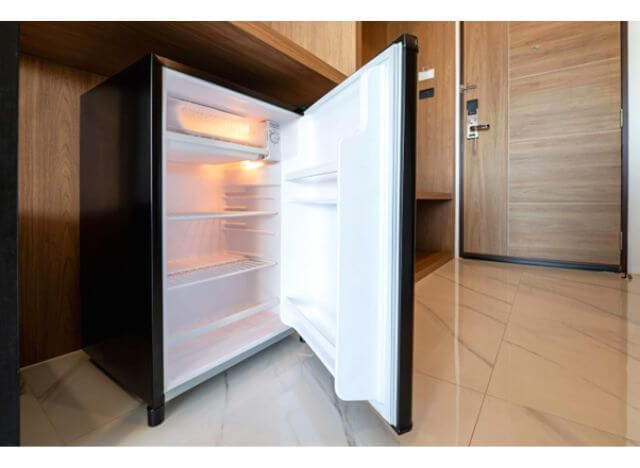 Does every hotel room have a mini fridge?
Despite the value that mini refrigerators bring to hotel rooms, hotels are based on customer orientation and often need only a mini fridge in some rooms. The reason is simple some customers do not need to use it. All they need is just a place to stay. Therefore, the absence of mini fridges in some rooms does not affect the user experience and helps the hotel reduce costs. At the same time, this is also a factor for the rental price to be significantly reduced.
According to the survey, most customers will have a mini fridge or microwave for guests, but this does not apply to the entire room but depends on the room level you choose. Therefore, if you need, request the room you want to rent with the reception before selecting a room.
Please note that some hotels only provide collective refrigerators for all guests, not in each room. Therefore, the luxury of the hotel you choose will significantly determine this content.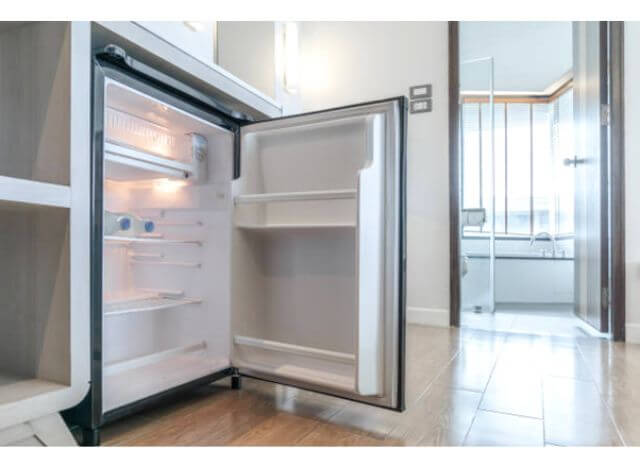 How do you keep your food cold in a hotel room without a mini fridge?
The food you buy for your room or prepare for an outing is straightforward to spoil if your hotel room has a mini fridge. It needs to be clarified and more convenient. However, in addition to the mini fridge, you still have several other ways to keep food fresh for longer and limit spoilage.
Here are some ways to keep food in a hotel room without a refrigerator for as long as possible. Their application will bring you the desired results.
Use ice bucket and ice
This is a method for keeping food cold for a long time. However, you need to pay attention to the time the ice melts and refills continuously when the ice shows signs of running out. Chilling lasts 4-5 hours and can be longer, depending on how often you fill your ice. Using this method, you should carefully put food in a zip bag to avoid mixing food with water and ice.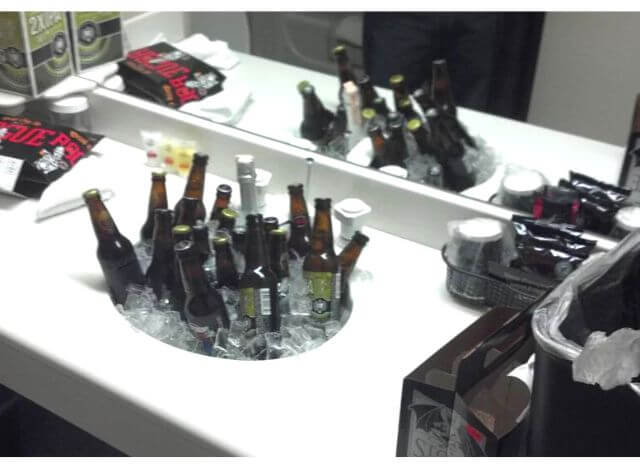 Take advantage of the ice machine
If you luckily find an ice machine in the hotel. Use it to keep your perishable goods cold. Get a large Ziplock bag and put your perishables in it like milk, meat or leftovers. Place the Ziplock bag in the sink and, using ice from the hotel ice machine, cover the bag with ice.
You can even fill the bag with ice as much as possible to ensure the contents are exposed to as much cold as possible. This process will help keep your foods as cold as possible, and even if the ice melts, the cold water will still keep the bag cool.
Further reading: Which is the Best Small Ice Maker Under $100 on Amazon?
Use a cooler
If you travel often, you can buy a small refrigerator large enough to hold the perishable goods you have and fill it with ice. If it's insulated, even better.
This is a way to help increase the cooling time compared to the chilling method. Besides, using a cooler will help food stay fresher, and you don't need to spend much time refilling ice. This is an excellent alternative if the hotel room doesn't have a mini fridge.
If your room has a balcony and the weather is cold, you can also put things on the balcony in a plastic bag to keep it cold.
You may also like: How to Choose the Best Small Cooler with Wheels
Sometimes, you can ask the hotel to change the room with a mini fridge. But you may have to pay the price difference between the two rooms.
Can you bring your mini fridge to the hotel?
You have the right to use your mini fridge in the hotel room. However, pay attention to how the room's electrical rating matches your mini fridge. Besides, some hotels will ask for extra room charges if your mini fridge consumes too much electricity.
You should use coolers rather than personal mini fridges in hotel rooms. The cooler is enough to keep your food fresh for a certain amount of time. Besides, the coolers have a design and size that are much easier to move than mini refrigerators. Quality coolers that can replace mini fridges work great. Moreover, coolers are usually cheaper than mini fridges.
Further reading: Best Mini Fridge Under $200
Can you ask the hotel to arrange a mini fridge?
You can ask the hotel to fulfill your requests. However, the hotel also can refuse them. The requirements related to the placement of mini fridges in your room will be tricky because the number of mini fridges will be limited and have been placed in a fixed number of rooms.
Moreover, to arrange a mini fridge in the room, there must be specific requirements such as a power plug and location.
Therefore, instead of asking the hotel to arrange a mini fridge room, you can choose another more straightforward way to accept. That is the request to change the room with the mini fridge. Hotels often make it easier to change your room layout if the number of rooms allows it. Please consider.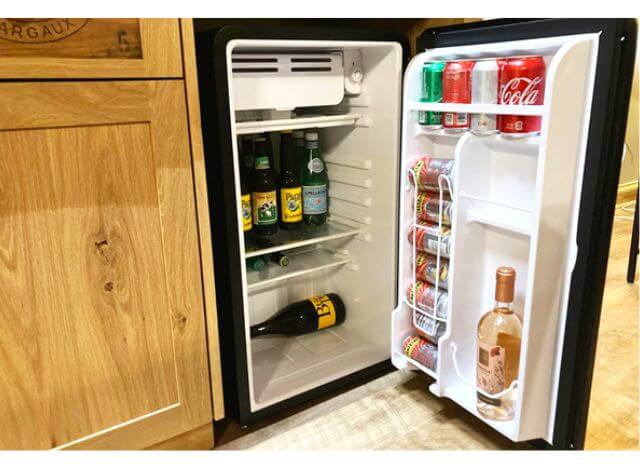 Hotel mini fridge settings
It's better to plan and carefully check everything to enjoy the trip. Inform the hotel if you need a refrigerator to store your medicine, breast milk or travel essentials.
Once arrive, you can ask the front desk manager to store your things in the refrigerator, their kitchen or ask them to put the mini fridge in your room at the right temperature.
Make sure the mini fridge is set to 40 degrees F (or 4 degrees C) or less. That's the temperature recommended for storing food safely.
You may also like: How to Set the Mini Fridge Temperature
Conclusion
Thus, there are many ways for you to overcome the trouble when your hotel room does not have a mini fridge. However, if you need to use it, you should still pay attention to the hotel to avoid such awkward situations. Moreover, using the hotel's mini fridge will be much more convenient and easier.
Reference
There is no fridge in the hotel room, heaventaste.org, Retrieved on Dec. 27, 2022