A mini fridge stores your food and other items such as drinking water, cosmetics, milk, etc. Therefore, you have the right to keep them private and avoid sharing them with others, especially those who live in dormitories. The best way to eliminate worries about food in the mini fridge getting lost is to install a lock. This article will analyze and guide you on the easiest ways to lock the mini fridge.
Do all mini fridges have locks?
A mini refrigerator is compact and super convenient for storing food; you can quickly put it anywhere. It is especially suitable for dormitories, small households, and room leases.
Not all mini fridges are designed with locks. Many people want to own mini fridges with locks to limit the opening and taking of food inside. Manufacturers also pay more attention to this need of customers when producing mini refrigerators. So, if you want to own a mini fridge with safety in the first place, it will take time to find.
An effective way to solve the problem and end pointless searching time is to buy a mini fridge you like and install the lock on it yourself. There are many ways to install a lock for a mini refrigerator. Still, in general, each way needs to be careful in the implementation process to avoid problems that lead to damage. These steps take little skill but do require considerable concentration.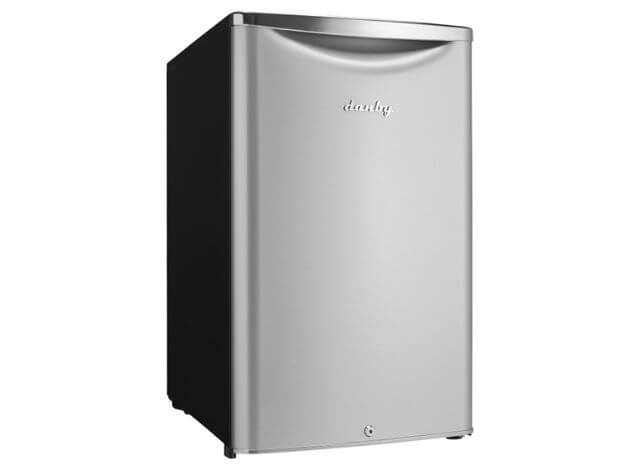 How to put a lock on the mini fridge
Before installing the mini fridge lock, you should buy the type of lock you like first. Usually, the locking mechanism should be suitable for your mini fridge. However, all locks must take specific steps after installation. You should note that the structure must be done carefully and meticulously to avoid problems affecting your refrigerator's operation.
To put a lock on a fridge, you will need specific items like adhesive, cleaning materials, marker or ruler. Depend on the lock you choose, it may include VHB tape, lock panels, and a brass padlock.
Midea WHD-113FSS1 3.1 Cuft Double Door Mini Fridge with Freezer
The steps to install the lock on the specific mini refrigerator are as follows:
Step 1: Cleaning
Before installing the mini fridge, you must ensure that the refrigerator's parts are clean, as dirt will make the joints between the mini fridge and the locking unit more difficult to fix.
Unplug the refrigerator from the outlet and cover the vents to begin cleaning the mini fridge parts. You should use a towel, warm water, and liquid soap to clean the mini fridge. Then use a dry cloth to wipe the pieces thoroughly. Note, wait for the refrigerator to dry before proceeding to step 2.
Step 2: Determine the position of the lock
Locating the two attachments of the lock is important. It's necessary to achieve an ideal distance between them for secure the refrigerator. Normally, the lock should be within ⅔ of the top of the refrigerator. The two attachments mentioned will be attached to the side of the body and the other to the front of the refrigerator door. Mark the location with a marker so you can easily locate it.
There must be enough space between the two attachments to secure the refrigerator if you use strap or wire. If you used a padlock, the distance between the two attachments should be close enough for you to lock it.
Frestec 3.1 CU' Mini Fridge with Freezer
Step 3: Set hinge lock
Mount the hinge on the mini fridge, and this process needs to be done carefully to avoid the adhesive layer having problems leading to damage. When pasting on the mini refrigerator, you should do it when it is closed. Then, apply pressure on the hinge for a few minutes for the hinge to fix and grip.
As mentioned, for the hinge, choose a suitable and comfortable position and avoid being too high or too low. Using a pen and ruler to mark for accuracy during installation is best.
Step 4: Attach the locking mechanism
At this point, you make the lock and check the effectiveness of the installation. If everything is fine, you have successfully installed it.
Types of mini fridge locks
Each mini fridge will fit a different lock. Most of these locks are commonly sold in stores, and you can easily find them. The main differences between mini refrigerator locks are size, design, and locking mechanism. From dark to light, from simple to complex, you have a lot of choices.
Strap lock
This fridge lock uses straps to tie and secure the mini fridge. Therefore, it has an easy unlocking mechanism. In addition, the strap lock only needs to be locked and unlocked with your hand, completely without the use of a key.
You can easily adjust the strap's length when locking. Also, choosing a password and setting a password is very easy. You can also coordinate multiple fasteners when using. Moreover, the durability of the strap is also very high.
Lock with Padlocks
Padlocks are an easy and safe option. It provides absolute protection for your mini fridge. Besides, using the lock will be very difficult for bad people to want to pry open or break it. In general, compared to the strap, its safety is more effective. You can choose the size you want but be aware that large locks will be heavy and put a lot of pressure on the hinges. The hinge step must be chosen more carefully if you want to use a central lock.
You must use a key to unlock the padlock and this key is unique and can only be used on a specific padlock.
Refrigerator Door Lock with Padlock
Padlock with button strap
This lock has a unique design, and you can use it to prevent children or pets from opening the mini fridge. This is also an excellent method to handle when the mini fridge door is broken.
The button strap will be easy to open, and the security is not high, so if you are an adult, it will be straightforward to open. However, it is the cheapest and easiest to operate. What's more, it works without putting gravity on the hinge.
MUIN Highly Secured Refrigerator Lock with Key
Keyless refrigerator lock
A keyless lock is another type of refrigerator lock that does not require a key to unlock. It usually consists of a thick rope with a combination locking system.
The owner must set the combination of numbers for the lock as the key to it.
How to choose the right type of mini fridge lock
You can consider the following notes to make it easier to choose the right lock for your mini fridge:
Easy to install
If you have few skills or are afraid of damage, you should choose locks that are easy to install to avoid unexpected problems. Some locks will be demanding and require drilling steps. So stay away from them if you need to gain the necessary skills in installation.
 Lock purpose
Determine who you want to keep away from your refrigerator. Simple locks, such as the button strap lock, are suitable for keeping children and pets out. However, to be more secure, you should use locks and key chains.
Quality of the lock
Choose a good quality lock and a suitable mechanism. Be careful if you use cheap plastic locks because they are easily damaged and need to be more secure.
In addition to the above content, the price is also significant. Buy a lock suitable for the level you want to pay and avoid choosing too expensive types.
Why must the freezer have a lock?
Young children are very active and naughty. For families with children, they can open the freezer from time to time without closing the door tightly. If this happens often, your food will be spoiled. So, the best way to prevent this from happening is to lock the freezer. Visit your local hardware store, you can easily find some refrigerator locks. It's important to find a good refrigerator that fits your needs.
Why should you buy a mini refrigerator with lock?
There are many reasons to find the convenience of a locked refrigerator.
Keep your food safer and prevent and theft: With the locking mechanism, you can keep unwanted guests out. Mini fridges with locks keep your possessions safe. Mini refrigerators with locks help reduce the risk of theft and break-in.
Prevent disturbances and accidents: No one will be able to disturb your food while you are sleeping. With a lock, it's less likely that someone accidentally left something in the fridge and forgot. With a lock on the mini fridge, you can secure the handle of the refrigerator and prevent your child from pulling and opening the fridge.
If you already have a refrigerator and want to add a lock, find the one that fit your need. If you are looking to buy a new mini refrigerator, you can buy a fridge with lock.
Best mini fridges with lock for your reference
Danby
The compact refrigerator with a capacity of 4.4 Cu.Ft. It is suitable for bedroom, living room, bar, dormitory, kitchen and office. The Danby small refrigerator is a lockable, tabletop and offers ample space as well as an aesthetically pleasing look.
There are white LED lights inside, two full-width glass shelves, one half-height adjustable shelf for extra storage and a drawer for vegetables. The refrigerator itself is made of sturdy steel and comes with an adjustable thermostat, making it easy to create the right climate.
NewAir
This cooled fridge holds 126 cans, perfect for both indoors and outdoors. No installation required, it can keep beer, wine and soft drinks cold in your living room, kitchen, dorm, cave or office.
In addition to the matte black finish for a modern look, the mini fridge also comes with a bottom door lock to keep your drinks and food out of the wrong hands. It's also energy efficient and costs less than $1 a day.
SCHMECKE
This is a digital temperature-controlled wine fridge with lock. It's best for red, white, champagne, or sparkling wines.
Its compressor technology ensures that the temperature is unaffected by external heat sources and reaches a temperature low enough to accommodate sparkling white wines with a temperature range of 41°F to 64°F. You just need to set the temperature and the wine cooler will do the rest. With a built-in fan that maintains a constant temperature throughout, this cooler ensures the optimal environment for long-term wine storage.
Smad Absorption Mini Fridge
This mini fridge is powered by both AC 110V and DC 12V. You can use it at home or outdoors. It works smoothly and doesn't make any noise.
With an easily adjustable thermostat, it keeps your snacks and drinks at the ideal temperature. It also has removable shelf and door that are convenient for users.
Whynter BR-128WS
The beverage refrigerator with lockable glass door can hold 120 cans. It is decorated with stainless steel glass door and sleek white cabinet. The recessed handle gives a flat finish to the door with cylinder lock and two keys.
It features soft LED interior lighting with on/off switch. The mechanical temperature control provides a temperature range from 30ºF – 60ºF.
Whynter CUF-110B Small Upright Freezer
If you need a freezer with lock, this compact freezer is a perfect choice. It is ideal for any small space requiring cold storage. This Energy Star rated countertop freezer can be used as a kitchen, office, basement or garage freezer.
It features removable shelves for added versatility and is perfect for storing breast milk, ice cream and frozen foods. This vertical freezer has a mechanical temperature control setting between minus 10°– 2°F. With a modern design, this frost-free vertical freezer includes a cylinder lock and 2 keys for added security when storing your food.
Conclusion
Thus, we have shown you how to lock a mini fridge. This article also helps you find the right type of lock for your needs and make installing the lock for your mini fridge easier.
If you are looking for a new mini fridge, consider a refrigerator with lock as mentioned above.
Reference
How to Put a Lock on a Refrigerator, revolar.com, Retrieved on Dec. 26, 2022