Samsung smart refrigerator makes your kitchen time no longer boring and tiring. Now you can relax in your kitchen with entertainment apps. Most especially, you can watch Netflix right on the refrigerator. The following article will help you get the necessary information about Samsung smart refrigerators and how to install Netflix on Samsung fridge.
Latest Samsung smart refrigerator today
The latest version of Family Hub with its simple, sophisticated and modern design will be the perfect addition to today's kitchens. After years of learning about users' habits, this latest generation Family Hub refrigerator will bring many innovative features that users want most including: AI camera inside the refrigerator, the ability to suggest recipes Cook and plan meals tailored to individual preferences. Plus, with the new Family Hub refrigerator, you and your family can share together on more types of content.
The device helps to intelligently manage food, automatically reminding when food has expired and suggesting dishes based on the amount of food available and the preferences of each family member. Besides, users can connect smart devices right on the Family Hub refrigerator – the central control station to control and manage the smart home. Family Hub also helps users entertain and connect family right in the kitchen.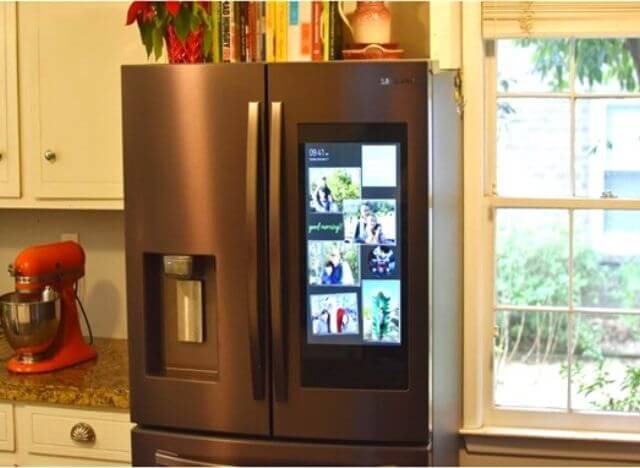 Samsung refrigerator AI features
Samsung smart refrigerators also support multimedia entertainment right on the refrigerator. With a wide range of options available, family members can seamlessly enjoy music from their favorite apps, or enjoy endless entertainment with top-notch movies on their crisp screen and immersive speaker system. refrigerator. This AI feature will help every family fully enjoy the joy of cooking right in the cozy and modern kitchen.
This modernity helps your family elevate the experience, smart home management, now all can be controlled from your kitchen. A commendable thing is that SmartThings on Samsung refrigerators has increased the number of devices that can be connected to smart refrigerators, users do not need to wonder if their devices can be connected anymore.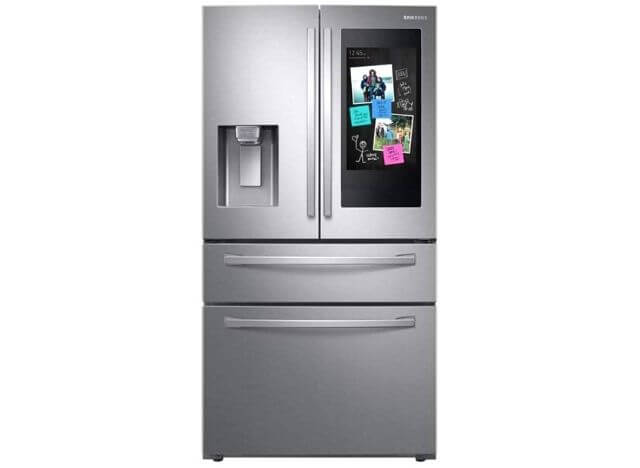 What devices can run Netflix?
Netflix can be run on any Internet-connected device that is installed the Netflix app. The Netflix-compatible devices are:
Smart TVs
Smartphones
Tablets
PCs
Laptops
Streaming media players
Game consoles
Set-top boxes
Blu-ray players
Is it possible to install Netflix on Samsung refrigerator?
With today's modern technology development, the refrigerator is not simply a food preservation device anymore. It has become a thing that can entertain and relax you. More than a fridge but not a TV.
Samsung smart refrigerator allows you to watch your favorite shows and movies with just a few taps right in the kitchen. The special thing is that the reflected images still ensure the sharpness, the sound is very vivid.
Many people ask us, can they watch Netflix on Samsung smart refrigerator? Does Samsung refrigerator support installing apps like Netflix, Spotify? The answer is absolutely yes.
But please pay attention to choose a smart refrigerator that supports these features, and find out.
With these smart refrigerators, you can add any application to your refrigerator's home screen very easily, just like you would use on a normal smartphone. Moreover you can personalize it on your home screen to get the best experience.
How to install Netflix on Samsung refrigerator
The specific steps are:
1. Click the APP icon on the control panel. The screen will show all the applications available on Family Hub.
2. Choose Netflix or whatever app you want, available on Family Hub.
3. The screen will send a notification, you click on the Add to Home screen option so that the application is added to the main screen of the refrigerator.
4.  Once the app is downloaded, you can touch the app and drag it to any position on the screen you want.
Further reading: How to Put Pictures on the Samsung Fridge
How to add other Apps to a Samsung refrigerator
Many Apps are available on a Samsung smart fridge. If you want to add or install them, follow the steps of install Netflix above.
Watch the following detailed video tutorial to be able to add Netflix to your Samsung refrigerator.
Customize apps and widgets on your Family Hub
What apps are still installable on the Family Hub?
There are other types of apps available on the Family Hub of Samsung smart refrigerators.
1. Food
The app lets you make grocery shopping lists, plan meals, manage what's in your fridge, and guide you through recipes.
This feature also helps you to order meals from restaurants, track and use offers, select suitable stores…
2. Entertainment
SmartView will help you mirror the programs or content in your phone or smart tv onto the refrigerator.
Moreover, Stream music from Spotify, Pandora and Amazon Music, Youtube. And listen to live radio and podcasts with NPR, iHeartRadio and TuneIn.
3. Connection
Allows you to share media and leave notes for other family members. You can add events and calendars, and display photos and videos on the refrigerator screen.
Moreover, you can book Uber cars, find flights, rent cars, hotels, check the weather.
4. Home screen

With SmartThings, you can control what happens in your home and know for sure the goings-on around your house. Ring app enables you to speak to, see and hear who rings your doorbell straight from the display on your refrigerator.
Once you sync the fridge to your smartphone, the Samsung Family Hub you can do lots of things by using apps like HomeAdvisor or the Bixby.
You may also like: Which is the Cheapest Smart Refrigerator?
Conclusion
With Samsung refrigerators, watching Netflix in the kitchen is no longer difficult. Hope this article can help you easily download or install Netflix on Samsung fridge.
Reference:
1. How to Add Apps to a Samsung Refrigerator, refrigeratorsreviewed.com, Retrieved on Dec. 10, 2021
2. How to install netflix on samsung fridge- Quick Guide, how.co, Retrieved on Dec. 11, 2021