Samsung refrigerators are products suitable for active families who love technology, especially smart home systems. Through Family Hub, users can modernize and optimize the kitchen by downloading useful applications and using them on the screen. So what applications are available on Samsung refrigerators? Can you download them? How to download apps on Samsung fridge? This article will answer.
Is it possible to download apps to the Samsung refrigerator?
The answer is yes, moreover it's very easy. You can add apps to the Home screen of your Samsung refrigerator. But not all Samsung refrigerators can download apps, only Family Hub models are allowed. Adding apps to your fridge makes it easy to customize the Family Hub home screen, personalizing it.
Not only can you add apps, but you can also customize it by adding widgets of any size and personalizing the wallpaper. In fact, the more you tweak it, the better your experience will be.
However, you can only add apps that are available on Family Hub. Cannot add other applications.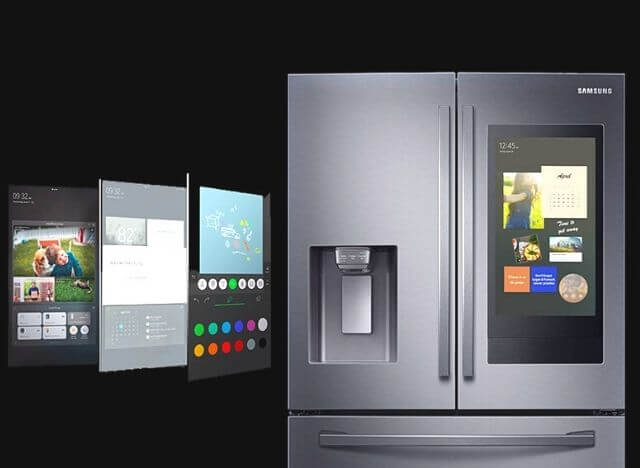 How to download apps to Samsung refrigerator
The operations are very easy. To add apps to your Samsung smart fridge, simply follow these steps:
1. Tap the Apps icon on the dashboard to see all the apps available on Family Hub.
2. Once all the apps in the list are up, touch the app you want and hold it.
3. A new pop-up message will be displayed. Tap the Add to Home screen option to add the app to your Hub's Home screen.
Here, touch the newly created application icon and drag it to the position on the screen you want.
How to customize Apps and Widgets on the Samsung Family Hub
You may also like: How to Add Pictures to Samsung Refrigerator from iPhone
What apps can be downloaded?
Samsung Smart Refrigerator lets you download apps via Family Hub. The Family Hub application is a collection of all the applications that help you entertain, relax and support the process of using high efficiency. Such as Memo, Calendar, etc.
Especially, you can access the applications and use them to control the features on the Family Hub refrigerator from anywhere. Please emphasize that: Wherever you are, through the application you can still control the refrigerator in your kitchen.
But first, you'll need to set up the app on your phone and sign up for a Samsung account on the fridge.
The apps available for Samsung refrigerators are what you can find on the Family Hub app.
1. Food
This feature helps you make a shopping list, plan your meals for the week, manage the food you have in the refrigerator, and guide a variety of recipes.
Furthermore, with this feature, you can order meals, find and add discount codes to your listings, bookmark nearby stores, and more.
2. Entertainment
Allows you to mirror content from your smartphone or smart TV to your smart fridge, be it a movie, show, song,…
Now you can be in the kitchen but not miss a thing. Stream music from Pandora, Spotify, and Amazon Music. You can listen to live radio and podcasts with NPR, iHeartRadio and TuneIn.
Further reading: How to Install Netflix on a Samsung Fridge
3. Connection
Surely this is a feature that people who often leave notes on the refrigerator will love. It allows you to save media and leave notes for family members. Syncing events and calendars, displaying photos and videos on the refrigerator screen is now easy, smart and modern. Using the Internet right in the kitchen and distributing the work to all family members also becomes neater and faster.
The weather check feature is also available on Family Hub. Help you track weather around the world, book an Uber, search for flights, book a room, rent a car with your refrigerator.
How to use the Internet app on your Family Hub refrigerator
4. Home page
You can monitor and control what's happening in your home from anywhere with SmartThings.
Right from the refrigerator screen you can talk, see and hear who rings the doorbell via the Ring app.
The virtual assistant helps you navigate by voice through Bixby.
You can do a lot more than you can imagine with an ordinary refrigerator thanks to the Samsung Family Hub. Sync it with your smartphone to experience it!
Frequently asked questions
1. Can you download apps from your smartphone to your Samsung refrigerator?
You cannot download apps from a smartphone through a Samsung refrigerator. You can only download apps or features that you already have and allow them to be loaded on Family Hub.
2. Can I download YouTube app on Samsung Refrigerator?
Unfortunately no. The YouTube app isn't available on Family Hub, so you can't download it to your Samsung refrigerator. However, you can still watch it on the refrigerator by connecting the refrigerator to your smartphone and playing YouTube videos from your phone via the Family Hub screen. Or you can also access the internet to play YouTube videos without the application.
To conclude
With outstanding features, Samsung Family Hub smart refrigerator promises to become a household appliance trusted by many customers. There's a lot you can do with the Samsung smart fridge, and plenty of apps are available on the Family Hub. However, if you want to download an application that is off-limits, the answer is no.
Reference:
How to Add Apps to a Samsung Refrigerator, refrigeratorsreviewed.com, Retrieved on Dec. 12, 2021