Today's smart refrigerator is no longer a strange concept to consumers. While the kitchen is the heart of a home, the refrigerator is the heart of the kitchen. Refrigerator is the most important appliance in the kitchen and determines the quality of preserved food. The era develops with the advancement of science and technology. Therefore, many famous refrigeration companies in the world are diligently researching to come up with many advanced smart refrigerators. Even the cheapest smart refrigerator can bring convenience to users.
So there are more and more modern devices for the life of your smart home.
Let's learn about what a smart refrigerator is and better understand whether a smart refrigerator is good, should you buy it or not. From there we will provide you with the cheapest refrigerators with excellent quality.
What is a smart refrigerator?
Smart refrigerators are more and more popular and have become a new trend in the kitchen. They are refrigerators that integrate a touch screen interface, even have an internal camera, and they can connect to the Internet via WiFi to perform a number of outstanding features to serve people.
Extremely modern smart refrigerators will bring you unimaginable benefits.
Some special features of smart refrigerators:
Use your phone to check what's inside the fridge.
Write notes, calendars and they will appear on the touch screen of the refrigerator.
Ability to connect with other smart devices in your home via Bluetooth.
And there are many other special features for you to explore.
Advantages and disadvantages of smart refrigerators
Advantages
Having a smart fridge allows you to see the inside of your fridge from anywhere through the advanced cameras mounted inside to take pictures every time the door is closed. This allows users to keep track of what they have in the fridge and know what they need to buy at the supermarket.
For children or the elderly, this refrigerator can help manage expiration dates by sending notices about what to throw away. You can even link your smart fridge to online grocery shopping recipes and shopping apps.
There seems to be more opportunity to integrate this technology with a product like Amazon-Echo that will automatically reorder certain products when they are reported to be low in your refrigerator.
The interface is like a large tablet on the front. Basically, screens replace magnets and sticky notes to remind your family of important upcoming events.
You may also like: Can You Watch TV on a Smart Refrigerator?
Disadvantages
The price of smart refrigerators is quite high, from about $ 2,000 to $ 7,000 (compared to the normal version that costs only about $ 500 – $ 1,500).
Smart devices pose a high risk to network security, especially when personal calendars and email are linked to the devices as in some cases.
Quick comparison

Advantages
– Good food preservation
– Reduce energy consumption, save money
– Effective antibacterial and odor
Disadvantages
– Expensive price
– Standards are not consistent, unstable
Why should you buy a smart refrigerator?
To answer the question of whether to buy a smart refrigerator no longer depends on many different factors such as the needs, preferences and capabilities of each person.
However, it is undeniable that the great features that smart refrigerators bring such as:
Efficient energy monitoring
As you know, conventional refrigerators will operate 24/7, so this consumes a large amount of electricity. However, with smart refrigerators, it is capable of automatically synchronizing with the grid system as well as automatically to schedule cycles to help thaw.
In addition, smart refrigerators are also equipped with automatic sensors that are automatically activated, which will reduce the amount of energy it consumes.
Smart action
Smart refrigerators can connect to your phone via WiFi. Thus, we can use and control it easily without spending much time.
Easy voice control
Smart refrigerators are also trusted by many customers because of their easy voice control capabilities to help adjust the temperature and monitor it during operation.
Further reading: Smart Refrigerator and Its Features – New Trend of the Times
The popular cheap smart refrigerators
1. Samsung French Door Smart Fridge with Family Hub
Samsung's Family Hub with Alexa built-in provides features to share videos, images or messages. You can manage all of your food and watch TV, listen to music, use your favorite apps, or connect to any mobile phone right from the Samsung refrigerator itself.
Family Hub refrigerator has a luxurious but extremely sophisticated design that will not go out of fashion over time. Combined with a recessed design and high-grade stainless steel surface, Samsung refrigerators are the perfect choice for high-class kitchen spaces.
You can enjoy your favorite music with immersive speakers or endless entertainment with top movies on the sharp screen. Family Hub refrigerators help your family fully enjoy the joy of cooking right in your kitchen.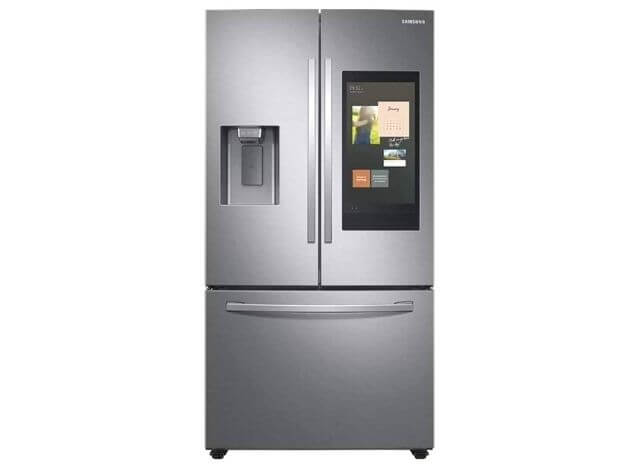 2.
FORNO Bovino 33 in. Refrigerator 19 cu. Ft. Touch Control French Door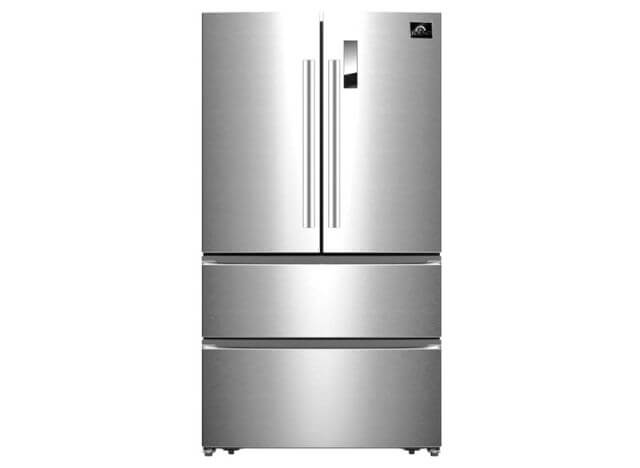 It is designed with 2 doors + 2 Baskets/Bins and 3 shelves, LED light, adjustable shelves, and dual evaporated cooling system. The integrated alarm will alert when the doors are open for too long.
The fridge is equipped with the Artificial Intelligence chip that automatically controls the inside temperature of both freezing and cooling compartments. It ensures to maintain the freshness and quality of your food. The digital control panel is outside so it's easy get information and control the fridge. Fast cooling and fast freezing are directly managed.
3. LG Smart Wi-fi Enabled InstaView™
InstaView Door-in-Door™ has a beautiful mirror glass and lights up – transparent with a quick double knock, allowing you to see inside without having to open the door, minimizing cold air loss – for vegetable tubers to stay fresh longer.
With LG Smart ThinQ™, you can control your refrigerator with your smartphone remotely – even when you're not at home. Easily set the refrigerator temperature, activate quick cooling and diagnose the condition of your refrigerator, with a simple swipe on your smartphone.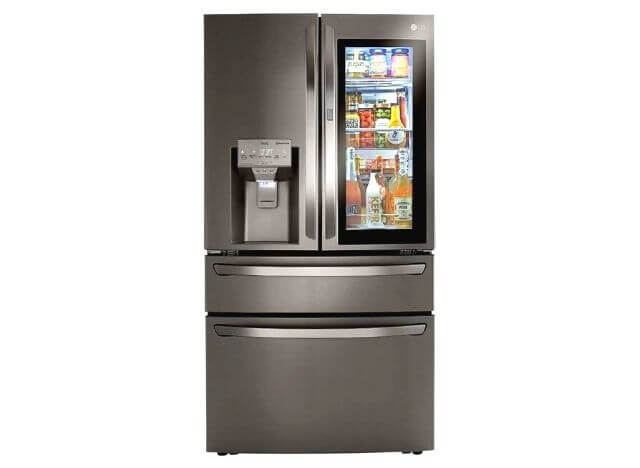 4. Kenmore Smart fridge 74145
With its smart technology, the users will convenient when using the Kenmore Smart app to monitor and control the fridge from anywhere.
The refrigerator ensures the stable temperature and the warranty of 10 years for compressors. The design is simple and clean, and the cooling function is very fast.
There are many compartments in this type of refrigerator, so it may be suitable for some people who have a preference for storing a variety of foods and drinks.
The design of the refrigerator is highly appreciated on the outside, elegant and luxurious, and the inside is spacious enough for you to store food for a long time. You need to consider a lot about this type of refrigerator if you are people who do not often go to the market.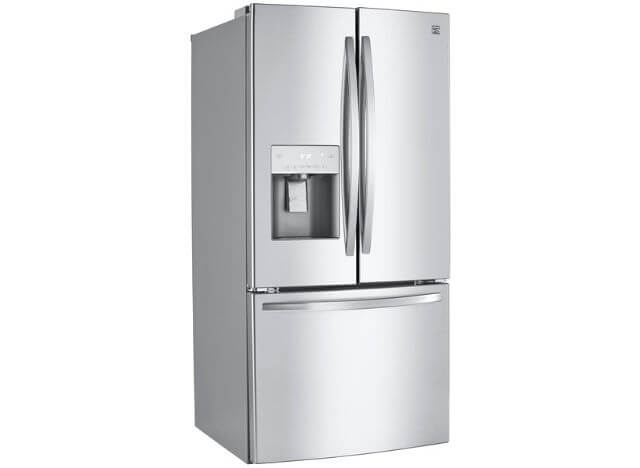 Summary
The best smart fridges of Samsung and LG companies may cost $ 7,000 or more.  Above are suggestions for cheap smart refrigerator models that are being used by most people with prices range from $ 2,000 to $ 3,000. If you prefer a fridge with screen and lots of smart features, you should choose Samsung or LG's smart refrigerators. Otherwise, the Forno or Kenmore smart fridges can be considered.
Depending on your needs, references and budget, you will consider for the most suitable choice. Hopefully, this article will help you while choosing the most suitable refrigerator for your family.
Reference:
1. Kenmore 74145, kenmore.com, Retrieved on Dec. 9, 2021
2. LG InstaView™ Door-in-Door®, lg.com, Retrieved on Dec. 10, 2021
3. Samsung Smart Refrigerator with Family Hub, samsung.com, Retrieved on Dec. 9, 2021