Along with the development of society and the increasing demands of users for food preservation, refrigerators have become an indispensable component for every family. Besides, it is constantly evolving to improve food's shelf life and quality. Many people still think that mini refrigerators cannot apply new technologies, such as regular-sized refrigerators, which is entirely wrong. Mini refrigerators are now much more modern than before. In particular, mentioning the humidity adjustment technology on the mini refrigerator is necessary. If you need a mini fridge often, try mini fridges with humidity control. You will love it. Let's see more information about a mini fridge with humidity control and decide.
What is the humidity in the mini fridge?
Humidity is an essential factor determining the quality and freshness of food when stored in a mini refrigerator. Each type of food will have its appropriate moisture limit, especially with fresh foods such as vegetables, fruits, and raw meat. Therefore, a mini refrigerator with adjustable humidity brings excellent convenience.
When it comes to preserving food in the refrigerator, few people pay attention to the humidity. They often only pay attention to problems related to temperature. The assumption that a lower temperature will help preserve the food longer is entirely wrong. Remember humidity if you want to keep your food in excellent condition. Humidity directly affects the freshness of fruits and vegetables stored in the refrigerator.
Humidity is the level of water vapor that exists in the air. The higher the humidity, the more water vapor in the air. The operation of the refrigerator constantly forms a continuous flow of air inside, making the air inside the fridge dry. This causes vegetables and fruits to wilt faster. The humidity control function will help limit air circulation in a particular area.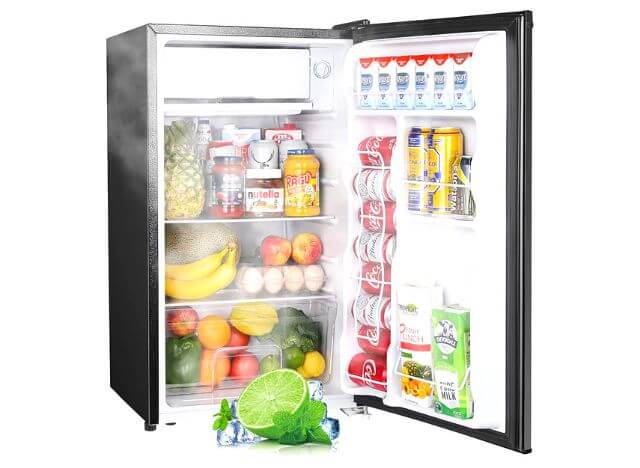 You may also like: Best Mini Fridge Under $200
The importance of proper humidity in a mini fridge
The environment inside the mini fridge is quite dry, so it is often recommended not to store vegetables and fruits in the mini fridge for a long time. However, if your mini fridge can ensure the correct humidity, you need not worry.
Besides, the right temperature and humidity will make your mini fridge a great environment to limit the growth of harmful bacteria in food. An environment that loses its moisture balance will allow harmful and dangerous bacteria to proliferate.
However, not all foods need high levels of moisture. Therefore, you need to pay attention to the type of food you preserve to arrange the appropriate storage location.
Further reading: 10 Best Mini Fridges with Freezer
Does the mini fridge have humidity control?
The current mini refrigerator has several models equipped to adjust the humidity well. These types are often used with special needs for mini refrigerators, which you will often see for purposes such as preserving fruits, vegetables or wine.
Similar to conventional refrigerators, mini refrigerators with humidity control will be designed with a separate humidity maintenance compartment. This compartment helps you limit the constant airflow inside the mini fridge and allows you to use technologies to regulate the humidity inside this compartment space.
However, you should note that because the mini fridge size is relatively small, the area of the humidity control compartment will also be limited. Therefore, you should arrange foods stored inside the mini fridge accordingly and prioritize foods that need a good humidity level to be stored inside the humidity control compartment.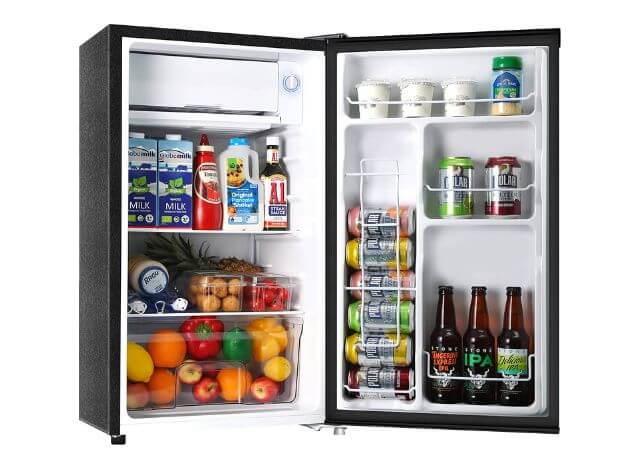 How to adjust humidity on a mini fridge
As mentioned above, you can adjust the humidity inside the refrigerator using a separate drawer. The space inside this drawer will have a different humidity level than other spaces. This compartment is especially suitable for foods such as vegetables and fruits. The shelf life and freshness will last much longer if they are appropriately stored in the humidity compartment.
Some modern mini fridges will design a compartment for you to adjust the humidity. Usually, there will be one compartment with lower humidity than average and one with higher humidity than average. Please take note.
The best way to regulate the humidity inside the drawer is to control the airflow that affects the drawer. Some mini fridges will have a lever for you to adjust the humidity level inside it. However, if you don't have one, you should use two such compartments based on your judgment of suitable humidity. But you need not worry because they have been designed to suit most foods best.
Foods should be stored in the humidity control compartment
For the humidity control compartment, you should check carefully before storing foods such as vegetables and fruits. With each temperature level, there will be different suitable humidity levels, and of course, these two factors must be decided based on the type of food being stored. Some will prefer high humidity. However, some will like low humidity. You can apply the principle a thin shell needs more moisture, and a thick cover needs less water.
For foods that like to be cool and dry, you should choose a temperature of 10-15 degrees Celsius and 60% humidity.
For foods that require high temperature and humidity, adjust the temperature between 0-4 degrees Celsius and the humidity range of 95%.
Further reading: How to Control Humidity in Refrigerator?
Top 3 mini fridges with the best humidity control
Koolatron Urban Series 20
The Koolatron Urban Series 20 is a small refrigerator that can usually store up to 20 bottles of wine with a size of 750ml. Besides, this type of refrigerator is equipped with modern technology with a dual-unit cooling module that helps you quickly cool the food inside at a temperature range (of 46-66°F). Moreover, the refrigerator works quietly and quietly, with little noise despite high-capacity operation.
You can quickly redesign the shelves' position to fit your needs. You can especially control the operation of the refrigerator with the external touch screen. Therefore, adjusting the temperature and lights with this refrigerator is very easy.
The Koolatron Urban Series 20 features an elegant double-glazed mirrored glass door that protects the food inside from harmful UV rays.
SCHMECKE 33 Bottle Dual Zone Wine Cooler Refrigerator
This is the right refrigerator for your kitchen and preserves the food's full flavor. In particular, this refrigerator is very suitable for keeping the taste and aroma of the wine.
In addition, SCHMECKE also uses a very advanced compressor cooling system to create the best environment for the flavour of the wine. Besides, the insulation layer is also one of the outstanding points to help SCHMECKE maintain a stable temperature inside the refrigerator. Although it can operate with a large capacity, you still do not need to worry because this refrigerator is quiet and makes no noise.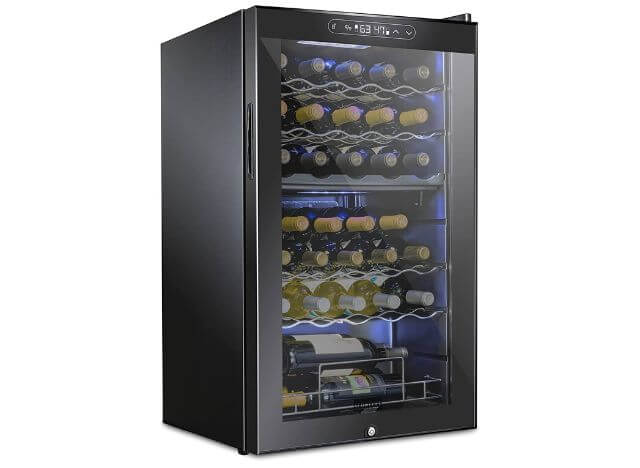 The design of the refrigerator is also a big plus because it is equipped with an LCD screen, and LED light and allows users to adjust the interior design of the fridge. You can change the temperature and lights inside easily.
Frigidaire EFMIS567_AMZ 18
Frigidaire EFMIS567_AMZ 18 lets you quickly chill your favorite drinks on demand with convenient temperature control. With a compact size but optimal design, this refrigerator offers a large storage capacity but still ensures high aesthetics. The outer shell is made of stainless steel, which enhances aesthetics and is easy to clean, especially suitable for spaces with modern and sophisticated styles.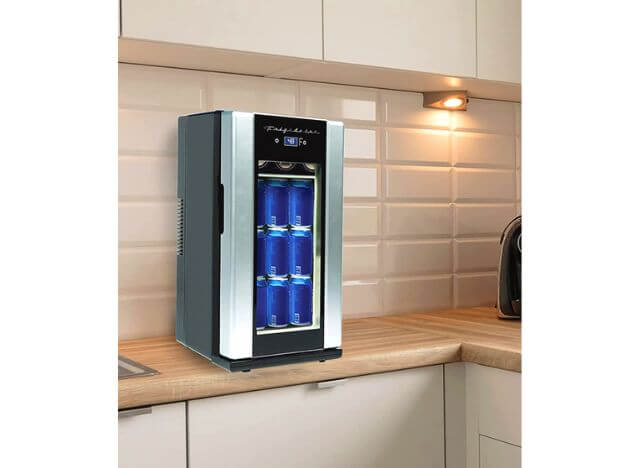 In addition, Frigidaire EFMIS567_AMZ 18 is also environmentally friendly and does not use strong chemicals or coolants. The compressor system operates quietly, producing little noise.