Are you wondering which type of lunch box to choose, which retains heat well or what design will suit your preferences and needs? In this article, we will show you how to choose the best lunch box, along with the most popular ones so you can easily find the right container for your lunch.
How to choose the right lunch box
The types of lunch boxes on the market today are quite diverse, sometimes making us confused in choosing. Here are some notes if you want to buy a safe and suitable lunch box.
Does it have proper insulation?
One of the most important things to look out for when buying a lunch box is whether it has proper insulation. Insulated lunch boxes will ensure your food is always hot and fresh. Replace your old steel food container and take home an insulated food container. Modern lunch boxes can keep the temperature for about 4-5 hours.
To keep food warm, the best option is to buy a thermos lunch box. In fact, a thermos lunch box also helps you keep food cold. Perishable lunch items such as cold cuts, dairy products such as cheese, milk, and yogurt should never be left at room temperature for more than two hours.
Insulated lunch boxes not only keep your food warm, but also keep it cold and fresh. For perishable foods, such as cold sandwiches or yogurt, should not be left at room temperature for more than 2-3 hours before they become unsafe to eat. With an insulated lunch box, perishable food can be kept cold and safe to eat until lunch.
How many compartments do you need?
The number of compartments will depend on the food amount and what type of food you usually bring for lunch. You should choose a lunch box that you can easily carry. Make sure the lunch box fits in the bag that you often use, the lunch box is not entangled with other utensils. If you want to bring soup, you should pay attention to the depth of the box.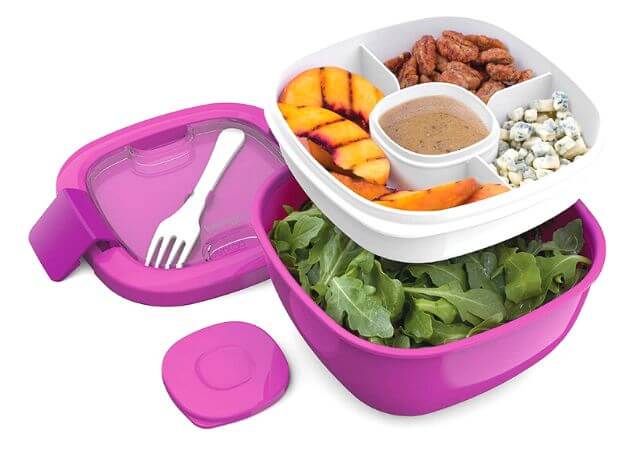 At the same time, some types of fried food, when put together with rice, will easily become stale and lose its crispness. Also, some types of rice with sauce, if left for a long time, the rice will be friable. Many people do not care too much about that issue, if you want to enjoy the dish to the fullest, choose a separate tiered box. The tiered box not only helps you keep food more delicious, but also helps you carry more different dishes.
What is the right capacity?
The amount of food each person consumes is different depending on the age, sex and appetite of each person. You can reference the following:    ·
Children from kindergarten to lower grades of elementary school: approximately 500 ml
Normal serving: about 500 to 700 ml
Those who want to eat a lot: about 700 to 1,000 ml
If you want to bring 2 meals: from 1,000 ml or more
However, the above numbers are for reference only, please choose according to your needs.
What material is best for you?
To protect your own health, choose the safe material of the lunch box is also very important. Here are the features of some materials for your reference.
Plastic box: Many colors and not too heavy
The lunch box with plastic material will be very suitable for people to use every day in the office, because the weight of the box is usually quite light. It will not make the bag heavy when you take it home every day.
You can heat food in the microwave without having to take it out, as some products are made from heat-resistant plastic that is perfect for reheating and cooling. Besides, plastic products also have many beautiful and eye-catching designs. But there is a small disadvantage: the smell of food is easy to stick into the box and it's difficult to wash grease stains.
Further reading: Is it Safe to Put Hot Food in Plastic Containers?
Stainless steel lunch box: Durable
This type of lunch box is difficult to break and is quite durable. Although it is more expensive than aluminum lunch boxes, but stainless-steel lunch boxes are very convenient because they rarely get rusted or scratched, and they are also less prone to staining despite being used for a long time.
In addition, stainless steel is also not greasy like plastic containers, so it is easy to clean, some types can even be washed in the dishwasher. The downside of this box is that you cannot heat food with a microwave oven because it will lead to fire.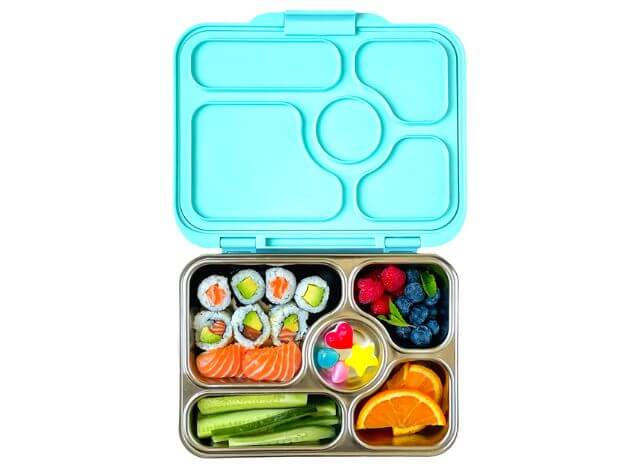 Aluminum box: Light and unbreakable, suitable for children
Aluminum is a material that is very easy to use and maintain, because the surface of the box is quite slippery, bacteria are difficult to multiply. It is also easy to clean after use. The aluminum lunch box is light and hard to break when dropped.  Although it is not as hard as the stainless-steel box, but with this moderate durability, even if children take it, you will be more assured.
Like stainless-steel containers, you won't be able to reheat food in the microwave. At the same time, the aluminum box has the disadvantage that the food is easy to stick to the wall of the box. Besides, if the box does not have a rubber seal, it is easy to leak water out. In addition, when storing liquid foods such as soups and juices will tend to overflow, it is best to add a specialized rubber strap for the lunch box.
You may also like: What are the Best Food Storage Containers for Fridge?
Wooden box: Keeps rice tastier with moisture absorption
The wooden lunch box can absorb moisture, helping to keep the deliciousness of the rice. Only the natural wood material can absorb the excess water in the rice, making the rice softer and being kept longer.
However, if you let the wooden box get wet after washing (without drying it completely), it will easily get moldy. So after washing, make sure to dry it. However, wooden lunch boxes are quite difficult to find, usually found in craft stores or carpentry workshops. If you like, you can order a box of your choice.
Is the lid tightly closed?
When choosing a lunch box, the most important thing that you need to check is that the lid closes tightly. For liquids such as soup, porridge, etc., having a sealed lunch box will help prevent liquid from spilling. With a lunch box with a tight-fitting lid, you can safely bring along dishes such as porridge, soup, sauce, etc. to enrich your daily menu.
In particular, the lunch box with a lid that supports vacuum or when the inside of the lid has a supporting rubber seal, the sealing efficiency will be higher. Because this seal will keep the food container airtight, keep the heat lasts longer, and not let the air penetrate to spoil your food.
Is it easy to clean?
The lunch box is your close friend every day, so in addition to caring about the material, size or design of the box, you need to pay attention to the ease of cleaning. A lunch box that has a simple structure or can separate each part will be easier to wash, ensuring hygiene and safety.
Also, if you want to use the dishwasher, be sure to check that your lunch box is dishwasher safe before putting it in.
Can you put it the microwave?
If you want to reheat by using the microwave, make sure you also check that your lunch box is microwave safe. Many people think that microwaves are only suitable for plastic containers, but recently there are also products with other materials that can still be used in the microwave. On the other hand, some plastics cannot be used in the microwave, so check carefully before you buy.
Special note, metals such as stainless steel, aluminum etc. should not be used in the microwave. If you accidentally put it in the microwave, it could catch fire or explode, destroying the microwave and posing a danger.
Is it capable of retaining heat or electrically heating?
If you want to bring hot soup or chilled fruit, you should choose a thermal lunch box. The thermos lunch box can keep food hot and cold for a long time. In particular, the ability to keep food hot for up to 4-6 hours, the food storage space inside is also quite spacious.
If you do not want to reheat food, you should choose designs that retain heat well. In recent years, a few modern lunch boxes include an electric reheat function. If you want to enjoy food as hot as fresh out of the oven, look for lunch boxes that has electrical heating.
Best lunch boxes for kids
Bentgo Kids Lunch Box
Bento boxes are a popular choice for kids, as they allow you to divide food and snacks into different compartments. This bento box has rubberized edges to prevent spills in the event of a spill, and your children can open and close it with two kid-friendly latches.
The interior compartments can hold a variety of foods and snacks—even dipping sauces —and have seals to keep the contents from leaking into your child's backpack. The inner tray is microwave and dishwasher safe, and the box is made from BPA-free materials.
Designed with kids in mind, this lunch box comes in three bright colors to choose from. And it has five compartments that are divided into sections perfect for kids ages 3 to 7.
Rubbermaid LunchBlox Lunch Bag
This budget-friendly lunch bag is perfect for elementary school kids. It's also spacious and perfect for school lunches and your kids will love it as this lunch bag comes in four colorful designs, including blue, purple, and black models.
There are also mesh pockets on the sides so you can store extra food. You will satisfy because this lunch box is not only microwave but also dishwasher and freezer safe. It is also BPA free. This lunch box is simply an insulated bag. It's best to use with the Rubbermaid LunchBlox food container, but you can also use it with any Tupperware or bento boxes you have at home.
OmieBox Bento Box for Kids
If you are looking for a great lunch box to send to school, check out the unique OmieBox Bento Box as they can hold all sorts of different foods. This type has two temperature zones, allowing you to store both hot and cold foods in one box.
The lunch box itself is double-layered and leak-proof, so you don't have to worry about spills and the food inside will stay cool and fresh. The OmieBox Bento Lunchbox comes in five bright colors and includes a built-in thermos food container. This keeps appetizers like soup warm until lunchtime.
Yumbox Presto Stainless-Steel Bento Box
Bento is great for kids because they can taste everything a little bit, with a variety of lunches and snacks. Yumbox has only one latch so little hands can open this bento box easily.  It has four compartments plus a round spot for dipping (or cookies).
The new version is made of durable, easy-to-clean stainless steel with a multi-colored silicone lid. This is a great size for kids and adults. It helps to reduce food waste and pack the portions just right. With 5 compartments, it offers plenty of space to create a nutritious lunch on the go.
Bentology Lunch Bag and Box Set for Girls
The Bentology lunch bag set is a great choice for kids who love to customize their lunches. There are five separate plastic containers let you serve a variety of foods — and each has a lid. The bento box fits inside the carrying bag and with a large zippered front pocket, it allows you to hold napkins, utensils or notes.
Best lunch boxes for adults
Hydro Flask Large 5 L Insulated Lunch Box
This lunch box is beautiful. It can be used by children or adults and comes from a trusted brand known for its durability and insulation. If you already trust Hydroflask's reusable water bottles to keep your drinks cold, you'll be happy to know that the brand's lunch boxes offer similarly strong insulation.
Available in four exterior colors, the lunch boxes also feature a full interior lining that can be wiped and cleaned easily, as well as a zippered pocket for supplies and an ice pack. In fact, Hydroflask's Large Insulated Lunchbox has two layers of insulation to keep your food perfectly chilled for hours. Plus, this durable design can hold as many outings as the brand's trademark bottle.
TAKENAKA Bento Lunch Box
Among bento boxes, Takenaka Bento Bite Dual is the best size and shape to pack larger lunches with lots of fixed portions. It comes in many trendy colors. And with its clean lines and simple design, Takenaka strikes a good balance between cuteness without being too flashy.
The Bite Dual has two tiers and a deep upper compartment. These portions are great for packing lunches with a variety of foods that you want to keep separate until it's time to eat. The Bite Dual is solidly built, and it survives a sudden drop.
These beautiful Takenaka lunch boxes come in a variety of sizes and designs. If you want to pack a smaller meal or a snack, you can also just use one tier of the Bite Dual.
Bentgo Salad – Stackable Lunch Container
The Bentgo Salad Stacked Lunch Box is one of the most spacious lunch boxes with the extra compartments for assorted salads, from fruit and nuts to toast. The baffle top tray is a highlight of this bowl. It has one 10-ounce compartment and two smaller, 5-ounce compartments, with a sealed 3-ounce tape container. You can also remove the tray if you want more room for your main dish.
With all the extras, such as a split top tray and unique pattern and color options, you should choose this Bentgo lunch box as it feels more like a treat than a container. The rounded corners of the bowl make it easy to pick up leftover crumbs or cheese crumbs that might otherwise get stuck in the corners of the square.
Hydro Flask Lunch Bag
The Hydro Flask's fabrics, colors, and rounded curves help it outshine basic lunchboxes. This lunchbox comes in 5 liter and 8-liter sizes.  It has flip lid and deep as well as wide compartment. So it's easy to stack this lunch box with snacks of all shapes and sizes, or even stack small food containers for a multi-ingredient meal.
This bag doesn't have a large outside pocket or a drink compartment, but it still holds plenty of food. The top opening and flat bottom make it one of the easiest bags to fill and clean. The bag stays in place, and you can easily reach inside to wipe the inner lining. Insulated bags can keep food cold, if you need to preserve food but don't have a refrigerator.
Ecozoi Stainless Steel Lunch Box
This round metal stackable food container gives a different touch to the bento box. It has four tiers that can hold up to 7 cups of food. And the circular design creates a smaller footprint than traditional square or rectangular lunch boxes.
Coleman Chiller Series
Coleman's removable hard plastic lining offers better construction and makes cleaning easier than other large, insulated bags. Coleman's sturdy construction, meticulous stitching will keep you going for years.
This cooler is best for those who need to carry a rich lunch. It will fit a large sandwich or a quart-sized box of soup or salad, some snacks, a few drinks and an ice pack. It's too big to fit in a backpack or a cramped fridge. However, the wide shoulder straps allow for easy portability, which is a nice feature, especially if you have to drag other bags or gear when you arrive. Mesh pocket on the inner lid keeps an ice pack in place, helping food and drinks stay cooler longer.
Best electric lunch boxes for hot meals
If every day is different for you, look for a plug-in lunch box that comes with two types of plugs: one for a standard wall outlet and one for your car's electrical outlet. This will allow you to keep your meals warm while you're on the go. Then it allows you to stay plugged in for longer.
If the lunch box only comes with a wall plug, you can purchase a power adapter for use in your car. This will give you a little more versatility. However, you need to read the instructions to avoid over run out of your car battery.
FORABEST Electric Lunch Box
This electric lunch box comes with two power cords to plug into a standard wall or vehicle outlet, providing flexibility and convenience for those with busy lifestyles.
The lunchbox's stainless-steel container is dishwasher safe and can hold up to 1.5 liters of food (or about 6.3 cups), giving you plenty of room.
It also has a heat-resistant plastic container and lid that you can use for a side dish or sauce. A leak-proof ring on the underside of the pop-up cap ensures that contents do not spill out.
COROTC Electric Lunch Box
This food warmer lunch box has many of the same features as the best option overall, at a slightly more pocket-friendly price. Two cords allow you to power it through a wall or vehicle outlet.
The set includes a dishwasher-safe 1.5-liter stainless steel carrying case and a plastic insert for side dishes. The safety snap-on lid won't leak, and the box has a built-in tool holder for storing the included fork, spoon, and knife.
HotLogic Mini Portable Oven
It comes with a standard wall-mounted power cord and has a heating base and reflective material inside that will keep food warm for up to 12 hours without drying out. The zippered lid expands to make it easy to give and take your meals. It's compatible with a wide range of flat-bottomed, lidded containers up to 1.5 liters, including those made from safe plastic.
It is completely resistant to heat, glass, metal, cardboard and foil. Without heat, Hot Logic can be used as a soft lunch box and comes in nine colors to choose from. The handle on top of the reheated lunchbox makes it easy to move around, but it doesn't come with eating utensils, and it just plugs into a wall outlet. If you want to heat it in the car, you will need to purchase an energy converter.
Baeelyy Electric Lunch Box
This warming lunch box features a 1.5 liter stainless steel container with two servings, making it easy to split meals. The flavors don't mix up or to split food if you're bringing a whole meal, lunch and dinner.
The lunch box has a leak-proof lid and comes with an insulated container to keep food warm when you don't plug the appliance in. This option is compatible with both wall and car sockets for complete flexibility.  The inner container is dishwasher safe for easy cleanup when you get home.
XINZOKYC Electric Lunch Box
It has the right adapters to let you use it in your car or at the office. The box also comes with a handy carrying bag for easy carrying. Inside there is a stainless-steel box and a separate plastic box. It also includes cutlery which has a small compartment perfect for storage.
This is one of the few lunch boxes with a warming time indicator, about 15-30 minutes. It is made of premium PP material, lid with silicone strip to prevent leakage and 304 stainless steel. It's a good idea to choose this lunch box as it is high temperature resistant, durable, leakproof, non-toxic and easy to clean.
Conclusion
When choosing a lunch box, choose a box with a tight lid, paying attention to the insulation, size, style and material. The above-mentioned lunch boxes are at good quality and reliable for your choice.
Hope you find a good lunch box to always have delicious and nutritious lunches.