To preserve milk for a long time and not waste the best milk source for the baby, mothers should have a mini refrigerator for storing breast milk. The choice of a mini refrigerator will make mothers have to consider a lot. Pay attention to 4 factors: noise level, capacity, features and power saving. In the following article, we will help you know how to choose a mini fridge for breast milk and recommend the 5 best ones.
Mini refrigerators
A mini refrigerator is a small refrigerator with a capacity of less than 7 cubic feet. Although it has a smaller size compared to other refrigerators, a mini fridge offers the basic needs in storing and preserving food for single people or a small family.
Normally, the capacity of mini fridges ranges from 1.7 cubic feet to about 5.0 cubic feet. Depending on the needs and budget, users can choose the right refrigerator.
A mini fridge may have 2 compartments including cooling compartment and freezer. Or it doesn't have freezer. The one-compartment refrigerators do not have a freezer. They are only used to cool and preserve food.
Advantages
Compact design
The refrigerator has a compact, lightweight design that is easy to transport, suitable for narrow spaces.
Low price
Mini refrigerators are often cheaper than other refrigerator products. Therefore, small refrigerators are very suitable for college students, single people, business in hotels, or AirBnB…
Power-saving
Because the refrigerator has a small capacity and power consumption, so you will not spend much on electricity bills.
Disadvantages
Not many options
Mini refrigerators are not the main products of refrigerating manufacturers, so there are often few models and brands to choose from.
Cannot store much food
The small capacity of the refrigerator cannot store a lot of food and drinks, and the limited ice-making function may cause some inconvenience for users.
Limited features
Most mini refrigerators use direct cooling technology and do not have anti-freeze feature, do not have antibacterial and deodorizing functions. It will take time for users to clean them.
What are the uses of mini fridges?
Mini refrigerators can be used for many different purposes.
Storing cosmetics
Women often use mini fridges to store cosmetics and beauty products. Thanks to the compact size, mini fridges can be placed in any location in the house, even in the bedroom.
Further reading: How to Choose a Suitable Mini Fridge for Skincare?
Keeping milk for babies
Mothers can completely use the freezer compartment of the mini fridge to store milk for their baby. Because of its compact size and flexibility in movement, the mini fridge is convenient for mothers in the process of storing and feeding babies right in their bedroom.
Using in hotels, Airbnb
Hotels and motels often use mini fridges to serve guests staying in the rooms.
Further reading: Best Quiet Mini Fridges for AirBnB
Used in dorms and offices
Mini fridge is a food storage device suitable for users who are students, office staffs because of its power-saving, compact and flexible features.
Further reading: 11 Best Mini Fridges for Dorm Rooms
Why should you buy a mini fridge for breast milk?
Convenient
During each feeding, it is common for a baby not to get all the milk from both sides of the mother's breast. The remaining amount of milk, mothers have to use a pump to remove the milk to prevent the risk of milk blockage or reduce the milk production of the mammary glands.
A mini fridge that stores breast milk helps mothers when returning to work can still store a large amount of their milk for their baby to use gradually. Ensuring the nutrition for children in a safe and economical way.
In addition, a mini fridge is compact and movable, so it is easily placed anywhere around the home, including in the baby's room. For outdoor trips or on a family vacation, some portable mini fridges are convenient to bring along.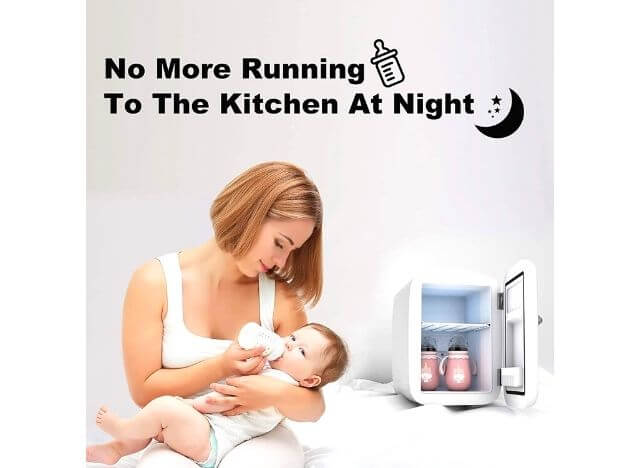 Safe
The amount of expressed milk, if stored at normal room temperature, should be used within 4-6 hours after the mother expressed. This is a pretty short time.
Stored in the freezer compartment with a normal temperature of -5 degrees to -10 degrees Celsius, breast milk should be used within 2 weeks.
Preserving breast milk for babies with a mini refrigerator will help prevent the milk from being contaminated by other foods in the refrigerator, keeping it longer and safe for babies.
Time saving
Mothers do not have to pump when the baby needs milk. They can prepare a few bottles in advance and keep milk safe in a mini fridge for future feedings.
Further reading: How to refrigerate breast milk
How do you choose the best mini fridge for breast milk?
Noise level
The first thing you need to pay attention is the quietness and stability of the refrigerator. A refrigerator that operates quietly will make it easy for you to keep it in the bedroom. It can be close to the place of your child, especially without being affected by noise.
You should buy mini fridge with a good compressor and indoor unit capacity. It's better to avoid buying old mini fridges because they often make loud noise that affects babies.
Capacity
You should buy a refrigerator with a convenient capacity for storing milk as well as other necessary items.
For many small families, or small spaces, a mini fridge is the perfect choice. It is space saving, convenient for moving, and affordable.
Features
To store milk for babies, mothers choose a refrigerator or freezer that can adjust the temperature or can change from a freezer to a cooler and vice versa.
You should buy refrigerators with multi-dimensional cold air systems as well as antibacterial systems. These fridges can deodorize and prevent bacteria from accumulating on other items in the refrigerator.
Save electricity
Because of storing breast milk, your mini refrigerator will operate 24/7. Therefore, you need to consider using energy-saving refrigerators to reduce electricity consumption, avoid paying too much for monthly electricity bills.
Further reading: How to Use a Mini Fridge Safely and Efficiently?
Top 5 best mini fridge for storing breast milk
1. AstroAI Mini Fridge
It has four different colors, so you can get the favorite one for your baby. The 4-liter capacity is enough space for baby bottles. Temperature can be set at 32 degrees Fahrenheit to keep milk safe a couple of days.
You can power it by using regular wall outlet or car cigarette lighter.
It is designed with multiple purposes as a cooler and heater. It operates quietly and the price is affordable.
With a convenient carrying handle, you can easily move it or bring it along whenever you're on the go.
2. BLACK+DECKER
It has a freezer so that you can freeze both bags and bottles of milk together.
You can move glass shelves up or down to have space for your needs. It can be place in the room corner, under a desk or in a small closet.
It's compact, stylish, and available in 3 different colors of silver, black, and white.
3. Danby Designer
The compact mini fridge is the perfect size for the bedroom, 1.6 Cubic Feet (46 Liters) capacity, fridge space with 1 full-width wire shelf, with built-in shelves on the door.
The back design is smooth and flexible. Integrated door handles mean the hinges are tucked away for a seamless, modern look.
The quiet mini fridge's mechanical thermostat allows for simple temperature regulation and control. Comply with the Eco-friendly Energy Star, it uses harmless refrigerants.
4. CROWNFUL Mini Fridge Portable
It is a great compact device for storing breast milk. The CROWNFUL mini fridge has a capacity of 4 Liters that can store a lot of breast milk. It comes with a removable shelf and convenient handles that make it easy to carry on the go.
You can easily adjust the temperature inside the refrigerator with just a switch. Also, it is a portable and cooled electric refrigerator with brushless premium fan motor with quiet operation (25 dB Sleep mode) and longer life than ever.
5. Cooluli Mini Fridge
Cooluli Classic 4-liter mini fridge with modern, portable design. Possessing many functions and uses, this is the right mini fridge for breast milk. Easily removable inner shelves and baskets give you more space and storage options.
The unique semiconductor operation is energy-saving, super-quiet and 100% Eco-friendly. Cooling capacity up to 40ºF-45ºF under ambient temperature.
Related questions
1. Are mini fridges safe?
Yes, they are. Mini fridges are as safe as regular refrigerators. Mini fridges are best suit small places like kitchen, bedroom, living room, dorm room, or RV…
To avoid worrying about safety issues, you should buy mini fridges from reputable and trusted brands. Besides, you should check customer's reviews to know pros and cons of the product you want to buy.
For new mini fridge, pay attention to the installing process. Read the instruction and usage guide carefully to make sure you know how to use it.
The mini fridge should be kept away from heat sources like direct sunlight, a stove. A hot room is not suitable for a mini fridge.
2. How much does a mini fridge cost?
The price can vary depending on capacity, brands, and features of the mini fridge.
Normally, a mini fridge with capacity of 6 -10 Liters may cost from 50 -100 USD. A larger one, from 1.7 – 3.2 cubic feet to, costs about 150-200 USD.
Mini fridges that integrate features such as anti-freeze, have a freezer compartment, and save electricity will have a higher cost than other products.  Depending on your needs, preference, and budget, you can choose the most suitable mini fridge for your family.
3. How to use a mini fridge properly
Using a mini fridge in the right way, you should:
Plug the mini refrigerator to the power source properly. If possible, you can use a separate 10A breaker for the refrigerator. Even better, buy a voltage stabilizer with a delay circuit to get ready for times when there is power outage. This device gives the fridge time to recover the full amount of gas when the power is suddenly cut off.
After moving the fridge or reconnecting the power supply, you should leave at least 30 minutes for the fridge to operate stably.
Do not use sharp objects such as knives, scissors to pry or open the fridge.
Should not place the fridge too close to the wall. This causes the outdoor unit of the cabinet to be covered, which can cause equipment damage.
Never plug and unplug the refrigerator to the power source continuously. This can cause the device to receive an electric shock, causing damage to the internal cooling wire.
4. What container should be used for storing breast milk?
Ideally, for storing breast milk, you should use a clean container, such as screw-cap bottles, hard plastic cups with tight caps or heavy-duty breast milk storage bags. If you use bags, make sure that you fill the bag just enough, do not over the measurement indicator line. Then, seal the bag tightly and place in a food storage container to keep it away from meats.
5. How long can breast milk be kept in the fridge?
In the refrigerator, breast milk is safe for 2 days at 4°C. Store expressed milk on different days in different containers.
In the freezer compartment, breast milk can be safely stored for 3 to 6 months. However, the best time is before 04 months.
Note:
Do not add freshly expressed breast milk to frozen milk.
Always place freshly pumped milk in the back of the fridge since this is the coldest area.
Do not put the milk at the door fridge. It is the worst place for storing breast milk as the temperatures fluctuate every time it's opened or closed.
5. How to protect breast milk during a power outage
You should prepare some Styrofoam or plastic containers with lids.
If there is a power outage after 3 hours, put a lot of ice in the Styrofoam bin, then gently transfer the milk bags from the fridge to these Styrofoam containers to keep them from melting.
The bottom line
Hopefully, the information provided above gives you useful knowledge in choosing a mini refrigerator for storing breast milk.
Reference:
Proper Storage and Preparation of Breast Milk, cdc.gov, Retrieved on Feb. 15, 2022