It looks like you're ready to move to your new dorm room with exciting times ahead. However, you may forget what is sure to become your greatest snack: a mini fridge. This practical device can make your student life easier and help you turn a dorm room into your real home and bring you many more benefits. If you don't want to share a mini fridge with your roommate, is it possible if you have two mini fridges in a dorm?
Are mini fridges allowed in college dorms?
Whether you want to stock up on fresh food, cold drinks or leftovers, mini fridges are always welcome in college. They are perfect for small spaces and limited rooms, and there are many models that look cool and fit on a tight budget.
Except for the handy mini fridge for leftover meals and snacks, you don't need to carry your kitchen appliances with you. However, some colleges require you to be approved for devices, so you should check to see what is allowed.
Mini fridge is one of the essential items that can really save you money and make your student life much simpler.
You may also like: Best Mini Fridges for College
Can you have two mini fridges in a dorm?
That's fine. There is no policy against having two mini refrigerators. You can have two small fridges in a dorm room. According to the housing policy website, refrigerator is no more than 4.0 cubic feet. In some cases, colleges recommend a microwave and mini fridge for roommates to share. 
It is best that each person has their own mini fridge. You can buy food on demand and easily preserve your food in your own way. Also, it's amazing how quickly you can fill up a mini fridge.
Further reading: Black Friday Mini Fridge Deals 2022
Benefits of a mini fridge in dormitory
Mini fridges are useful in many situations, but what benefits do they give you while in a dorm?
Convenience
You can easily access food on demand. If your college cafeteria most likely isn't open 24/7. And small-town living means no restaurants stay open late. A mini fridge means you have snacks whenever you want.
Moreover, there are plenty of dorm room recipes that you can cook using a mini fridge, microwave, and a few simple ingredients. Besides, you can enjoy a glass of orange juice or an espresso in the morning right in your dorm room. Instead of going to the cafeteria, reach for the fridge and pour yourself a serving.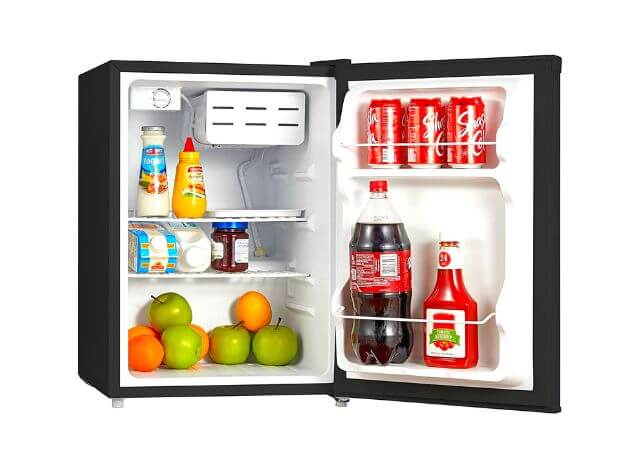 It also keeps your leftovers fresh. If you don't want to waste food, you can take your snack bag home or bring home extra snacks without having to worry about leaving it out overnight.
Space saving
Dormitory rooms are usually designed to fit only your essentials and there are already so many things that you are planning to bring, everything must be taken into account. A mini fridge won't take up much space, so you really don't need to worry about that.
Plus, since they're available in a variety of sizes, it shouldn't be difficult to find one that can fit the most space-optimized location, whether it's next to your nightstand, next to in a cupboard or even on top of a table.
Cost saving and healthy meals
Using a mini fridge will save you a lot of money in the long run. With a small fridge in dorm room, you can stock up on food and drinks or snacks.
Cooking your own meals isn't just a money-saving lifestyle, you will eat much healthier and higher-quality foods. Eating healthy meals regularly will help you have a more balanced diet and routine. However, you should also treat yourself to a snack from time to time.
Portability
Mini fridge is easy to carry and install. Moving to your room door, there's always a lot of stuff that you must load onto your parents' car, but a small fridge won't take up too much precious space in their trunk.
In dorm rooms, it's not easy to find electrical outlets, so putting your items and devices around them can be a challenge. However, because mini fridges are so compact and versatile, you will easily find the right refrigerator for your dorm room.
Should you share a mini fridge with roommates?
Sharing a mini fridge with roommates can be a good option. This allows you to save on electricity, space and upfront costs that you would otherwise incur when buying a full-size refrigerator.
If you're worried that a small refrigerator will be too small for both of you to share, buy a slightly larger refrigerator. Some larger "mini fridges" can provide more space while still taking up less space.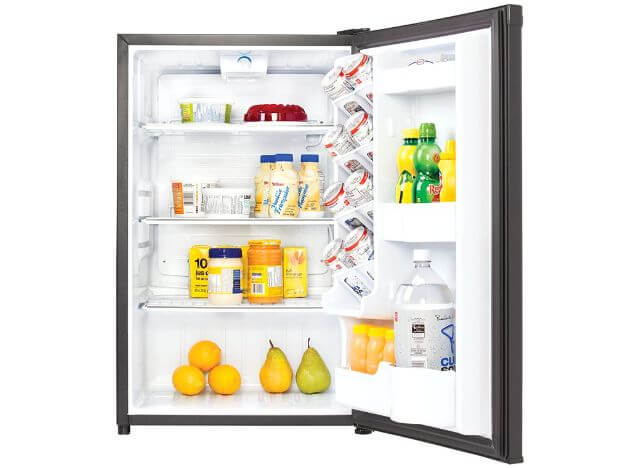 However, you need to consider factors like how big is the room, how much do you store in it? If you really need to stock up on food for daily use, it's best to have two fridges. If it's just a few drinks, you can share a fridge.
How big should a dorm mini fridge be?
With dorm rooms and college life, size definitely matters Refrigerator sizes are measured in terms of capacity, that is, the number of items they can hold, in cubic feet.
The standard-sized dorm refrigerator measures about 2 cubic feet, as a small one or about 4.5 cubic feet, measure the height of the table as a bigger one.
You can find dorm mini fridges that are slightly smaller than 2 cubic feet or slightly larger than 4.5 cubic feet. Your college housing office will also let you know if you need an energy-efficient refrigerator. You need to measure the space you're allowed to use for your dorm fridge before you buy.
Here are the popular capacity of mini fridges:
1.6-1.7 cubic feet: These refrigerators are rather small. They usually include an interior shelf and a storage compartment in the door. If you just need to refrigerate the essentials, this should be fine.
2.5-2.6 cubic feet: This is a nice mid-size model, with or without the option of a freezer. A refrigerator this size will provide enough room for one person, but you might be a little cramped for two.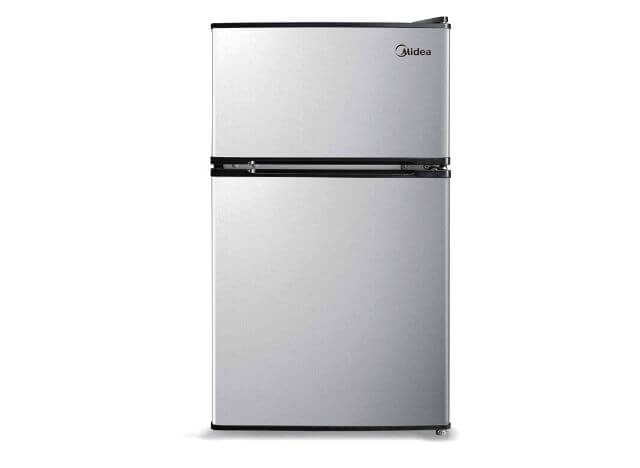 3.3 cubic feet: This is considered the ideal size for most dorm mini fridges.
4.0 cubic feet or over: If your college allows a big fridge like this, that's great. Make the most of the fridge space you can get, especially if you have 2 or more people sharing the room.
Do dormitory mini fridges use a lot of electricity?
On average, a mini fridge uses 65 watts of electricity when working and runs for 8 to 10 hours a day. This means a daily energy consumption of about 600 Wh and an annual energy consumption of 220 kWh. At 12 cents/kWh (kilo-Watt-Hour), it will cost between $20 and $30 per year to run a mini-fridge.
According to Consumer Reports, the running cost of a 4.5 cubic foot mini fridge is about $27 a year while a conventional 20.6 cubic foot refrigerator costs about $47. This is understandable as mini fridges consume 233 kWh to 310 kWh per year compared to 420 kWh per year for conventional refrigerators.
Things to always keep in your dorm mini fridge
Whether as a main meal or a snack, these are the best things you can keep in the fridge to satisfy any craving: Veggies, foods to fill you up and items for making meals.
Frozen meals: The freezer may be small, but you should be able to fit several bowls of frozen rice or iced snacks.
Fruit: Fresh fruits like apples are extremely good, especially when you're in college and everything is stressful.
Yogurt: Probiotic yogurt sprinkled with granola will be healthy for you.
Milk: If your upcoming snack is cereal, you will always need a bottle of milk on hand.
Drinks: Juice, filtered water and a bottle of cold brew coffee are convenient to have in your dorm.
Meat sandwich: You must have if you love sandwiches.
Cheese: Cheese sticks, cheese slices, and shredded cheese for a sandwich or as a great snack on its own. As a topping, as a snack, or even as a meal, cheese is not a food you will regret eating.
Eggs: If you have a grill or a microwave in your room, you can whip up a quick meal of scrambled eggs.
Condiments: ketchup, mustard and mayo can all be used in a fully stocked dormitory fridge.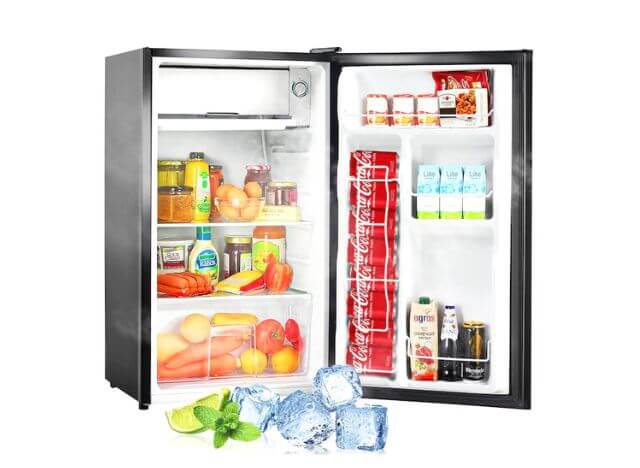 FAQs
Is the mini fridge in the bedroom safe?
The mini fridge is safe to put in the bedroom. Loud noises from the mini fridge can disturb your sleep, but this small refrigerator is not dangerous.
Conventional refrigerators are large, bulky storage containers that are difficult to move and require large amounts of electricity for proper cooling. Meanwhile, the mini fridge has a compact size that is very suitable for the bedroom.
In addition to food, drinks or snacks, mini fridges can also store beauty cosmetics or medicines.
Where should you not put the mini fridge?
Mini fridges are great for bedrooms to keep cold drinks or snacks cold. As the bottom coil heats up and cools, you should place the mini fridge on a hard surface such as hardwood, plastic, or tiled floor.
Do not place the mini fridge anywhere near another heat source, such as a cooking pot or a radiator, as this could lead to the compressor overheating and being damaged.
Do not block the ventilation of the refrigerator. For side clearance, leave at least an inch on both sides of the unit. Rear space, allow one to two inches of space in the back of the refrigerator for proper airflow. With top clearance, make sure there is at least one inch to one inch of clearance on top of the mini fridge.
Do not place the refrigerator on its side.
How long does the mini fridge last?
Mini refrigerators usually have a lifespan of about 8 to 10 years. This is like a regular refrigerator and can be expanded if you maintain and install your fridge properly.
To maintain a mini fridge, you should keep it clean and smell fresh. After you move in and put food or drinks in the mini fridge, you need to clean them once a week.
Also, you should check for expired milk, meat, fruit, vegetables, or other perishable items and discard them if necessary.
How can I make my dorm fridge colder?
Here are some ways to make your mini fridge cooler.
Change settings
Avoid direct sunlight
Store cool items
Clean the condenser coils
Place it away from any heat production devices
Remove it from the carpeted surface
Keep distance between the rears and wall
 Quick fridge cleaning tips
Deodorize with baking soda to keep the refrigerator smelling fresh. You can buy it at any grocery store and replace it every 3 to 4 months.
Clean the refrigerator periodically to check for expired leftovers or find spills and stains to clean them up in time.
Before cleaning, remove all small parts, such as trays and drawers. Start by cleaning them with warm soapy water or a damp, soapy cloth. Then, dry them before putting back.
Finally, use vinegar water spray to clean the inside of the fridge (make a mixture of one part vinegar, one part water in a spray bottle).
What to look for when buying a mini fridge?
First, determine the size you are looking for. Depending on your food storage needs, you can buy a mini fridge with a small capacity of about 1.7 cubic feet, a medium size of about 3.0 cubic feet and a large one of 4.0 cubic feet.
Then, do you want the freezer or not? Mini fridges with freezer can come in some ways — without any freezer compartments, an upper freezer or freezer compartment included in the main fridge area.
Next, you'll want to find reversible door hinges. This allows you to switch the way the door opens, left or right opening. However, in the end, it is also necessary to consider how much budget you spend on the mini fridge.
You may also like: The Ultimate Guide to Choose a Mini Fridge
Top best mini fridges for dorm rooms
Midea WHS-87LSS1
Free-standing, compact size
Perfect for dorm rooms
Large storage area, 2.4 cf
Adjustable legs
Energy star rating, low noise
Excellence in chilling drinks and snacks
Reversing door can be opened from left or right
BLACK+DECKER BCRK25W
Capacity: 2.5 cubic feet
Sleek, modern design
Glass shelving
Fits 2-liter bottle
Reversible door
Low sound operation
Large freezer compartment
With door storage that can store five 12 oz. cans
RCA RFR321
With freezer
Adjustable legs for ultimate versatility
Reversible door makes it easy to fit it anywhere in your dorm room
Compressor cooling for perfect performance even in hot weather
Adjustable thermostat to regulate the temperature
Capacity 3.2 cu. Ft, allows you to store a variety of foods such as drinks, vegetables, ice cream, etc.
Midea WHS-65LB1
Capacity 1. 6 Cubic Feet
Single Reversible Door
Energy saving
Convenient racks on door
Separate chiller compartment
Cooluli 15L
Luxurious
Completely portable
Cool to warm with a quick switch
Stylish, sleek design, and the glass front
Ideal for use in dorm rooms, home, office, vacations,…
Advanced EcoMax technology, minimal energy used and prevents frost
Conclusion
You can absolutely have two mini fridges in a dorm room. However, consider the size in accordance with the needs and regulations of the dormitory.
Having a fridge in your dorm room can be a great way to stay healthy, save money, and improve your college lifestyle.