Camping cooler is an insulated container for keeping food and drinks cold for an extended time. When summer comes, the demand for chilling drinks and preserving food when camping and picnicking is higher. People need to bring drinks and fresh food for outdoor meals, in these cases, a camping cooler is the best choice. If you're considering the best camping cooler for the money, keep reading this post.
Are camping coolers worth it?
If you're going on a long trip outdoors, a camping cooler is essential to keep drinks and perishable foods from reaching unsafe temperatures.
A well-insulated spinning cooler with thick walls will help ensure your food and drinks stay fresh during your outdoor adventures.
Therefore, when investing in a quality camping cooler you can not only keep food and drinks cold for picnics, but also save money when you don't have to buy food and drinks along the way.
Ideally, you have both a hard-sided cooler to keep your food and drinks fresh at the campsite and a soft-sided cooler as you explore your surroundings.
Camping coolers are not just for camping as they are suitable for some other outdoor activities.
You can use a cooler as a seat, especially the one that comes with rest feature.
If you go fishing, it provides an easy way to store bait, loin and other perishables as well as keeping drinks cold and sand-free on hot days at the beach.
For long road trips, you don't need to stop at convenience stores to buy snacks and drinks.
It keeps food and drinks safe from animals and protect animals from getting into trouble by eating or playing with human foods.
Here are top 5 best picks for your quick reference:
RTIC Ultra-Light Quart Hard Cooler – Best Overall
Coleman Xtreme Portable Cooler – Best Value
YETI Tundra 65:  Best choice for a Premium Cooler
Arctic Zone Titan Deep Freeze –  Best pick for Picnics
KoolMAX TUNES2GO – Best camping cooler with Bluetooth speaker
Which size is best for you?
Large or small capacity cooler, it all depends on your needs.
Actually, it depends on your activities, vehicle, and group size. Most coolers typically range in size from 10 Quarts to a hundred Quarts.
Size requirements also vary depending on what you plan to bring, where you plan to go, and how long you plan to be away for any particular trip.  You can use the specifications given by the manufacturer to help determine the cooler size that's best for you.
Ideally, you should have more than one cooler, so you can pack a large cooler for a family camping trip and a smaller cooler for short trips or float fishing with friends.
But if you're going to start with a cooler only, buy one that you know will fit different purposes like your vehicle or boat and be suitable for the majority of your outdoor adventures.
Small coolers range from about 8-20 quarts. They are perfect for overnight or weekend trips on your own.
A medium camping cooler which is from 25-45 quarts. This size will work for a couple. It's a great pleasure to enjoy the outdoors with someone you love. It is also ideal if you are going on a camping trip by yourself for three to four days.
A large camping cooler (45-70 quarts) is ideal for a week-long camping trip. Normally, for a weekend family trip, you can pick the coolers with 35-45 quarts. If your family plan to go for a week, coolers between 45 and 65 quarts will be perfect.
You also need to keep in mind that, when using an ice box to keep cold, you must leave a space inside for the ice or ice packs. After the heat is generated and the cold storage effect will be effective.
How much does a cooler for camping cost?
The price will depend on its size and additional features. You can expect to pay between $20 and $70 for some basic camping coolers. These are usually small in capacity and will keep ice for at least a few days.
However, you should pay between $100 and $200 for qualified camping coolers. Popular brands are RTIC, GOSun, Coleman,…
Further reading: Ice Packs for Coolers: How to Choose the Best one
What features should you look for when buying a camping cooler?
Durability
You should buy coolers with rotomolded construction as they are known for their excellent insulation and best for keeping ice and water cold.
Rotomolded or rotational molding, is a manufacturing method that produces a durable plastic with a stable wall thickness. This structure makes it difficult for cold air to escape and heat to penetrate. So, these coolers can maintain optimal temperatures.
Insulation
To insulate the coolers, following are the most common materials used:
Styrofoam: low cost, effective in keeping ice not as high as other types of foam.
Polyurethane Foam: with smaller air bubbles, can provide maximum insulation and durability.
Polyethylene Foam (including open-cell and closed-cell foam): light weight, ideal for soft coolers. For closed cell foam, the air bubbles are not in contact with each other. It creates a hard, dense material that prevents heat transfer efficiently. Open-cell foam is breathable and lightweight because the foams are close together. That means heat passes through more easily, making it less insulated.
You may find some cheaper coolers that have thinner insulation on the bottom or no insulation at all on the lid. It's better to look for products with tight-fitting lids, as the air gap can affect how long the cooler stays cold.
Style: Soft vs. Hard coolers
Camping coolers come in all shapes and sizes, but they mainly have two styles: hard-sided and soft-sided coolers.
Most users prefer hard coolers as they are the most traditional. Soft coolers look like a tote bag and are a lot easier to carry around, but they can't hold that much.
Additional features
Features like carrying handles or shoulder strap system are essential accessories of a good cooler.
Besides, look for hard coolers with insulated lids and walls, ergonomic handles, load-bearing hinges and latches, drain plugs for easy cleaning and drainage, non-slip feet to keep cooler in place, sturdy exterior for rough terrain and large capacity for long trip.
Bear-proof seals are also needed, it means they are certified bear resistant. This ensures that bears, along with all sorts of other creatures, will not attack your inventory when you fall asleep.
The flexible and inflatable cooler has added compartments to your cooler for easier storage. Some soft coolers also have expandable mesh pockets on the outside, often on the side and sometimes at the top. You can keep everything you need for your picnic such as cutlery, plates, tablecloths, water bottles…
You may also like: Coleman Coolers: What You Need to Know Before Buying
Is a hard or soft cooler better for camping?
Hard-sided coolers are made from rotary molded plastic, they provide more consistent and effective insulation than soft-sided coolers. Therefore, hard coolers have better insulation than soft ones.
As for hard coolers, they usually occupy more space but help protect food and drinks from external shocks. They are also usually waterproof and may have a cooling system such as an electric cooler while you cannot find a soft electric cooler.
If you don't have much storage space or your trunk is full when you're camping, the soft cooler has the advantage.  You can fold it when not in use, once it's flat it will fit almost anywhere. You don't have to find the entire space to store it.
However, which cooler to choose for camping also depends on the length of your trip. If you are a group or two traveling for the day, then the soft cooler may be best for you thanks to its portability. If you are going to a larger party where many people will be away for a few days, then a hard cooler is the best option.
How long do camping coolers stay cold?
This capacity depends on its material, the amount of insulation used, and the amount of ice inside. Results may also vary depending on cooler type and ambient temperature. If you use a lot of ice, the cooler will keep your food and drinks cool for a few days. Keep in mind that dry ice is much colder than regular ice and will easily last longer.
In general, ice in the cooler will last between 12 hours and 7 days. If you have premium hard-sided coolers, they will last up to 7 days or more. Meanwhile the ability to keep ice of some soft and styrofoam coolers is much shorter, only a few hours or less than 24 hours.
Ways to make ice lasts longer in a camping cooler
Pre-cool your cooler before using will prevent your ice from melting too quickly.
Use bigger ice blocks as they will last longer than small ones.
Don't open the cooler too often. Every time you open the cooler, warm air from the outside penetrates in and ice begins to thaw.
Store the cooler in a cool, shaded place. When placed in a hot place like in car or in direct sunlight, the ice will melt much faster.
Use dry ice because it is much colder than regular ice.
Pack the cooler tightly to prevent air from entering and melting the ice.
Pre-chill your food and drinks before putting them in the cooler. This will help lower the temperature of your food and drinks.
Best Camping Cooler for the Money
Best overall: RTIC Ultra-Light Quart Hard Cooler
Style: Hardshell
Capacity: 52 Qt.
Weight: 13.4 pounds
Materials: Closed-cell foam
Size: 27.01 x 17.28 x 16.54 inches
If you are looking for a large, light, relatively inexpensive cooler for various purposes like camping, boating or other all-day outdoor activities, don't hesitate to choose one.
According to RTIC, the cooler can hold up to 60 pounds of ice or 70 ice-free cans, enough space to hold everything you need for a two-day camping trip. It's one of the largest camping coolers we recommend, but thanks to RTIC engineering, it's also one of the lightest. It has 3 inches of closed cell foam insulation, half the weight of the competition. This will make a big difference when transporting the cooler to and from your home.
It also appeals with small details, such as the T-bolts that keep it securely closed, non-slip rubber feet, a marine nylon rope handle and the ability to slide into an optional compartment for separation. Food and drink. RTIC offers this camping cooler in six colors, so you're not stuck with a plain white.
The Ultra-Light is RTIC's best-selling cooler that perfectly balances durability, capacity, weight, and cost.
Pros:
Excellent weight to capacity ratio
Thick insulation, three inches
Reasonable price
Great ice retention
Reputable brand
Versatile
Cons:
There is no separate built-in compartments.
Injection-molded construction
Short warranty period
Best camping cooler with wheels: YETI Roadie
Style: Hardshell
Capacity: 63 Qt.
Weight: 29 pounds
Materials: Polyurethane
Size: 23.7 x 19.9 x 20.5 inches
Portability is the main reason for users to buy a wheeled cooler and the Roadie 60 excels in this area. It has a low-but-deep design that provides the same capacity as a traditional cooler in a more compact form.
With wheeled coolers, their wheels will be constantly exposed to rough terrain. Therefore, YETI uses a one-piece tire, which can handle long-term contact with soil and dirt well.
The YETI Roadie 60 is expensive, but if you want the highest quality camping cooler and can save your budget, you won't find a better option.
The biggest benefit of owning a YETI cooler is its durability—they're really load-bearing thanks to their insulation and well-made latches. If you invest, you will be able to keep this cooler for life.
Pros:
Extremely durable
Highly portable for its size
Periscope handle for easy maneuvering
Cons:
Best camping cooler for ice retention: Kong coolers
Kong coolers are high quality USA made coolers backed by a lifetime warranty. They are new entrants to the market and looking at the design, but their ice holding capacity is always perfect. Kong coolers are capable of keeping ice of all sizes for more than 6 days with a maximum period of more than 10 days.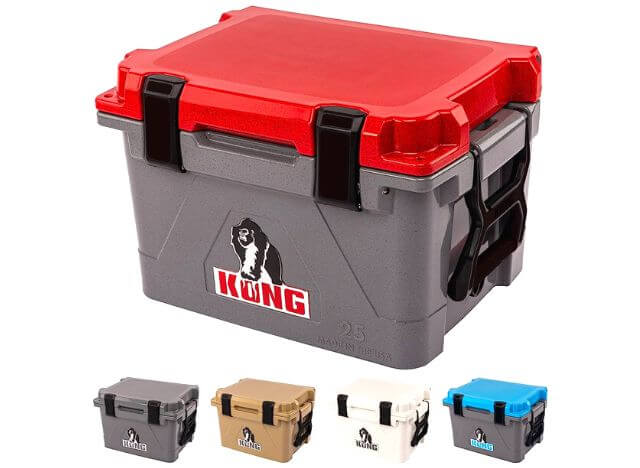 These cooler can keep ice from 7-14 days.
The Kong cooler has everything you'd expect from a high-end cooler. They are roto-molded and super durable, impact resistant, with non-slip feet and freezer pads. Their lid latch is super thick and sturdy that everyone loves and they have a thick plastic handle.
These coolers are relatively new and are not sold in many stores (if any). But you can get them through their website.
Pros:   
Amazing ice retention
Made in USA
Lifetime warranty
Big and muscular fasteners are loved by customers
Cons:   
Limited color options
Not sold in local stores
Expensive compared to similar coolers
Best leak-proof: RTIC Soft Cooler Insulated Bag
Style: Softshell
Weight: 2 pounds
Materials: Vinyl, Leak Proof
Capacity: 12, 20, 30, and 40 cans
Size: 11 x 9.5 x 11 inches (or bigger)
The RTIC Soft Pack Cooler has a more accessible cost. Once filled with ice, it only raised about 11 degrees between two and 24 hours.
If you pick a big size option, it is large and heavy and not the easiest to lug around. Being spill and leak-proof, the cooler floats in the water and comes in four sizes.
It's perfect for road trips as it's small enough to fit easily into a car yet sufficient to carry drinks and snacks for a few people.
 Pros:
Excellent for road trips
Better cost compared to other similar coolers
Cons:
Large and heavy (for big size)
Best large: Driftsun 75 Quart Insulated Cooler
Style: Hardshell
Capacity: 75 Qt.
Weight: 32 pounds
Size: 33.5 x 18.5 x 18 inches
Materials: Rotomolded thermoplastic
Driftsun is an extra-large but relatively inexpensive insulated Cooler. You should pick this cooler if you are looking for a high-capacity camping cooler.
With 75-liter capacity, it provides space to keep dozens of cans and room to store spare ice. Driftsun can also retain ice frozen for up to 10 days. It's perfect for a week-long camping trip if you don't open the lid often. At the same time, the cooler has locking pins that keep it tightly closed.
With its affordable price, the Driftsun 75 Quart insulated cooler is the right choice for long trips with large groups.
Pros
Excellent ice retention
High capacity
Built-in bottle opener
Cons
Large size comes with added weight
Bigger option, you can choose the ORCA 140 quart Cooler With Extendable flex-grip handles for comfortable solo or tandem portage.
Best Small: YETI Hopper Flip 12 Portable Soft Cooler
Style: DryHide Shell
Capacity: 12 Quarts
Weight: 3.1 pounds
Size: 14 x 14 x 11 inches
Materials: closed-cell foam
The Yeti Hopper Flip comes in three sizes measured by the number of cans it can hold (8, 12, and 18). It is both waterproof and mildew resistant and extremely durable.
Yeti's HydroLok zippers are claimed to be 100% leak-proof. Although the Yetis can be heavy, this cooler weighs only about 3 pounds. It can keep ice for days on camping trips.
This Yeti Hopper Flip cooler is quite pricey, but it might be worth the investment if you are outdoors every weekend.
Pros:
Great size and super durable
Top-notch ice and cold retention
Great size for quick trips
Cons:
Expensive, but still probably worth it
Best budget: Coleman Xtreme
Style: Hardshell
Capacity: 70 Qt.
Weight: 12.3 pounds
Size: 28.25 x 15.75 x 18.25 inches
Materials: Plastic (with Xtreme technology)
Coleman's Xtreme portable cooler doesn't have a fancy design, simplicity delivers its value.
The Xtreme has a capacity of 70 liters, but it's not too heavy. This is a fairly light camping cooler at just under 12.5 pounds. This cooler can keep the inside cold for up to five days. Although there is an extra layer of insulation around the edge, there is no latch to keep it closed.
Coleman designed extras for the Xtreme Portable Cooler, such as four cup holders at the top and the ability to be used as a chair or work surface with a weight limit of 250 pounds.
Pros:
High capacity
Cup holders and seating
Price
Cons:
No latches to keep the lid closed
Best electric: GOSun Chill Cooler
Style: Hardshell
Capacity: 42 Qt.
Weight: 30 pounds
Size: 23.5 x 16 x 19 inches
Materials: Close cell polyurethane foam
GOsun's Chill Cooler is the ultimate high-tech pick.
Despite its high price, it is arguably the most cost-effective choice. That's because it has a built-in refrigeration system that continuously keeps its chamber at a preset temperature between -4 and 68 degrees Fahrenheit. You won't have to dedicate any space for ice to keep its contents cool.
The cooler's temperature is managed using a touch panel at the top, surrounded by USB-A ports and a DC cigarette lighter, so you can charge your phone and other devices on the go.
However, its high-tech design comes with a downside: the need to charge the battery. You will need to plug in your cooler. You can connect this cooler to an external battery pack or turn it off completely by plugging it into GOsun's Outdoor Solar Panel.
Pros:
Built-in compressor keeps items cool without ice
Can run on solar energy
Separate compartments for refrigerator and freezer items
Cons:
You have to remember to charge it
High price
Best camping cooler with speaker: TUNES2GO CA-E065A KoolMAX
Style: Hardshell
Capacity: 40 Quarts
Weight: 31.6 pounds
Size: 26.25 x 18.5 x 19 inches
Special feature: Built-in-microphone, Radio
KoolMAX TUNES2GO stands out with its simple suitcase design. It is boxy and has plastic handles on the left and right sides. There's also a telescopic handle at the back and wheels on the bottom. Each handle has a bottle opener.
The cover has a special weatherproof compartment for tablets and phones. On the inside of the cover there is a built-in LED flashlight.
With storage capacity is 40 Quarts, it can keep up to 48 beer cans or 28 bottles inside. TUNES2GO will keep ice frozen for up to 72 hours. When thawing, there is a convenient drain cap on the bottom.
You can easily find the speakers and control panel on the front of the cooler. The 350 watts maximum output makes you satisfied when playing, singing or just listening to music.
The speaker also has an FM radio or you can play music from your phone via Bluetooth, or directly from an SD card or from a USB.
The cooler has a rechargeable battery that can provide 16 hours of playtime (at 50% volume).
Designed with Bluetooth speakers, KoolMAX TUNES2GO is one of the most popular, highly rated and most versatile coolers you can find.
Pros:
Versatile coolers
With 350-Watt Bluetooth speaker, FM tuner
Come with wheels, carrying handles
USB input, SD card slot, AUX inputs
Include a remote, DC adapter, manual, and a warranty card
Cons:
Speaker is not waterproof
At high volumes, usually above 70%, the sound gets distorted
The included remote does not respond effectively
Best Premium Cooler: YETI Tundra 65
Style: Hardshell
Capacity: 65 Quarts
Weight: 30.3 pounds
Size: 16" H x 30.8" W x 17.3" D
Materials: Polyester, Polyurethane Foam
As a high-end cooler, the YETI Tundra 65 is the brand's best-selling model. This rotary cooler is number one in terms of ice retention, durability and design.
This YETI Tundra has an impressive ice retention performance of up to 10 days.Additionally, it includes a dry basket, heavy-duty latches and fastening slots to help secure it to your vehicle.
All YETI Tundra hard-sided coolers have been certified as bear resistant.It is significantly more expensive than other coolers with similar specs but the YETI Tundra 65 offers class-leading cooling that can last for years. However, these coolers are not the most portable, even when empty.
Pros:
Great ice retention
Incredibly durable
Multi-purpose
Feature-packed
Cons:
Expensive
Bulky
Not portable
YETI Tundra 45 Cooler is a smaller but also a perfect option.
Best Soft Coolers for Different Purposes
Best for Picnics:  Arctic Zone Titan Deep Freeze
Key features:
Collapsible rolling cooler with wheels
All-terrain cart
Good cold retention
Hold 30 cans with ice
Size: 12.25 x 8 x 12.25 inches
Weight: 2.9 pounds
Features for picnics: the side mesh pockets to store utensils, napkins, or other picnic items; includes a bottle opener.
Pros:
Excellent organization
Strong cold-retention
Cons:
Zipper-less design can pop open easily
Best for Road Trips : RTIC Insulated Soft Cooler Bag
Key features:
Can float in the water
Spill- and leakproof
Capacity: 12 cans
Size: 11 x 9.5 x 11 inches
Weight: 2 pounds
Pros:
Reasonable cost compared to other competitors
Excellent for road trips
Cons:
Best for Day Hikes: IceMule Boss 30 Liter Backpack Cooler
Key features:
Incredibly rugged
Heavy-duty yet comfortable backpack
Include the extra padding and chest and waist straps
Capacity: 24 cans
Size:5 x 9 x 25 inches
Pros:
Comfortable large backpack cooler
Super durable and rugged
Cons:
Didn't hold cold and ice as well as other coolers
Best for Boats and Beaches: Orca Walker 20-Can Soft Cooler
Key features:
Capacity: 20 cans
Size:5 x 11 x 13.25 inches
Weight: 6 pounds
Robust construction with massive walls for insulation
With magnetic split handle
Outstanding in aesthetics, design, and durability
Pros:
Super burly and durable
Magnetic split handle is a nice feature
Cons:
Not good at holding ice as other coolers
Best for Fishing: Yeti Hopper Flip 18 Insulated Personal Cooler
Key features:
Capacity: 20 cans
Size:75 x 13 x 16.25 inches
Weight: 1 pounds
Perfect in ice retention, ability to hold cold temps and ice for days
Use Yeti's closed-cell insulation, for which it's become infamous.
Pros:
Good at cold- and ice-retention
Great size for a day trip
Cons:
Zipper is a little hard to open and close
Best for Paddling: IceMule Pro Cooler 23L
Key features:
Capacity: 23 liters
Size: 17 x 14 x 11 inches
Weight: 3 pounds
Easily collapsible
Insulated and durable dry bag
Weight was evenly distributed
Comfortable when carrying it around
Has a roll-top closure that does not let water in or out and allows you to trap air inside for extra insulation
Pros:
Lightweight
Collapsible when not in use
Perfect for a day on the water
Cons:
Only up to 24 hours of cooling