Freezer is a very popular appliance in many households, restaurants and hotels. It helps you preserve food, especially fresh food, vegetables, fruits for a long period of time and still retain good quality. This article will give you useful information on how to choose the ideal small freezer for your family.
Before buying a compact freezer, you must have an overview of small freezer.
Overview
The compact or small freezer is a type of cold storage device with a heat pump system that transports temperature from the inside of the freezer to the outside environment and the chamber is insulated. Compact freezer sizes from 5 to 9 cubic feet. Freezers provide temperatures that are usually cold below 0 degrees Celsius.
Why should you buy a small freezer?
A small refrigerator has some advantages over a fridge. It is much more durable and also much cheaper than a fridge. With a small capacity, a compact freezer is suitable for households with 3 to 4 people.
Some main types of compact freezer
The compact freezer has three main types including chest freezer, upright freezer, and portable freezer. Here are some pros and cons of each type.
Chest freezer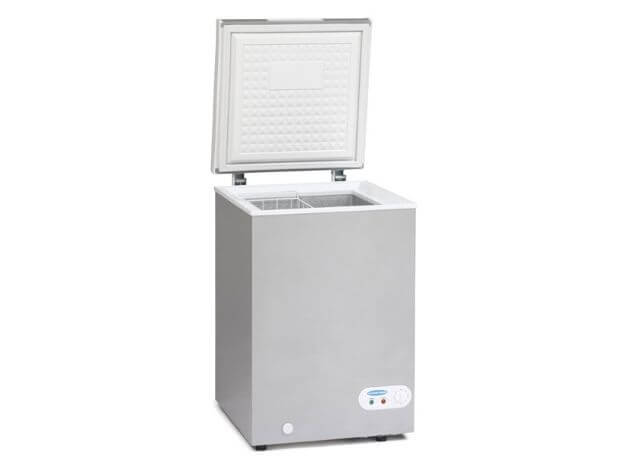 Small chest freezer comes with a lot of benefits
Pros:
Large food storage area
More flexibility for a variety of food sizes
Cheaper than an upright freezer of the same size
Large capacity
Cons:
Taking more spaces
Poor aesthetics
Difficulty in getting the items below
Upright freezer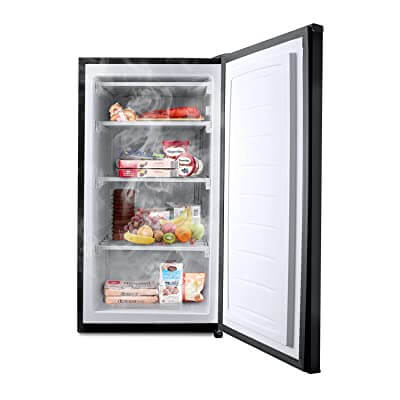 Small upright freezer helps housewives freeze much food
Pros:
High aesthetics
Compact design and takes up little space
There are separate compartments for easy access to each type of food
Cons:
Not as flexible as a chest freezer
The price is more expensive than a portable freezer and chest freezer
Portable freezer
Pros:
High mobility
Suitable for many long trips such as boating, hiking, or camping
Good price
Cons:
Small capacity
Less extra utilities
How to select a suitable freezer – What factors to consider?
Price
In terms of price, you should pay attention to whether your purpose is a long-term or short-term investment.
For example, if you only buy a compact freezer to serve one or two outings, you should prefer a portable freezer with an affordable price, few extra utilities, and not too large capacity.
And if you would like to use frozen food for a long time, then investing in a chest freezer or upright freezer with more utilities (It will consume more energy) is a good thing to do.
Since it is a long-term investment, you should spend a lot of money to ensure that the small freezer runs smoothly and works well for a long time.
Size
Depending on your needs as well as the amount of food you will store in the future, you can decide to buy a suitable freezer. If you need a compact freezer with a small area but still ensure a large capacity, you can give preference to an upright freezer.
But if you have a lot of space to put compact and only care much about capacity, then a chest freezer is not a bad choice for you.
Energy use
The chest freezer is the energy-saving type that many people prefer. Because the structure of the chest freezer has a horizontal opening, cold air rarely escapes.
Meanwhile, the upright freezer has a vertical door, so keeping it cold for 24 hours takes more energy. To be able to choose a compact freezer to save electricity, you can choose those that meet Energy Star standards.
Noise
In general, compact freezers with manual defrost functions are quieter than self-defrost. You should consult experts first about the type of compact freezer you want to buy.
Self-defrost or manual
You should choose a compact freezer with a self-defrost mode to ensure that bacteria do not enter the food after defrosting the in-room environment.
Besides, if you have a frequency of using frozen food often, you should use an upright freezer because it is easier to get food than a chest freezer. Thus, your defrosting process will also become easier and more convenient.
Temperature
The standard temperature of the freezer is usually 0 degree F.
Before buying, you should carefully read whether the compact freezer has a temperature control mode to know the exact temperature of the compact freezer.
Extra utilities
You should choose a compact freezer that comes with many conveniences such as wheels for easy movement or a temperature control panel right outside to suit each type of food.
You should give preference to compact freezers that have a drainage hole design to allow excess water in the freezer to drain on its own without pooling. This way, when cleaning, there will be no residue of dirty water.
You may also like: Should You Buy an Upright Freezer or a Chest Freezer?
Best small freezer – Our top picks
Best chest: Arctic King
Dimension:                  33.5 x 24.9 x 21.7 inches
Capacity:                     5 cubic feet
Shelves:                      2
Inverter:                      No
Lock type:                   Key
Arctic King chest freezer will not let you down because the interior and exterior are perfect in every detail. It has multiple baskets for serving food division and has a manual-defrosting system that keeps noise to a minimum.
This freezer has solid pattern and gets cold very fast. It is great unit to have for an apartment or even a house. It is not only quiet but also deep for you to store many kinds of food.
Best for narrow space: Koolatron Chest Freezer
Dimensions:                           22.25 x 20.75 x 33.25 inches
Weight:                                   60 pounds
Capacity:                                3.5 cubic feet (99 liters)
Defrost:                                   Manual
This freezer is a good choice for small areas like basement, apartment and small kitchen. With removable wire baskets, you can store and organize frozen food properly. Leak-proof and external plugs enable users to defrost and clean freezer easily.
Best upright: Whynter upright freezer
Capacity:                     2.1 cubic feet
Dimensions:               17.5″W x 20″ D x 27.5″ H
Noise:                          38 dB
Defrost type:               Manual
Whynter upright freezer is suitable for the garage because it does not take up much space but still ensures many functions such as freezing and defrosting like a chest freezer.
Best portable: Costway portable freezer

Dimensions:                    27 x 13.5 x 21 inches
Weight:                            36 pounds
Capacity:                         55 Quarts
Finish type:                    Glossy
Adjustable temperature:   Yes
The Costway car refrigerator is the perfect choice for long trips with freezing temperatures from -4 degrees F to 50 degrees F with a separate dual-zone, shockproof design.
Best overall: GE chest freezer
Capacity:               7 cubic feet
Dimensions:          37.25 x 21.25 x 33.5 inches
Weight:                  122 pounds
Defrost type:          Manual
Drawers:                7
Warranty:              10 years for main components
GE Garage upright freezer will give you a great experience thanks to many extra utilities, stable 0 degrees F until 110 degrees F. There are LED lights inside for foraging as well as keeping food frozen for 2 days after the blackout. Its price is also relatively affordable.
Further reading: How to Organize a Small Chest Freezer Efficiently
Related questions
Which type of small freezer should I buy?
If you love traveling, you want a compact freezer for trips or camping, you should choose a portable freezer.
When you want a small freezer with a compact size and beautiful design, you can invest in an upright freezer.
If you are a frugal person and appreciate the power factor more than other factors, the chest freezer is a great choice for you.
What is the price of a 5 cubic foot freezer?
The price of a 5 cubic foot freezer ranges from $150 to $300 depending on extra utilities, self-defrost function, and size.
Which brand of compact freezer should I choose?
You should choose to buy compact freezers from popular brands such as GE, Arctic King, Whynter, etc.
Final thoughts
Hopefully, through this article, you will have useful information for yourself and know how to choose the right compact freezer for your family today. Good luck.
Thank you for reading this post.
Reference
Freezer buying guide, Kristen Hicks, Retrieved on Oct. 1, 2021