If you're shopping for an outdoor ice machine, this guide will provide information on the features that make the ice maker suitable for outdoor installations and guide you in choosing the right outdoor commercial ice maker.
What is an outdoor commercial ice maker?
There's nothing more refreshing than a glass of ice cold water on the patio or by the pool. You may want to place the ice maker as close to the operation as possible. While it can cut down on trips back and forth to refill the cooler, it may not be the best idea for your utility budget or the life of your machine.
A commercial ice maker is a machine designed for use in commercial establishments such as restaurants, bars, and hospitals. These machines range from use alongside beverage dispensers to fountains or tabletop versions in hospitals.
The ice machines which are designed for consumers to use outside are called outdoor commercial ice machines.
Further reading: Types of Ice Makers and Factors to Consider for Buying a Suitable One
Styles of commercial ice maker
While there are variations within each style, commercial ice machines typically come in three basic styles.
Ice machine head or module
Modular ice makers are designed to be placed on top of an ice maker, or beverage maker. They are generally available in 22″, 30″ and 48″ widths. On average, ice outputs from 110 kg to about 450 kg per day.
Under-counter ice machine
For small bars, cafes or businesses that don't need a lot of ice, this can be a good option. These small ice machines combine an ice maker with a container and fit most 40-inch-high counters. Ice production is typically around 158 kg per day, although there are some higher capacity models in the market.
Countertop ice maker
These compact devices are commonly found in healthcare facilities and can also dispense water. They have a small barrel but can still produce up to 181 kg of ice every day, turning them into a great little commercial ice maker.
You may also like: Ice Maker Troubleshooting : How to Fix Common Problems
Key features of outdoor commercial ice maker
To make them suitable for outdoor life, an outdoor commercial ice maker must have certain features that allow it to withstand the harsh weather elements such as moisture and big fluctuations in ambient temperature. Most outdoor ice machines will have the following features.
Stainless steel construction
While standard steel is susceptible to rust in the presence of moisture, stainless steel is highly resistant to corrosion. That's why outdoor ice machines are built with stainless steel cabinets that are resistant to the damaging effects of rain and humid air.
Adapt to hot environment
Outdoor ice machines can often produce ice in environments with ambient temperatures as hot as 100 degrees Fahrenheit, making them suitable for use in outdoor bars in the summer months. But if the ambient temperature is too high, it will lead to a decrease in productivity. Be sure to carefully consider the specifications of your ice maker to determine if it's right for your needs.
Low production capacity
Indoor, full-size machines can produce up to several hundred pounds of ice or more in 24 hours, far more than the outdoor ice machines.
This also suits the needs of outdoor bars, which only need 2 to 3 pounds of ice per customer per day.
Costly
Compared to other commercial ice makers, most outdoor ice machines are more expensive. You should consider your budget to buy a suitable one.
How to choose a good commercial ice maker
Factors you need to consider when buying an outdoor ice machine to make sure you buy a good and suitable machine.
Type of ice
Like traditional ice machines, commercial outdoor ice machines can also make a variety of ice in different sizes like block ice, nugget ice and solid ice.
Many customers prefer slow-melting, solid ice to serve wines and cocktails at the outdoor bar. This thick ice will melt slowly to help preserve the full flavor of your drink for a longer time than regular ice. As a result, you will use less ice for each drink when serving.
Productivity
A machine with the right capacity will be very important. An average normal ice maker will produce between 50 and 100 pounds of ice in a 24-hour period. In general, that number is low to supply the amount of ice the bar needs, so you need to consider a backup ice source, such as using large, portable or stationary ice buckets.
Power level
To avoid overpaying for electricity, before you place an order, verify your power consumption. Most outdoor ice makers are designed to run on 120 volts. Some require dedicated circuitry, others can be installed on circuits that power other equipment.
About drainage
Make sure your drain type is suitable for your ice machine. Ice makers all include a "gravity drain" to allow water to flow into the floor drain. Outdoor ice machines often come with a pump drain that allows the source of melted water to remotely reach the plumbing out of the machine. Floor drain ice machines are cheap, easy to install, and can drain water even during a power outage.
Clearance requirements
Most outdoor ice machines are front exhaust and use air for cooling. That is, taking and removing air from the front. This is a design that allows them to be installed under countertops or cabinets on either side. This requirement should be considered in order to select the right commercial outdoor ice maker.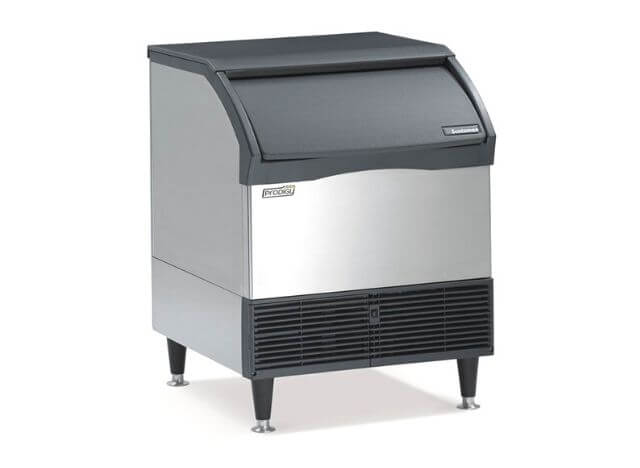 You may also like: The 10 Best Portable Ice Makers for Home Use
Note about parts when buying
If you are purchasing the ice maker head and container or dispenser separately to replace one part or another of your outdoor ice machine, be aware that you must choose the parts that can be coupled together.
In many cases, even the same manufacturer may not be compatible. Your best bet is to look through your device's spec sheets or owner's manual to see what combinations are possible and whether an adapter is required.
Advantages of outdoor ice machine
If your kitchen has a small space or the heat generated by the machine has a negative effect on you, it's a perfect option to place an ice maker outside.
The outdoor commercial ice machines have some specific characteristics that set them apart. The most obvious advantage is that these machines are capable of making a fair amount of ice at temperatures that can go up to 100 degrees Fahrenheit.
Most outdoor ice machines are made of stainless steel, and with proper and regular maintenance, you don't need to worry about stains and other structural damage. The outdoor ice maker can handle different environment conditions whether it's rain, high humidity, or fog.
They can produce almost any type of ice, whether block, flake, or crushed ice. Best of all, since most outdoor models come with bins, you don't have to worry about storage issues.
Should an ice maker be placed outside?
If your ice maker is specifically rated to be outside, it is safe to be placed outside. As mentioned above, the outdoor ice makers have features suitable for the harsh weather. However, the machine may also be partially affected if it is left outdoors for a long time, or the user does not properly maintain the device. So, you should follow the user's guides while using it.
If the ice makers are not rated to place outside, there are some disadvantages such as they will perform poorly and rarely operating at peak efficiency; the ice makers must work harder to make ice, the parts will wear out more quickly; they cannot withstand the changing of temperature or other elements.
Therefore, the normal ice makers should not be placed outside.
Suggested top outdoor ice makers
1. The BULL Stainless Steel Pro Outdoor Ice Maker
This is a reliable ice maker suitable for your gathering or party. With stainless steel design, resistant to corrosion and rust, users do not need to worry about the change of weather or seasons.
The sturdy door can be opened from either side for easy access. You only need to make a standard 1/4-inch water supply line; the machine already contains everything you need.
2. Blaze Outdoor Rated Ice Maker
Designed for outdoor installation, this product can be safe in different weather conditions such as fluctuated temperatures, high humidity, or UV rays.
With this ice maker, you'll never worry about running out of fresh ice. It is equipped with an in-line water filter and glazed cold plate to produce clean, scale-free ice.
This Blaze ice machine can produce 50 pounds of ice cubes per day. It is Energy Star rated and fuel-efficiency. The digital panel display has convenient features such as automatic shut-off and a self-contained storage bin dispenser. The door hinge is reversible, you can even flip it horizontally if you want.
3. EdgeStar Built-In Outdoor Ice Maker
The machine can store crescent-shaped ice and functions as an outdoor freezer. It's ideal for summer barbecues with family and friends.
The ice machine features a conductive stainless-steel design and the durability which is required for outdoor use. This ice maker is sleek and has a reversible door as well as a removable barrel for easy cleaning and automatic interrupt to ensure safety.
In addition, you get bonus accessories such as water line attachments, storage spoons, mounting brackets or holders.
Recommended other commercial ice makers
1. ROVSUN
If you are looking for quality commercial ice maker, this is the top choice. Fast ice making with 11 to 18 min cycle, it can produce up to 150 pounds of ice per day and the container can hold 24lbs of ice at a time.
With compact and elegant design, ground-mounted or pre-assembled application, the unit takes up little space, fits perfectly under counters or in kitchen cabinets. It is suitable for home, restaurant, bar, hotel, grocery store, coffee shop, supermarket, etc.
Specifications:
Weight:                          65.5 lbs
Capacity:                       110 / 150 lbs in 24 hrs
Ice making time:         11-18mins
Ice bin capacity:          24lbs
Room temp:                 50-100℉
Size (L x W x H):         14″ x 17″ x 30"
Material:                       Stainless Steel & Iron Painting
2. Artidy
This commercial ice maker can produce up to 60pcs ice cubes one cycle in 12-29 mins and 100LBS within 24H. With a storage container for 33 lbs of ice, it is ideal for home, office, restaurant, bar, coffee shop.
In addition, the LED control panel which has the function of timer, auto clean, water shortage alarm, ice full alarm, fault alarm and ambient temperature display helps to operate the ice machine more easily.
It provides two water connections. One is bucket water, the connection is on the top of the ice maker machine; the other is tap water.
It is more durable with stainless-steel construction. besides, the galvanized sheet makes it look luxurious and compliment the decor in any shops or rooms. It works quietly with low noise.
3. Euhomy
This commercial ice maker can produce 100 lbs of ice per day and comes with a container for 33 lbs of ice. It has an Automatic Anti-Spill Feature, so you don't have to worry about the ice cubes spilling.
You can adjust the size of the ice cubes as you wish. This industrial ice maker will clean automatically when you press the cleaning button.
This is both a home ice maker and a commercial ice maker. This ice maker can be used anywhere. You can use it in your home, indoor kitchen, outdoor kitchen, or in restaurant, bar, hotel, grocery store, etc.
The powerful compressor enables the ice maker to complete the ice making process efficiently without making too much noise. High performance and low noise give you a comfortable environment when making ice. At the same time, the Euhomy industrial ice machine has an energy certificate to help you save money on electricity.
4. VEVOR 110V
Specifications:
Net weight:             30kg/66 lbs
Production:            About 132 lbs (60 kg) in 24 hrs
Ice Storage:            About 39lbs (17.7 kg)
Material:                  Stainless Steel +ABS
Operating Cycle:    8-15 mins
Ice Cube Size:         0.9″ x 0.9″ x 0.9″ (22 x 22 x 22 mm)
VEVOR ice machines are constructed of heavy-duty full stainless steel that not only provides a luxurious appearance, but also contributes significantly to its durability, sturdiness, and longevity.
The high-grade water pump helps pump water smoothly, ensuring stable operation. Besides, the professional electric drain pump can effectively discharge the melted ice. It is integrated with a green light strip; ice cubes are more convenient to observe.
You are provided with the ice scoop, water supply hose, water supply connector and drain hose.
5. Manitowoc UDF0140A NEO
This under-counter Manitowoc ice maker produces a large amount of ice but is compact in size. This model features a slanted barrel front with an easy sliding door. It has 90 pounds storage capacity and 132 pounds production capacity.
The machine includes spoon and holder with holder position options. This ice maker has a fingerprint-resistant outer plate.
The forward sliding barrel makes maintenance easier without moving the machine. This ice maker features Alphasan which helps reduce the growth of bacteria, mold, mildew and yeast. It also has a pop-out air filter.
Conclusion
If you own an outdoor bar or a business that needs ice for customers, you should buy a good outdoor commercial ice maker. Depending on your needs, budget and preference, you can consider the above suggested machines.
Hope this article can help you buy a good outdoor commercial ice maker.
Reference
1. Things You Need to Know Before Buying an Outdoor Ice Maker, homecrux.com, Retrieved on April 10, 2022
2. Outdoor ice maker guide, katom.com, Retrieved on April 9, 2022