With a portable ice maker at home, you will be free from buying bags of ice or filling up the ice trays. Ice maker machine is fantastic for parties or family gatherings, it will make enough ice cubes with different shapes for everyone. So, what is the best portable ice maker for home?
If you don't have time to read the entire article, here are some of my top picks.
Advantages of a portable ice maker
A portable ice maker could be a perfect option for your home if you are finding a fast way to make ice, you want to save space in freezer or you feel tired of filling the ice trays to make ice cubes every day.
Here are just a few advantages that make a portable ice maker is a good solution.
Convenient
You can bring your ice maker to anywhere like camping, road trip or backyard party. It will produce enough ice cubes for family's drinks and for the kids.
Having an available source of ice is extremely good for drivers of trucks, vans or boat owners. A portable ice machine can come in handy and help people on the go feel relax on long trips.
With a simple DC adapter, it can operate anywhere there is an outlet to plug it in. Designed with compact form, it can be put on the countertop, does not take much place, and conveniently fit on the small space available in vans, cars or boats.
Easy to use
It is quite easy to work, even children and elderly can use it. With a few simple steps including pour water into the tank, turn the machine on, and the ice cubes are ready in about 10 minutes.
Fantastic in making variety of ice
The ice maker can make a variety of ice shapes for different purposes at home, restaurants, or coffee shops. It has fantastic option that you can select the size of the ice cubes, small or big.
What to look for when buying a portable ice maker for your home
Once you have decided to buy an ice maker for home use, it's better to consider the following factors to make sure you have right purchasing decision.
Ice production
There are not many differences in ice production among portable ice makers, normally ranging from about 20 to 30 pounds in 24 hours. A few ice machines have bigger capacity of 40 or 50 pounds, but this is too much for daily use of a family of 4 or 6 members.
Depending on your needs of using ice, you can consider which one to buy. Besides, you need to consider the time for making a batch of ice as well as how many cubes each batch.
Ice size
You should look for an ice maker that can produce different ice sizes. Some machines offer up to three options for the size including small, medium and large. Many other ice makers do not.
Style
It's up to your preference that you may choose the favorite style or design of the machine. Most portable ice makers have modern finishes. The stainless steel is most preferred because it perfectly harmonizes with the kitchen. However, you should choose a style that best flows with the existing style.
Further reading: How to Reset an Igloo Ice Maker
Type of ice maker
To buy a suitable ice maker for home use, here are some popular types that you should consider.
Portable ice makers: They are perfect for kitchen, and you can keep ice always available, especially for parties or family gatherings. These portable ice makers are the best choice for any home.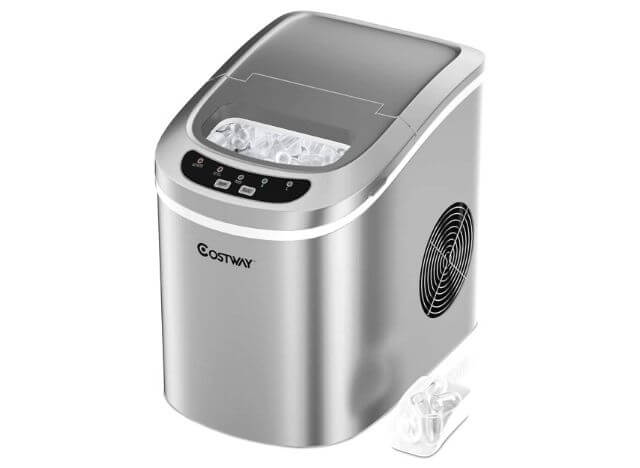 Built-in / Undercounter ice makers: These ice makers are designed to put under the counter and should be harmony with the overall kitchen theme. They often have larger capacity for ice producing and storing.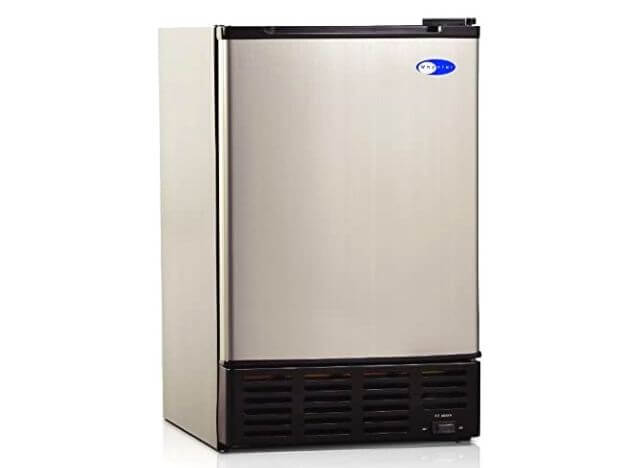 Whynter Stainless Steel Built-In Ice Maker
Outdoor ice makers: They are great options for your home if you love outdoor parties. As designed for outdoor, these ice machines have better insulation and can withstand slightly higher temperatures to maintain the ice cold for longer.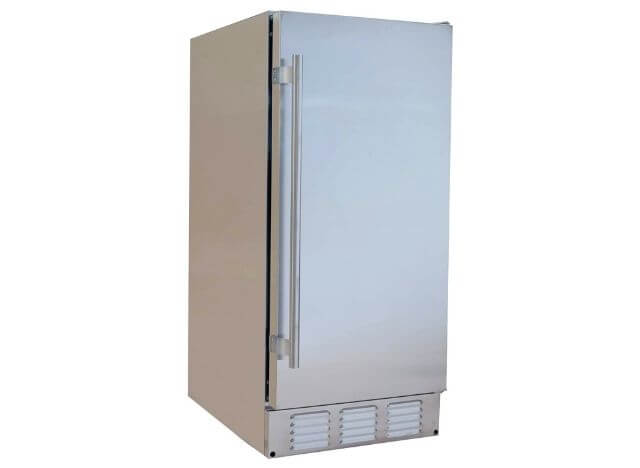 Type of ice
If you love different shapes of ice cubes, you should look for ice machine that can produce these common ice shapes.
Bullet
Cube
Half cube
Crescent
Nugget
Gourmet
Features
Buying an ice machine with innovative features will bring lots of benefits. Look for the following useful functions:
Self-cleaning
Removable basket
Energy star certified
Automatic ice level control
White LED interior light for energy efficiency
Reversible door that allows you open on the right or left side
The 10 best portable ice makers for home use
1. Best overall: NewAir
Key features
Countertop
3 size bullet-shaped ice
Automatic shut off to prevent overflowing
Indicators alert when water reservoir is empty or too low
Can produce 50 pounds of ice daily, 12 pieces of ice in about 7 minutes
NewAir ice maker can produce a large amount of ice cubes, 50 pounds of ice per day. With compact design, it can fit any small space like a corner or kitchen countertops.
2. Most wish for: Frigidaire EFIC189
Key features:
Compact
Stainless steel
Large transparent window
Produce ice in about 6 minutes
Alert when water level is low, or basket is full
Can produce 2 ice sizes and 26 pounds of ice cubes per day
With compact and modern design, Frigidaire EFIC189 is easy to move and stylish to display. It's ideal for small kitchens and narrow spaces like trucks, boats, dorm rooms.
3. Budget friendly: AGLUCKY
Key features:
Countertop
Energy saving
Transparent window
Offer two sizes of ice, small & large
Operate silently with quiet cooling system
Produce the round and bullet-shaped ice cubes
Can produces 9 ice cubes within only 6-8 minutes, 26 pounds a day
The cooling effect of current AGLUCKY is better than previous generations. This enables the process of making ice safer and more efficient. With AGLUCKY, you can keep the fresh taste of chilled drinks and enjoy them whenever you like.
4. Best for travel: COSTWAY
Key features:
Countertop
High-power compressor
Produce two sizes, small & large ice cubes
Bullet-shaped ice, easy to clean and user-friendly
Indicators alert when basket is full, or the water tank lacks water
Equipped with outlet and drain plug that is easy to empty the water
Produce up to 26 pounds of ice per day, 9 ice cubes within only 6-10 minutes
Costway countertop ice maker can produce enough ice cubes for your guests in a party with cold drinks such as chilled wine, whisky, beer, juice, and soda, …
It operates quietly with low noise. It's energy-efficient and environmentally friendly when using R134a refrigerant. The durable ABS surface is anti-smudge and smooth.
5. Best self-cleaning: Igloo ICEB26HNAQ
Key features:
Electric, countertop
Automatic self-cleaning
With handle and LED lights
With electronic control panel
Can store 1.2 pounds of ice each time
Produce 26 pounds in 24 hours, 9 ice cubes ready in 7 minutes
With carry handle, it is easy and convenient to move anywhere. The machine is not only stylist, but also keeps your drinks chilled.
6. Most affordable: Silonn Ice Maker
Key features:
Countertop
Self-cleaning
Transparent lid
2 sizes of bullet ice
Operate quietly with the noise is lower than 35dB
Produce 26 pounds in 24 hours, 9 cubes ready in 6 minutes
Sensor automatically detect when basket is full, and it stops making ice
Silonn ice maker is designed to make ice quickly for immediate use, so you cannot store ice or keep frozen ice. It's a good choice for kitchen countertops, parties, picnics, and boats.
7. Best for quick ice: Euhomy
Key features
Compact
Self-cleaning
Countertop
LCD & digital display
Efficient & quiet cooling
Capable of producing 5 cycles and making 120 ice cubes
Make 40 pounds in 24 hours, 24 ice cubes in 13 minutes
The machine produces enough ice cubes for you to enjoy parties with your family or friends. It's also perfect for camping and family picnic.
8. Best for small space: Prime Home Direct
Key features
Light, flexible
Automatic turnoff
Compact, portable
Easy to bring anywhere
26 pounds of ice per day
Quiet and energy efficient
As an energy-efficient portable ice machine, the Prime Home Direct will offer convenience to enjoy indoor or outdoor parties with cold drinks.
9. Best for variety: VIVOHOME
Key features:
Self-cleaning
Compact, countertop
Operates at low noise
See-through window on top
Overflow protection function
A batch of ice in 6 to10 minutes
Produce 26 pounds of bullet ice cubes in 24 hours
Light indicator is on when the reservoir is low, or ice bucket is full
The VIVOHOME ice maker will produce ice cubes to serve cold drinks or classic cocktails. Make and enjoy some refreshments right in your kitchen.
10. Best large ice bucket: Frigidaire EFIC103-AMZ-SC
Key features:
Countertop
Heavy duty
Self-cleaning
Stainless steel
26 pounds in 24 hours
With over-sized ice bucket
Finish a batch of ice in around 6 minutes
3 ice cube sizes including small, medium, and large
In minutes, you can make ice cubes for hot summer days. Having compact and contemporary design, the Frigidaire is easy to transport and makes your kitchen be more stylish.
Further reading: Cleaning Ice Machine with Bleach: Is It Safe? and How to Do It?
The bottom line
It's very convenient to have a portable ice maker at home. You will have hygienic ice cubes for cold drinks, save time for filling the ice trays or going to buy the bags of ice for family parties.
You can consider one of the recommended ice makers above to choose the most suitable machine for you home.
Reference
Benefits of Portable Ice Makers, learn.compactappliance.com, Retrieved on Jan. 17, 2022