How many types of ice makers are there? Which ice maker machine is suitable for you? To be able to choose a good ice maker, you need to understand your needs in order to choose the right machine, which is the secret to success. Here are the things you should know about types of ice makers and factors to consider for buying a suitable ice maker.
Purpose of ice maker
Ice maker is a kitchen appliance that dedicates to produce a batch of ice through a process known as adiabatic cooling. It can produce a large amount of ice for daily use and parties or special occasions you host at home.
In general, the ice maker machines for any purpose will include one of the following uses:
Domestic
Commercial
Hospitality
Construction sites
Mine sites
Hospitals
Aged care facilities
Industry
Why ice maker is necessary?
Using an ice maker has many benefits that we may not have fully understood.
Active source of ice
This is definitely one of the greatest benefits of owning an ice maker, small ice maker or an industrial ice maker. The daily demand for ice is very large, so depending on the supply of ice from outside can cause many difficulties and unwanted inconveniences. That absolutely won't happen if you already have an ice maker in your home, especially if you're in the food service business.
Guaranteed ice quality
We never know if the outside sources of ice ensure food hygiene and safety as well as the quality of ice cubes. On the contrary, because we have an ice maker available at home, we can completely control this problem, especially ensuring clean, quality and safe ice for the health of the user. Most of today's ice makers have the feature of filtering pure water when making ice, so the ice cubes are completely clean. This is something that we are not sure to get when using ice from the outside.
Cost savings
Having an ice maker means you are choosing a cost savings of up to 40% compared to buying ice from outside. Maybe many people will be surprised about this problem because the initial price of ice makers, especially industrial makers with large capacity, is not cheap. However, in terms of long-term benefits, this is clearly a much better solution.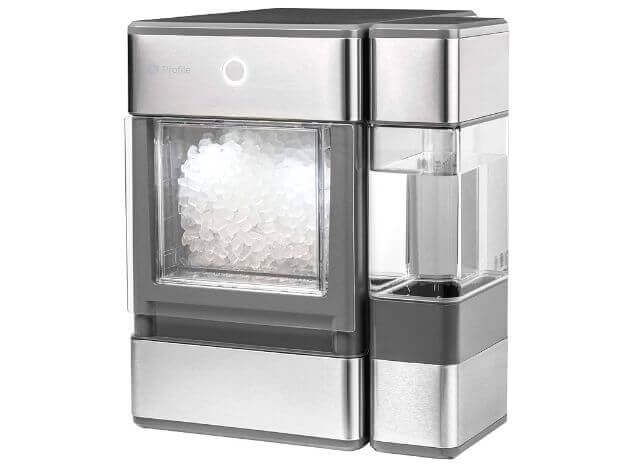 Types of ice makers
Depending on where the ice maker can be installed, people classify it into different types. Usually, we can know the suitable ice maker location as soon as we read the name of the joint. But it's also helpful to understand the difference and be specific:
Built-in ice maker
Normally 25 – 35″ high, 12 – 18″ wide and 23 – 25″ deep
Designed to fit the surrounding cabinets under the countertop
Front panel finished or no panel at all, allowing you to add custom panels
Requires installation of 1 water line
Capacity: Generates 20 – 100 lbs of ice in 24 hours
Includes: insulated collection bin for storing 20 – 50 lbs of ice
Front ventilation
Freestanding ice maker
Similar in size and shape to refrigerators
Designed to be placed anywhere
Front, back and side finishing
Requires a water supply
Capacity: Generates 20 – 100 lbs of ice in 24 hours
Includes: Insulated collection bin for storing 20 – 50 lbs of ice
Front or rear ventilation
Countertops and Portable ice makers
Small size, about the size of a bread maker
Designed to be placed on the tabletop
Beautiful design
Add water directly by hand without the need for a line.
Can store 2 -5 lbs of ice
Capacity: Generates 10 – 30 lbs of ice in 24 hours
Ventilation depends on the model, not required to be fixed
Types of ice
There are many different types of ice. Ice cubes can vary greatly in shape and size, thereby affecting their lifespan and optimal performance.
Each type of ice has its own application and best suit to a particular purpose. Therefore, the differences in shapes and features may make one type of ice is more suitable for a certain purpose than another. Some types of ice are best for cooling beverages, while others are best for preservation and displaying purposes. Here are the common ice cubes:
Slow and moderate melt rate ice cubes
Half cube
Hard, clear with rhomboid shape
Make drinks cool quickly
Moderate melt rate
It is best for smoothies and frozen cocktails as they blend quickly and easily. It is suitable for dispensing applications because of small size.
Full cube
Hard, clear ice cube which has rhomboid shape
Slow melt rate
Cool drinks slower than half dice ice cubes, but last longer
It is suitable for dispensing purposes and primarily used in bagged ice.
Large cube
Hard, clear and rhomboid shape
Slow melt rate
Good choice for spirits
It is commonly used in restaurants, fine dining, cocktail bar, clubs, bars and bagging.
Gourmet cube
Slow melt rate
Perfect choice for serving spirits
It is mostly used in restaurants, fine dining, cocktail lounges, clubs and bars.
Crescent cube
Hard, clear with crescent or moon shaped
Suitable for bagging
Slow melt rate
It is commonly used in both small and large hospitality venues, fine dining establishments, restaurants, fine dining, cocktail lounges, clubs, and bars.
Fast melt rate ice cubes
Nugget cube
Uniformly shaped pieces
Chewable texture
Fast melt rate
Approximately 2.5 cm long, softer, chewable
It is primarily used in convenience stores, hospitals, aged care facilities, restaurants, hotels, cafes, bars as it is versatile. It is also suggested for blending, dispensing, or displaying fresh produce.
Flake ice
Soft, thin, shard-like pieces that look like snow
Fast melt rate
Used in cooling fresh seafood and poultry
It is commonly used in produce displays thanks to its soft and moldable texture. Besides, it is best for presentation and preservation of seafood, fresh fruits, and vegetables.
You may also like: What Should You Consider Before Buying a 12v Fridge?
What factors to consider before buying an ice maker?
To choose the right ice maker, you need to refer to the criteria below to make sure that the ice maker is suitable for your needs, high quality and genuine, not bought the one with poor quality.
Durability of the ice maker
With ice makers using stainless steel material, it will help the ice maker maintain a longer life than other structural materials. High durability is always the most important point for you to choose the right machine.
Capacity of the ice maker machine
Depending on the needs of use, if you need a lot of ice in a day for a restaurant, shop, etc., you should choose a machine with high production capacity or a commercial ice maker.
If you don't use too much, you should choose a maker with a capacity as low as a home ice maker.
Easy-to-clean
You should choose models with smart design, easy-to-clean function to ensure the ice maker is always operating in stable condition, ensuring food safety.
Performance
You should research carefully and choose an ice maker of reputable brands that are popular with consumers, making ice quickly and conveniently without consuming much electricity.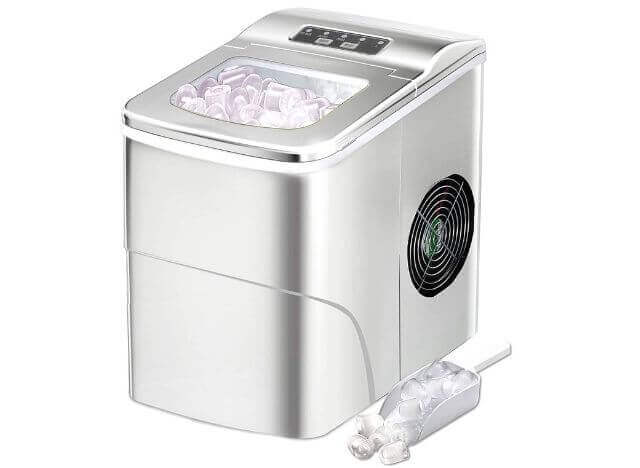 What else that need consideration?
Energy efficiency
Like any home appliance, ice maker will contribute to your monthly electric bill. Compared to other devices, ice maker seems to use more energy. Therefore, it is better to choose an Energy star certified ice machine. It is not only helps to save money but also environmentally friendly.
Drain line
Most under-counter ice makers need a drain line because these ice makers are not able to keep the ice frozen, so the drain line supports for ice melting process. However, there are also exceptions as some models that work like a freezer which keep ice frozen, they do not need drain lines.
Portable and countertop ice makers are often designed with drain pumps, so they don't need drain lines.
Style and design
Style and design play important roles in the aesthetics of your ice maker. Lots of options for your choice from different colors, stainless steel, or you can make it personalized with panel-ready models.
Water filters
You can consider this option if you need truly clean ice. The filter will remove all the contaminants from water and make your ice taste and smell better. However, some models are already equipped this function with a built-in filter.
The best types of ice makers recommended for home use
As mentioned above, several factors you must consider when looking into an ice maker to make sure it is suitable for your needs. Questions may arise like:
Where to put it?
How big is it?
Is it portable, countertop or built-in?
How is its ice production?
How much to spend on it?
Obviously, an ice maker from a reputable and reliable manufacture always stands out from other products as it has special features, functions, and durability. It is more expensive but it's worth your investment.
Here are the 3 best recommended types of ice makers for your home.
1. GE Profile Opal
Key features:
Bluetooth Connectivity
Countertop Nugget Ice Maker
Best for smart kitchen, with side tank
Control ice production from your smartphone
2. NewAir Portable Ice Maker
Key features:
Countertop
Modern design
Bullet shaped ice
Produce 50 lbs. per day
3. AGLUCKY Countertop Ice Maker Machine
Key features:
Automatic
Compact,portable
with scoop and basket
9 cubes ready in 6-8 minutes
Common mistakes made when buying an ice maker
The ice maker produces less or more than the amount of ice you need
This is an error that a lot of people encounter. You should pay attention to find a model that meets your capacity needs. At the same time, if you buy an ice machine that is too large for your needs, it will cause electricity and water bills to increase without being effective.
Before buying you need to calculate the number you need, then find out more information, to choose the right ice machine size for you.
Ice maker is not compatible with your plumbing
If the ice machine is not compatible with the water pipe system, it can lead to water leakage or damage to the surroundings. You should put the ice machine near the drain on the floor to avoid accumulation of excess water.
Buy the wrong type of ice maker
Each type of ice maker will have different benefits and characteristics. You should know what your needs are, where to place the ice machine so that you can choose the appropriate type. Avoid choosing the wrong type of machine that leads to undesirable results.
The 5 cheapest ice makers for your reference
These ice makers are perfect for Home, Kitchen, Office and Bar. You may consider for your home.
1. Frigidaire EFIC189-Silver
Key Features:
High output
26lbs per day
Thoughtful design
Easy-to-use interface
Large clear plastic window
Run quietly, 38 decibels of sound
2. Luma Comfort
Key features:
Countertop
Portable design
Stainless steel
28 lbs. of ice in 24 hours
First cubes in 15 minutes
3. CROWNFUL Ice Maker
Key features:
Countertop
Electric Ice Maker
With scoop and basket
26 lbs. bullet ice cubes per day
Produce 9 ice cubes in 7 minutes
Budget-friendly option
One-year warranty
4. Igloo ICEB26HNSS
Key features:
Stainless
Cute, portable
Highly functional
26 lbs. in 24 hours
With ice scoop and basket
With handle for easy transport
9 ice cubes ready in 7 minutes
5. Kismile Countertop ice maker
Key features:
Efficient
Self-cleaning
Produce pure ice
Quiet Ice Making
Easy to carry and operate
Make small & large ice cubes
Conclusion
With the above shared article about types of ice makers and factors to consider before choosing a most suitable one, hopefully readers will get a lot of useful information to find an ice maker that is best for the needs of families, shops or businesses.