Compact refrigerators bring many benefits for different households. With the advantage of compact design and being quite light, mini fridges are suitable for small spaces and extremely convenient in storing food, drinks and snacks. These are the reasons for the popularity of compact fridges in recent years. The following article will provide information about the ultimate guide to choose a mini fridge that best for your kitchen.
What is a compact refrigerator?
The compact refrigerator or mini fridge is a type of refrigerator designed with a small capacity. This kind of refrigerator is suitable for small spaces such as kitchens, bedrooms, offices, dorm rooms, hotels or motels to meet individual storage and cooling needs.
How does a compact refrigerator work?
There are not many differences between a mini fridge and a full-size fridge. The operation of a fridge bases on evaporation. The closed-circuit system of coils inside the fridge will help the mentioned process run smoothly. Here's how:
Compressor delivers the refrigerant through the system. Under the hard pressure inside, it changes the liquid into vapor. Then, the vapor moves to the condenser coils located at the back of the fridge
During going through the condenser coils, the vapor is cooled down and transformed into a fluid again
The fluid keeps passing through the expansion valve and evaporator coils inside the fridge respectively
After the condensation of the refrigerant, it would absorb the inside heat and release it to the outside continuously.
Compact vs Conventional refrigerator
Key differences are:
Compact fridge
Compact design: The small-sized design makes it appropriate for different places in your house. Some current models are also attractive enough to decorate your room.
Easy to move: Because of their compact design, mini fridges are used for many specialized purposes such as traveling, storing food and drinks as well as keeping beauty products.
Small capacity: Compact refrigerators have a small capacity, so it is not suitable for storing many types of foods and beverages.
Conventional fridge

The conventional fridge or full-size fridge owns the following features.
Large capacity: With the large capacity, it can store a large variety of foods such as fresh food, milk, confectionery and drinks.
Separate cooling and freezing system: This is suitable for preserving many different food items, beverages, skincare, and medicines.
Difficult to move: Because the conventional refrigerators are large, they are only used in a stable location.
Why are mini fridges popular?
The mini fridges can bring you many benefits.
Portable design: With its compact design, you can easily move this cabinet, especially in the case of moving house. Besides, you can also easily place them in any position without taking up too much space.
Low price: In general, mini fridges are much cheaper than other refrigerators. Usually, their price is only under 200 USD. This is suitable for many low- and middle-income customers such as students or workers.
Energy efficiency: Because the mini refrigerator has a small capacity, the power consumption of this cabinet will be low. Therefore, it will help you save lots of money for energy bills compared to conventional refrigerators.
Further reading: Best Mini Fridge Under $200
Types of compact refrigerators
Due to its popularity, many types of compact fridges are available on the current market.
Minibar

Minibar fridge is manufactured and designed mainly for the wine and beverage storage such as soft drinks and beer. Minibars are less common because their temperature is not low enough to preserve foods. In fact, it is more likely to be used in homes or restaurants with wine cellars. Moreover, there is also an additional UV-resistant glass cabinet door to store and preserve wine in the best way.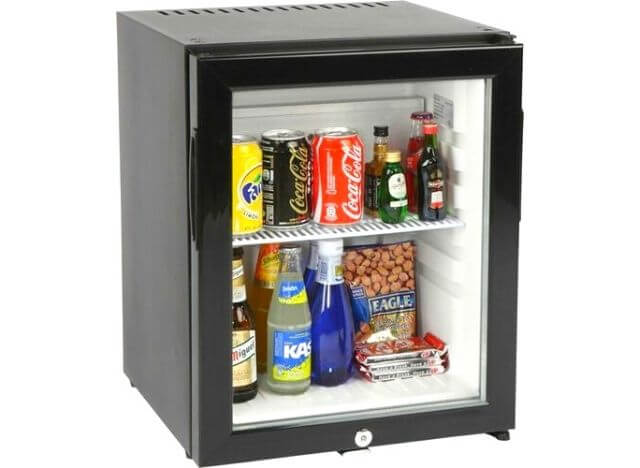 Travel mini fridge
Because the fridge is for travel purposes, it is usually quite small. The capacity ranges from 0.14 cubic feet to 0.21 cubic feet, or the big one is about 0.35 cubic feet. This product uses a 12-volt power supply so that it is able to use the car's power supply or the battery to charge them.
The travel refrigerator is best for storing food, drinks and can easily move. With the design of many different temperature levels, it is also useful for preserving cosmetics or medicines. However, its sound is quite loud when operating.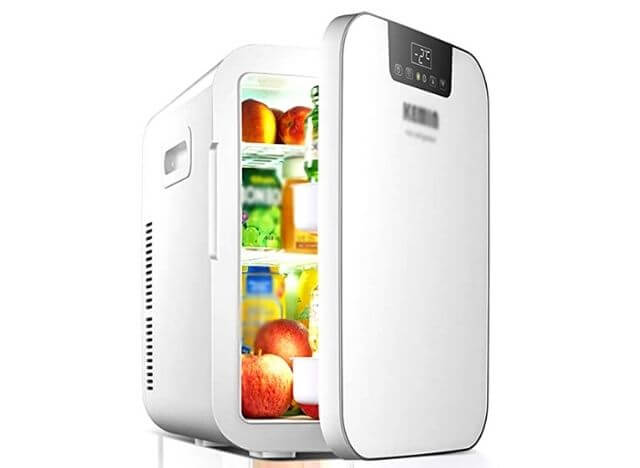 In general, this is a very convenient refrigerator for travel or trips away from home. Owning this refrigerator, you can freely bring food flavors to all parts of the country without any spoiling.  You also need to consider the reputable brands and quality before buying a suitable one. Some well-known brands are Chefman, Mosajie, Frigidaire, Msake, etc.
Further reading: Best Portable Fridges and Coolers for Camping
Electronic thermostat mini fridge
The refrigerators works on the principle of heat transfer from both sides of the fridge. It has some following disadvantages.
Short storage: The biggest disadvantage of this product line is that it only preserves food and beverages for a short time.
Noise: Like travel mini-refrigerators, electronic thermostatic refrigerators also make loud noises when operating.
Having such drawbacks, they are less popular in the market. However, if you are interested in a mini refrigerator with a compact size, this is also a suitable choice for you.
Absorption mini fridge
Maximizing the capacity, absorption mini fridge is often used in hotels with the function of storing a variety of food and drinks. Besides, this refrigerator does not use a compressed air generator, so it can be much quieter than the other two types mentioned above.
So, if you are a person with a stable income and want to buy a refrigerator with medium storage space, this mini refrigerator is a product you should consider.
Air compressor mini fridge
This is the most popular fridge on the market. These products are available in capacities ranging from approximately 1 cubic foot to 5 cubic feet.
Modern technology: This mini-fridge is equipped with deodorizing technology and energy-saving technology. In addition, it also has a multi-dimensional cooling system as well as a suitable temperature control system.
Low price: Despite integrating many advanced features, this product line has a relatively good price of only 85 USD to 220 USD.
Function limit: Most of these refrigerators are only suitable for use in the kitchen or bedroom, not appropriate for travel use.
Air compressor mini refrigerator is a type of refrigerator with many good features such as large capacity and saving electricity. So, it can be a great choice for you.
Key features of compact fridge
Choosing a mini fridge that best fits your needs, here are the key features you must consider.
Freezer compartment
Some mini fridges have a freezer and a cooler that are almost attached. These will make fresh food more susceptible to freezing, losing its quality and inherent taste.
You should choose cabinets with separate freezer and cooler compartments, so you can keep food fresher and avoid the risk of freezing.
Further reading : 10 Best Mini Fridges with Freezer
Auto defrost
A defrost button is  normally built into the temperature control panel. This helps to defrost the refrigerators easily. When you see an accumulation of ice and snow about 6mm thick, it is the time to use this button to defrost. For refrigerators that do not have a defrost button, you need to do this manually in the usual way.
You may also like: How Often Should You Defrost a Fridge?
Door bin storage
One of the main features of mini fridge is the door bin storage. Regardless of the type of refrigerator you have, its door compartments can be removed the same way. The top door compartment has markings to make it easier to remove and reassemble the bin.
Removable shelves
Compact refrigerators inherently have a limited area, so to optimize the best cooling space, fridges with removable shelves will be a smart choice.
Thanks to this ability, you will easily customize the shelf tray as you wish. Besides, you can also remove it to make bigger room for the fridge.
Reversible doors
Using a mini refrigerator with reversible doors makes it extremely convenient for any suitable space and it does not affect the opening and closing of the freezer door.
Adjustable legs
Adjusting the legs is the same as mounting or removing bolts. The difficult thing is to find the points to rotate them. If possible, take a look at the manual to see how to approach the refrigerator's legs.
What type of mini fridge is the best for your kitchen?
A few types of mini refrigerators suitable for the kitchen can be mentioned as Air compressor mini fridges. The products have a smart air circulation system, along with a memory controller that allows setting the temperature quickly.
RCA refrigerator series with compact door configuration helps to maximize the space for your kitchen. In addition, the product also has a specific reverse feature that allows the doors using on both the right and left sides. The RCA also features a crisper compartment that is ideal for storing vegetables.
However, if you need to store many other items, you should seek the advice from a salesperson to be able to choose the best refrigerator, suitable for your intended use.
You may also like: The 10 Best Mini Fridges with Freezer
Which installation type suits your kitchen best?
The suitable installation type depends on spaces or room available for the mini fridge. Common installation types for mini fridges are:
Freestanding

Freestanding mini fridges come in many sizes. Therefore, they can be put in different places like a corner of a room, an office, study room, kitchen, small apartment, or even in a garage. It is easy to move them from this place to another as you want.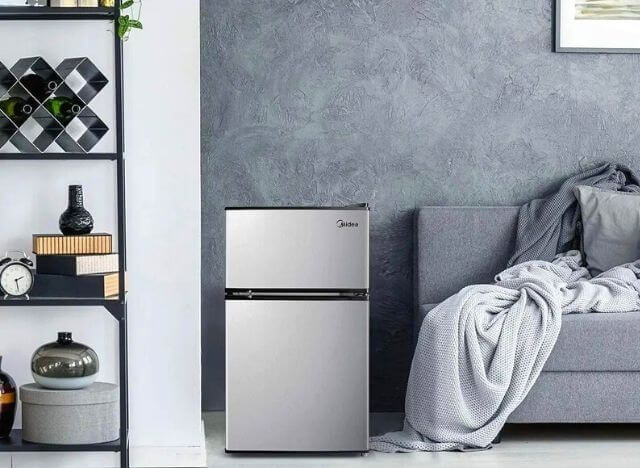 Countertop

Countertop mini fridge is usually small in size because it needs to stand firmly and fits on a counter. The common places for countertop mini fridge are on desks, bookcases, or any other stable surfaces.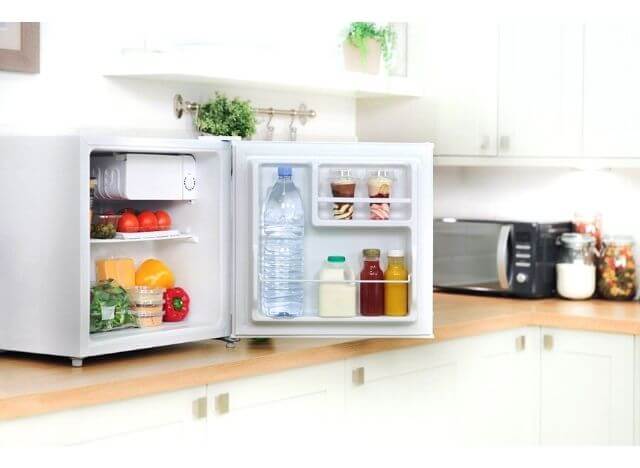 Under-counter or Built-In

Built-in mini fridge, also known as under-counter mini fridge, commonly used in kitchen. It is very handy for families with children because they are easier to reach.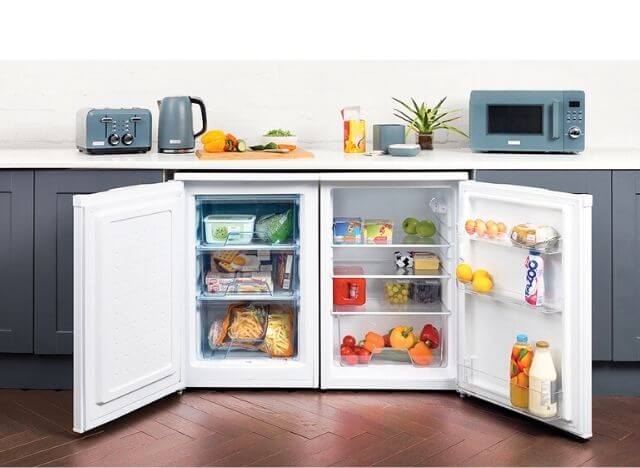 Things to consider before buying a mini fridge
To pick the most suitable refrigerator, you should consider many factors including the number of people, storage needs and living habits of your family. Also, here are what you must consider when buying a mini fridge.
Type: There are many types of mini fridges as well as different storing purposes to consider, such as: mini refrigerators specializing in fresh food, for storing drinks, for kitchens, for bedrooms or for office.
Size: Depending on the size of your room, you can choose the appropriate mini fridge size. The common sizes are from 1.6 Cubic feet, to 3.3 Cubic feet.
If you use a mini fridge for the bedroom, the appropriate size is 3.3 cubic feet. However, if you only use it to store cold drinks, then the 2.4 cubic feet mini fridge will be right for you.
Energy consumption: Usually, a large mini-fridge will use more energy than a small mini-fridge. Therefore, to save electricity, you can consider this issue.
Where to place: You can place the mini fridge anywhere you feel suitable such as in the kitchen, bedroom, office or living room.
Features and specification: To choose a good refrigerator, you need to pay attention to features and specs such as energy-saving, separation of cooler and freezer compartments, and custom shelves.
Your budget: Depending on your budget, you can buy low-, medium-, or high-priced refrigerators ranging from 150-500 USD.
Warranties and protection plans: From six months to five is the right time for you to clean or warrant your mini fridge. In addition, if there are any problems during use, you can also bring them to a warranty facility for repair.
Mini fridge vs similar appliances
What is the difference between a mini fridge and other similar household like Cooler, Freezer, and Ice maker?
Cooler vs mini fridge

Coolers are widely used on the market, keeping the goods and food inside fresh with a certain cold. There are many types with many different names such as cooler buckets, ice buckets, coolers… It also has a heat preservation function.
However, mini refrigerators have many other functions like making ice and preserving more diverse food sources.
Freezer vs mini fridge

A freezer has two compartments to keep items at different temperatures. The large compartment is used to store foods and perishables at a cool temperature of 3 to 5 degrees Celsius, while the smaller compartment is used to make ice. This type of cabinet is usually only suitable for items such as meat and medicine that require sub-freezing temperatures.
Unlike the freezer, the mini fridge can store and preserve many products from fresh meat to cosmetics or medicines. This product also includes a separate freezer compartment in parallel with other functions.
Ice maker vs mini fridge

An ice maker is a kitchen appliance that can produce a much larger amount of ice cubes than a mini refrigerator. Ice machines include two main types: small ice machines and industrial ice machines. These types of ice cubes are pure ice cubes used for drinking, preparing and preserving frozen foods.
The ice machine also has an automatic control system and a wind cooling system with fast, clean and very safe ice making speed. Besides, the water system for making ice is purified by sterilization technology to help the ice become pure.
Meanwhile, mini refrigerators can make ice in much lower quantities than ice machines. Therefore, small fridges are usually used in homes or offices.
Top mini fridges worth buying

Chefman mini fridge: The Best Portable for Bedroom
Dimensions:                9 x 10 x 6.7 inches
Capacity:                     4 Liters
Color:                          Eraser Board Door – Black
Finish Type:                Glossy
Lock Type:                 Electronic
Chefman is a good choice with the following reasons:

Modern features: It stands out by the beautiful design with many attractive colors such as red, blue, white that give customers many choices. Moreover, this product also has a compact design, so it is also suitable for moving to many places such as offices, camping, and travel.
Fast cooling: That is one of the outstanding advantages of this product line. Just turn on the switch, then add the food, for 30 to 40 minutes, you can use it right away. Yogurt, fruits and smoothies are the foods you can use with this Chefman mini refrigerator.
How about the cons?
The small storage capacity of the refrigerator cannot store a lot of food and drinks like beer and beverages.
Chefman mini fridge is a handy appliance tailored to consumer needs. Therefore, you can consider choosing this refrigerator for your room.
Black+Decker BCRK17W: The Best Budget for small space

Dimensions:                18.5 x 17.52 x 19.72 inches
Capacity:                     1.7 Cubic feet
Configuration:            Internal Freezer
Finish Type:               Glossy
The Decker BCRK17W is a comfortably sized refrigerator with 1.7 cubic feet for storing a variety of foods. This product is also loved by many consumers because of its long warranty period. This is probably a good choice for a person's need because of the below characteristics.
Convenient: The cabinet has reversible doors, height-adjustable feet, and a suitable temperature control system to help regulate the temperature, keeping the food in the refrigerator always in the freshest state.
Compact design: This refrigerator has a beautiful, modern, compact design with small dimensions to help maximize space in your room.
High power: The glass shelf of this refrigerator is removable, thus maximizing storage space. In addition, the cabinet also has an additional storage area that can hold canned goods, soft drinks, beer or milk on the two upper shelves.
But this mini fridge has some drawbacks:
Few options: Contrary to other products, Decker BCRK17W Compact Refrigerator is only available in two colors, gray and white.
No antibacterial and deodorizing features: The refrigerator is not equipped with antibacterial and deodorizing technology. Therefore, when using, users need to clean the refrigerator regularly, which takes time.
Black+Decker BCRK17W is a suitable product for small families or students.
Midea WHS-121LB1: The Best for Storage
Dimensions:               18.58 x 17.72 x 33.86 inches
Weight:                       39.5 pounds
Capacity:                     3.3 Cubic Feet
Door Material:            Stainless Steel
Door Hinges:              Reversible
Midea WHS-121LB1 Refrigerator has a delicate silver design with capacity of 3.3 cubic feet. In terms of size, this cabinet has a compact size that easily combines with any type of family interior space, and you will not have to worry about the cabinet taking up too much space.
Even though this product has a high price tag compared to other mini cabinets on the market, it is a quality product with following features.
Smooth operation: Equipped with high technology, this refrigerator not only offers smooth operation, stable cooling with 36 cooling levels, but it also saves energy.
Fast ice making: Sharp refrigerator's quick ice feature gives you cool ice cubes in just 1 hour.
Separate storage compartment: Midea WHS-121LB1 line has a separate fresh food storage compartment. This will help prevent odors between different foods when they are placed in the same compartment. Therefore, your family will comfortably preserve more clean food.
The design of separate food compartments and fast ice making, Midea WHS-121LB1 refrigerator is a perfect choice for your family.
Refrigerator care and maintenance
To protect and maintain the mini fridge well, you should pay attention to the following issues:
Plug the refrigerator directly into the socket
You ought to plug the refrigerator directly into the electrical outlet, avoiding plugging through the wire. However, in case of necessity, make sure to use a heavy-duty extension cord that meets the amperage of the device and that it is properly grounded.
Place the fridge away from heat sources
It is important to install the refrigerator away from heat sources such as radiators, stoves, or windows with direct sunlight. This helps to ensure that the airflow of the compressor and cooling coils is not blocked or restricted. Besides, you should not put the mini fridge on the carpet because the condenser of most refrigerators below and the heating mat can cause the compressor in the fridge to overwork.
Keep the inside of the cabinet clean
Ideally, you should clean the refrigerator once a month. When cleaning the refrigerator, it is better to remove all food as well as the shelves. Then, use a mild detergent or baking soda to dissolve the water, and wipe the inside with a soft, damp cloth to remove soap or baking soda residue.
Alternatively, you can also clean the rack and plastic parts in the same way. However, during cleaning, make sure not to put the glass parts in hot water as they may break. Furthermore, try to avoid using any corrosive cleaners so that the glass won't get scratched.
Avoid odors
For fresh foods, when you put them in the refrigerator, you should cover and wrap them carefully to avoid the food from drying out and having a special smell. If food is spoiled, be sure to remove it immediately to prevent odors from settling on your refrigerator.
Don't put too much in the refrigerator

The refrigerator should not be too full.  With a limited capacity, overfilling prevents the circulation of cold air used to regulate temperature. So this can lead to heat spoilage due to inconsistent temperature.
Related Questions

What are mini fridge sizes?
The mini fridges commonly have 4 sizes.
Mini-size mini fridge (Less than 15″ H): You can store a few cans of beverages and snacks. It is small enough for a person and can be a good choice for bedroom or to store skin care, medicine, and beauty products. The capacity is normally from 0.14 cubic feet to 0.7 cubic feet.
Small size mini fridge (15″ H – 30″ H): This freestanding mini fridge can fit on a countertop with capacity from 1.7 cubic feet to 3.2 cubic feet. It is also large enough to place in bedroom or office to store some kinds of favorite drinks, snacks, and fruits.
Medium size mini fridge (31″ H – 40″ H): These fridges are useful for apartments or dorm room. This can be a perfect choice for small family with a capacity commonly from 3.2 cubic feet to 4.5 cubic feet.
Large size mini fridge (41″ H and above): These large size mini fridges are often found in a big family or offices with a capacity of over 4.5 cubic feet. The freezer compartments are available for storing leftovers and food.
How noisy is your compact fridge?
Before buying a mini refrigerator, you need to know about the noise of the machine. You should ask the salesperson to test the cabinet to feel its noise level. A refrigerator that makes too much noise during operation will greatly affect your sleep, concentration or conversation moments with your family.
You can explain how quiet or noisy your mini fridge is by looking at the following decibel levels.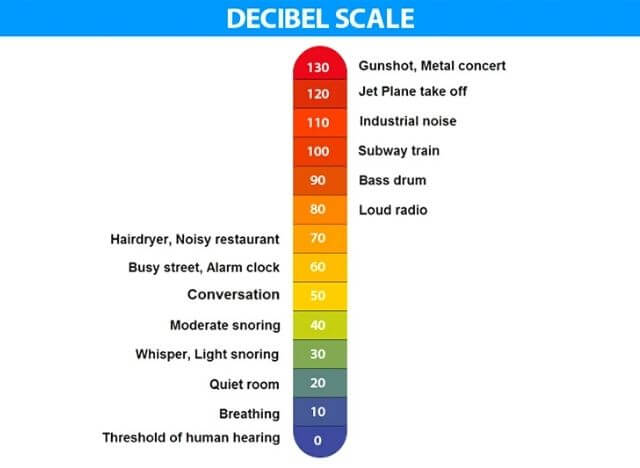 Top brands of compact fridge
Midea
FRIGIDAIRE
RCA
Danby
BLACK+DECKER
Galanz
Chefman
Antarctic Star
Smad
Crownful
Cooluli
Above brands with quality product lines, offer many outstanding features, and competitive prices.
How often should a refrigerator be replaced?
Normally, the refrigerators are best used in 10 to 15 years, after that they should be replaced. Any appliances, even the fridge after a long period of use will be old, outdated and sometimes faulty. And they need to be replaced as soon as possible. So, you should pay attention to the following signs to know that your refrigerator is time to buy a new fridge:
The current fridge frequently condenses or freezes
You can hear the noise from refrigerator motor runs continuously and clearly
Your food could spoil faster than usual
Conclusion
Many types of the compact refrigerators are available on the market like minibar, travel mini-fridge, electronic thermostat mini-fridge, etc. However, to choose a suitable compact fridge, you should pay attention to some characteristics like compact design, low power consumption, and low price.
Besides, there are some tips for you such as choosing the mini fridge suitable for demand, or a refrigerator with practical features like energy saving, a lid for the shelves, removable shelves, separated freezer compartment, etc.
Hopefully, through this Ultimate Guide for Compact Refrigerators, you can choose a compact fridge that best fits your needs.
 References: