It's very necessary to keep your fridge clean. That helps your appliance be more efficient and preserve food better as well. However, unlike other appliances in your house, cleaning the fridge is more complex and takes more time. We can't just clean its surface because the main problem is inside. In this case, you need to defrost your fridge.
That's why many of us are actually not so excited about fridge cleaning. But it has to be, we don't have other choices. So, the question "How often should you defrost a fridge?" is very common. Let's explore the answer in this article. And then you will find it easier to force yourself to defrost the fridge with minimum required times.
Why should you defrost a fridge?
Before exploring the required times a year to defrost fridge, finding out why you should defrost a fridge will help a lot. It can create the motivation for you to keep your appliance clean.
Get rid of bad smell
Fridges are created to preserve food. So, many people stuff all food into their fridge and close its door. They often buy more than necessary or cook more than their need for each meal then make redundancy.
Raw food and processed food are together in a narrow space for a long time. Although you try to keep them in separate containers, it definitely leads to a bad smell in your fridge. The next time you take something from the fridge, especially processed food, it will have both its and the fridge's smell. Of course, they become much less delicious.
To eject this situation, you have to clean your fridge inside out. So, defrosting the fridge is really helpful.
Get rid of bad food preserving conditions
Defrosting the fridge also helps get rid of bad food preserving conditions. In other words, it creates good ones to preserve food better.
Although low temperature can inhibit the growth of microorganisms, it can't eject them. When you store food for too long, they grow and make food stale. This stale food will force this process faster, leading the other one to become inedible. Each time you defrost the fridge, you can check the condition of the food in your fridge and throw the bad one away.
At the same time, defrosting also helps remove ice build-up on the freezer, giving standard temperature for frozen food.
How often should you defrost a fridge?
After the first section of this article, hopefully you have more motivation to clean up your fridge and defrost it. Then we will come to the main section of this article.
Ideal times to defrost a fridge
On the current market, there are some new types of fridge which can auto defrost, also called "self-defrosting". With these appliances, you no longer worry about fridge cleaning.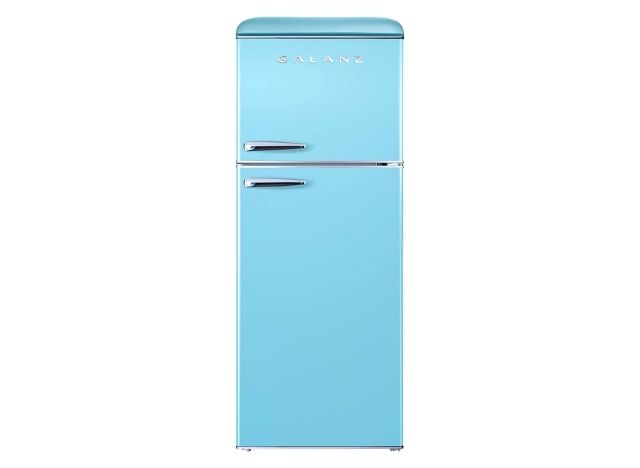 In fact, the ideal time to defrost the fridge is mainly up to you. Because each of us has different ways to use fridges, leading to many cleaning problems or not.
But if you own old models, the ideal time to defrost a fridge is when you see ice build-up on the freezer with the width of one fourth inch. Even if that ice doesn't bother you, you still need to defrost your fridge. To be honest, defrost your appliance at least twice a year. It's good for your health too.
In contrast, there are many people who prefer to clean the fridge very often. They even love to defrost their fridge every week to keep it like new. However, that actually is not good for your appliance, especially when you use a bit of detergent each time. Don't defrost your fridge more than once a month.
How to defrost your fridge?
Besides the ideal number of times to defrost the fridge, the way to defrost fridges is also a big question to many people. In case you don't know how to defrost your fridge right, here is a simple instruction for you to try, even at the first time. Note these 6 following steps:
Unplug your fridge, make it off completely.
Remove all food out of the fridge.
Make ice build-up on the freezer melt faster with a bowl of hot water.
When ice melts into water, use a soft sponge without detergents to clean the inside of the fridge.
To prevent ice forming in the freezer the next time, check the door seal to make sure it is in good conditions.
Take out all containers and attachments inside your fridge to wash for the next use.
Related questions
1. How to remove ice from freezer without defrosting?
When you need to melt the ice that has built up inside your freezer but do not defrost it, there are some ways to apply.
Use a wedge to keep the door open, so the ice can melt.
Pour hot water into a spray bottle and spray it directly to the ice. Then, mop it up with a towel.
Use a cloth dipped in hot and soapy water to wipe it down.
Take advantage of a hair dryer to blow hot air into the freezer.
Put a fan near your freezer to make it defrost naturally.
2. Should I use salt to defrost freezer?
No, you absolutely should not use salt to defrost ice. Adding salt will lower the freezing point of the water. The salt will help the ice melt faster, but it will also corrode your freezer components and damage the seals and lining. Instead using salt, you'd better to apply other methods like using hot water, a hair dryer, or a fan.
3. Which are the fridges with automatic defrost feature?
Galanz GLR10TBKEFR Retro Refrigerator 10 Cu. Ft.
Dimensions:                   23.74 x 27.48 x 61.81 inches
Capacity:                        10 Cubic Feet
Noise:                             42 dB
Defrost:                          Automatic
Certification:                Energy Star
Danby DAR110A1WDD 11 Cu.Ft. Refrigerator
Dimensions:                   26.06 x 23.94 x 58.75 inches
Weight:                           129.7 pounds
Capacity:                        11 Cubic Feet
Defrost:                          Automatic
Certification:                Energy Star
SMETA Top Freezer Refrigerator 21 Cu.Ft
Dimensions:                   32.8 x 32.3 x 66.2 inches
Capacity:                        21 Cubic Feet
Defrost:                          Frost Free
Kenmore Top-Freezer Refrigerator 21 Cubic Ft.
Dimensions:                   33.8 x 32.87 x 66.1 inches
Capacity:                        20.84 Cubic Feet
Defrost:                          Automatic
Certification:                 Energy Star
Kenmore 36″ Side-by-Side Refrigerator 25 Cubic Ft.
Dimensions:                   33.81 x 35.5 x 69.25 inches
Capacity:                        24.57 Cubic Feet
Freezer Capacity:         9.11 Cubic Feet
Conclusion
Your fridge needs to be defrosted for complete cleaning. It's not hard but also requires a bit of notes to do it right and simple. The recommended number here is not fewer than twice a year and not more than once a month.
To answer the question: "How often should you defrost a fridge?", this article hopefully helps you take care of your fridge better.
Reference:
How to defrost your fridge freezer and when to do it, ao.com, Retrieved on Dec. 12, 2021