Many people want to buy valuable goods online. However, they are still worried about the quality of the product, the shipping process, and the device's warranty policy. So with a valuable appliance like a refrigerator, should you buy it online? This article will answer your questions. At the same time, we will list the things you need to pay attention to when buying a refrigerator online. Follow to find out.
Should you buy a refrigerator online?
Buying a home appliance like a refrigerator will be something many people have to consider. Most with traditional shopping habits, users often choose to purchase refrigerators directly from stores. However, online shopping has become closer than ever in this day and age. The modern world brings you efficient benefits. You don't need to drive for a long time to consult and buy refrigerators directly from stores.
Many people still have a terrible default mindset and don't trust online shopping. However, nowadays, online electronic centers have been fully built with the same policies and reputation as traditional stores. Surf the web, consult reviews and refrigerator models and decide. All the process from preparing the refrigerator, packaging, shipping, and installation is done quickly without you having to step foot in the store.
Furthermore, your local retailer won't sell certain types of equipment but are available at online shopping malls. This is quite common. One thing that's very convenient about online shopping is that you can check the price of the same device from many different sources to choose from.
In a busy life, perhaps online shopping is a great solution. You can buy a refrigerator online without any worries. However, don't forget to pay attention to what to consider when choosing a suitable fridge and avoid making common mistakes.
Further reading: Best Top-Freezer Refrigerator without Ice Maker
What to consider when buying a refrigerator online
The following things must be kept in mind.
1. Where to buy refrigerators online
You should choose reputable places to order your new refrigerator. Currently, there are many online shopping applications with different features and prices. You can search for the fridge you want on the pages and read reviews from buyers to make the right choice.
It is best to choose online shopping sites that have many preferential policies and protect customer interests to avoid cases of damaged delivery or problems with the device.
2. Figure out how much you can afford
There are many different types of refrigerators on the market today. The classification depends on the model and the size. For each class with other utilities, there will be different prices. You should estimate and put the amount of money you want to spend to buy a refrigerator before you start buying.
The good news is that shopping sites now have a lot of promotions. You should follow their discount codes and programs to buy good refrigerators at bargain prices.
3. Depending on the needs of use, pick the appropriate capacity
Each family with a different number of members will have a particular need to use a refrigerator. If your family is big, you should choose a fridge with a large capacity. Besides, you should also consider the distribution ratio between the refrigerator and freezer compartment.
You should only buy a mini fridge to store your food, such as cosmetics, soft drinks, or breast milk.
Further reading: How to Choose the Best Mini Fridge for Bedroom?
4. Design and colors
You should decide in advance where you will place the refrigerator after you buy it so you can choose the color and design that matches the design and style of the room and house.
According to objective reviews from users, refrigerators with stainless steel shells will be prone to fingerprints on the surface. In comparison, the plastic refrigerator cover is prone to scratches and dust. You can decorate or opt for a patterned fridge if it suits your taste.
5. Refrigerator cools directly or does not freeze
Direct cooling refrigerators will be more affordable if you need a less expensive refrigerator. However, a freezer that doesn't freeze will help keep food fresher and more protracted. If you own a cooled refrigerator, you will need to clean it periodically more often than a refrigerator that does not freeze.
6. Conventional refrigerator or smart refrigerator
Refrigerator is no longer strange to you, but now you have more options than that. Smart refrigerators with modern technology will bring you a lot of great utilities. If you want to own an intelligent apartment, you should buy a smart refrigerator for your home.
You may also like: Which is the Cheapest Smart Refrigerator?
7. Retail policy and customer protection
E-commerce sites will have retail policies and protect customers when problems occur. You should consider it before buying to avoid unnecessary troubles when purchasing. Especially the return and warranty policy of the refrigerator when purchasing online.
Some websites will make it difficult for you to return your device or refuse to receive it when it is damaged. Therefore, this is not to be missed.
8. Shipping method
This is an essential step in getting your refrigerator from the store to your home. Try to avoid bumps or damage during installation.
In addition, you should choose the online store, and the shipping company that has the service to install the refrigerator at home for you.
When to buy a new refrigerator?
Buying a refrigerator is not as easy as many people usually think. To make a suitable decision, you need to take into consideration the following questions.
How long have you used it?
If it has served you for at least 15 years, it's time to replace the refrigerator. By this point, it should be not working properly, and the compressor may begin to have trouble. Normally, after 6-8 year of using, you may have had to make repairs. When the repair costs higher than the new purchases, you know it's time to buy a new one.
Does it consume a lot of energy?
Typically, a refrigerator must run 24 hours a day. Older refrigerators tend to consume more electricity. It's not energy efficient as the new ones.
You should know that a refrigerator with a lifespan of more than ten years is likely to consume twice as much electricity as a new refrigerator.
You may also like: How Much Electricity Does an Old Fridge Use?
What is your refrigerator type?
There are some types of refrigerators that are more prone to damage and repair than others. For example, a side-by-side refrigerator may need frequent repair after 5 years.
Do you see the following issues?
In addition to these key considerations, you should also start thinking about replacing your refrigerator when you see or experience the following problems:
The door is skewed
Frequent water leaks
Have cooling problem
Too many early fixes
Ice maker is no longer working
Frozen temperature fluctuations
Unusual sound when turning on
Electricity bills increase significantly
Grounding and other power problems
The back of the refrigerator gets hot easily
More and more frequent frosts or condensation
Food spoils even when stored at low temperatures
Common mistakes when buying a refrigerator online
1. Not paying attention to the interior design
This is a pervasive error. Online refrigerator buyers often forget about the interior design of the refrigerator, and these interior details determine the ability to hold the foods you want to preserve. If the fridge has a suitable method, you can make the most of the space, making it easier to store food.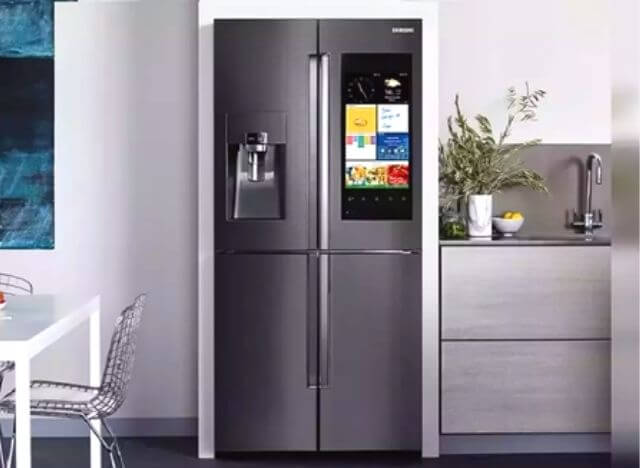 2. Doesn't match the style
Refrigerators have many different shapes and sizes. Each type will suit a different style of the room. Therefore, the combination can be good or bad. If you choose the type of refrigerator that is not suitable for the room, it will be a pity.
Moreover, there are some features you need to use but forget about when choosing a refrigerator. So, you should make a list of what you need before buying a refrigerator.
3. Doesn't fit the intended position
That is why above, we advise you to consider the refrigerator's location and its capacity. If you buy a fridge that is too large or too small for the refrigerator's site, it is very uncomfortable. Especially when you're looking to fit it in a particular position. Therefore, you should measure in advance where you need to put the refrigerator and reserve enough space for the fridge to operate. Use this note to compare refrigerator sizes and choose.
4. Inappropriate storage capacity
This mistake is very common. Many people complain that they have chosen a refrigerator with a capacity that is too small or too large for the family's needs. You should consider this. If the fridge is too small, you may not be able to store all the food you want. But if the refrigerator is too large, the amount of electricity wasted each month will be a lot.
Further reading: Which Refrigerator is the Best for a Family with 4-5 Members?
The trusted websites to buy home appliances
Home Depot
Amazon
Lowe's
Best buy
Costco
AJ Madison
Device connection
Wayfair
Related questions
How do you know when your refrigerator is broken?
Too noisy
Engine is hot
There is condensation
Your food spoils quickly
There is water on your floor
Ice is building up in the freezer
It's not cold enough. You don't feel cold when you open the refrigerator.
How long does a refrigerator usually last?
For most refrigerators, you can expect them to last from 10 to 20 years. If you're experiencing any of the other problems on this list and the refrigerator is more than ten years old, you should probably replace it to save more money in the long run. Otherwise, you may lose money to repair the aging refrigerator.
Is it better to repair or replace the refrigerator?
As a general rule, if you have a lot of defective parts, or if your refrigerator is more than ten years old, it may be time to get a replacement. Consumer Reports recommends replacing your refrigerator if it costs more than half the price of a new refrigerator.
Should you repair a 12-year-old refrigerator?
As mentioned above, a typical refrigerator can last 10 to 20 years. The longer you have a refrigerator, the more it will cost to repair. If the refrigerator is less than eight years old, consider having it repaired. If you have used the refrigerator for more than 15 years, consider replacing it.
Why are prices on Amazon and Flipkart so much cheaper?
Online stores save a lot of money as they can save from the followings:
Don't pay warehouse rent. So, the seller doesn't have to rent the entire warehouse.
No middlemen, sellers buy directly from manufactures or brands like LG, Samsung, GE etc.
Don't need to pay showroom rent and monthly electricity bill.
No salary to pay sales staff.
Competing with other online stores, they don't need to raise their prices too high, so their prices are always lower. And they still make a profit because they saved a lot of money.
Does Amazon deliver refrigerators?
For large appliances such as refrigerators, stoves, dishwashers, washers, and dryers,… when you purchase on Amazon.com, it handles everything from shipping to setup.
Are the bottom freezer refrigerators more of a problem?
Yes, the heavier items at the bottom may bring some troubles because frozen foods can be heavy. Since your freezer is at the bottom, removing these heavy items will require more work. This can be a safety concern for seniors and anyone who has difficulty bending over and lifting heavier objects.
What refrigerator size do i need?
Check out this refrigerator sizes for your household's needs:
1 or 2 people: 4–13 cu. ft.
3 or 4 people: 14–24 cu. ft.
5+ people: 25+ cu. ft.
What is the most reliable brand of refrigerator 2022?
According to the research, the most reliable refrigerator brands are LG, GE, Whirlpool and Samsung. Perhaps these are the companies that manufacture refrigerators with the fewest problems.
What brand of refrigerator lasts the longest?
As for the longest-lasting refrigerator brands, it will also be a tie between Frigidaire, Maytag and GE. They are known to have a lifespan of 12-20 years and that is why so many customers choose them. Longevity without compromising on performance poses a good selling point for these refrigerators.
Is Midea refrigerator a good brand?
Midea has become a competitive brand in the last 10 years thanks to their good structure and superior manufacturing. Energy efficiency is one of its best-selling points. It has a high energy star rating. Midea is a good refrigerator brand.
Is Whirlpool better than Samsung?
There is no definite answer "Yes or No" to this question, as both brands have their pros and cons. Some people may prefer Whirlpool refrigerators as they are more reliable and tend to last longer than Samsung fridges.
However, others may prefer Samsung refrigerators because they have a better design and come with more features. In the end, consumers decide which brand they prefer and make purchasing decision.
Is LG refrigerator better than Whirlpool?
Again, this is a difficult question to answer, as it depends on individual preference. There are pros and cons to both brands. Here are some points to be noted.
LG refrigerators tend to be more expensive than Whirlpool models, but they also come with more features. Some people like LG refrigerators for their sleek look and design, while others prefer
Whirlpool fridges is preferred by others for their reliability and durability.
Your specific needs and preferences will help you choose a suitable refrigerator.
Who is No. 1 refrigerator brand in world?
When mentioning the global market for refrigerators, there isn't a single brand taking the No. 1 position. However, there are a few brands that are outstanding and occupy more market share.
In term of market share, Samsung is the leader with a global market share of 18%. In the second place, LG takes 15% market share, followed by Whirlpool with 10%.
These three brands dominate the global refrigerator market, but there are also a few other major players. For example, in Europe, people prefer Bosch, and it is the leading brand, while in North America, General Electric is the dominant player.
When is the best time to buy a refrigerator or home appliances?
The best time to buy home appliances is when new models come out.
September and October are the best times to buy most home appliances such as washing machines, dryers, refrigerators, and dishwashers.
During these two months, manufacturers have unveiled the latest models for the time to come. This means that last year's models must be discounted to make room for new inventory.
Conclude
The above article has found all the good reasons like convenience, safety and trust when buying home appliances, specifically a refrigerator, from reputable online stores.
Moreover, the reputable online shops have good customer service, return policies and review systems to know how good the seller and product are. Furthermore, the equipment is supplied and installed at the convenience of the purchaser. Warranty policy and after-sales service are also guaranteed.
I hope the article gives you confidence when buying a refrigerator online.
Reference
What Refrigerator Size Do I Need, spencerstv.com, Retrieved on May 20, 2022

Things to check when buying a refrigerator online, gadgetsnow.com, Retrieved on May 21, 2022