Almost all households now have a fridge with a freezer to keep their food fresh for longer use. However, some families still want to get an additional freezer such as a chest freezer in their houses. Let's read this article to get more useful information about the chest freezer and know why you should buy a chest freezer.
What is a chest freezer?
Among different types of freezers, chest freezer is the most economical option for any household. As its name stated, this freezer is styled as a large box or chest along with a hinged lid which opens upward.
Chest freezer has a wide range of size from 2.1 cubic feet to more than 40 cubic feet. With the huge storage space, it is suitable for storing many large and bulky items which you can't keep in the freezer of your fridge.
Unlike other types, the chest freezer does not support any fan to control the air circulation and stabilize the temperature. However, this does not have any negative impact on your food provided that its temperature is still below freezing.
There are some baskets coming with a chest freezer. So you can arrange different kinds of food easily and conveniently based on your own purposes.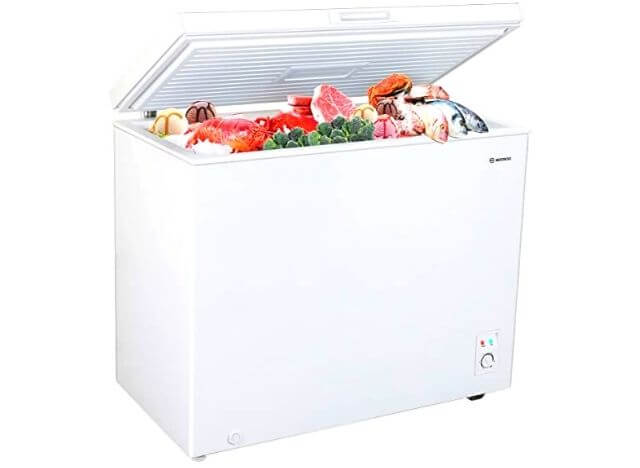 Benefits of a chest freezer
There are many reasons to explain why you should have a chest freezer besides your fridge for your family kitchen.
Huge storage capability
Affordable price
Energy efficiency
Less running cost
Ability to maintain the freshness of food during power outage
Long lifespan for 15 to 20 years
Who is a chest freezer most suitable for?
Depending on its outstanding features, you should get a chest freezer if you:
Look for additional storage space for your frozen items
Need to keep your food frozen for extended period of time
Go to grocery and buy stuff in bulk on a regular basis
Store a large amount of fresh meat and produce as a hunter or a gardener
Further reading: The 10 Best Mini Fridges with Freezer
Why do you still need a chest freezer when your fridge already has a freezer?
The main reason for having a chest freezer in addition to a freezer is the higher storage capability. With a chest freezer, you can store a much larger amount of food for a longer period of time. You do not have to depend on your freezer in the fridge a lot when keeping all frozen food fresh.
A fridge freezer is suitable for you to store any short-term items while a chest freezer is designed to contain not only long-term but also large-sized goods.
The space of the freezer in a fridge is quite limited than that of the chest freezer so you can not put too many things inside. This can be a big drawback if you need to keep a huge quantity of food for your whole family for a very long time.
Further reading: Is Danby a Good Brand for Mini Fridges and Freezers?
The 5 best chest freezers for family

There are some chest freezer models which are widely used today. Here are the 5 best chest freezers for your family's choice.
Whynter FM-85G 85 Quart Portable
Two separate wire baskets come with this model for more storage. The whole freezer has 120 FL oz capability. The temperature inside is flexible from sub 8 degrees to 50 degrees Fahrenheit. A "fast freeze" function is usable on the freezer to turn it into cooling mode quickly.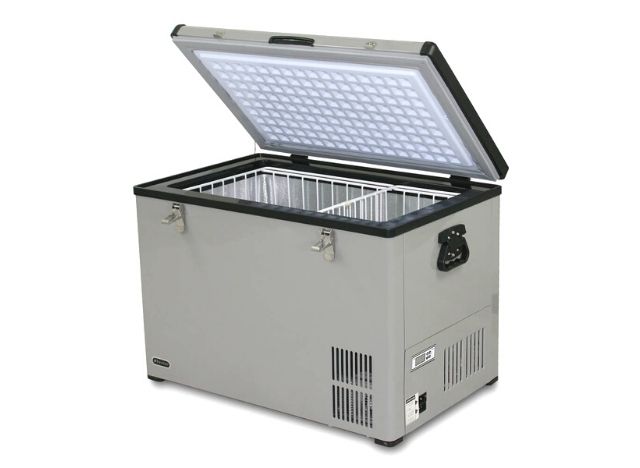 Koolatron KTCF 195
There are 3 size varieties ranging from 3 cubic feet to 7 cubic feet for this Koolatron chest freezer at different prices. It can keep your food fresh at the temperature from sub 11.2 degrees to 32 degrees Fahrenheit.
Additionally, it has an external plug for the drain so that you can defrost or clean it simply.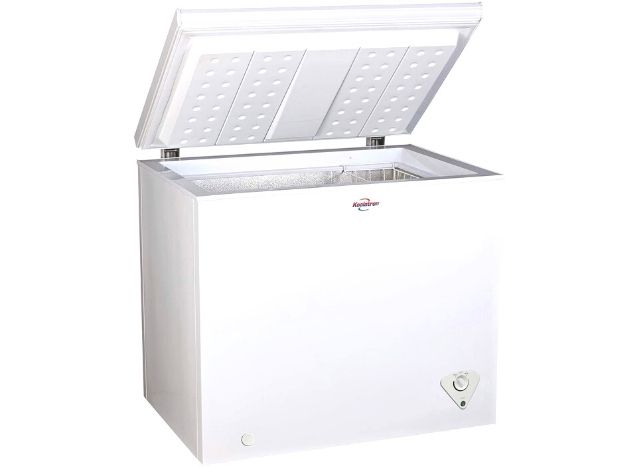 Galanz GLF70CWED01
This white chest freezer can bring you many benefits such as adjustable thermostat control, three indicator lights outside the freezer, and two wire baskets. It does not support automatic defrost but has the defrost drain function instead. Besides, the model is one of the great choices for energy saving which has high capacity in cooling and low level in noise.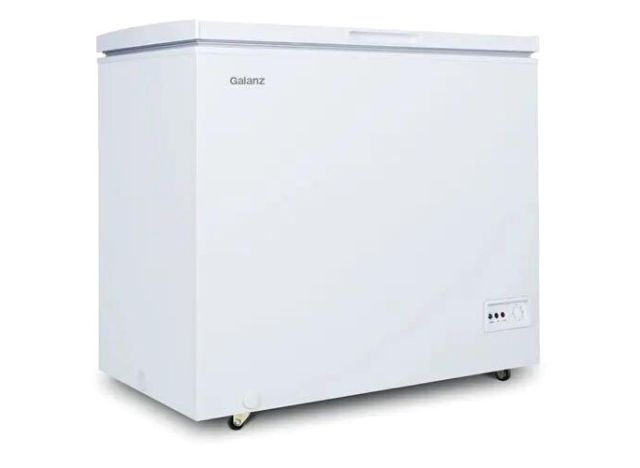 SMETA Chest Freezer
With 5 cubic feet space, this freezer can contain a large amount of food and be suitable for different places in your house. The inside temperature is adjustable between sub 4 degrees and 10.4 degrees Fahrenheit. Despite its high capacity, it still consumes less energy than others at 217 kWh per annum. And an auto-hold door on top of the freezer can make you feel more convenient when opening.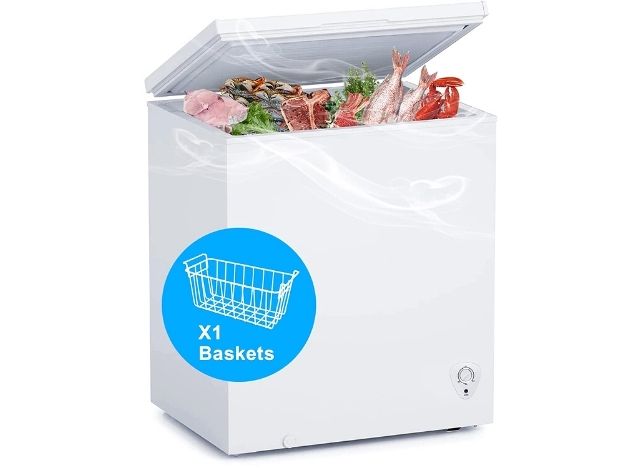 RCA FRF472
The RCA chest freezer can store up to 7.1 cubic feet of items inside. It is made from plastic so it is much easier for you to clean any dirt outside. An additional wire basket is available to keep smaller food or drink. Besides, the temperature of the freezer can fall to sub 18 degrees rapidly. A thermostat in the front might help you a lot to control the temperature in different seasons. And the defrost drain function is also applicable for this chest freezer.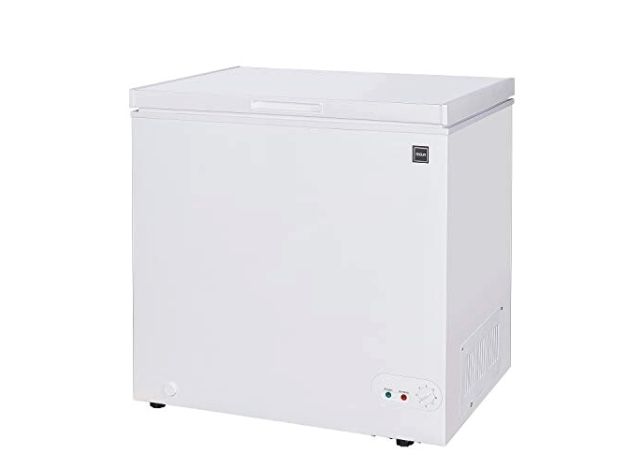 Conclusion
Using a chest freezer together with a freezer in the fridge is a great method to deal with a huge amount of frozen food in your house. It can give you much more space for storage without large energy consumption.
Besides, the chest freezer can keep your food fresh for any extended period of time. So you can move any long-term items into the chest freezer to have enough room for temporary foods in the freezer of your fridge.
References:
Chest

  vs  

Upright Freezer, fixr.com, Retrieved on Aug. 9, 2021