Herbal plants have an attractive characteristic aroma that leaves no one indifferent. They are very healthy and can be added to any household dish. In the summer, fresh herbs are available to every homemaker, but the quantity will be much less after that. Readers will learn how to freeze herbs in ice cube trays without losing flavor, aroma, and beneficial substances from this article.
Freezing fresh herbs
Freezing fresh herbs is a perfect way to preserve the herb harvest from your garden last all year round.
Rosemary, sage, thyme, and oregano are sturdy herbs that can be frozen beautifully.
Other herbs like cilantro, mint and basil can also be frozen. However, they are mostly used fresh because their delicate flavor loses when frozen.
Even though they can be limp or mushy when defrosted, frozen herbs will still add great flavor to your dishes.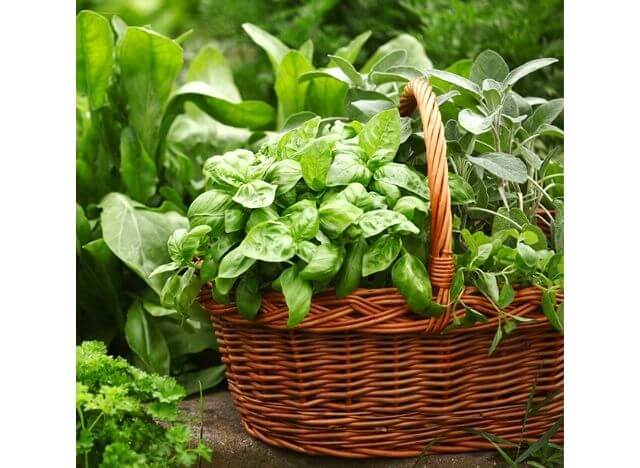 Advantages of freezing herbs
Herbs are a gift from nature; it is indispensable for your dishes. Moreover, it can also be a medicine to help you solve some health problems, but their lifespan is relatively short. They can be withered or damaged after just one night.
Besides, herbs are a small vegetable; you don't need to use too much, just enough. Therefore, if you put whole herbs in the refrigerator, they will not be preserved well. Some herbs will be easily damaged and crushed by other products. However, some herbs can be put in the freezer whole.
The best way to store herbs in the refrigerator is to chop up leftover herbs from the kitchen, put them in an ice tray, add a little olive oil or water, and store them in the freezer. This will help herbs be preserved longer, not damaged, and keep the original taste and deliciousness.
The advantages of frozen herbs in ice trays are as follows:
Taste and color are not different from fresh
All helpful trace elements and vitamins are preserved
Essential oils do not lose value
Further reading: What Are the Best Cheap Freezers for Home?
Prepare herbs for freezing
With soft herbs like parsley, cilantro, basil or sage, you should not store them in the freezer without processing.
Preparing is a crucial step to preserve herbs well. It would be best to choose the herbs that are not crushed, withered, or eaten by many leaf worms. Herbs must be fresh, green, not saturated.
The herbs should be washed before storing. Follow these steps:
Pour cold water into the bowl
Dip the herbs in
Soak them in water for a few minutes
Transfer the herbs to a basket or sieve
Wash them under running water at least 20 seconds
Dry the herbs to avoid water logging by using a towel. With tender herbs, you can gently shake them remove excess water. For sturdy herds like rosemary, cilantro, parsley, you can use a salad spinner.
How to freeze herbs in the ice cube trays
There are different freezing methods for different herbs. With sturdy herbs, you can freeze them as whole. But with the soft ones, you need to chop them up or puree them before putting into freezer to keep them fresh for a long time and still retain the flavor.
Freezing chopped soft herbs using water
Here is how to freeze soft herbs like parsley, basil, cilantro or sage.
You can freeze herbs in the freezer with the ice tray without pre-drying. The whole process looks like this:
Buy herbs, choose good, non-perishable herbs.
Wash the herbs and cut them into pieces just enough to put in the ice tray.
Fill the ice tray with water, just half-full. Then, fill with chopped herbs. Make sure the herbs lie down into the water.
Put the ice tray in the freezer until they are frozen. It usually takes about a couple of hours. Then, take the tray out of the freezer and fill again it with cold water and refreeze.
After the second freeze, you can put the herbal cubes in the box for neater storage. Or take it out, pour it into a tightly sealed plastic bag, and put it back in the freezer.
It would be best to write down the name and storage time to determine how long the herb has been stored; otherwise, it will be challenging to determine the time of this frozen block of herbs later.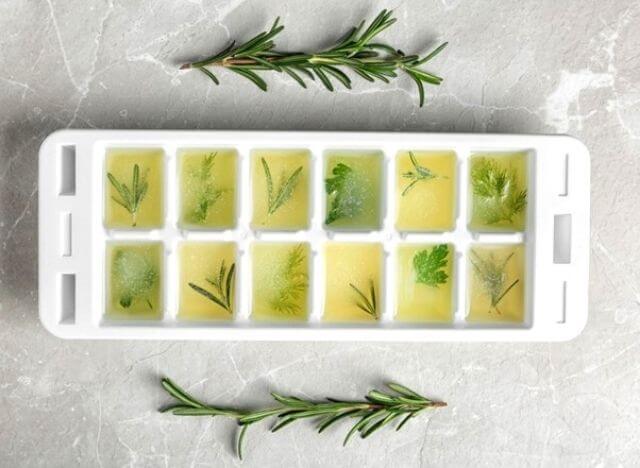 Freezing herbs with oil
With herbs, if you do not know how to preserve them, they will spoil and lose their flavor. You can refer to preserving herbs in an ice tray with olive oil to keep their characteristic flavor. Here is how:
Wash the herbs and cut them into small pieces.
Mix in a little olive oil, then put this mixture in the freezer tray.
Put the ice trays containing herbs in the freezer for about 20-30 minutes.
After the ice tray is frozen, transfer the spices to a plastic bag and send them for further storage.
Frozen herbs with olive oil are the best solution to provide you and your family with essential vitamins and minerals. When cooking, you need to take the ice cube containing the spices you need and drop it into the dish.
Freezing pureed herbs in the ice cube trays
Another perfect method for freezing herbs is to make a simple puree with olive oil or water. This is the best way to preserve delicate herbs such as parsley, basil, dill, sage and cilantro. Because oil can create airtight seal, so you should put extra splash of olive oil to the surface of the herbs to keep them longer. Not only olive oil, broth and stock can also be used. Here are the steps.
Clean the herbs properly
Pick the leaves from the stem or you can use the stem for more flavor
Puree with oil or water and (add flavor if you want) and make a pesto
Pour the mixture into the ice trays and freezer the trays until frozen
Transfer the ice cube herbs into a freezer safe container or bag and out in freezer for long storage. Remember to label the date and content.
Can you store whole herbs in freezer?
Yes. You can store some herbs in the freezer whole. It's important to squeeze as much air as possible from the storage containers. For freezing whole herbs, plastic bags or glass jars are most suitable.
Herbs that can be frozen as whole are rosemary, thyme, chives, lemongrass.
You can keep your herbs in the freezer for up to 6 months.
How to defrost
Natural defrosting: Put the frozen herbal blocks in the refrigerator for about 5-8 hours or at room temperature for 2-3 hours.
Under running water: Put the frozen herbal ice tray in a plastic bag, press to release the steam, and leave it under running water for 20 to 30 minutes.
Using warm water: When you need to defrost quickly, put frozen herbs in warm water at 36-38 degree C, soak for about 10 minutes.
With boiling water: Directly put frozen food into the pot of boiling water.
The most convenient thing about storing herbs with ice trays is that you can use them as soon as you need them without having to do a lengthy defrosting. If you want to use it, you need to take the number of frozen herbs you need and put it in the pot.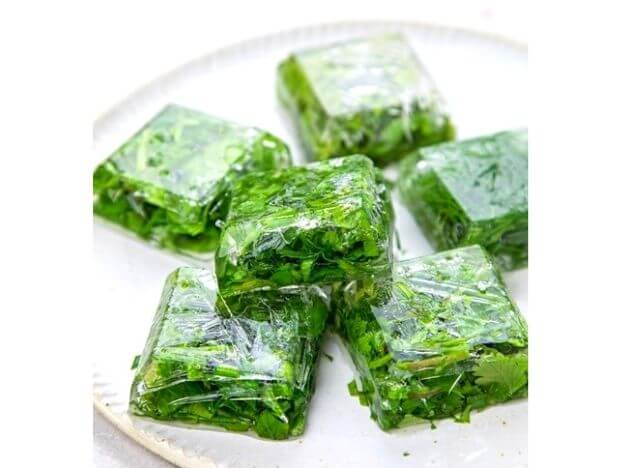 How to use frozen herbs
There are many ways to use preserved herbs such as:
Use them with pasta or rice
Put in a salad dressing, egg dishes (like omelet or quiche), soups, stews or sauces
Use as a sauce (freezer pesto chicken) or a spread on pizza or sandwiches
Conclude
Frozen herbs are the best solution to provide you and your family with fresh and healthy aromatic food all year round.  Freeze herbs in the ice cube trays will preserve all the vitamins and minerals for the family.
Reference:
1.How to Preserve Fresh Herbs in the Freezer, lexiscleankitchen.com, Retrieved on Feb 20, 2022.
2. Ice Cubes With Herbs – Saving Herbs In Ice Cube Trays, gardeningknowhow.com, Retrieved on Feb 18, 2022.