Frozen fried chicken can be kept in the freezer for up to 4 months. Due to the proper freezing and storing, it is possible for you to maintain the flavor and crispness of any fried chicken. Let's see how to properly freeze fried chicken the right way.
What happens if you freeze a whole chicken?
It does not matter to freeze a whole chicken once fully cooked. Cooking the chicken before freezing is a better idea to keep its freshness than storing the raw one.
However, it is only safe enough to use this frozen chicken within 4 months after the date of freezing. Over the period, the quality of your chicken can deteriorate and be quite unattractive.
In fact, the longer you keep your chicken in the freezer, the worse its taste becomes. But there is no negative impact on the nutrition value of any chicken.
How to properly freeze fried chicken?
It is a simple process to freeze any fried chicken in the freezer for longer use. Here is how:
Step 1: Cool fried chicken within 30 minutes after cooking at room temperature. It does need the cooling time to keep the quality of your fried chicken.
Step 2: Prepare fried chickens for storage in the freezer. You should:

Use freezer-safe food wrap for each piece of fried chicken or get an airtight container for them
Apply heavy-duty foil or cover these pieces with a plastic wrap for further protection
Note: For this step, you should cover all of the fried chicken pieces carefully in order to avoid any threat in the freezer. That is because some chemicals and bacteria would spread out and enter your uncovered food. In other words, this can destroy the quality and flavor of all your fried chicken.
Further reading: Best Containers for Freezing Food
Step 3: Place these chicken pieces into a container suitable for the usage of the freezer. Even though they are fully covered already, an additional container might help to maintain moisture.
Step 4: Arrange your container into the freezer with a label of storage date to make sure that you can use them over an acceptable period. Some reusables or Ziploc bags are great options for frozen fried chicken.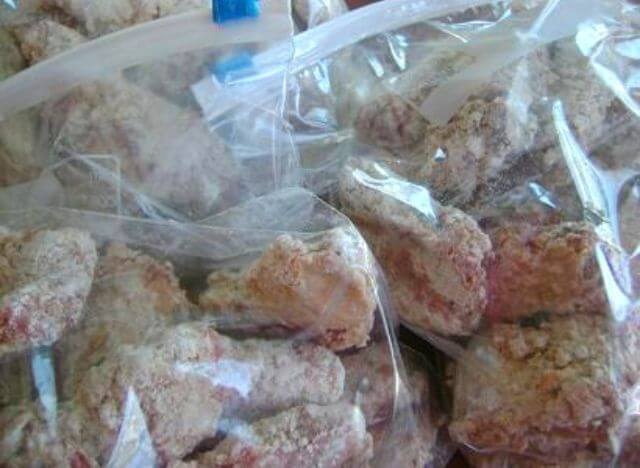 All the mentioned steps should be done within no more than 2 hours after you finish frying your chicken. If the process lasts too long, this can have many negative influences on the quality of fried chicken once defrosted.
Cuisinart CMT-100 XL Collapsible Marinade Container
How to reheat the frozen chicken

You can use a microwave or oven to reheat frozen fried chicken. First of all, you should remove fried chicken out of the fridge about 30 minutes before reheating. It is safe for you to keep them outside the fridge at room temperature before reheating.
For microwave:
Step 1: Place fried chicken on a microwave-safe container. Use a kitchen or paper towel to cover all fried chicken
Step 2: Keep your fried chicken microwave for one full minute initially
Step 3: Rotate each side of fried chicken for each 30-second course to ensure that all sides are warm enough. Fried chicken should stay in the microwave not too long so that these pieces do not dry out
For oven:
Step 1: Let your oven preheat at about 350 to 375 degrees Fahrenheit
Step 2: Arrange all your fried chicken in the sheet pan and do not allow them to touch each other
Step 3: Place a layer of foil onto the sheet pan
Step 4: Heat the chicken for around 15 minutes as the internal temperature reaches 150 degrees Fahrenheit. Then, increase your oven up to 400 degrees Fahrenheit and continue cooking them for 5 to 8 minutes. During this step, you should check and turn these pieces for fully reheating.
Hamilton Beach Electric Indoor Searing Grill with Adjustable Temperature
Simple fried chicken recipe
There are several ways to fry chicken before storing in the fridge. But most fried chickens need to have some general ingredients including salt, pepper, season, and flour.
Step 1: Dip all prepared chicken into a mixture of eggs and coat
Step 2: Cover these chicken pieces with flour and season them fully by turning them around
Step 3: Fry the coated chicken pieces via:

An electric fryer: Heating the oil or grease at around 375 degrees. Cook each side of chicken pieces within 5 to 8 minutes. You should not fry all of them at the same time. Taking a few pieces for each time is a better option.
An oven: Put kitchen paper in the sheet pan, then arrange your chicken onto this sheet pan. So it might be easier for you to clean it after frying. These chicken pieces should be cooked for about 35 minutes at 400 degrees. Besides, you should turn their sides for each 7-minute interval.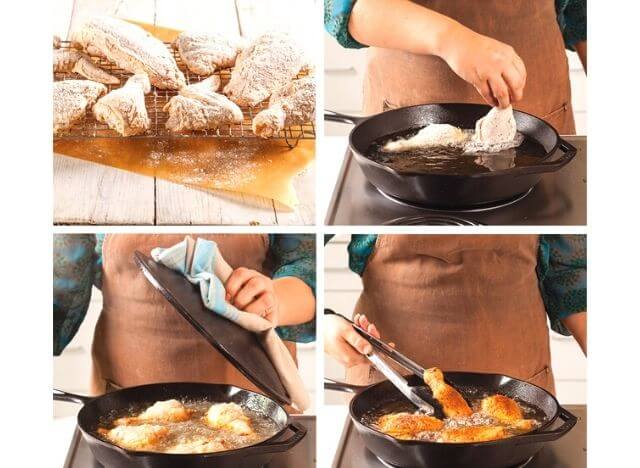 Note: If you use grease instead of oil to fry your chicken, you should put all chicken pieces in a kitchen or paper towel right after cooking to remove all left grease.
All-Clad Electrics Stainless Steel Deep Fryer with Basket
Conclusion
Freezing method can be used to keep fried chicken for longer. Under the suitable freezing, fried chicken pieces would last up to 4 months in your freezer.
It is very simple to freeze fried chicken after cooking. The most important thing you need to remember is to cover all of your fried chicken fully to avoid any damage.
To reheat frozen fried chicken, you can use either microwave or oven in order to make it ready for your meal. Additionally, you should follow some basic steps to fry your chicken properly so that you can keep them fresh in the freezer much longer.
Hopefully, this article can sum up some necessary and key information which can be useful.
Resources:
Can You Fry Frozen Chicken? – How To Do It Safely, foodsguy.com, Jan. 26, 2021
How To Store Fried Chicken – The Ultimate Guide, foodsguy.com, June 10, 2020