Frozen meals are more popular for families, especially when they do not have much time to prepare their meals. Most people, even diabetics, can use these convenient meals. Let's read the following article to determine which frozen meals are good for diabetics.
What is diabetes?
Diabetes is a common disease which occurs when the blood sugar increases too high. It will have a negative impact on patients' kidneys, nerves, eyes, and other organs.
It has 4 varieties of diabetes consisting of type 1 diabetes, type 2 diabetes, pre-diabetes, and gestational diabetes. Each type might have different symptoms and influences on health.
You can diagnose diabetes through some general symptoms as below:
Weight loss
Extreme fatigue
More thirst and hunger
Frequent urination
Blurry vision
Non-healing sores
How to choose frozen meals for diabetics?
Generally, it is recommended that a person needs about 2,000 calories a day. However, your body may need more or less calories depending on the age, health condition, daily exercises or gender.
For diabetes, keeping the blood sugar level at an acceptable range is very important. You can do this by making good choice on foods you eat every day.
Read the nutrition facts label and know these numbers that will help to get a suitable frozen meals for diabetics.
Calories: about 300 to 500 calories. If it is less than that, you will feel hungry and you may not have enough nutrients.
Saturated fat: 2 grams or less
Sodium: no more than 600 milligrams
Carbohydrate: about 50 g per meal
Protein: 15 grams or higher
Fiber: more than 2 grams per meal
You should always consult with your doctor if there are changes in what you eat. Make sure you know how many calories your body needs, create a suitable eating plan and follow that plan.
What else should you take into consideration?
Watch the total carbohydrate intake: Consider the foods you eat so that you can control the daily carbohydrate. Carbohydrate from pasta-based and rice-based meals are higher than meals from poultry, fish, or meat. Ideally, 50 g carbohydrate per meal is good for diabetics.
Avoid being too hungry: If you are a "hungry man", you are likely to look for other choices like having frozen pot pies, breaded fish, or extra-cheese pizza that is totally not good for your health.
Add fresh fruits or veggies as side dish: Your frozen meals should be supplemented with extra vegetables, a salad or fruits because frozen ready meals usually have small vegetable portions that not enough nutrition for your body needs.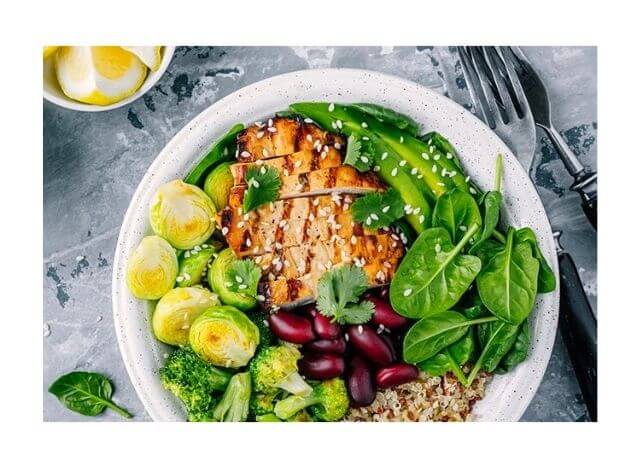 Which types of food are good for diabetics?
Fiber-rich foods: nuts, veggies, fruits, whole grains, legumes
Polyunsaturated or monounsaturated fats: nuts, avocados, or peanut, canola, olive oil
Safe carbohydrates: nuts, veggies, fruits, whole grains, legumes, and low-fat dairy items (cheese, milk)
Heart-healthy fish: tuna, salmon, sardines, and mackerel
You may also like: Best Frozen Meals for Weight Loss
Best frozen meals for diabetics
Best for vegans
BariWise Protein Pasta
This healthy pasta meal provides you 15g of protein and only 130 calories per serving. So it can help to make you energized and healthy throughout the day. And it does take up only 5 minutes to prepare.
Fullgreen Riced Broccoli and Cauliflower
This is a great alternative for regular rice with lower carbs and high nutrition. So you do not have to worry about any severe influence on your disease. To make it more delicious, you can mix it with onions, tomatoes, cilantro and lemon juice for a tasty salad.
Del Monte Veggieful Veggie Bowl
It is an Asian style meal including veggies, brown rice, and quinoa. With this veggie bowl, it will offer you a great source of fiber to improve your health issues. After a few minutes, you can have a highly nutritious dish to eat.
Best with meat
Keystone Meats All Natural Canned Chicken
The advantage of the meal is you do not need to add water when cooking. Apart from sea salt and chicken, it does not contain unnecessary and harmful ingredients.
HORMEL COMPLEATS Chicken Alfredo
With the frozen meal, you have a chance to enjoy penne pasta, white meat chicken blending with creamy Alfredo sauce. 16g of protein per serving makes it healthy enough to be your daily meals.
WonderSlim Protein soup
This product is a great combination between chicken and different veggies. You will have a delicious bowl of soup with enough protein and low carb. And it is totally free of unhealthy fat so that you can keep up with your diet plan.
 Best with fish
Kosher Salmon Fillet Fish
It is one of the best nutritious frozen meals for any diabetics. It offers you a delicious fillet of salmon meal along with rice, pepper, carrots and other natural ingredients. And you can store it for up to 3 years without any damage.
Best meal kits
HMR Ultimate Entree Variety Pack
The HMR pack has different types of food you want such as cheese, chicken, beef, grains, or pasta. And all of the dishes are safe for your health. Each serving may contain 10 to 20g of protein and from 160 to 200 calories.
Kosher MRE Meat Meals
A Kosher MRE set comes with 10 packs having different ingredients such as turkey, beef, chicken, lamb and several veggies. No MSG or any artificial additives are included and all healthy nutrients are available to give you a nutritious meal kit.
Tastie Choice Indian meal
The frozen meal is inspired by Indian cuisine which is both tasty and nutritious. It is made from all natural ingredients and free of artificial substances or added sugar. Only 90 seconds in the microwave, it will be ready to use.
 Conclusion
It is safe and healthy for diabetics to have frozen meals. These are quick and convenient for you to prepare and clean after meals. If you are coping with diabetes, you can pick up several healthy options with the suitable levels of nutrients.
References:
1. Everything You Need to Know About Diabetes, healthline.com, Retrieved on Sep. 10, 2021
2. Top List of Diabetes-Friendly Frozen Meals, milkandhoneynutrition.com, Retrieved on Sep. 8, 2021
3. Choosing Frozen Meals for Diabetics, Amy Campbell, May 5, 2014