Currently, beverage mini refrigerators are popular because of their compact size, easy to move, do not take up much space and also save electricity. In particular, the price is "quite affordable" to help you save on shopping costs. What makes a good beverage fridge? How to choose the best beverage mini fridge for home use?
Advantages of a beverage mini fridge
When you feel tired of grabbing beverage from the kitchen, it is time to think of a beverage mini fridge. With this amazing appliance, you can relax in your favorite room with cold drinks on standby. Moreover, it also brings other advantages that make you feel convenient and enjoy your moment.
Comfortable
Having a beverage mini fridge at home, you can grab a drink, sit back and enjoy your favorite TV show or movie. It helps you use your recreation area more often than ever.
Besides, your family members enjoy drinks more comfortably when owning a beverage refrigerator.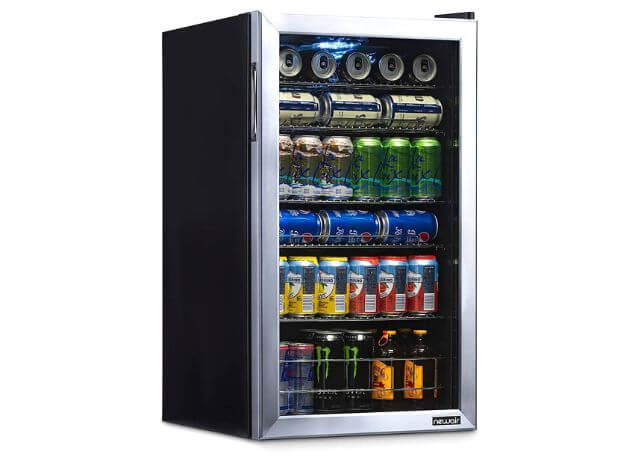 Personalize space
One thing that everyone wants is to bring something unique to their living space. A refrigerator cooler will provide you with that.
There are different types of beverage mini fridges that allow you to choose the right one for your home and needs.
Save space
If you often host a lot of people, then you really need a beverage fridge. It will be more convenient to store your drink and keep it cool. In particular, the beverage refrigerator will help you save space in the kitchen refrigerator.
Moreover, the mini beverage refrigerator is compact and has a small base so you can put it anywhere.
For home party enthusiasts
Organizing a party can take a lot of time to plan and prepare for. You even have to regularly go to the kitchen to take out the guests' favorite drinks.
But with a mini fridge for drinks, the whole process will be quicker. Everyone can easily reach for drinks, without you having to go to the kitchen to get them.
Great for pool parties
Pool parties are very popular, if you like it too, you should own a refrigerator for drinks. In addition to storing and keeping drinks cold, the beverage cooler is also a place to store barbecue. That way, the refrigerator makes your party even better.
What makes a good beverage mini fridge?
After determining to buy a beverage mini refrigerator, key features such as the type of mini fridge for drinks, the overall size, capacity, internal configuration, cooling capacity and door type are important to consider.
It is recommended to pick the one with plenty of storage space, about 126 normal-sized cans. It should have at least 3 adjustable shelves for standing bottles, durable with great build quality and LED lighting inside.
Also, although mini fridges usually don't make a lot of noise, there are models that make a lot of noise compared to what you want, which is quite annoying.
In addition, aesthetics also needs to be considered, from modern options to mini fridges with vintage style.
We recommend that you should buy a beverage fridge from reputable manufacturers to get a quality product and also have a good warranty.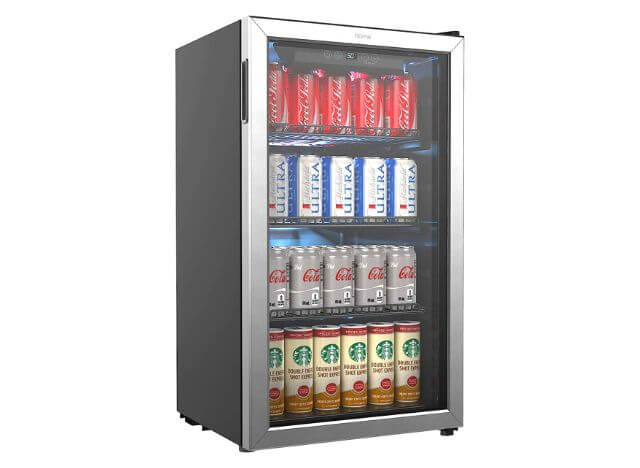 Mini fridge vs. Beverage mini fridge
Users may wonder if they can use a mini fridge to keep beverage or not, are there any differences between mini fridges and beverage mini fridges. They are not the same.
Temperature control
While the mini fridge maintains one stable temperature inside the unit, at an average of 40 degrees Fahrenheit, the beverage mini fridge is designed with controlled temperature settings.  With a mini beverage fridge, you can adjust the interior temperature according to the types of beverages you want to store, including wine.
Design
Mini beverage fridges usually have transparent glass doors with UV resistant that make it easily to observe. Meanwhile, the mini fridges have opaque doors and compartments for storing food. Besides, the ventilation of a beverage mini fridge is at the bottom, so its installation can be freestanding and built-in style. The mini fridge is designed with door open on either side for sufficient ventilation.
Some models of beverage fridge have smart controls such as interior lighting, alarms when overheating or door left open. They also have touchpad controls that can pre-program the temperature for a specific type of wine. It is equipped with lock that helps to prevent other people from changing the temperature settings.
Energy consumption
As designed for storing beverages, beverage fridges are proud of being more energy efficiency, operate quietly and the clever design of the door hinges for easy closing and eliminating the risk of swaying too far and hitting the cabinet.
Further reading: The Ultimate Guide to Choose a Mini Fridge
How to choose the best beverage mini fridge for home use?
It can be a challenge when considering to choose a right beverage mini fridge for your home space. Following factors are important before making purchasing decision.
Size
The biggest factor to consider when choosing a beverage mini fridge is size. There are many types of mini fridges for drinks of different sizes. It all depends on your needs. If you prefer regular bottles, choose one with a holder designed to store your beers. If you prefer larger bottles, look for a beer fridge with removable compartments.
You may also like: Best Wine Fridge Under $300 for Your Home (with Buyer's Guide)
Cooling system
The cooling system is largely what determines the price: the smaller, inexpensive units use thermoelectric systems, the more expensive ones use a compressor. The compressor cooler is cooler than an electric condenser and is more energy efficient.
Temperature
Do not buy refrigerators that make drinking water freeze! Drinks have different suitable temperatures.
Many beverage fridges have digital temperature controls that helps you easily adjust the temperature settings for storing your products at the optimal temperature.
Location for the beverage fridge
Where to place the beverage mini fridge also needs consideration when choosing a suitable one. Small and medium sizes can be fit in tiny spaces like under the tables or counters. Lager size will easily suit other places in your house or office. Some installation types are available for your choice.
Indoor vs. Outdoor: The outdoor types are usually sturdier and contribute to the decoration of your patio, backyard, or swimming pool. The outdoor mini beverage fridge is often designed with stainless steel, or some have doors with triple-pane glass.
Freestanding vs. Built-In: Freestanding fridges are flexible, you can move them to any places as you wish. However, with the built-in fridge, you can fit it in an existing space. This is quite helpful if you have a small kitchen or apartment.
Budget
Currently, you have many options for a suitable beverage mini fridge from cheap ones with basic functions to high-price models with special features. Depending on your regular needs, preferences on features, you can determine a price range.
It may cost you about $200 to $1,500 for a beverage fridge that most suitable for home or office use. Some premium items may cost over $3,000. It's not necessary to buy an expensive one that does not meet your needs or realistic budget.
You may also like: Best Mini Fridge for Fermentation Chamber
What else should you take into consideration?
Besides the main factors mentioned above, you can take advantage of the extensive selection features available with current models, such as:
Dual-zone temperature: This beverage mini fridge often has separated temperature zones, so it is a perfect option for keeping wine and canned items.
Safety locks: You may need it sometime. After locking the door, you need a key to open it. This may take time but helpful if you don't want the expensive items disappear without any reason.
Adjustable shelving: It allows you to adjust the space for storing your items by making the shelves higher or lower.
LED lighting: These interior LED lights do not consume much energy and they are longer-lasting than standard lighting.
Reversible doors: If a fridge has this feature, you can save space because it allows you to change the door hinge and you can close or open the fridge on the left or right sides.
What are the popular brands for beverage fridges?
There are so many companies offering beverage mini fridge, consumers have plenty of choices that suitable for their needs and budgets. Several popular brands are:
HOmeLabs
Antarctic Star
NewAir
Vremi
Frigidaire
Whynter
Danby
EdgeStar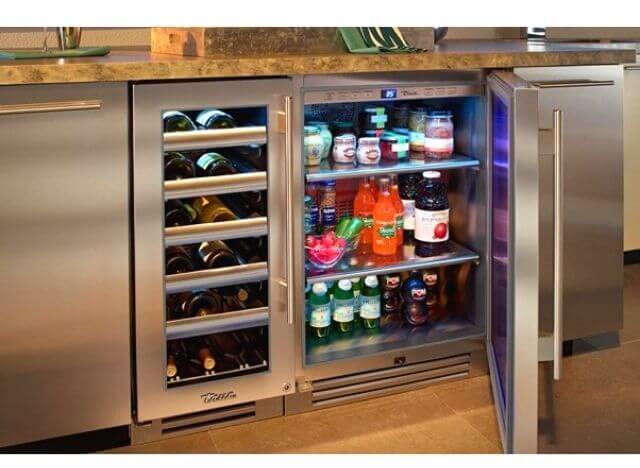 Recommended beverage mini fridges to choose for home use
1. Whynter BR-130SB Beverage Refrigerator
The stainless-steel beverage refrigerator with internal fan is aesthetically pleasing and compact and efficient. It offers a compact and powerful cooling solution for you.
Use premium design and features to make a sleek beverage mini fridge the focal point of any space.
The powerful compressor and internal air-cooling system give this beverage fridge a uniform cooling space, keeping a constant temperature throughout the beverage fridge.
The refrigerator has an exclusive stainless steel decorative glass door and a soft LED lighting system to increase energy efficiency.
2. NewAir Beverage Refrigerator Cooler
This refrigerator cooler has large capacity which can store 90 cans, with right hinge glass door. It is a good bar beer fridge with clever and space saving design. You can have optimal view with interior LED lighting. The temperature can be controlled for any types of beverages.
3. Antarctic Star Mini Fridge Cooler
The Antarctic Star 1.6 cu.ft. beverage refrigerator has a glass front door with a stainless-steel frame allowing you to check the drinks inside from the outside. This is a compact and modern design and can hold 70 cans.
Modern, spacious design is well worth the experience.
This mini fridge allows you to store wine and beverages in optimal conditions for long-term storage. Equipped with a temperature control knob and an advanced cooling system that keeps your drinks at the right temperature without making any noise.
4. Danby DBC026A1BSSDB 95
As a beverage mini fridge with a spacious tempered glass door, this fridge can hold up to 95 beverage cans (12 oz/355ml).
The mechanical thermostat allows for customizing the temperature inside the beverage fridge. The superior cooling system maintains an even and stable internal temperature.
The modern interior is illuminated with blue LED lights.
Versatile storage, with up to 3 adjustable shelves and reversible door hinges.
The bottom line
It's worth your money to invest in a beverage mini fridge as you can relax comfortably in your favorite room with cool drinks. It is also a useful appliance as it keeps refreshing drinks ready for your party guests.
Clearly know what you need, how much you want to spend and what features you like for your fridge will help you make a wise purchasing decision when considering to choose a beverage mini fridge for home use.
Reference:
The best beverage cooler for refreshing drinks, popsci.com, Retrieved on Dec. 20, 2021