Short or long-term camping or picnics by car are indispensable for a mini fridge so that users can serve cool drinks or preserve pre-prepared meals. However, now there are many different types of mini refrigerators, how can you choose a portable mini refrigerator for your car and what is the best portable fridge for car?
First, you need to understand a portable mini fridge for a vehicle and the selection criteria.
What is a portable mini fridge for cars?
A portable mini car refrigerator is an excellent choice for drivers or people who often drive cars every day, or simply you want to add a new feature to your car in hot summer.
A mini fridge for a car has the same features, structure, and characteristics as a regular mini portable fridge. However, it will still be equipped with some additional features to meet the purpose of car use.
Mini refrigerators for cars are usually made of high-quality ABS material and are the right size for users to easily place it in the car without taking up too much space. Design and non-toxic materials are two points that make car mini refrigerators highly appreciated and have a long life.
Mini refrigerators for cars are easy to install and maintain and are widely known for their outstanding performance and excellent cooling capacity. A mini refrigerator in a vehicle will bring you much convenience and comfort on summer trips. Moreover, a mini fridge for cars is now relatively cheap, and the models are constantly updated.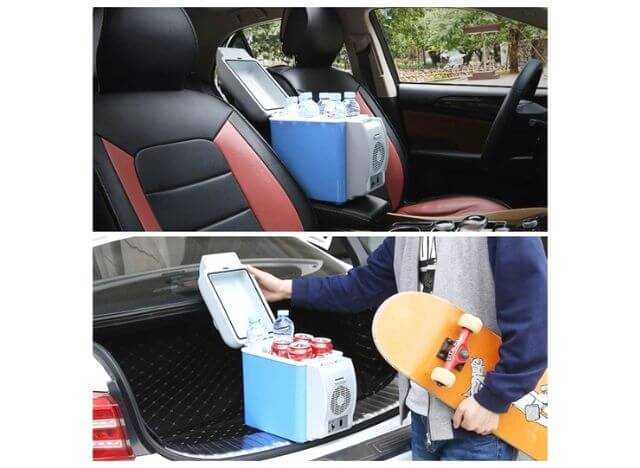 Advantages of a portable mini fridge in car
Compared with the usage of Styrofoam and heat preservation containers to preserve food or drinks, a mini car fridge has brought a lot of conveniences:
Fast cooling, good heat retention
Convenient for food storage to ensure safety and hygiene
Compact, beautiful, modern with more luxurious design
Save electricity, save fuel, save time and costs
Safe for users' health as most mini car fridges are CFC-free
Some types of mini refrigerators have integrated the function of heating food. They are especially suitable for long trips or families with young children who need to warm milk or food.
How to choose a portable mini fridge for car
To be able to buy a suitable refrigerator, you need to consider and calculate your needs. Therefore, when buying a mini car refrigerator, you should consider size, model, features, and attached accessories.
Here's how to buy a portable mini fridge for a car.
1. Based on capacity
A large refrigerator will bring capacity, but it will consume a lot of electricity and take a lot of space in your car. So you need to measure the distance inside your vehicle to choose a mini fridge of the right size and fit; avoid choosing a mini fridge that is too big for the space because it will make your car become cramped. In addition, you may also pay attention to the additional height or accessories of the mini fridge. Leave room to open the refrigerator door.
Here are some standard sizes of mini car refrigerators that you can choose from:
25L or less
This is a compact refrigerator. You can use these mini fridges to keep your lunch cold in the car during the day. This mini fridge has a cooler.
35L or less
This is the ideal mini fridge for your weekend alone, as it can store better than the 25L.
40L or less
This is the most commonly used type, thanks to its standard size that fits many spaces. The 40L mini fridge is an excellent choice for a weekend getaway for two or three.
50L or less
If you often go on a week-long picnic with a friend or lover, this one is perfect for you.
80L and below
If you have a large car and carry five or more people, this is a suitable choice to meet your needs.
Further reading: Portable Fridges for Camping – The Buying Guide
2. Types of portable mini refrigerators
There are two types of portable mini refrigerators for cars:
Two-way portable refrigerator (compressor)
Compressor 2-way structure is the same as that of a standard household refrigerator. However, mini fridges will be designed to run on a car's 12 or 24-volt battery instead of the mains power—electricity line.
Pros
Good performance with a variety of environments
High storage capacity
Can be placed on rough surfaces
Charge the battery or run on solar power
Cons
The internal temperature changes according to the environment
Compressor makes noise
Need to charge often
Three-dimensional mobile refrigerator
Three-way refrigerators use air-flow heat exchangers, not compressors. So this type of refrigerator operates quietly, but it is not as good as the compressor in terms of performance.
Pros
Flexible power supply
Long use time
No need for a complicated dual battery system
Rarely noisy
Cons
Requires a flat, slow-moving surface
Requires good ventilation system
Does not allow you to set the temperature
Doesn't work as well as a compressor fridge
3. Features to use
Save electricity
Low current indicates how long the mini fridge's battery will last. Usually, in a mini fridge used with cars, it will be from 1-5 Amps. The temperature inside the vehicle is very high compared to the outside, so your mini fridge will operate at maximum capacity, so the electricity consumption will also be more.
You may also like: Do Mini Fridges Use a Lot of Electricity?
Battery protection
Battery protection mode helps the refrigerator turn off when the battery has a problem to prevent your refrigerator from being damaged more seriously. Look for a breaker model that has this feature to keep your battery from dying.
Suitable connector
You should check if your refrigerator has the correct connector for your vehicle. Many portable refrigerators come with a plug that is not common, so you will have a hard time finding an adapter. Even a loose plug will cause your refrigerator to turn off completely when there is a vibration.
Mounting hardware
Choose from hardware-mounted mini fridges. This feature will help protect your mini fridge from bumps, or sharp corners on the car.
4. Included accessories
In addition to hardware, you can consider retrofitting accessories to enhance the safety and utility of your mini fridge.
Security cable and lock
Security cable and lock will help keep your refrigerator safe overnight or when you are away without worrying about attacks from other people or wild animals.
Shelf
The holder helps you keep the refrigerator away from the ground, avoiding dust and moisture, and it will also be more convenient for you to use the mini fridge in the car.
Solar power panels
If you go camping outdoors, solar panels for mini fridges are essential. With it, you don't need to pay attention to charging or finding a power source; moreover, you will have a source of free energy anywhere, anytime.
Further reading: Solar Powered Fridge – Why Is It Best for Camping?
Notes when using portable mini car fridge
For the car mini fridge to operate sustainably over time and save power, users should refer to a few important notes:
It should be placed at a cool area, avoid heat sources or direct sunlight to reduce fuel consumption.
You need to cool down hot food or defrost frozen food before placing it in the mini car fridge.
The fridge door must always be closed tightly, should not open the door often or for too long.
You should avoid strong impact with the machine.
Do not use water to wash, only use a wet cloth to clean the car fridge.
After use, clean and store it in a well-ventilated place.
You may also like: How to Use a Mini Fridge Safely and Efficiently?
The 7 best portable mini fridges for car
1. VBENLEM Refrigerator 45L
This portable refrigerator has a large storage space with of 45L (47 Quarts) which is big enough to hold drinks for a small group of friends on a picnic.
The refrigerator can maintain its cooling performance throughout your journey thanks to the thick and high-density foam insulation. With two handles on either end, you can move the fridge with ease. Thanks to its anti-vibration feature, the portable fridge works well when the car is tilted 30°.
Temperature ranges from -20 ℃ to – 10 ℃ (-4 ℉ – 50 ℉). You are allowed to set the desired temperature on the electronic temperature control panel to meet different needs. Furthermore, the freezer compartment can be controlled remotely using the "Car Fridge Freezer" App. This car fridge cools quickly with a powerful compressor, but it still saves energy.
Designed with durable and corrosion-resistant plastic exterior, it can be the perfect choice for cars when you travel, go to picnics, go camping or outdoor parties.
2. Cooluli 20L Mini Fridge
The Cooluli mini fridge is sleek, compact, and perfectly portable. You can adjust and set your desired temperature with the simple touch.
It's ideal for use at home, in daycares, offices and dorm rooms. Especially, it's perfect for cars when you are on road trips, vacations, and outdoor parties.
What can you store in the Cooluli 20L in a car? This cooler/warmer mini fridge works as a beer and wine cooler, and store food, snacks, drinks for your trips.
The advanced semiconductor makes it operate quietly, save energy and 100% Eco-friendly. It has 1-year limited warranty.
3. Whynter FM-452SG 45 Quart
Designed with large capacity of 45 Quarts, it can hold 78 cans. The temperature ranges from -8°F to 50°F to protect your food perfectly. With "Fast Freeze" mode that quickly cools to -8°F, you can use it as a fridge or freezer. The cleaning job will be easy with the drain plug.
It's convenient when you are provided with 8-foot AC power cord and 10-foot DC power cord; two detachable wire baskets; insulation covers and walls.
It can function well even at 30° tilt. The outer shell made of powder-coated steel which is hard and sturdy.
Working with 12/24V DC and 110V AC power, you can plug it with both AC power and DC power at the same time. The fridge will mainly operate on AC if both AC and DC are plugged. When the AC power fails, DC becomes the main power supply. It is ideal not only for car, RV but also for home.
4. Koolatron Kool Kaddy P75 Cooler Warmer, 34L
With versatile design, it can be used as a classic chest-style cooler or a portable mini fridge. The capacity of 34L, it can hold up to 57 standard 12 oz cans.
It efficiently cools to 40°F (22°C) or warms to 140°F (60°C) thanks to the CFC-free thermoelectric technology and brushless fan motor while not much power is consumed.
The cooling mode safely stores food fresh, and drinks cool on the go. Also, you can switch to warming mode to bring home the hot dishes.
5. ICECO JP30 Portable Refrigerator, 31L
This is a high-quality product which is equipped with Germany SECOP compressor. Besides, it has global insurance.
Your food and drinks will be safe with the adjustable temperature from -7℉ to 50℉ (-22℃ to +10℃). You can increase or slow down the cooling process by using MAX & ECO mode.
As it is energy-saving, the compressor will stop operating when the freezer reaches the set temperature. After that, when the temperature rises 6℉-9℉, the compressor will restart.
It has long warranty time for the compressor, up to 5 years.
6. Alpicool C15 Portable Refrigerator 15L
It is light and durable as it made of strong plastic material; you can bring it anywhere easily. The capacity of 16L, it fits 20 cans of cola for your drinks.
Your car battery will be protected without running down by 3 different levels of temperature memory function: Low, Med and High.
The thick and high-density foam insulation can preserver your food fresh and safe during your journey. It is also super energy saving.
7. Frigidaire Retro Mini Fridge, 9L
It's stylist, energy saving, elegant and features a beautiful transparent front-door glass. It can fit any car and any corner in your house, from modern to traditional.
100% Freon-free & Eco friendly, so you will be safe when placing it in car, at home, or office.  Besides, you can charge it with 12V car charger.
With the capacity of 9L, it can hold up to 12 beverage cans.  You have enough room to store snacks and beverages.  The design of space saving and flat back allow you easily put this mini refrigerator anywhere in your car. The carrying handle are convenient to bring from place to place.
Conclusion
To choose a good mini fridge for a car, you need to pay attention to the capacity, features, attached accessories, as well as the type of mini fridge.
The 7 suggested portable mini fridges above are worth considering for your car. A suitable portable car fridge will also bring the happy moments to you and your family members or friends on outdoor trips.