ruckers spend a lot of time in the car. Therefore, the facilities equipped in the vehicle will make their driving time much more comfortable. A mini fridge will help preserve food and cold drinks for use during the drive. There are mini refrigerators suitable for trucks, so choosing a mini refrigerator that suits your needs is quite tricky. If you are a truck driver or are looking to buy a mini fridge for your truck, you should read this article to know how to choose the best mini fridge for truckers.
Why do truckers need a mini fridge?
Convenience
Mini refrigerators are commonly used in small apartments, university dormitories, bedrooms, and hotels. Currently, people still use mini refrigerators in long-distance trucks. A small refrigerator keeps the driver from being alone and bored during weeks of long-haul trucking. In addition, thanks to the mini fridge, the quality of their meals will also become much richer and more diverse, helping to reduce the health risks caused by eating fast food and cheap food.
Owning a mini fridge that provides a place to cool drinks and snacks for use will help truckers save money and have a much healthier diet.
Portability
It is impractical to carry a large or standard refrigerator in your truck. With a mini fridge, you don't need to worry about this.
Easy maintenance
Since cleaning is easy, you won't get bored doing regular maintenance, thus enhancing the durability of your equipment.
Moreover, the mini fridge does not take up too much space and is very easy to install. If there is any problem, it will also be easier for you to repair and maintain. Therefore, if you care about your long-term health and want your truck driving time to be more comfortable, buy a mini fridge that's right for you.
Space-saving and Pocket-friendly
Because of its compact size, you can easily fit a mini fridge into any space without limiting your truck's space.
This benefit goes without saying as mini fridges are cheaper than regular refrigerators. So, if you're on a budget, get the right one for your truck.
Further reading: Best Portable Fridges and Coolers for Camping
Top 8 best mini fridges for truckers
Koolatron
With a spacious 18 Qt (17L) capacity, the Koolatron Thermoelectric Iceless 12 Volt refrigerator can hold 23 cans while being small and compact.
When in the middle of the front row of most minivans. You can easily take it anywhere without fear of dropping food because this refrigerator has an easy-to-open lid. It's also straightforward to put it away when not in use. The refrigerator has a dirt-resistant interior and is easy to wipe off stains; besides, you can adjust the shelves inside to arrange the appropriate mini-fridge space.
This mini refrigerator uses fan motors and thermoelectric technology to operate efficiently and consumes less energy than other types of technology.
F40C4TMP
With a powerful compressor, a 12-volt refrigerator can cool down to 32℉ in 20 minutes and reach a low of -7.6℉ in about an hour.
The refrigerator has two cooling modes, including MAX (fast cooling) and ECO (energy saving).
You can keep ice cream frozen and preserve fresh foods like cheeses, drinks, vegetables, muffins, and snacks without having to buy ice.
Compared with the lid that needs to be pressed, the magnetic door of the F40C4TMP has better sealing performance and durability. Cold air will not leak, reducing energy consumption.
The rated power of 12V truck refrigerator in MAX mode is 45W, consuming less than 1kWh per day. The battery is protected with three levels. LCD display panel can help you set the temperature in low light environment. There is a USB charging port, when needed you can also charge your phone.
Alpicool K25
Alpicool K25 is designed with hidden handle, new LCD display panel. Also, there is a USB socket to charge your mobile devices.
Your car battery is not drained because it has temperature memory function and 3 different levels to protect battery: low, medium and high to protect battery.
Reliable sealing, thick foam insulation and high-density that help maintain cooling performance throughout your journey. It has 1 year warranty.
BougeRV
BougeRV is quite a reputable brand; its warranty is up to 2 years for the compressor and all other accessories. The BougeRV 12 Volt mini fridge uses energy-saving technology to help you reduce your electricity bills. Compressor cooling technology cools the food quickly within 16 minutes to ensure food is always fresh and not spoiled.
This refrigerator is distinguished by its ECO energy-saving mode. Its MAX mode also consumes less than 1kwh/day than other mini fridges.
Another notable feature of the BougeRV 12 Volt refrigerator is low noise, located at 45dB, giving you relaxation during driving. Moreover, this is also a very durable mini refrigerator.
Euhomy
Euhomy car refrigerator has two zones, a fridge and a freezer. It allows you to store a variety of foods while maintaining their freshness. This powerful RV fridge can hold 46 cans cola, 28 bottles of water or 15 bottles of red wine, fully satisfy truck drivers to store food, snacks, meat and drinks.
It is equipped with a powerful compressor for fast cooling and applies advanced 3D refrigeration technology. It saves energy and consumes very low energy. You can choose ECO mode to save energy or MAX mode for fast cooling.
The RV refrigerator also provides three battery protection functions (low, medium and high) to different degrees. Your car power supply will be protected from being overloaded or short circuited.
Its sound is only 40 decibels when running. The LCD display allows you to directly view the operation of the refrigerator and adjust the temperature range at any time. You can set any temperature between -4 -68 ℉ (-20 ℃ -20 ℃) ​​on the control panel.
The car cooler also has a Bluetooth mode, with a mobile app, so you can remotely control the mobile car refrigerator without being near the machine.
Euhomy offers a 1-year quality guarantee.
Whynter FM-65G
One of the remarkable things about the Whynter FM-65G is the powerful compressor cooling system, which helps the mini fridge avoid damage during use. Besides, Whynter FM-65G has a portable and easy-to-use design, and you can keep frozen and incredible food.
The Whynter FM-65G mini fridge has a refrigerator and a freezer. The temperature can range from -6°F to 50°F. In addition, the quick freeze mode on this mini fridge is also very convenient.
NORCOLD
Norcold AC/DC portable units provide extra refrigerator or freezer space when and where you need it. It's perfect when you want to carry more and help you enjoy the fun out of an RV or van. Norcold has innovative design and manufactures high quality products, even with a demanding market.
Norcold offers products that make mobile life more convenient, faster, cleaner and easier.2-in-1 fridge and freezer with electronic control panel for desired temperature setting and DC cord with cigarette lighter plug. There is also an optional AC adapter.
This product is designed with a durable and corrosion-resistant plastic exterior with a removable heavy-duty handle and an easily removable and reversible hinged cover. It has stainless steel interior with removable wire basket for easy cleaning; hermetic compressor with built-in low voltage protection, CFC and refrigerant free insulation foam.
It can be used in RVs, boats, cars or even when camping or at home.
Dometic CFX3
The Dometic CFX3 refrigerator uses deep cooling technology with the VMS03 compressor allowing temperatures down to –7°F during cooling. ExoFrame style design is sturdy but still not too heavy, and you can easily use the handle to take it anywhere.
Especially when you own the Dometic CFX3, you have the most modern technology in your hands on a mini fridge. You can control the refrigerator temperature via WiFi or Bluetooth. In addition, the Dometic CFX3 features a high-resolution color display and touch technology for easy control and monitoring of internal cooling efficiency.
Factors to consider when choosing a mini fridge for truckers
Appropriate size
One of the biggest regrets of truckers when buying a mini fridge is choosing the wrong size. A mini fridge that is too large for a truck driver's space will make the area inside become cramped and uncomfortable. Besides, a small mini refrigerator does not meet the needs of users.
A suitable refrigerator helps users store all the drinks and foods they want during the trip and does not cramp the space inside.
Usually, most trucks are suitable for mini fridges with 25-35 liters capacity. If you want to be sure, you can measure the space inside your vehicle to choose the right mini fridge size.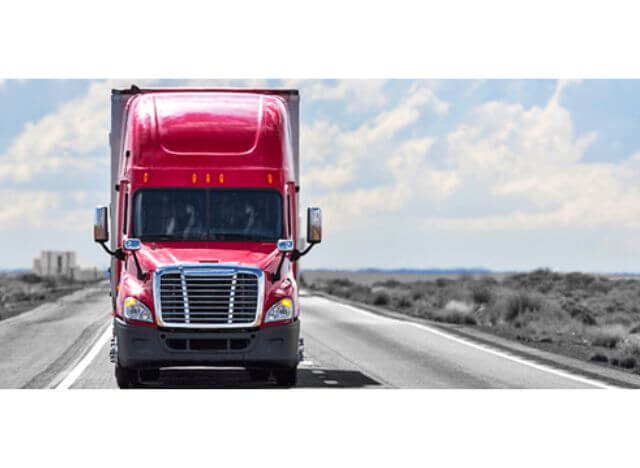 Reliability
Because of its use on trucks, the durability of the mini refrigerator is significant. You can view user reviews to get the most detailed information. The difference between a mini fridge for a truck is that it has to withstand the constant vibrations during the moving truck. If a fridge is not durable enough, it will be prone to compressor and regulator failure due to vibrations.
Warranty
This is something that quite a few people pay attention to. Warranties are often very related to brand policies. Therefore, you should choose reputable brands and care about after-sales customer care policies.
The standard mini fridge warranty is usually one year on machine parts. You should pay attention to the manufacturer so that it is easily repaired and less transported when there is a problem.
Design
Designing suitable shelves inside the mini fridge will help increase the utility during use, besides saving space very well. It is best to choose mini refrigerators that can adjust the internal racks to your liking.
Freezer or not
A mini fridge with a freezer is convenient, but sometimes you don't need to use it. Choose a mini fridge with a freezer if you like ice cream or ice cubes. However, consider this because mini fridges with freezers are usually larger than normal mini fridges.
FAQs
What temperature should a portable refrigerator be at?
To properly store food, you should set your portable refrigerator temperature below 40°F (4°C). It should be noted that at low temperatures bacteria grow slowly, thus keeping food fresh.
The best way to know if your refrigerator is set to a safe temperature is to use a refrigerator thermometer.
What is the best way to clean a portable mini fridge?
Cleaning the mini fridge or portable mini fridge can be in the same method.
It is important to protect your skin from mold and bacteria by wearing rubber or plastic gloves. Follow these necessary steps if you want to clean it in the best way:
First, remove all empty jars or expired food from your mini fridge.
Then, make a solution by adding bleach or vinegar to half a bucket of warm water. Use this solution and a cloth or sponge to clean the inside and outside of the refrigerator. For any food stains, you can use a scratch brush.
Next, dry your mini fridge.
Finally, clean the bottom of the jar before putting it back.
How do you power a portable refrigerator?
Car batteries and portable power supplies are one of the most reliable ways to power your 12v Refrigerator/Freezer. For many people, the best way to power a camping refrigerator is to use batteries.
Thus, you can power your mobile refrigerator with a car battery. Some portable refrigerators work with both AC/DC connections.
What is the best portable freezer?
Whynter FM-65G refrigerator can be considered as the best portable freezer.
It works with AC/DC connection. You can hold more food, have two removable baskets, cool faster, and have a Power low indicator. At the same time, you can easily monitor the temperature through the LED display.
Other options can be: CFX3 35-Liter Portable Refrigerator and Freezer, or the ARB Portable Fridge Freezer 73 Qts Dual Zone.
Conclusion
I hope the information and factors in this article are necessary for you when choosing a mini fridge for truckers. Exception the above factors, you should also pay attention to the temperature range and door layout to select the best mini fridge for your vehicle.
Reference:
1. Fridges for truckers in 2022 full review, breezerfreezer.com, Retrieved on Sept 30, 2022
2. Best Truckers Mini Fridge 2022, minifreezershop.com, Retrieved on Sept 29, 2022