An ice cream maker can also produce gelato, sorbet, and frozen yogurt or cocktails. You can make your own ice cream with favorite flavors and healthy fat, without sugar and no preservatives. It's an amazing appliance that adds happiness to any kitchen. Which is the best ice cream maker for home use?
Why should you own an ice cream maker?
Protect your health
Store-bought or commercial ice cream often contains lots of sugar and preservatives. Therefore, an ice cream maker at home will be safe for your tummy and protect your health in the long run, even you eat ice cream regularly.
You can enjoy non-dairy ice cream which is becoming increasingly popular. It's best for health if you can cut down the dairy consumption by using coconut milk, cashew milk, or oat milk.
Enjoy the better and fresher taste
You can decide what ingredients and flavors to use, how you want your ice cream to taste, even those that never found in store. It will be exactly the one you like.
Also, you will enjoy fresh ice cream which is smoother and fresher after making. At the same time, you can completely reduce the unhealthy fat that makes the flavors be stronger. However, you need a dedicated ice maker machine to perfectly make this favorite ice cream.
More than just making ice cream
An ice cream machine is versatile as it not only makes ice cream but a whole range of other frozen treats such as sorbets and frozen cocktails, margaritas, or many types of slushies.
Save money
Making your own ice cream for the whole family can be cost effective for long run.
Moreover, you can use up the overripe fruits that cannot not eat by itself and need to discard. Make it into a creamy base, you may have the best ice cream ever.
Best ice cream maker for home use
1. Best overall: Breville BCI600XL Smart Scoop
Weight:                                    30 pounds
Bowl capacity:                         1.5 quart (1 Litre)
Dimensions (LxWxH):        15.75 x 11 x 11 inches
Key features:
Brushed stainless steel
Cool setting can be kept up to 3 hours
Can adjust the precool setting and then to optimal operating temperature
Self-refrigerating compressor (Voltage: 110 to 120 Volts, Power: 165 watts)
12 hardness settings which include ice cream, sorbet, frozen yogurt, and gelato
Breville BCI600XL Smart Scoop is the first machine to automatically sense the hardness of the mixture as you select. Your frozen flavors can be kept at perfect temperature up to 3 hours.
It is recommended to review the videos and user manual for set up and guidance. This is the best ice cream maker for your home.
2. Best freezer bowl: Cuisinart ICE-30BC Pure Indulgence
Weight:                                    13.5 pounds
Capacity of freezer bowl:        2 quarts
Dimensions (LXWXH):            8.25 x 8.00 x 11.25 inches
Key features:
Fully automatic
Easily cleanup
Heavy-duty motor
Stainless steel, plastic, BPA Free
Can make frozen yogurt, sorbet, and ice cream
Cuisinart ICE-30BC Pure Indulgence is a fully automatic machine can make 2 quarts of your favorite frozen desserts or drinks in as little as 25 minutes. It also has large ingredient spout that is easy for adding ingredients in.
In addition, it's easy to use with an integrated motor, double-insulated freezer bowl and automatic mixing paddle do all the work.
You can make consistently smooth ice cream for the whole family.
3. Most wish-for: Cuisinart ICE-21CRM
Weight:                        9.7 pounds
Capacity:                     1.5 Quart
Dimensions (LxWxH): 9.5 x 9 x 11.25 inches
Key features:
Easy-lock lid with large spout
Double-insulated freezer bowl
Can make favorite frozen treats in about 20 minutes
The automatic Cuisinart Frozen Yogurt Ice Cream & Sorbet Maker is easily to use, and it helps you make the delicious and healthy frozen treats with no mess.
What you need to do is simply add your ingredients to the bowl. The press ON to operate the ice cream maker. Now, the machine will do the rest.
4. Best Mid-Tier Choice: Whynter ICM-201SB
Weight:                              25 pounds
Capacity:                            2.1 quarts
Dimensions (LxWxH):     10.75 x 12.5 x 14.25 inches
Key features:
Easy to use
Stainless steel housing
No need to pre-freeze
Small footprint
Compressor: built-in
Timer: LCD digital display
Mixing bowl: stainless steel
Equipped with motor protection function
Can make both ice cream, frozen yogurt, and sorbet
ICM-201SB Whynter 2.1 Quart can help you to produce delicious homemade ice cream with your favorite ingredients. Beside ice cream, you can create rich creamy gelato and sorbet at home easily and comfortably. With upright design and small footprint, it perfectly suitable on any countertop in your home or kitchen.
5. Best Splurge: Lello 4080 Musso Lussino
Weight:                       18 Kilograms (39 pounds)
Capacity:                     1.5 quarts
Dimensions (LxWxH): 17.72 x 11.81 x 11.81 inches
Key features:
Compact
Attractive
Easy to use
Stainless steel
Stainless steel spatula
With a large bowl non-removable
Powerful and robust refrigeration system
Professional performance without pre-cooling
Lello 4080 Musso Lussino is perfect for ice cream maker who want to obtain professional results at home. The delicious fresh desserts including rich ice cream, silky sorbets, Italian gelato, frozen yogurts, and refreshing frozen drinks will be produced at home.
Especially, the timer helps to control the operation for different frozen confections.
Made of stainless steel, it has a modern design and suitable for any room and kitchen.
6. Best Portable: Nostalgia Electric Maker
Weight:                5.15 pounds
Capacity:             4 quarts
Dimensions:        13 x 12.25 x 16.25 inches
 Key features:
 Convenient to move
With handle for easily carry
Plastic bucket that is easily cleaned
See-through lid allows users looking inside
Works perfectly with the ice cream kits from Nostalgia
 The product is great for party time or snack time as it can make 4-quarts of delicious ice cream, frozen yogurt or gelato that is enough to serve everyone.
It has a powerful electric motor to do the churning, so you don't need any effort doing by hands.  It is rather simple to make ice cream with some steps like choosing the recipes, following the manual, and getting started.
The delicious and creamy ice cream is ready in a short time.
7. Best for old fashion: Nostalgia Electric, Wood bucket
Weight:                         9.95 Pounds
Capacity:                     6 Quarts
Dimensions (LxWxH): 13 x 13 x 19.75 inches
Key features:
Clean easily
Wood bucket
Transparent lids
Included recipes for user
With handle for carrying easily
Electric motor does the churning job
Can make 6-quarts of ice cream, frozen yogurt, or gelato
Motor lock that keeps all parts secure during making the ice cream
The real wood design brings user the experience of old fashion of making ice cream. Read the recipes included and make your own ice cream with favorite flavor and creation.
8. Best hand-crank: Immergood
Weight:                        18 Pounds
Capacity:                     6 Quarts
Dimensions:                18.82 x 13.7 x 13.5 inches
Key features:
Durable
Hand crank
Stainless steel
3-year warranty
Dasher: stainless steel, triple motion
Tub: leak-free, triple layer, highly insulated
Gear: stainless steel, no rush, not strip out
This product is perfect for outdoor trips of family picnics. It can not only make ice cream, but also so make sweet memories.
Made in USA, so the electrical plugs are designed for use in the US. Outlets and voltage differ internationally. You should check the compatibility carefully before buying.
9. Best for Single: Dash My Pint
Weight:                   less than 1 pound
Capacity:                0.4 quart
Compact size:         8.5'' Height x 5'' Width
You can make the healthy ice cream right at home by controlling the ingredients which is organic, fresh fruits, no sugar, and all-natural.
The product can be a perfect gift for new home, for kid or wedding. It is easy to use and can make desserts such as ice cream, gelato, sorbet, or frozen yogurt in less than 30 minutes.
You are provided with cooling bowl, mixing spoon, recipe book, and the recipe database access.
It's perfect for apartment, college dorm life, small kitchen, or campervan life.
10. Best attachment: KitchenAid
Weight:                                       6 Pounds
Capacity:                                    6 Quarts
Product Dimensions (LxWxH):     10.9 x 10.3 x 10.3 inches
Key features:
Machine: Easy to use, easy to clean
Users are provided with: Freeze bowl, dasher, and drive assembly
Warranty: Provide 1-year hassle-free replacement
Dasher: Rotate inside the bowl to spread, scrape and mix the ice cream thoroughly
The KitchenAid Ice Cream Maker Attachment can produce up to 2 quarts of ice cream, frozen yogurt, or sorbet in about 25 minutes.
The freeze bowl has compact size and can be stored in the freezer or cabinet. Also, it is designed to work with all models of KitchenAid stand mixers.
What factors to consider before buying a suitable ice making machine?
Types of ice cream makers
Freezer bowl ice cream maker
Freezer bowl ice cream makers are the most popular as they are user friendly and have affordable price. The freezer bowl is easily to move and placed into freezer to properly chill your ice cream. How long it takes to properly freeze the ice cream depends on the size of mixture and model of machine. It needs about 24 hours to freeze the ice cream ingredients while the bowl should be put on a fat surface.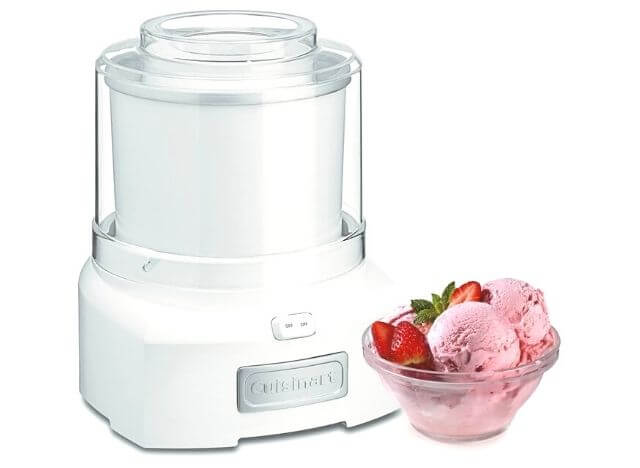 You should buy 2 freezer bowls, so they take turn to do the job. While one is freezing, and the other is working to make ice cream.
It is suitable for users who make ice cream occasionally.
Compressor Ice Cream Maker
These machines have a built-in freezer, so they are easy to use and allow a quicker ice cream making process. Compressors quickly low down the ingredients' temperatures below freezing. Therefore, you can churn out ice cream much faster.  Just turn on the machine and it will quickly cool.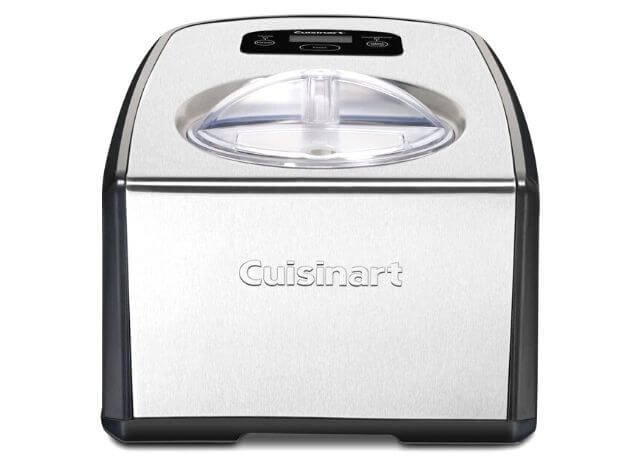 These machines tend to be more expensive, it's truly an investment, but the convenience you get is priceless.
It's perfect for users who make ice cream often.
High-end machines with fantastic features
The ice cream maker is costly, about 500 USD or more. However, it will give you the most decadent frozen treats. This machine can make 12 different hardness settings for sorbet, frozen yogurt, and ice cream.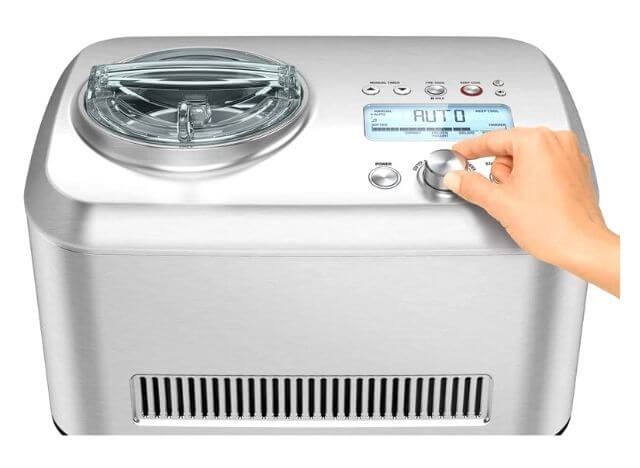 It is also equipped with a self-refrigerating compressor that make sure your ice cream will be kept at specified texture for up to three hours.
A rock salt ice cream maker
This is an old-fashioned machine that use ice mixture and salt to make ice cream.
How does it work? It cools the mixture with ice and salt. You have more control over the ice cream making process. With a classic rock-salt maker, you will churn your ice cream ingredients by hands. If you have an electric machine, the paddle will do the churning job. However, you need to take a close look on your ice and salt mixture while churning. Once the mixture has melted, you add more ice and salt.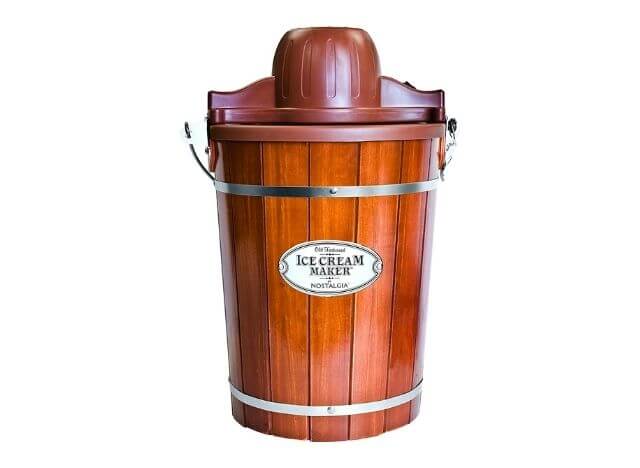 Features
Accessories
Beside the ice cream maker, you need to look for essential add-ons such as round scoops, a whipped cream canister. These tools will provide you the professional looking and eye-catching desserts.
Different types of treats
As this appliance can make much more than ice cream, so you should choose the models that can also churn out frozen yogurt, gelato, and sorbet. With this choice, you will have different types of desserts to enjoy.
 Capacity
The most common size for ice cream makers are 1.5 or 2 quarts. If you are a single person and love ice cream, 1.5 quarts should be sufficient. For big families and those who want to have ice cream always available, 2 quarts are great enough.
Depending on your needs, family members and the habit of eating ice cream, you can consider the following capacity.
Small: The machine can make less than 1 quart of ice cream. It is a perfect option if you want to make a single serving of ice cream each time.
Medium: The medium ice cream makers can create 1–2 quarts of ice cream. It is the perfect option for a couple or 2 persons, or if you want to keep some ice cream available.
Large: With large capacity, large ice cream makers can make from 2 to 4 quarts. The larger quantity, the longer time will be needed to complete the batch.
You may also like: The 10 Best Portable Ice Makers for Home
Conclusion
Having an ice cream maker at home brings you many benefits, both for health and financial status. The machine can also produce other frozen treats for the whole family in the occasions of parties, and outdoor trips.
There are many types of ice cream makers available for your choices. Before making decision to buy a suitable machine for home use, you need to consider the types, features and capacity to make sure it is meet your needs.
With the above suggested ice cream makers, hope you can find the most suitable one for your home.
 Reference:
Ice Cream Maker Buying Guide, www.abt.com, Retrieved on Jan. 18, 2022