Frozen ready meals are extremely convenient and suitable for multiple purposes, but many people may believe that these meals are unhealthy and contain fats as well as sugars. Therefore, the benefit of using frozen meals for weight loss is still questionable. However, some manufacturers are offering frozen meals that are healthier than others. Let's read the article below to find the best frozen meals for weight loss.
Why can frozen meals help to lose weight?
The following reasons explain why frozen ready meals can help to lose weight and improve the nutrition of the food you eat.
Portion control: You know exactly how much you are eating, so you can control the calories without measuring, counting or weighing the food.
Convenience: After a busy day at work, you may think of having the high- fat, high-calorie fast food that may affect your weight loss plan. Once the low-calorie frozen meals available in freezer, you can take the food out, prepare in a few minutes and enjoy it.
Money saving: Frozen meals can last in freezer for long time and rarely go bad. You can buy frozen meals in large quantities when they are on sales or promotions and put them in freezer for later use.
Nutrition control: You clearly know what inside your food, for example how much sodium, fiber, protein or calories that included in the meals by reading the label. Then you can control total calories for each day.
Multiple choices: Thanks to the variety in styles and ingredients, you can choose the most favorite food for breakfast, lunch or dinner.
It is recommended that you round out your frozen meals with fresh fruits or veggies because they provide you with vitamins, minerals and fiber.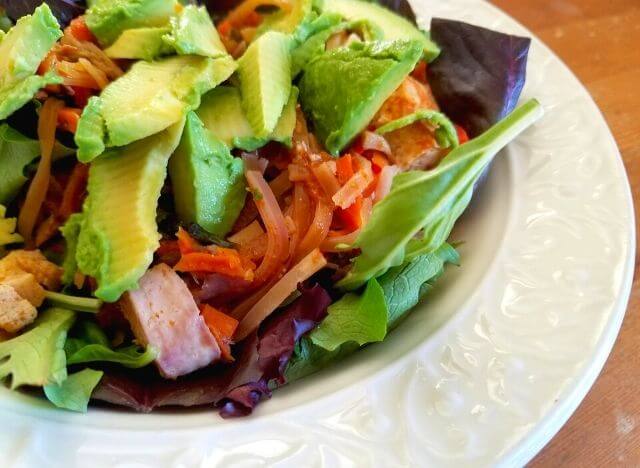 How do you know if frozen meals suit your weight loss plan?
To determine whether your frozen meals are suitable for weight loss, you should take a look at the Nutrition Facts label. Here's the detail:
Sodium: 600 mg or below. The ideal amount of sodium should be under 2300 mg a day. In case you have some health issues related to kidney, heart, or high blood pressure, it needs to be under 2000mg per day.
Protein: 15 grams or above
Calories: ranging from 300 to 400 calories each meal
Fiber: 5 grams or more
You may also like: Best Frozen Meals for Seniors
Are frozen meals good for weight loss?
According to many studies, it is possible for you to make use of frozen meals to lose weight effectively. This is because the level of calories in frozen meals often remains stable and low compared to other foods.
With good quality frozen meals, they can offer you high content of vitamins and minerals. These meals are helpful to keep you away from many other unhealthy snacks in case you do not have much time to cook.
Best frozen meals for weight loss
Best vegan meals
Amy's Organic Refried Beans
The black bean meal is based on delicious Mexican and Southwest recipes. It will offer you a high level of protein and fiber and lower amount of sodium. And it is totally free of trans fat.
Green Giant Vegetable Blend
The advantage of the frozen meal is a diverse mixture of fresh veggies from high quality sources.  You can use it for soup or stir fry dishes. And it is made from safe ingredients without fat or other harmful substances.
WonderSlim protein smashed potatoes
Each WonderSlim packet contains 11g protein and 110 calories which are ideal for weight loss. Besides, with smashed potatoes, you can get enough vitamins necessary for daily meals.
Fullgreen Riced Broccoli and Cauliflower
It is the best option for paleo and keto diets with less carbs and no grain. So you do not worry much about the high level of unhealthy ingredients included. It is also safe for coeliac disease or gluten intolerance.
Saffron Road Thai Red Curry
Simmer Sauce
This is a good deal in terms of both nutrition and flavor. The main ingredients are coconut milk, lemongrass puree, ginger, and native corn starch. Besides, it does not contain any preservatives which can harm your health in the long run.
Best frozen meal kit
Food Earth Indian frozen meals
It comes with several varieties suitable for different types of people. These are highly nutrient meals which can not only keep you full but also healthy.  It ensures that all ingredients are selected carefully and can last for up to 18 months.
HMR Ultimate Entree Variety Pack
It offers you 14 different meals which are all helpful for weight loss. You can enjoy various ingredients such as beef, pasta, chickens, grains, or cheese. All of them are measured at a suitable amount for your health.
Hormel Compleats
With these frozen meals, it is easy and safe for you to have fresh and delicious food. After about 60 seconds in the microwave, a highly protein meal is ready to use. And you do not have to worry much about the high level of unessential substances.
Best for noodles
DIET COOKER Instant Konjac Noodles
Konjac flour is the main ingredient of these frozen meals instead of regular noodles. With Konjac, you can keep up with your weight loss program effectively. Each serving of Diet Cooker contains a low level of calorie as well as no carbs.
Best chicken meal
NutriWise Chicken Tortilla Protein Soup
NutriWise is known as a great brand for those who want to lose weight. It offers you a healthy and nutritious meal so that you can have enough energy throughout the day. The chicken flavor is very tasty without adding other ingredients.
The bottom line
Frozen meals are not only convenient but also healthy for many busy people. If you are adhering to a weight loss program, it is safe and effective for you to use frozen meals. To get the best result, you should consider the high quality frozen meals with the appropriate amount of nutrients. Also, you should add fresh veggies and fruits as side dishes together with frozen meals.
Reference:
Best Frozen Meals for Weight Loss -Buying guides, Leslie Barrie,